I'm very excited about this Cranberry Apple Caramel Popcorn recipe. Not only is it delightfully delicious, but it's also part of a campaign to end childhood hunger in America!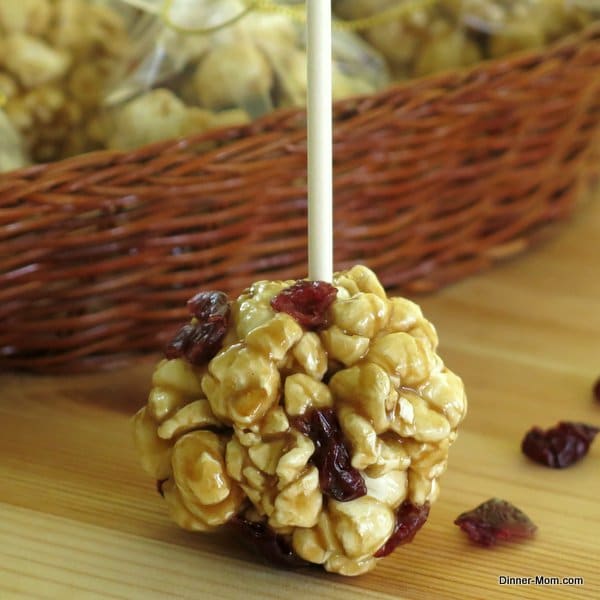 Fleischmann's® Yeast, Fleischmann's® Simply Homemade® Baking Mixes and Karo® Syrup are uniting bakers everywhere for the Baking A Difference campaign to benefit Share Our Strength's No Kid Hungry® campaign. They are doing lots of cool things and the campaign will culminate in spring 2014 with a free e-cookbook that has contemporary twists on classic recipes from these companies.
I'm submitting an entry for Cranberry Apple Caramel Popcorn. It's a variation of Karo® Syrup's Classic Caramel Corn recipe. Not only did I have a blast experimenting in the kitchen with my girls, but it was a great opportunity to talk about childhood hunger and how we can make a difference. We joined Team No Kid Hungry and hope to inspire The Dinner-Mom readers to join too. There's lots of ways to support this worthy cause including Baking a Difference.
These are so easy to make and would make a great gift!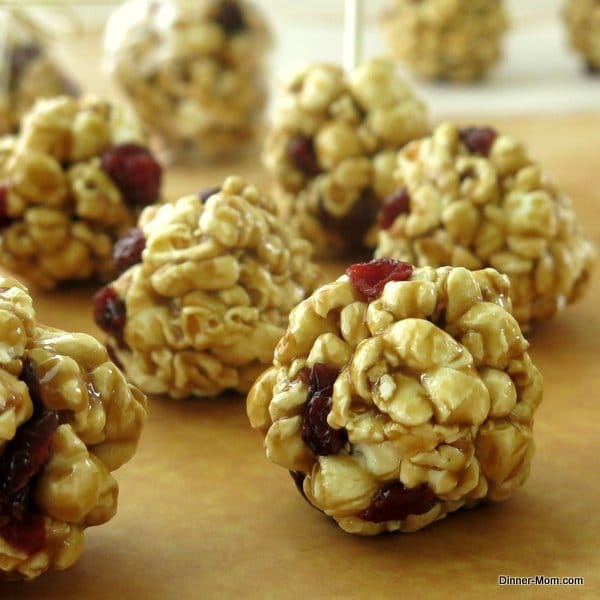 The secret ingredients in these Cranberry Apple Caramel Popcorn Balls are apple butter and cranberries. Apple butter is added to the caramel sauce at the end of the cooking process. Dried cranberries are folded into the coated popcorn. Finally, we shaped the popcorn into balls. The result is a caramel coated popcorn ball that's slightly chewy and has a hint of fruity, fall flavors. (By the way, it was inspired on the morning my daughter had pancakes topped with apple butter!)
Speaking of caramel sauce, have you been scared off from making caramel sauce because you didn't have a candy thermometer? You don't need one for this recipe. Just follow the easy steps in the recipe instructions below.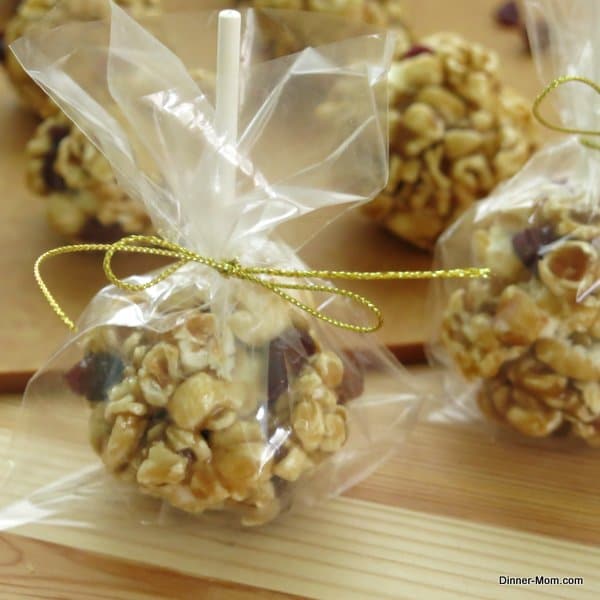 Warning: These are very addictive. We wrapped some up to give away. Do you like the decorative lollipop sticks?
What's your favorite holiday baking tradition?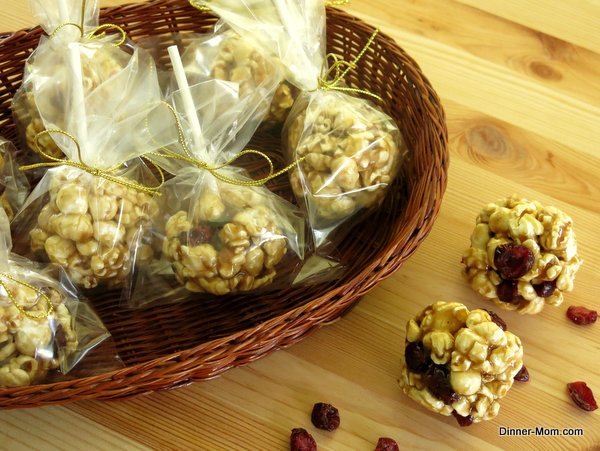 I hope you enjoy these Cranberry Apple Caramel Popcorn balls or making your own special creation.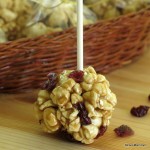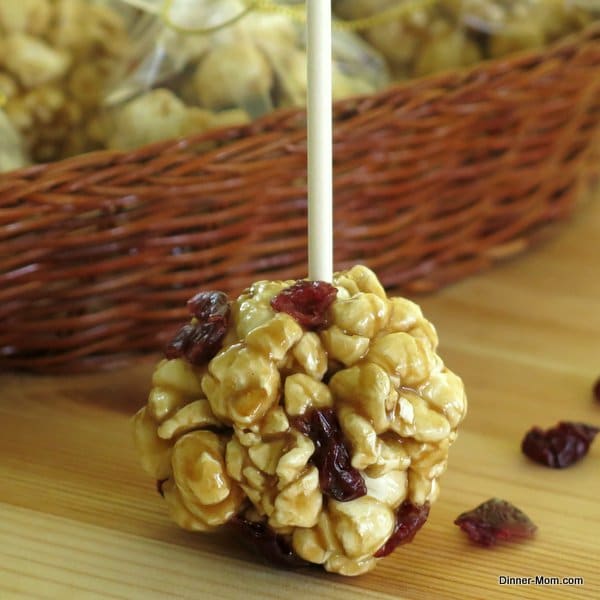 Cranberry Apple Caramel Popcorn Balls
This cranberry apple caramel popcorn shaped into balls is a twist on the classic caramel corn recipe by Karo® syrup for the Baking a Difference campaign.
Ingredients
2

quarts

popped popcorn

about 8 cups

1/4

cup

1/2 stick butter or margarine (or dairy-free substitute)

1/2

cup

brown sugar

packed

1/4

cup

Karo Light or Dark Corn Syrup

1/4

teaspoon

salt

1/4

teaspoon

baking soda

1/2

teaspoon

vanilla extract

1

Tablespoon

apple butter

1/2

cup

dried cranberries

14

lollipop sticks

optional
Instructions
Melt the butter, brown sugar, corn syrup and salt in a heavy 2 quart saucepan.

Bring the mixture to a boil over medium heat, stirring constantly.

Set the timer for 5 minutes and allow the mixture to bubble without stirring.

After 5 minutes has passed, remove the saucepan from the heat and stir in baking soda, vanilla and apple butter.

Pour the sauce over the popped popcorn and stir to evenly coat all of the pieces.

Fold in the dried cranberries.

Pour mixture onto a greased surface, such as aluminum foil coated with cooking spray.

Using greased hands, form popcorn mixture into small balls, just a little smaller than a tennis ball.

Insert a lollipop stick, if desired.