This curry in a hurry sauce will tantalize the taste buds with a kick from curry that is mellowed a bit by the sweetness of honey.  With just 4 ingredients, this easy recipe comes together very quickly and is the perfect sauce for chicken or shrimp.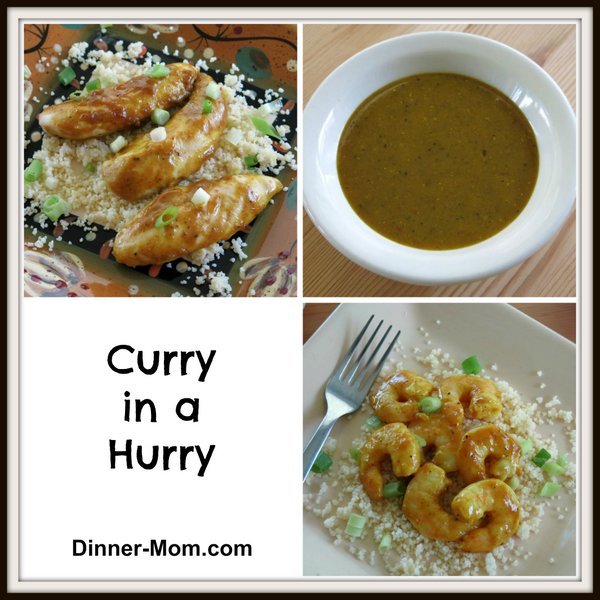 If it's 5:00 and you're not sure what to have for dinner, then I've got a recipe for you! No ho hum, yawn..chicken or shrimp again whines from the galley with this recipe. As advertised, this sauce comes together in 5 minutes or less. It's kid-tested and a great introduction to curry, if this spice is not something you enjoy often.
Just so you will feel extra good about serving this sauce, there are plenty of reasons to add curry to your diet. Curry is actually a combination of 20 different spices. Turmeric is one of the spices used in the blend and holds the promise of many health benefits related to Alzheimer's, arthritis and cancer.
Curry in a Hurry Sauce
I call this recipe curry in a hurry because there are just 4 ingredients and it's so quick to whip up.  Bake chicken or shrimp in the curry sauce and then drizzle the excess sauce over vegetables and rice…or couscous…or pasta.
The recipe calls for 1/4 cup each olive oil, honey, Dijon mustard and 1 Tablespoon of curry powder. There is plenty of leeway in this recipe to add more or less of any ingredient. Add all of the ingredients to a small bowl and stir.
Tip: Measure the olive oil first, followed by the honey. The honey will slip right out of the measuring cup…no mess!
If you are so inclined, double or triple the recipe. The sauce freezes well by itself or coating chicken or shrimp inside a plastic bag.
Spoon the sauce over chicken or shrimp and turn to fully coat each piece.  The sauce will easily cover 2 pounds of protein.
If you want to save some for a dipping sauce, lift that amount out first so you don't accidentally contaminate it with utensils that have touched the raw chicken or shrimp.
Better yet,  just pour all the sauce into the pan with the chicken or shrimp. Once everything has cooked, spoon the leftover sauce from the pan into a cup for drizzling.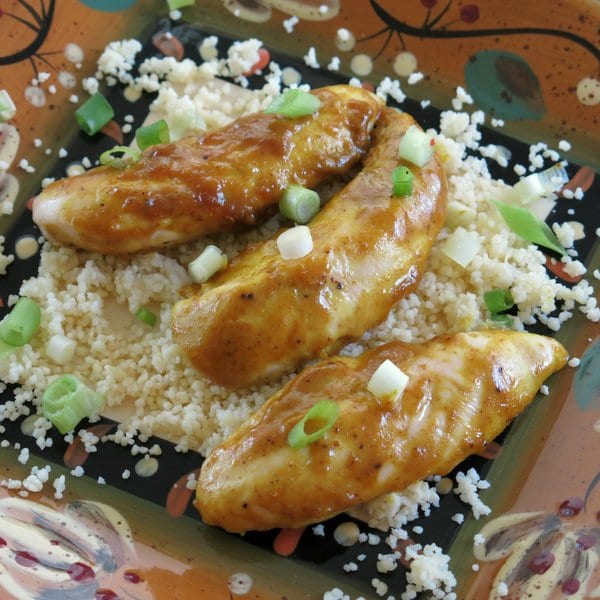 It's amazing on chicken tenders.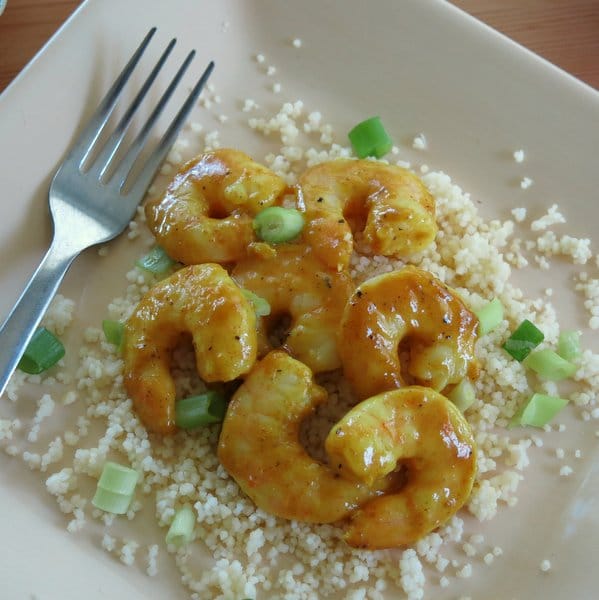 It's shrimp-tacular!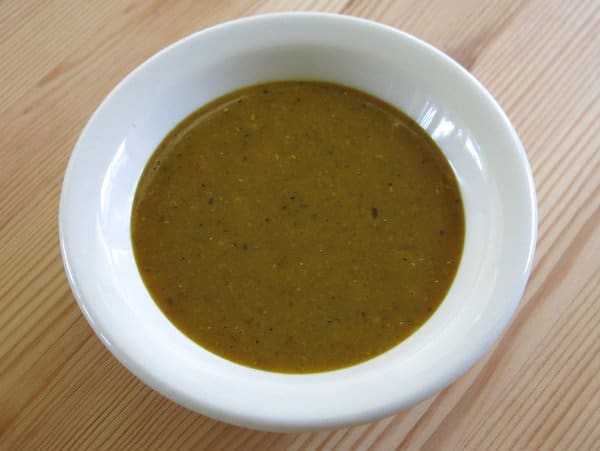 And, is a divine dipping sauce for such things as nuggets.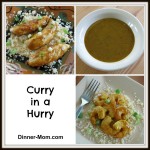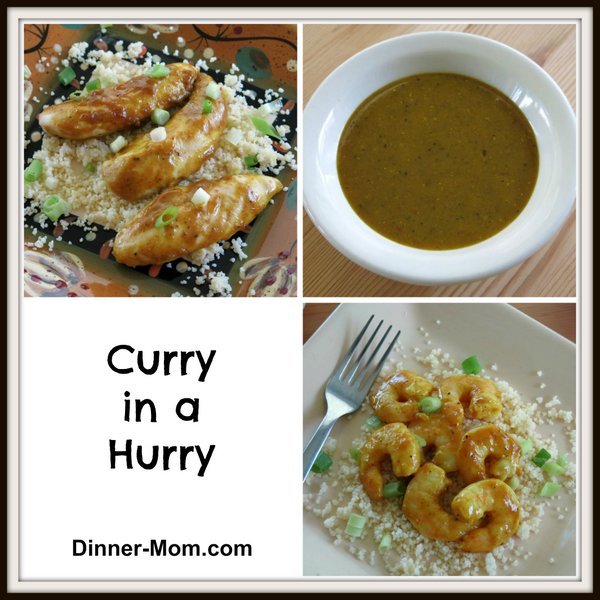 Curry in a Hurry – A Tasty Sauce for Shrimp or Chicken
Curry sauce comes together quickly, but is long on flavor. Curry is mellowed a bit by honey. A hit on chicken and shrimp.
Ingredients
1/4

cup

olive oil

1/4

cup

honey

1/4

cup

Dijon mustard

1

Tablespoon

curry powder

2

pounds

chicken tenders or shrimp

Optional garnishes sliced green onion or chopped cilantro
Instructions
Preheat oven to 375 degrees.

Combine first four ingredients in a small bowl.

Place shrimp or chicken in a baking dish.

Pour sauce over chicken or shrimp, turning to coat each piece completely.

Bake chicken until no longer pink inside, for approximately 25 minutes.

Bake shrimp for about 10-12 minutes.

Spoon excess sauce over chicken or shrimp.

Garnish with green onion or cilantro, if desired.
Recipe Notes
Serve excess sauce over rice, couscous, pasta and vegetables. Sauce freezes well alone or over raw chicken or shrimp in a tighlty sealed plastic blag.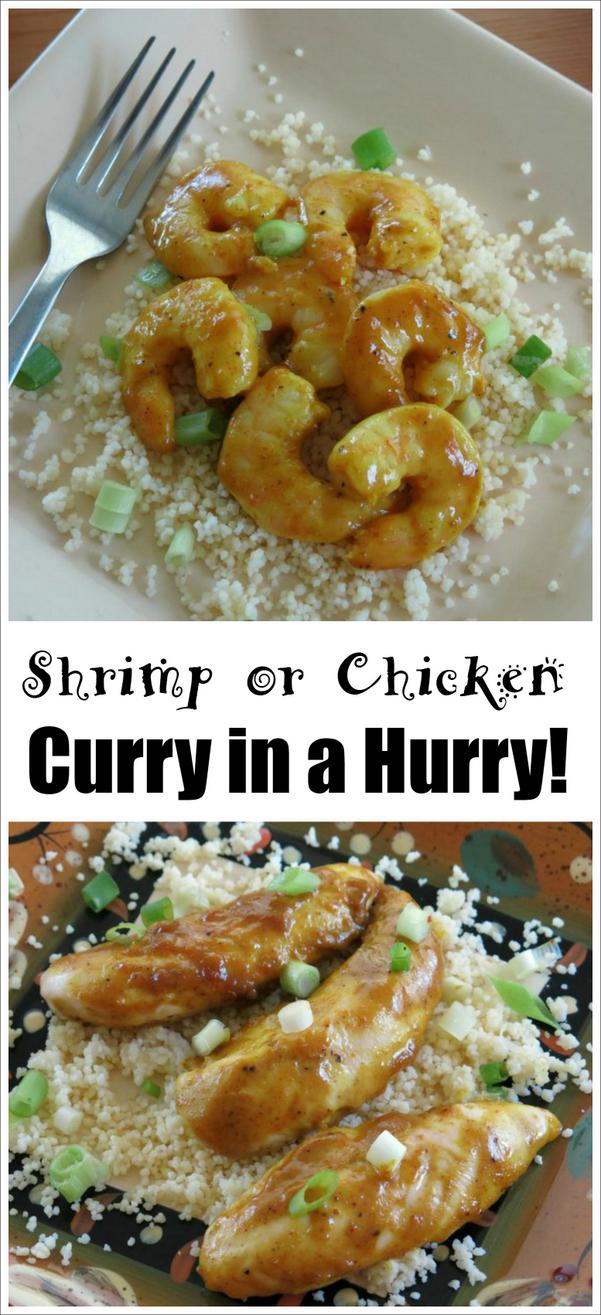 How will you enjoy your curry in a hurry sauce?