This post may contain affiliate links. As an Amazon Influencer, I earn from qualifying purchases.
Declutter kitchen countertops and free up space to make cooking and clean-up easy and enjoyable. Practical steps anyone can take that will maximize space and have a big impact.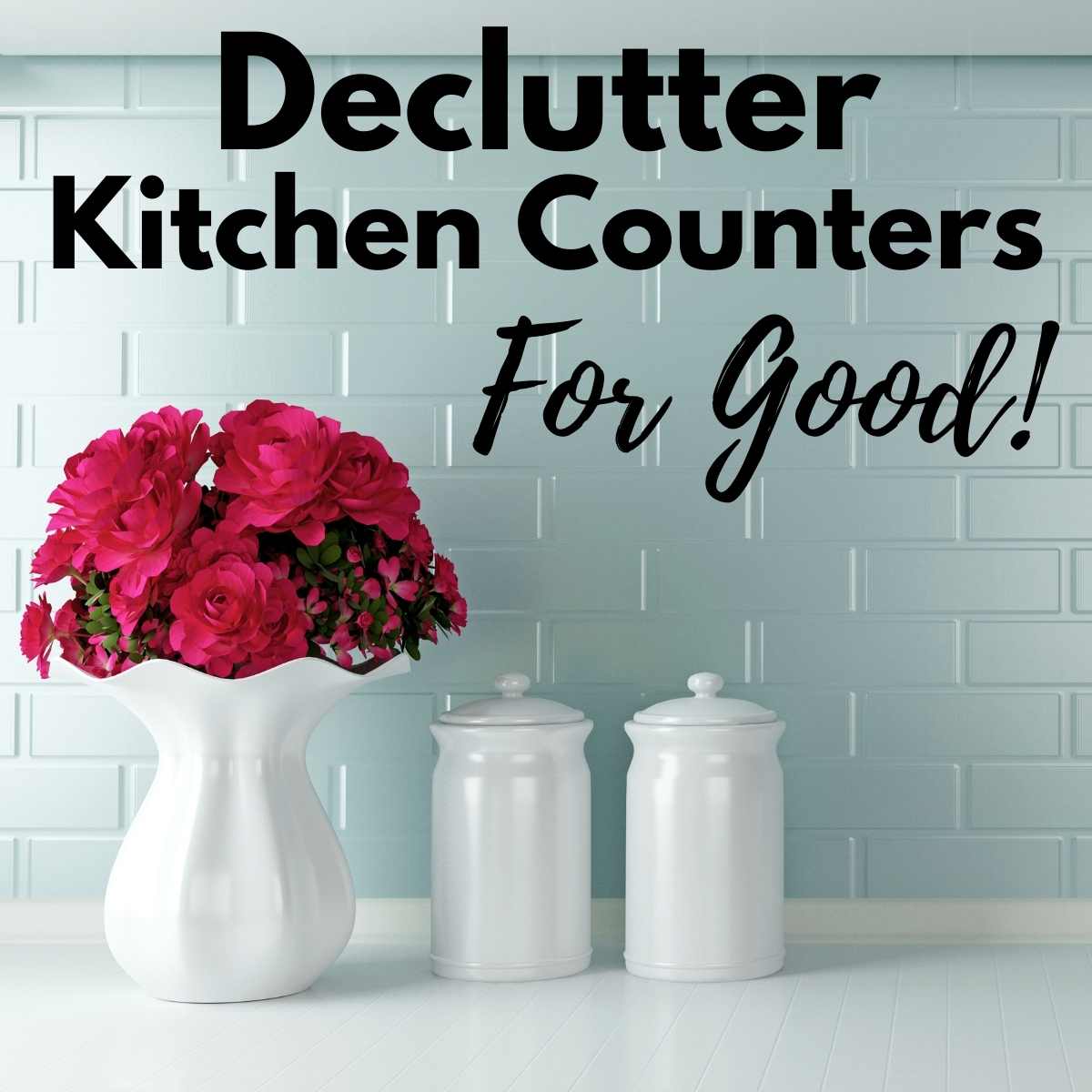 When your kitchen is filled with clutter, it's hard to locate the utensils you need when cooking. Preparing meals isn't as enjoyable and clean-up can be difficult.
It's easy for stuff to accumulate on your counters, even if you have the best intentions. And, it's understandable too. The kitchen is a high-traffic area and things like mail, homework, and even trash, tend to land there (and never leave.) Sound familiar?
A clean and tidy countertop may seem like an impossible dream. But, these tips and solutions will show you how to maximize your kitchen storage, clear your counters, and make sure they stay clutter-free.
This post may contain affiliate links. As an Amazon Influencer, I earn from qualifying purchases.
1. Start with the goal of empty counter space
I know what you're thinking! This isn't a realistic objective. You don't have room to stow away more things. And, you want frequently used items within reach.
Before making any snap judgments go through the rest of the suggestions in this article and keep an open mind. What do you have to lose?
Having nothing on your countertop makes it easy to keep clean and provides more surface space for cooking. You'll fall in love with the spacious feel. It's more likely to stay that way too because anything that's out of place is going to really stand out.
It won't look bare either! You'll have a chance to showcase what truly sparks joy when you're all finished.
2. Evaluate and discard items
If you haven't decluttered and organized your pantry and cabinets, then don't skip this step. You'll be able to relocate items normally found on the counter when you're finished.
This is a lengthier task compared to the others. But, it's also the only way to truly banish counter clutter for good.
Below are the basic steps to follow for each category of kitchen items. Our Kitchen Declutter Checklist will help you hit all the areas.
Tip: Are you short on time? Tackle the job in chunks, starting with the area that needs the most attention.
Here's how to edit each group of items:
Remove everything from its current storage location.
Gather like items together so you can easily compare and evaluate what you own.
Pick up each item and determine whether it fits with your lifestyle and goals.
Discard with gratitude things that you don't need or love.
Maybe you will have room to put those canisters in the pantry after all!
3. Designate storage space
The cardinal rule is to have a designated place for everything...right down to the extra chip clip and stray pen. Store like things together and use labels so everyone else knows where things belong.
With fresh eyes, try to move items normally stored on the countertop out of sight. If something really doesn't belong in the kitchen, move it to a better location if you can. It's easy for office supplies, collections, and more to creep into this area.
Use the tips that follow to create more space OR to maximize existing space so you can move items off the counter!
Beware of just moving clutter to a new location!
4. Add a magazine rack or floating shelves
Add a magazine rack or floating shelves to the end of a cabinet or kitchen wall. It's a fairly inexpensive way to expand your storage space.
You'll find wall-mounted magazine and book holders like these at office supply stores and in some home decor sections.
Use these holders to keep frequently used cookbooks nearby. They won't get dirty either!
Floating shelves can house cookbooks too. Or, showcase something else. The removable hooks on these shelves make them very versatile.
Use them for frequently used items, or to showcase dishware you love (which will make more room inside the cabinet for something else!)
5. Make use of cabinet door storage
Take advantage of hooks, racks, and over-the-door shelves to store things inside a cabinet door instead of the countertop.
Some things that can be moved to this location include:
Cutting boards
Measuring cups and spoons
Spices
Paper towels
Potholders
Dishtowels
Here are a few ideas to get your started. They come in all shapes and sizes.
6. Store appliances out of sight
Store small appliances in a cabinet or pantry. You'll be amazed at the transformation that occurs! Your kitchen will seem so much bigger. If you're renovating, add a cabinet with slide-out drawers just for this purpose!
Locate frequently used appliances, like a blender or toaster, so that they are easy to lift out. Place larger, infrequently used appliances in the back of the cabinet or at the back of a deep shelf.
Another option for appliances you don't use often is to move them to another area, like a hall closet or laundry room. Just try to keep everything together so you always know where to look.
I recently moved our toaster to a cabinet. There was pushback at first. But, that quickly ended. Now everyone uses the multi-functional air fryer instead. So, the toaster may be on its way to new home soon!
7. Create a station for coffee or tea
Many people enjoy starting their day with a hot cup of coffee or tea. If you're one of those people, then stashing your coffee maker in a cabinet is not an option. A smallish cart will sometimes work.
Otherwise, create a defined area for this ritual. Harness the supplies on a tray or cake stand. This makes the area attractive and easy to maintain.
8. Use a hanging basket
Store fresh vegetables and fruits within view, but off the counter in a hanging basket.
It's nice to be able to see what you have at a glance. When considering this option be sure that it wouldn't be better to keep something in the refrigerator instead, like apples!
9. Make a landing zone for incoming mail
Designate a place for mail, papers, and items for your next project often land on the kitchen counter. Magnetic holders that stick to the fridge are perfect for many things.
If there's a location outside the kitchen, transition to that place. For example, if you have a mudroom, establish a landing zone for things like backpacks and school papers. Designate a bin in the garage or office for projects in process.
If the kitchen is the only place that makes sense, consider creating a spot on the refrigerator.
These types of holders come in many different shapes and sizes and can be used for mail, pens, or a can opener.
Use the less visible side of the refrigerator if you can. There will be less visual clutter!
10. Banish dish racks and sponges
Whether you have a dishwasher or not, you probably need to wash something every day. Keep the sponges and other items needed for the task under the sink in a basket on the door.
If you only have a few things to take care of, then wash and dry them right away.
If you wash all your dishes by hand, then create a routine to get it done. Once you're finished with the drying rack, put it away!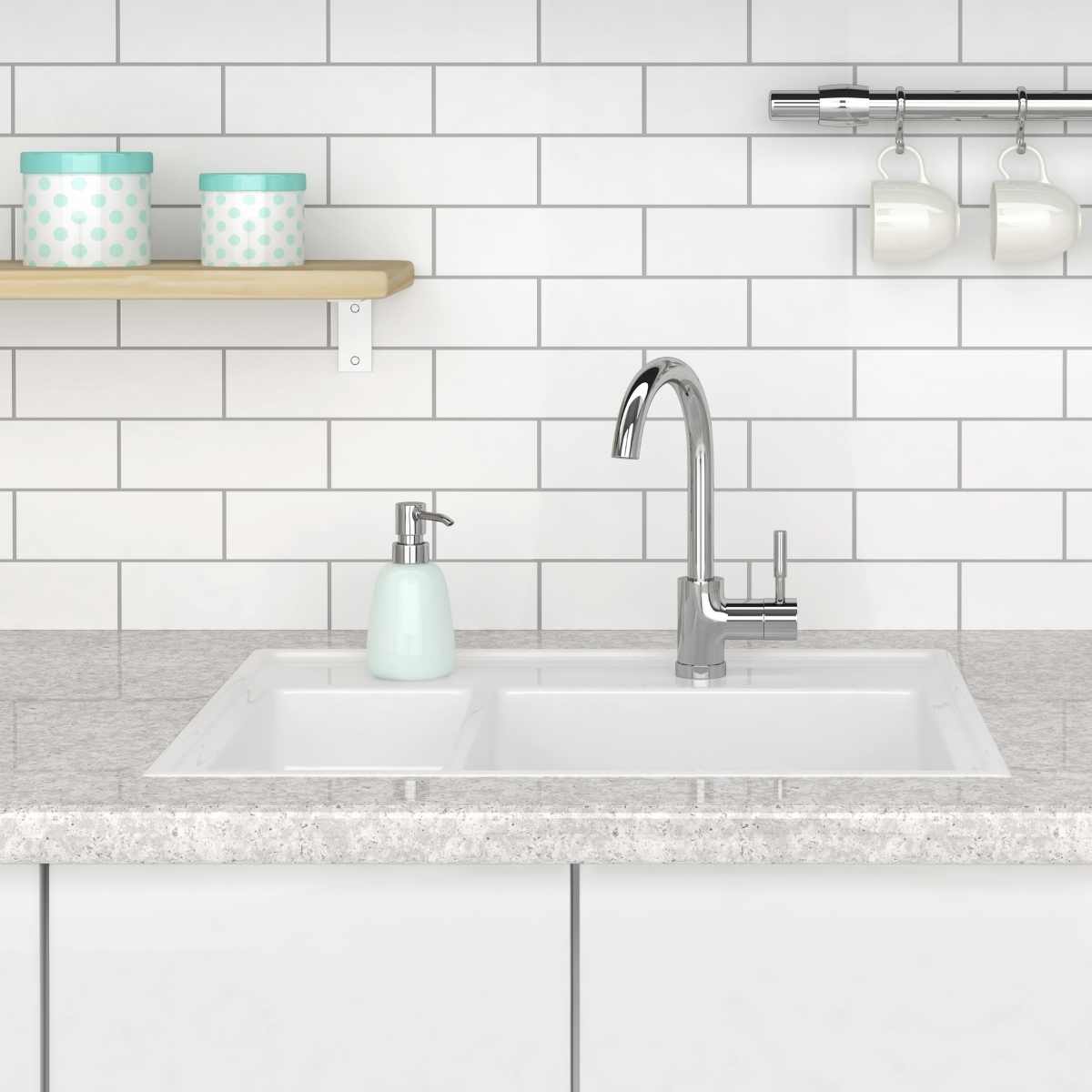 11. Keep decorations to a minimum
When you've finished your kitchen counter edit, carefully consider what to arrange on the counter. Be selective and move larger items, or collections, that aren't related to the kitchen to another place.
If you have a plant shelf on top of your cabinets, use that wisely too. It's perfect for irregular serving pieces that you love, but don't use often.
Only keep items that spark joy and your kitchen will truly be a place that you enjoy time in.
12. Establish routines
Here are some routines to live by to keep your counters clutter-free:
Commit to putting dirty dishes into the dishwasher as soon as you are done with them. If you don't have an automatic dishwasher, wash and dry them when you're finished eating. Don't let them build up!
Make it a habit to go through your pending areas each day.
Do a clean sweep at night. If you truly know where everything belongs, then it's not a clutter "problem." You just haven't had a chance to put things away...and it's going to be so much easier!
More Ways to Declutter and Organize
Join the conversation!
Leave a comment below with your tips and suggestions.