This post may contain affiliate links. Please read my disclosure.
Do you have the essential air fryer accessories? Check out our recommendations for Ninja and Cosori air fryers to get great results when you use them and take full advantage of what they can do.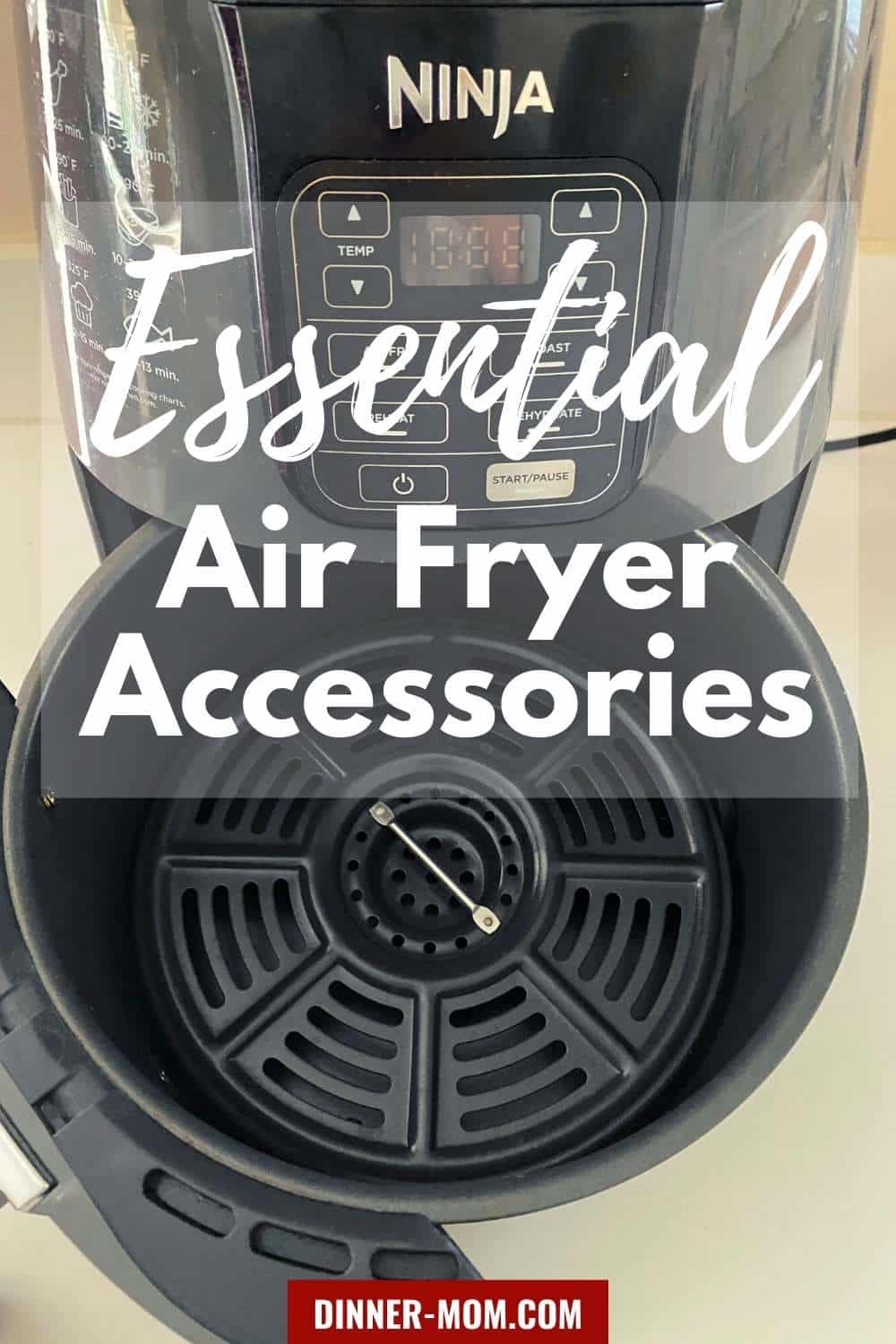 We have a Ninja air fryer and a Cosori. And I use them every single day! Really.
I hard boil an egg in the morning. I roast zucchini, green beans, and cauliflower in minutes because the brown, crispy edges are so delicious. Come dinnertime, air fryer steak bites (which rival the ones cooked on a grill) are often on the menu.
If you just bought an air fryer, congratulations. Dinner just got a whole lot easier. And if you don't have one, it's never too late to plunge into the world of air fryer cooking or expanding how you use this amazing appliance.
Below you'll find the pros and cons of our Ninja and Cosori air fryers. I'll also cover must-have kitchen items I use with them.
After that, we discuss tips for purchasing the right package of pans, racks, and more to extend the use of this table-top convection oven.
Note: This post contains affiliate links. As an Amazon Associate I earn from qualifying purchases.
Not a prime member? NO PROBLEM!
You can take advantage of all the great deals on Amazon, even if you don't have a membership, because the first 30 days are FREE. Cancel before the 30 days is up if you don't want to continue. Check out the Amazon Prime Membership benefits and join HERE!
Jump to:
Air Fryers (Ninja vs Cosori)
First things first, you need one of the best air fryers. So, I wanted to tell you what I have, why I'm such a big fan, and how I ended up with two!
Ninja Air Fryers
I've had a Ninja 4-quart 1550-watt Air Fryer for over 4 years. There have been no problems, except I replaced the crisper plate because I scratched it with a metal utensil!
My favorite features:
Just hit pause and pull out the basket to see how everything is progressing. It's effortless to check the progress.
The crisper plate AND the basket are dishwasher safe. The flat crisper plate can go into the dishwasher on its side like a plate, so it takes up no room. I usually wash the basket by hand because I have too many dishes!
It's faster than cooking it in the oven. You don't have to preheat it because it heats up quickly. But you can.
The food browns, much like it would on a grill.
The 4-quart size (shown directly below) is perfect for a small family of 2-3, and it fits easily under most cabinets on the counter.
It's a healthy way to "fry" because you use less oil.
The Ninja brands have a sturdy, well-made feel, and I'm sure I'd love the larger Max XL version shown below, but it won't fit under my cabinets (that's the negative thing for me on this one.)
I also want to mention the Ninja Foodi options. Many people love these models because they eliminate an appliance, like a pressure cooker or grill. The one below is on my wish list!
Cosori Air Fryers
Truth is, I never expected my first air fryer to last so long. And not long after buying it, I wanted a larger air fryer to make big portions and have leftovers.
That's how the Cosori Pro Gen 2 (shown below) entered the scene. It has a 5.8-quart capacity, which is pretty large, and I can cook just about anything in it.
Note: Now there's an even larger model: 6.8-quart COSORI Air Fryer Dual Blaze!
Why I like it:
The super large square basket makes it easy to spread food into a single layer for even cooking.
It fits on my counter under the cabinets.
The base and basket are dishwasher-safe. (But I usually only have room to fit one piece on the top rack.)
It can be connected to Amazon Echo or Google Home, which is super convenient if you use these devices. I simply tell Alexa the temperature and time! You don't have to use this feature. And it may be considered a negative feature if you're not a fan of smart appliances.
Below you will find, in order of importance, the essential air fryer accessories that I use with my Ninja and Cosori air fryers.
Instant Read Thermometer
The most important accessory for perfectly cooked food is an Instant Read Thermometer. It's so easy to pull out an air fryer basket and check the temperature. You'll be rewarded with perfectly done dishes that everyone will love!
This one has a long handle, and the probe can be rotated to easily check for doneness.
Olive Oil Mister
I spray the air fry basket with an oil sprayer so the food does not stick. It's not recommended to use cooking spray because it will degrade the non-stick coating.
I also spritz chicken nuggets and other breaded foods so they crisp up nicely.
When it's time to coat vegetables with olive oil before roasting, this is my go-to bottle. It's much more efficient than measuring out a Tablespoon and trying to make sure every veggie gets a hit!
What I like about this one: it comes with a funnel to fill the bottle, AND you can easily measure how much you use!
Parchment Paper or Disposable Liners
There are many reasons to use parchment paper liners. It helps prevent sticking, makes clean-up easier for some recipes, and also prolongs the life of the crisper and basket. The liners below come in circular and square shapes and different sizes. There are options for both Ninja and Cosori air fryers.
Whatever you do, DON'T USE ALUMINUM FOIL. I did that and had to promptly buy a new crisper because the Teflon nonstick coating was damaged.
Air Fryer Accessory Bundles
I'm pretty sure I could dispense with the oven and make all my meals with an air fryer! Of course, I'm kidding. But there are lots of helpful air fryer accessories that truly make this an option, especially for college kids!
You'll find accessor kits that include everything from pizza pans, cake barrels, holders for skewers, and racks to dehydrate things. Many include lots of extras, too, like silicone mits and mats, magnetic timing cheat sheets, and more. Everything is heat resistant most items are dishwasher-safe!
I love the bundle below because not only does it have great accessories, but it also includes a recipe book for using them. It even has an insert to make zucchini egg bites!
Important: Be sure to select a bundle that will fit your air fryer and maximize the space. Select the right one depending on the size of the interior of your appliance: They come in 7" or 8" bundle sizes. If you click on the link below, you'll see the sizes for each item.
Air Fryer Cookbooks
If you're new to the air fryer game, or if you are gifting one, a cookbook is always appreciated. You can always trust that America's Test Kitchen has great recipes and tips. I'm also a big fan of Skinnytaste recipes.
Do you have a favorite air fryer accessory? Let us know in the comments!
Shop the Amazon Dinner-Mom Store for kitchen finds we use and love!