If you purchased an air fryer, congratulations! Cooking just got a whole lot easier. Be sure you have all the essential accessories too. And, if you don't have one yet, then what are you waiting for? We'll give you the pros and cons of the Ninja and Cosori brands. We have both and use them every day!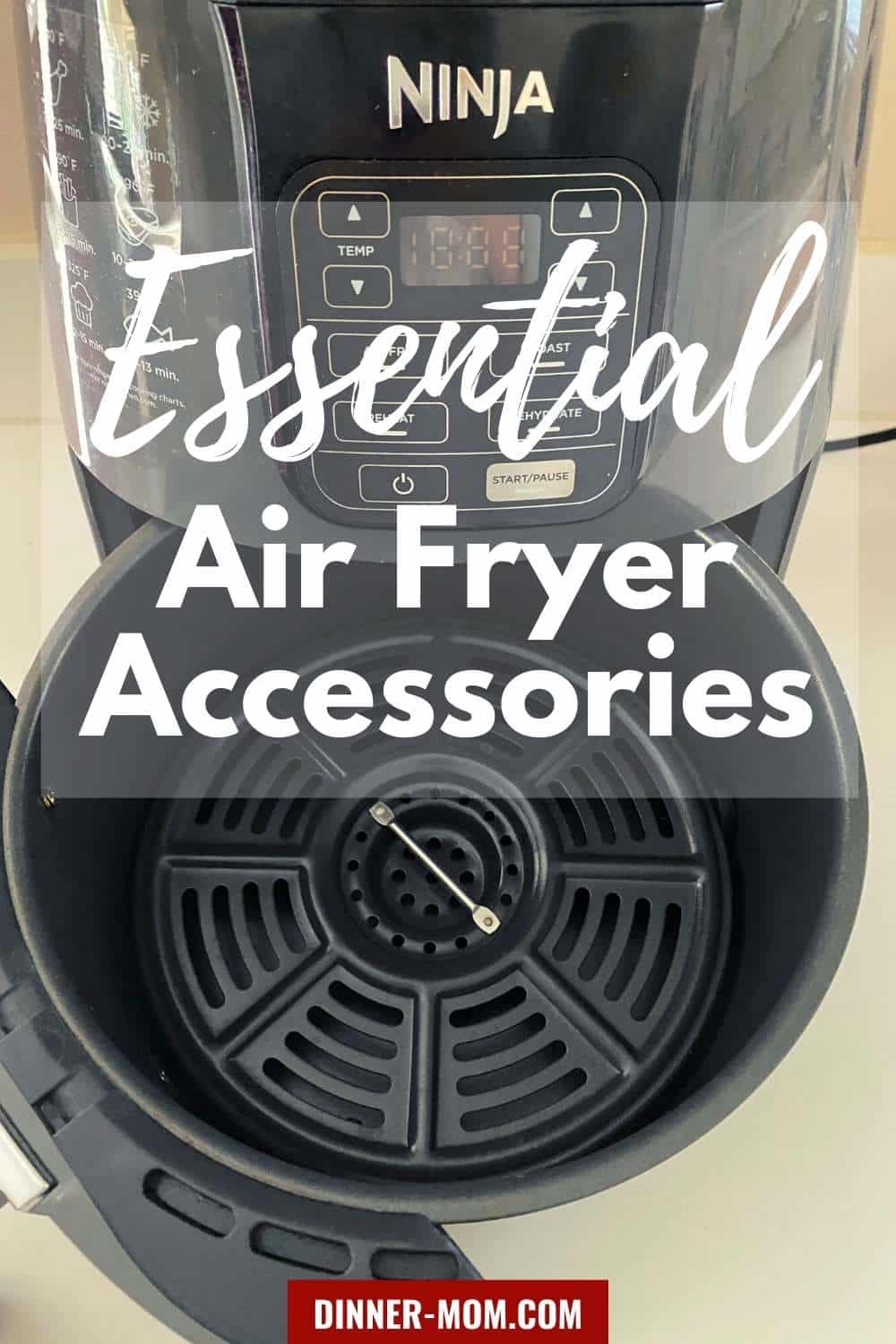 There's never been a better time to take the plunge. You'll find more information about the two air fryers we have below as well as tips to purchase the right package of pans, racks and more to extend the use of this table-top convection oven.
Note: This post contains affiliate links. As an Amazon Associate I earn from qualifying purchases.
Not a prime member yet? NO PROBLEM!
You can take advantage of all of the great deals on Amazon, even if you don't have a membership because the first 30 days are FREE. Cancel before the 30 days is up if you don't want to continue. Check out the Amazon Prime Membership benefits and join HERE!
Jump to:
Ninja Air Fryers
First things first. You need an air fryer! So, I thought I would tell you what I have and why I'm such a big fan.
I have a Ninja 4-quart 1550 watt Air Fryer. I use it every single day. Really. I hard boil an egg in the morning. I roast zucchini, green beans, and cauliflower so the edges are crispy for lunch. Come dinnertime, I make steak bites (which rival the ones cooked on a grill) or roast chicken.
My favorite features:
Just hit pause and pull out the basket to see how everything is progressing.
The crisper plate AND the basket are dishwasher safe. But, I usually wash the basket by hand because I have too many dishes!
It's faster than cooking it in the oven. You don't have to preheat it either. But, you can.
The food is healthy and delicious!
The 4-quart size below is perfect for a small family of 2-3 and it fit easily under most cabinets on the counter.
The Ninja brands have a sturdy, well-made feel and I'm sure I'd love the larger version, but it won't fit under my cabinets.
I also wanted to mention the Ninja Foodi options. I know that lots of people love these too because they eliminate an appliance, like a pressure cooker or grill.
Cosori Air Fryer Max XL
I love leftovers which is why I also have a Cosori Max XL. It has a 5.8 quart capacity, which is one of the largest around.
Why I like it:
It's easy to spread food out for even cooking because of the super large square basket.
It fits on my counter under the cabinets.
The base and basket are dishwasher-safe. (I usually only have room to fit one piece on the top rack.)
It can be connected to Amazon Echo or Google Home which is super convenient if you use these devices. I simply tell Alexa the temperature and time!
Accessory Bundles
I'm pretty sure I could dispense with the oven and make all my meals with an air fryer! Of course, I'm kidding. But, there are lots of helpful air fryer accessories that truly make this an option. It would also be perfect for college kids!
You'll find bundles of accessories that include everything from pizza pans, cake barrels, holders for skewers, and racks to dehydrate things. Many include lots of extras too like silicone mats, magnetic timing cheat sheets, and more. Almost everything is dishwasher safe!
For the Ninja Air Fryers
The most important thing: be sure to select a bundle that will fit your air fryer. These are round and will maximize the space used. Select the right one depending upon the size of your applicance:
This one will work with a 5.5 quart Ninja air fryer:
Buy this one for a 4-quart Ninja air fryer:
You use these accessories for a bigger air fryer too. But, purchasing the larger sized option will maximize the space that you have.
Parchment Paper
There are many reasons to use parchment paper. It helps prevent sticking, makes clean-up easier for some recipes and also prolongs the life of the crisper and basket. Whatever you do, DON'T USE ALUMINUM FOIL. I did that and had to promptly buy a new crisper because the Teflon was damaged.
Olive Oil Mister
I use an olive oil mister to spritz breaded items so they crisp up nicely. I also use it to coat vegetables with olive oil, which is much more efficient than measuring out a Tablespoon and trying to make sure every veggie gets a hit!
What I like about this one: it comes with a funnel to fill the bottle AND you can easily measure how much you use!
Instant Read Thermometer
Finally, I highly recommend an Instant Read Thermometer. It's so easy to pull out the basket of an air fryer and check the temperature. You'll be rewarded with perfectly cooked dishes that everyone will love!
Air Fryer Cookbooks
If you're new to the air fryer game, or if you are gifting one, a cookbook is always appreciated. Two of my favorite air fryer authors have cookbooks and you can always trust that America's Test Kitchen has great recipes.