Are you starting a food blog? We've gathered a list of our favorite food blog resources that we've found very helpful!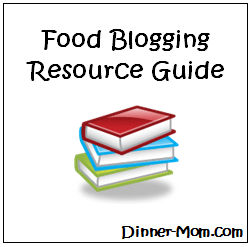 Starting and maintaining a food blog is exciting and a lot of work. You wear many hats. Not only are you a recipe developer and writer, but you are also the chief photographer, media specialist and webmaster. A good chunk of time can be spent figuring out how to set-up and successfully run your blog.
I'm documenting resources and tips that I've learned along the way. I hope they help you in your blogging journey.
The companies and products used on The Dinner-Mom blog are referenced.
Note there are some affiliate links and I will receive a small commission if you end up buying something through these links. However, I use all of the companies and products and would be happy to answer any questions about my experiences with them. 
These food blog resources are continually updated as the world of blogging evolves…so be sure to check back.
Food Blog Resources Index
Hosting

I chose Blue Host to host The Dinner-Mom site on the recommendation of a lot of other bloggers and I have not been disappointed. They have 24/7 phone support and I have used it. Often. The support staff has walked me through installing WordPress, changing my domain name as well as answering lots of other questions at a moment's notice. You can purchase a new domain name directly from them (but you don't have to.) I also use their back-up service. I haven't experienced any down time either. They have lots of other benefits like free email accounts and it's affordable. So check out their web-site or give them a call.
WordPress Themes

I made the switch from a free Blogger site to a self-hosted one because I wanted control over the format and peace of mind that nobody could arbitrarily change things on me. I also wanted a professional look that would be SEO friendly (since I wasn't going to have the wind of Google at my back.) My research led me to the Genesis framework and StudioPress. They are considered a leader in the industry in providing a clean, SEO friendly framework that is easy to use and customize with child themes.
A child theme? Most likely, if you buy the Genesis framework you will also buy a "child" framework too. The child framework is like the window dressing. Once you layer it on, your website has a professional and customized image with very little effort. If you want to change the look again, then you can buy a different "child" theme. It is an extremely easy and inexpensive way to change things.
WordPress Plug-ins
Once your site is up and running, you are quickly introduced to the world of plug-ins and widgets. Plug-ins are developed by various companies and individuals and can be downloaded through your WordPress dashboard and plugged-in to your site. Before you download anything, make sure the plug-in is reputable. Take a look at the details, such as how many times it has been downloaded and user ratings. These are some that I wish I had downloaded right away:
Akismet – Gets rid of spam.
WordPress SEO by Yoast – Helps you formulate your posts for search engine optimization even if you don't know the first thing about SEO.
Photography
I'm constantly reading, practicing and learning how to improve my photography. In my library you will find:
Plate to Pixel: Digital Food Photography & Styling by Helene Dujardin
Tasty Food Photography by Lindsay Ostrom.

The concepts are clearly presented with lots of pictures so you know exactly what the author is talking about! I reference this book often.
In case you are wondering, I use a Canon PowerShot G15, which is a high end point and shoot camera. Gasp!
I will upgrade to a DSLR some day. In the mean time, this camera allows me to manually adjust the settings if I want to. But, I can spend most of my time focusing on lighting and composition instead. I love that it is portable enough to carry around and easily capture family memories and still do a decent job with food pictures too.
I hope these food blog resources are helpful in building the foundation for your food blog. If you have questions, please feel free to contact me.