Do you want a week off from cooking…but still want to enjoy great meals without the hassle of eating out? If so, then check out our free make ahead meal plan with 5 gourmet favorites: Cheesy Meatloaf with Sundried Tomatoes, Herb Crusted Chicken, Maryland Style Crab Cakes, Pasta e Fagiole and Quiche Lorraine. There's something for everyone on this gourmet menu!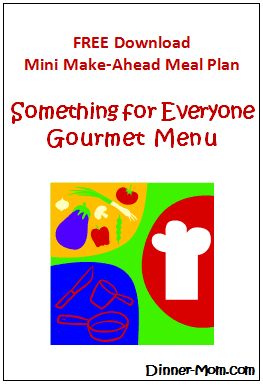 I'm so excited to share this free make ahead meal plan! It's based upon favorite recipes from our meal assembly store. There's a lot of flexibility in the menu–quiche for brunch or dinner and lots of leftovers. It's perfect for a week at the beach, cabin or if you're hosting guests. We've done all of the planning for you. This 14 page booklet includes:
Grocery list, with suggestions for customization

Printable labels
Recipes written for streamlined assembly
Master Plan Refrigerator Sheet and Cooking Instructions
Suggestions for simple sides and what to do with leftovers
Tips for freezing and defrosting entrees
Guidelines for safe recipe assembly
And, of course, step-by-step instructions for a smooth assembly session. You won't believe just how easy it is to take advantage of this cooking method.
All you need to do is spend a few hours in the kitchen prepping these 5 entrées and then enjoy a week of minimal preparation on serving day.  Or, take advantage of these entrees throughout the month when you need a night off.  In case you are wondering, you'll have plenty of leftovers and may want to eat out one night…that's how we got to one week. Each recipe will generously feed 6 people. However, you can "split" entrees into servings for 2-3 people. Serving a large crowd? Then just double it.
Sign-up for our free emails and receive a complimentary copy of the Mini Make Ahead Meal Plan: Something for Everyone Gourmet Menu to download.
We'd love to know what you think about this make ahead meal plan…and, if you think others might like it too, please spread the word!