This post may contain affiliate links. As an Amazon Influencer, I earn from qualifying purchases.
This Healthy Meatloaf Recipe and post were created as part of the #MushroomMakeover 30 Day Weight Loss Challenge in which I am a financially compensated blogger ambassador for the Mushroom Council. The opinions are my own and based on my own experience.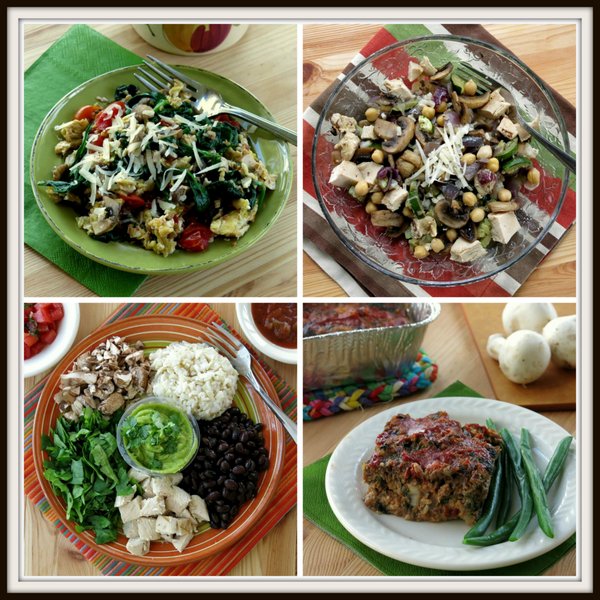 In case you haven't noticed...yes! Yes, I do love mushrooms! They are hearty, low in calories, low in sodium, gluten free and add flavor to just about any savory dish. So, I was thrilled to be chosen by The Mushroom Council AD and Mamavation to take part in the 30 Day #MushroomMakeover Challenge. Here it is:
Follow a fitness plan designed by Mark Segedie.
Follow healthy eating guidelines designed by Corrine Dobbas.
Use mushrooms in at least 4 recipes (any meal) 4 times a week.
This challenge came at a perfect time for me. My weight and exercise routine has been on a roller coaster. And, when I'm in healthy mode, I tend to do the same things over and over again...oatmeal every day for breakfast and chick peas in the afternoon. The same goes for exercise. I walk 30 minutes on the treadmill and lift a few weights. Time to switch things up and make some changes for good!
Over the next 3 weeks I'll be sharing my experience and recipes with a weekly blog post. You can also follow me on Instagram, Twitter and Facebook. You can join in the fun any time!
So....How did I do this week?
Exercise
Burpee? I hate to admit this. But, I've never done one until this week. Yikes! The exercises are straightforward and simple to do. But, when you do them all in a row, without stopping, four times...it makes for one heavy duty workout. I am happy to report that I completed the circuits and I felt good (after I recovered from the burpees.) 🙂 Did I mention the 10,000 steps a day requirement? All was good this week and I liked the accountability from checking in with the personal trainer after each workout. There's a different routine next week so stay tuned!
Healthy Eating
I began by completing a questionnaire that reflected on my relationship with food. I wouldn't have taken the time to do this but for this challenge and the requirement that I turn it in. It was a very therapeutic process and helped me set personal goals. The mantra is "inner change for outer change" and I looove that! The other takeaway...produce and protein at every meal and snack.
Mushroom Recipes
You won't eat healthy for long without some tasty recipes. Here are 4 ways that I used mushrooms this week. (If you've been holding out for the Healthy Meatloaf Recipe, it's at the bottom.)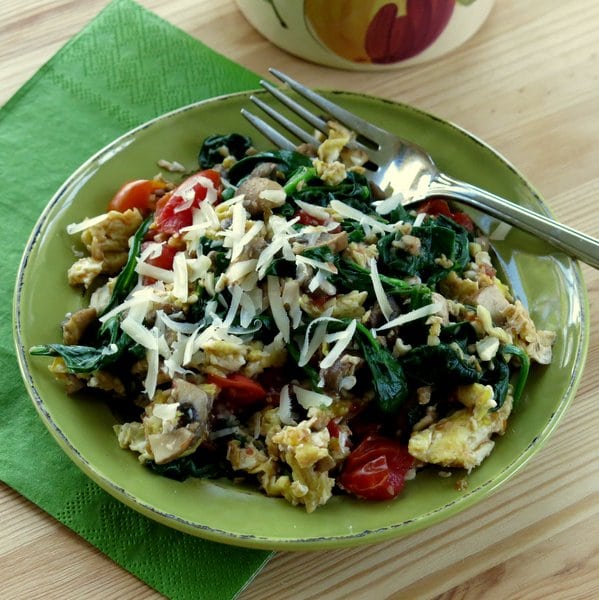 Several times this week I enjoyed a vegetable and egg scramble. Saute mushrooms, tomatoes and garlic in olive oil. After a few minutes, add fresh baby spinach leaves and wilt. Remove vegetables to a dish and scramble one egg in the pan. Stir everything together and top with freshly grated Parmesan cheese. Delicious!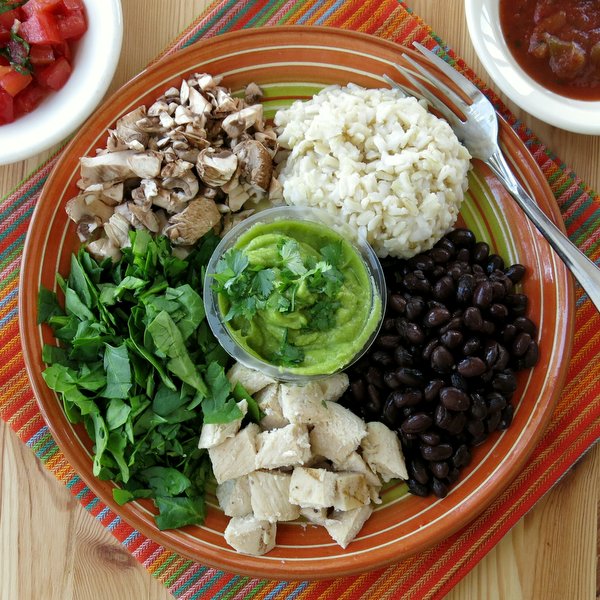 I made a big batch of brown rice on Monday to use throughout the week and I was so glad I did. Mix up these ingredients and you have one tasty rice bowl.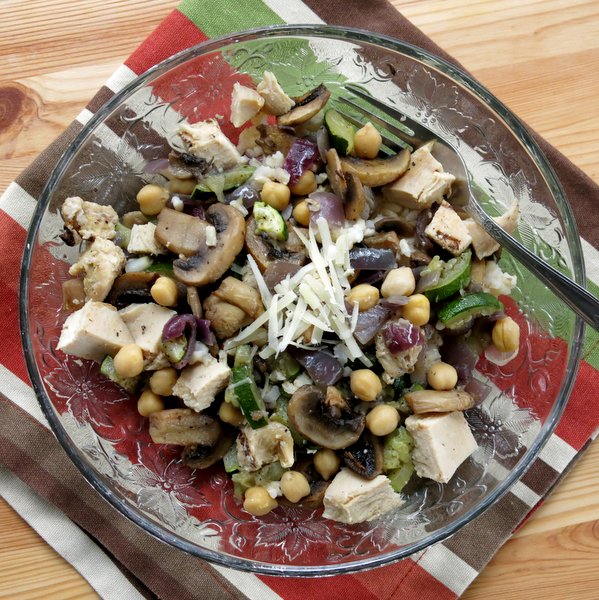 I also roasted vegetables in the oven a couple of times this week with plenty of leftovers. I had them in salads and also covered my pizza with them on our Friday pizza date night.
Healthy Meatloaf Recipe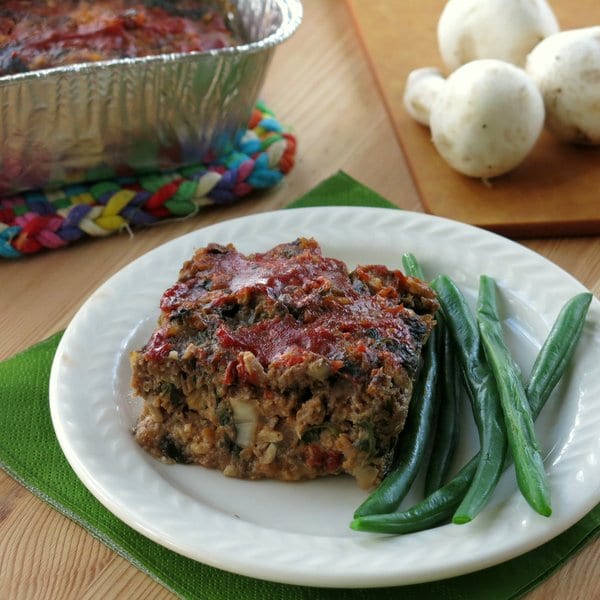 Healthy Meatloaf Recipe? Yep! I replaced half of the ground beef with mushrooms. Easy peasy. And, no one is the wiser. Really. My family loved it as much as they do Meatloaf Muffins with Spinach and Pine nuts.
📋 Recipe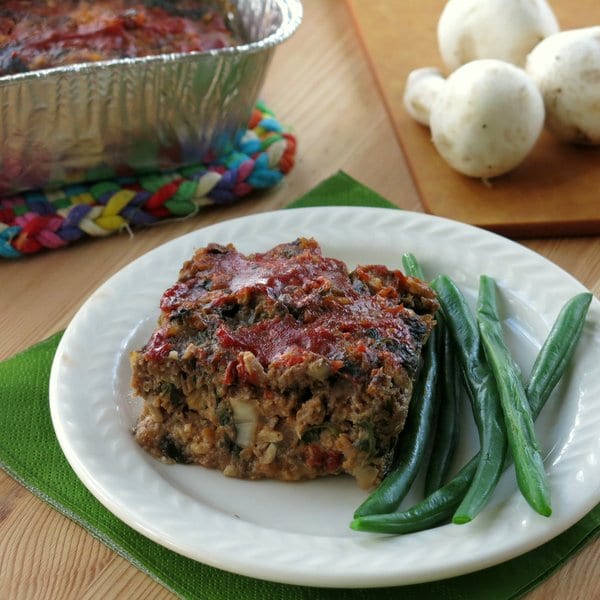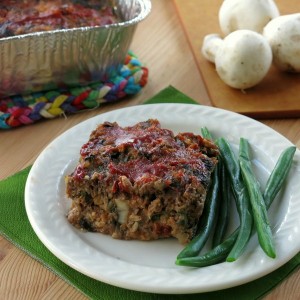 Healthy Meatloaf Recipe with Mushrooms and Spinach
Is there such a thing as a tasty and healthy meatloaf recipe? There is when you replace some of the beef with mushrooms and use ingredients like oatmeal, spinach mixed with two tasty cheeses.
Email Ingredients + Recipe
Print
Pin
Rate
Ingredients
1

egg

lightly beaten

½

cup

oatmeal

½

cup

onion

½

cup

ketchup

plus extra for the top if desired

1

cup

mozzarella cheese

shredded

½

Parmesan cheese

grated

½

cup

spinach

chopped, drained, excess water pressed out with a paper towel

½

pound

ground beef

lean

8

ounces

mushrooms

finely chopped with a knife or food processor
Instructions
Preheat oven to 350F.

Add all of the ingredients except for the ground beef and mushrooms to a large bowl and mix well.

Mix in ground beef and mushrooms.

Portion mixture into 1 pound loaf tin or 4 mini tins.

Bake uncovered for about 30 minutes.

Remove from oven.
Notes
This meatloaf recipe can be cooked in a 1 pound loaf tin, 4 mini loaf tins or even cupcake tins. Adjust the cooking time accordingly. Cupcake size tins will take about 30 minutes to cook and mini loaf tins will take about 45 minutes. Meatloaf freezes exceptionally well, before and after it is cooked. Eat within 2 months of freezing for the best quality.
Grab 5 Low-Carb Sauces
and get more easy, healthy recipes! JOIN HERE
Nutrition
Calories:
169
kcal
|
Carbohydrates:
11
g
|
Protein:
15
g
|
Fat:
7
g
|
Saturated Fat:
4
g
|
Cholesterol:
66
mg
|
Sodium:
340
mg
|
Potassium:
385
mg
|
Fiber:
1
g
|
Sugar:
6
g
|
Vitamin A:
505
IU
|
Vitamin C:
3.3
mg
|
Calcium:
112
mg
|
Iron:
1.6
mg
Nutritional and Food Safety Disclaimer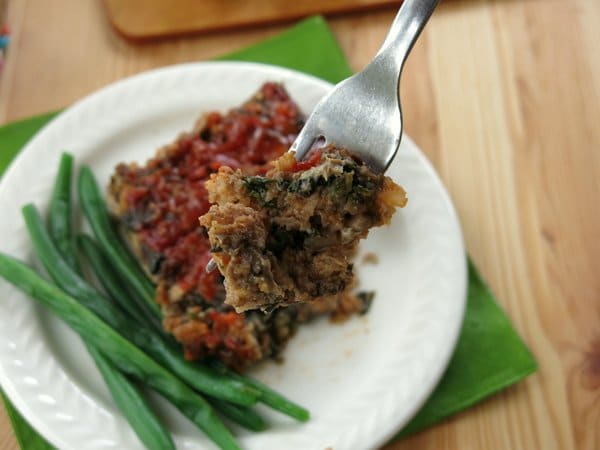 I hope you enjoy this healthy meatloaf recipe and all the other mushroom inspirations!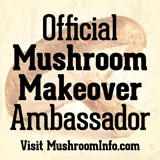 This post was created as part of the #MushroomMakeover 30 Day Weight Loss Challenge in which I am a financially compensated blogger ambassador for the Mushroom Council. The opinions are my own and based on my own experience.