This post may contain affiliate links. As an Amazon Influencer, I earn from qualifying purchases.
We'll show you how to make hearty Homemade Vegetable Soup that is totally CRAVE-WORTHY. Crowd your diet with this clean-eating, healthy recipe to keep your diet on track and detoxify! We have tips for serving and freezing too!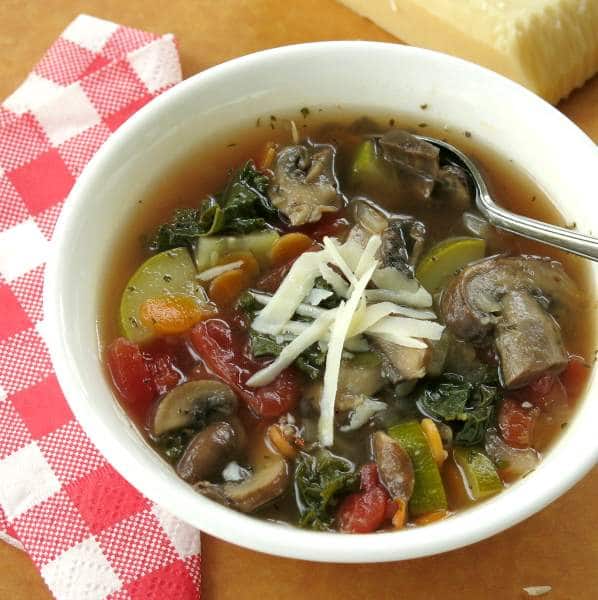 It's delicious! So, I make it all the time to crowd out lunch (or dinner) with a good dose of vegetables! It can be made vegan, Whole 30, Paleo or low-carb and even turned into Spaghetti Squash Soup. It can also be dressed up with some toppings. More on that later. 🙂
As I prepared a recent batch, I thought about how my thinking has evolved. My philosophy used to be the quicker the preparation, the better. That thinking often lead to frozen or canned vegetables, not that there is anything wrong that. But, I've taken these shortcuts before and I'm always a little disappointed. This is not one of those. This is the best vegetable soup I've ever had! Really.
In order to create a homemade vegetable soup that you actually crave (and don't just eat because you're on a diet,) you need fresh ingredients.
This recipe is packed with A LOT of veggies, which is why it goes by hearty vegetable soup at my house.
Making this soup has become a somewhat meditative experience, from the trip to the produce stand to buy the ingredients...to chopping every last vegetable. It's the same kind of experience you making Vegetable Rice Pilaf which can also be made ahead of time and frozen.
When I make it, I go big and always double the recipe and freeze individual portions. Then, I can alternate between this soup, Tomato Florentine Soup and seasonal favorites like Spicy Butternut Squash Soup. More on freezing below too.
I've come to really enjoy the entire process, which often occurs over the weekend. While the soup is in process, I repeat this mantra:
I will have tasty soup in the freezer for the next few weeks.
Life is good.
How to Make Homemade Vegetable Soup from Scratch
The most important tip for preparing this soup recipe is to have everything chopped and ready to go before starting the cooking process. It makes it so much easier. Put on a little music. Get the kids to help. Make it a ritual. 🙂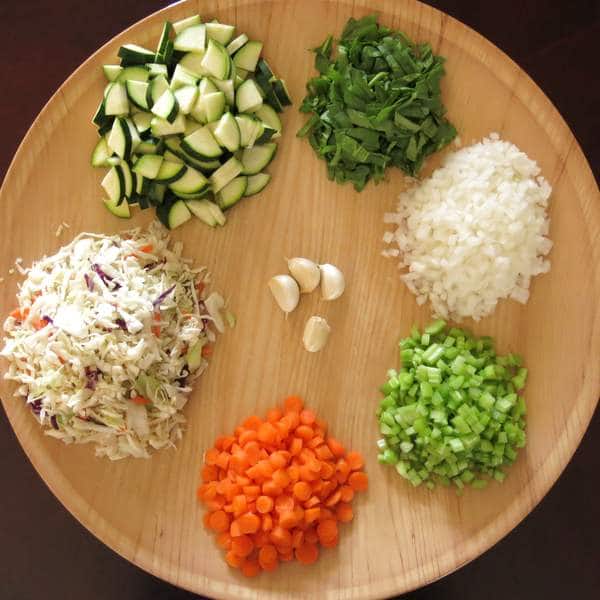 This recipe is easily adjusted for almost any vegetable, so you shop seasonal or adjust based upon personal preferences. Asparagus, green beans, squash, potatoes and different types of mushrooms are all options. I adore mushrooms, but my daughter does not so I make one batch with and one without.
The only exception I often make to fresh is a can of diced tomato. I just don't have the patience to chop tomatoes. Plus, I like to try some of the specially seasoned ones. Lately, I've been on a fire-roasted tomato kick.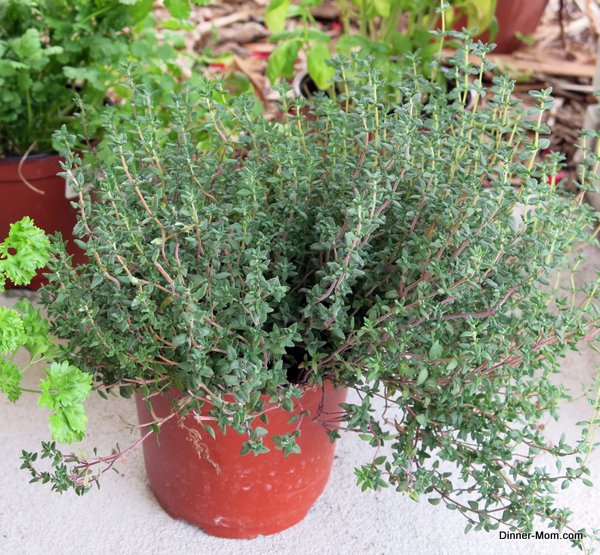 At this point is important to mention the herbs and seasoning. I try to go fresh. And, if you have been following my herb growing progress, I am happy to report that they are alive and well. I add 1 Tablespoon fresh thyme, about ¼ cup fresh basil leaves and 2 garlic cloves minced. HOWEVER, this soup is equally delicious with dried spices.
Salt. As much as I would like to leave this ingredient out, I have to add a ¼ to ½ teaspoon of salt. I use organic vegetable broth. Depending upon the type of broth used, the amount of salt added should be adjusted up or down.
The next step is to soften the vegetables. Saute heartier vegetables for 5 minutes in a little olive oil. Next, add the more delicate vegetables and saute for about 5 minutes more. Don't cut this step short. It really brings out the flavor!
Finally, add the broth and spices. Bring the soup to a soft boil, reduce the heat and simmer for about 20 minutes. Add fresh chopped baby spinach leaves towards the end of the cook process. Simmering melds the flavors together. Honestly, I think it is even better the next day.
Can you freeze vegetable soup?
Vegetable soup freezes beautifully. Freeze it in portions that make sense for your family. Shown are 1 cup containers. I also like to freeze a few 2 cup portions that are destined to turn into a meal.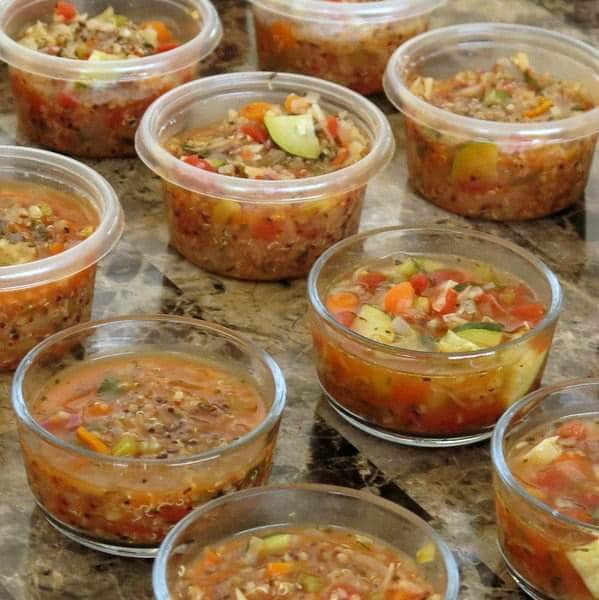 When you are ready to enjoy the soup, remove the container from the freezer and reheat in the microwave or on the stove-top. When reheating in the microwave, be careful with glass containers because they usually should not good from one extreme temperature to another. It's best to move to the refrigerator overnight to defrost. When microwaving, heat in small time increments, stirring in between.
Serving Ideas for Hearty Vegetable Soup
This is where it gets interesting. Although this homemade vegetable soup recipe is delicious all on its own. It's fun to switch things up. Here are some favorite topping ideas.
Just before bringing the soup to a boil, add ½ cup of quinoa. This is the process used for Black Bean Quinoa Soup and Sweet Potato Black Bean Chili. It's a super easy way to add more substance, particular for a vegan vegetable soup.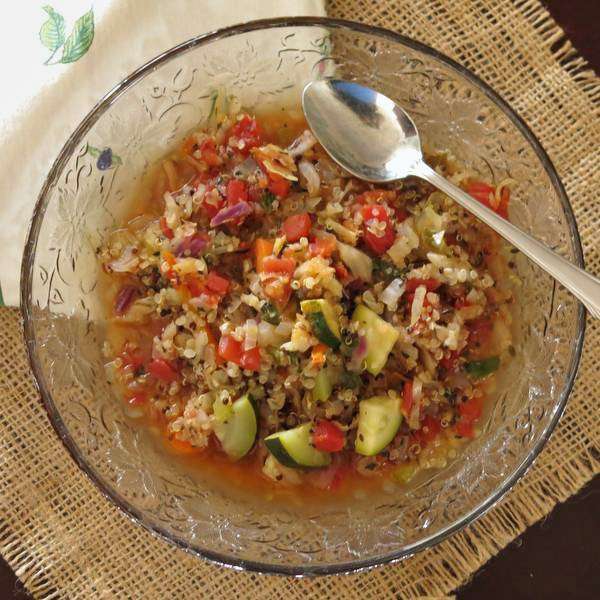 Add a dollop of pesto. (Thank you for the idea Panera Bread!)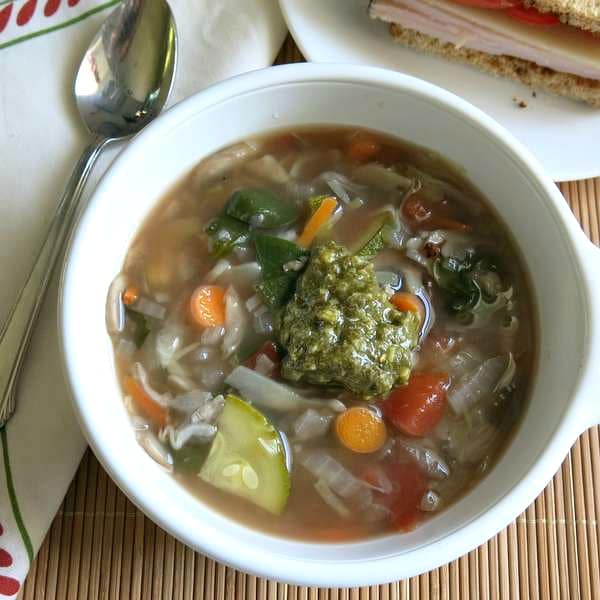 Add freshly grated Parmesan cheese and the soup becomes a creamy vegetable soup. A fancier option is to top with Parmesan Cheese Crisps.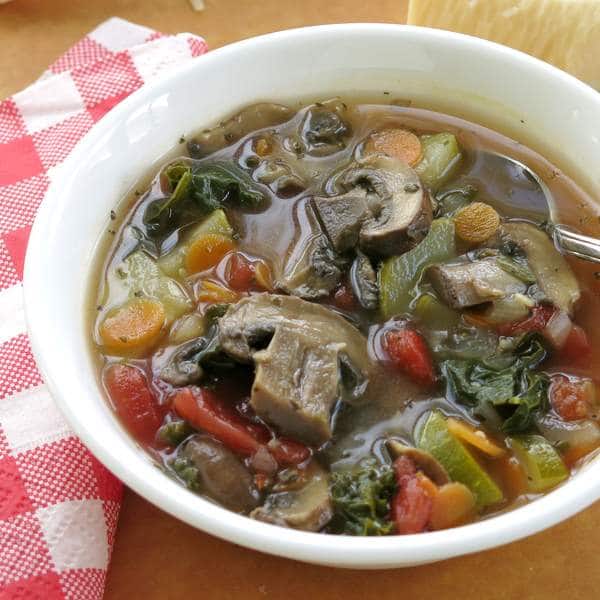 When you add in rice, beans or seafood...it's a meal.
It's like a blank palate ready for a new artistic interpretation. How will you enjoy your vegetable soup?
📋 Recipe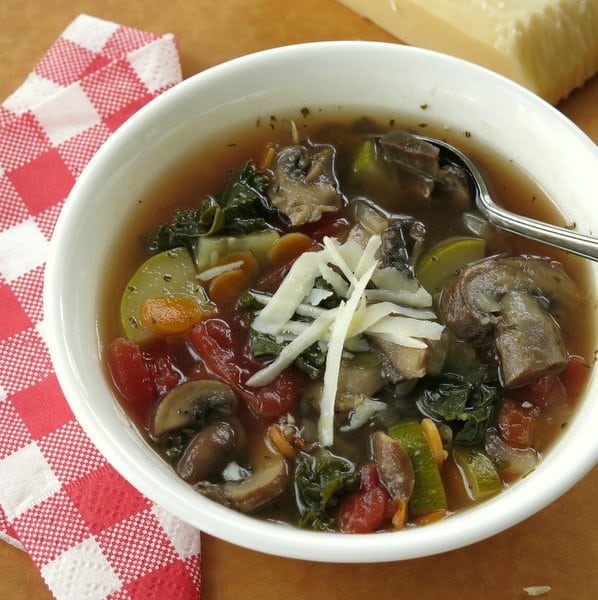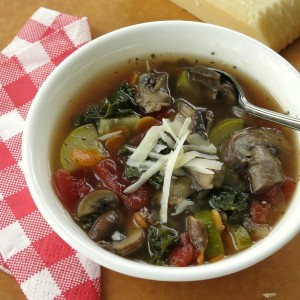 Homemade Vegetable Soup
This Homemade Vegetable Soup is crave-worthy. Crowd your diet with this clean-eating, healthy recipe to keep diet goals and detoxify!
Email Ingredients + Recipe
Print
Pin
Rate
Ingredients
2

teaspoons

olive oil

1

cup

onion

chopped, 1 small onion

3

cups

cabbage

shredded, about ½ head of cabbage

2

garlic cloves

minced or pressed

1

large zucchini

sliced and quartered

2

carrots

sliced

8

ounces

mushrooms

sliced

1

cup

baby spinach leaves

chopped

2

cups

diced tomatoes

about 2 large or 14.5 ounce can

32

ounces

low-salt vegetable broth

or chicken

¼

cup

fresh basil

sliced in strips, about 1 Tablespoon dried

1

Tablespoon

fresh thyme

1 teaspoon dried

½

teaspoon

salt

¼

teaspoon

pepper
Instructions
Heat oil in large pot over medium heat.

Add onions, cabbage, garlic and saute until tender, about 5 minutes.

Add zucchini, carrots, mushrooms and saute for 5 minutes.

Add tomatoes, broth, basil, thyme, salt and pepper

Bring soup to a boil, reduce heat to low and simmer for about 20 minutes.

Add spinach about 5 minutes before end of cook time.

Top with Parmesan cheese, pesto or protein, as desired.
Notes
Substitute or add seasonal vegetables and favorites such as celery, asparagus, beans, potatoes and squash. Store leftovers in freezer. When you are ready to enjoy the soup, microwave from frozen for 1-2 minutes, stirring halfway through. 
Grab 5 Low-Carb Sauces
and get more easy, healthy recipes! JOIN HERE
Nutrition
Serving:
1
g
|
Calories:
43
kcal
|
Carbohydrates:
8
g
|
Protein:
1
g
|
Sodium:
459
mg
|
Potassium:
302
mg
|
Fiber:
2
g
|
Sugar:
4
g
|
Vitamin A:
2270
IU
|
Vitamin C:
16.3
mg
|
Calcium:
34
mg
|
Iron:
0.9
mg
Nutritional and Food Safety Disclaimer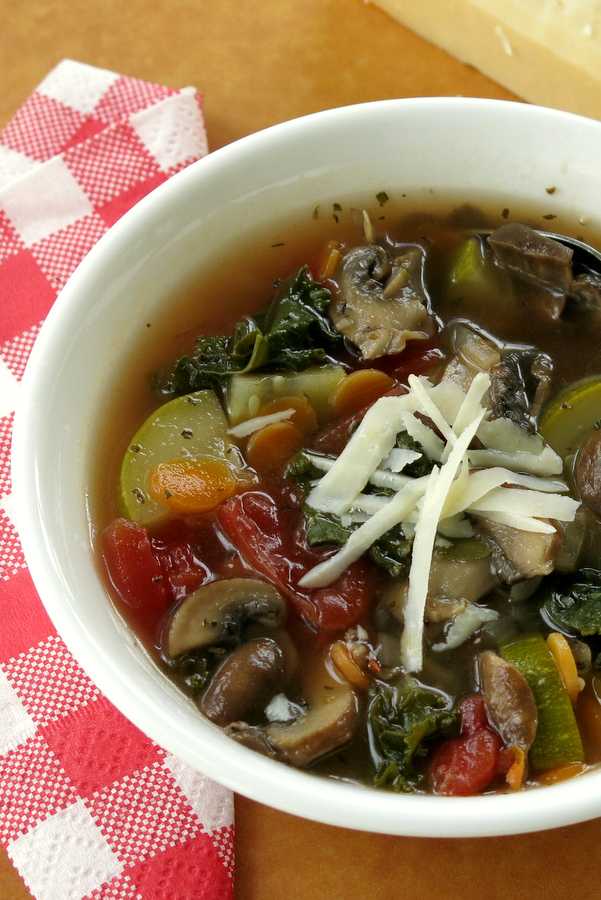 NEVER MISS A RECIPE! SUBSCRIBE BY EMAIL & RECEIVE A FREE GIFT!
FOLLOW ME: