This Hearty Vegetable Soup recipe can be dressed up with a dollop of pesto, become a main course with a little seafood, or just plain comfort you as a good bowl of soup can!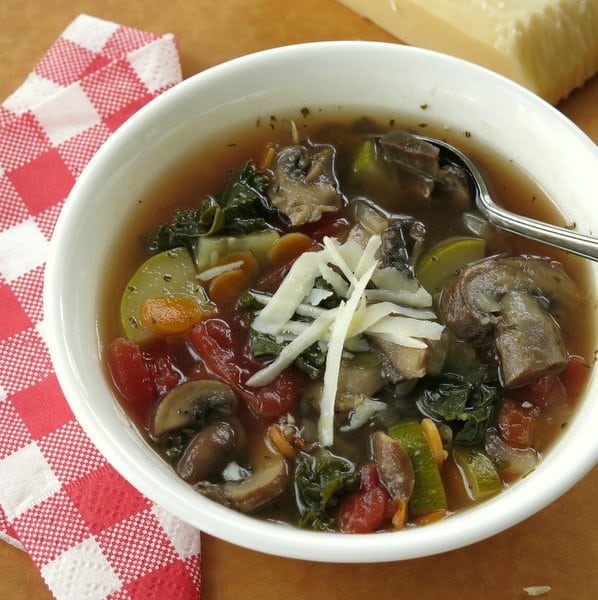 Even though this is probably the recipe I make the most, I have been hesitant to post it. Not because it isn't absolutely delicious, but because it seemed so basic.
As I prepared my most recent batch, I thought about how my process has evolved. My philosophy used to be the quicker the preparation, the better. But, there are a few important tips that must be followed in order to create a vegetable soup that you actually crave (and don't just eat because it's good for you.) I've taken shortcuts before and I've tasted some very unappetizing vegetable soup. This is not one of those vegetable soups.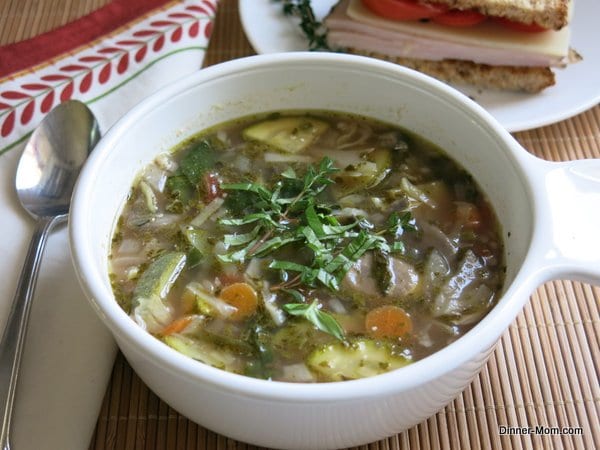 This vegetable soup is very tasty and hearty. Pictured is a bowl of goodness with onions, garlic, mushrooms, carrots, zucchini, spinach, cabbage and tomatoes swimming in broth that has been seasoned with fresh basil and thyme.
My vegetable soup obsession started with the Weight Watchers soup recipe which any new member promptly receives upon signing up. No points! But, you got to love to eat it. So, here are my tips for…
Fresh and Hearty Vegetable Soup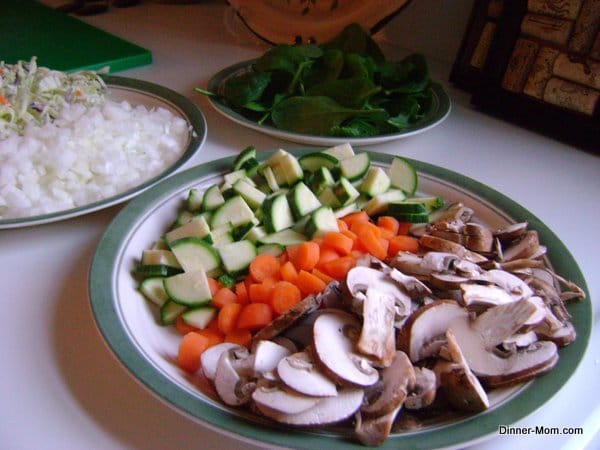 One reason this soup is so delicious is that I try to take advantage of the freshest ingredients possible. It makes for A LOT of chopping. But, you can taste the difference. Any vegetables will work. Depending upon what's in season and my mood, I add asparagus, celery, squash, potatoes and different types of mushrooms (I looove mushrooms.)
The only exception I sometimes make to fresh is a can of diced tomato. I just don't have the patience to chop tomatoes. Plus, I like to try some of the specially seasoned ones. Lately, I  have been on a fire-roasted tomato kick.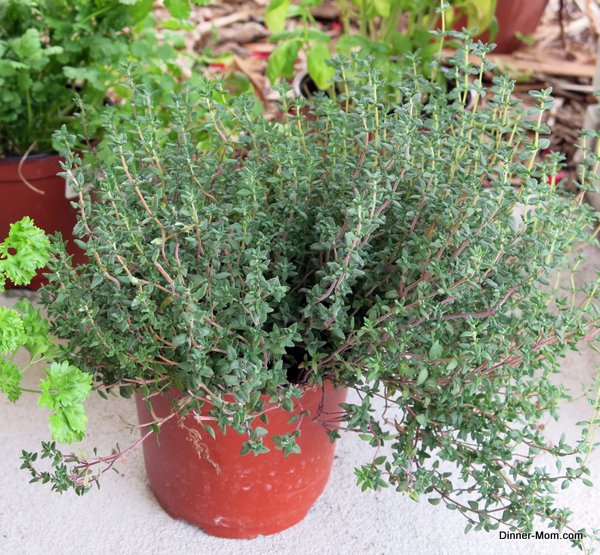 At this point is important to mention the herbs and seasoning. I try to go fresh. And, if you have been following my herb growing progress, I am happy to report that they are alive and well. I add 1 Tablespoon fresh thyme, about 1/4 cup fresh basil leaves and 2 garlic cloves minced.
And then there is the salt. As much as I would like to leave this out, I have to add a 1/4 to 1/2  teaspoon of salt.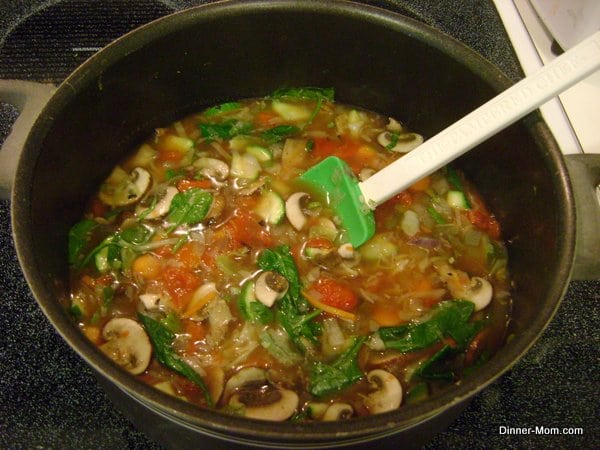 I chop everything first. Then I soften the heartier vegetables for 5 minutes in a little olive oil. Next, I add the more delicate vegetables and soften everything for about 5 minutes more. Don't cut this step short. It really brings out the flavor.
Now, add the broth ( I use low-salt chicken or vegetable,) spinach, basil, thyme and salt. Bring the soup to a soft boil, reduce the heat and simmer for about 20 minutes. Simmering melds the flavors together…another important step.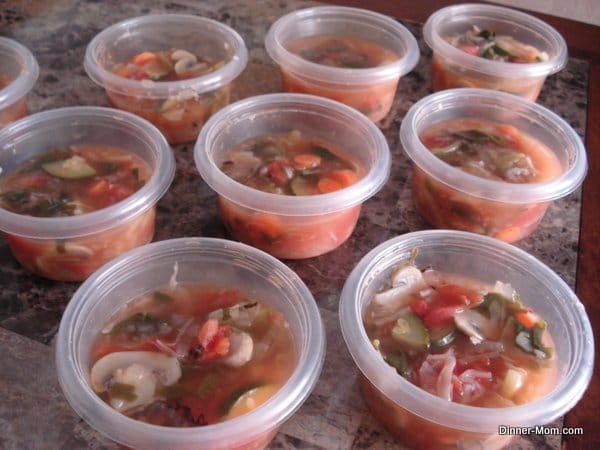 I've come to enjoy the entire process. It's almost a meditative experience. Really. I repeat this mantra:
I will have tasty soup in the freezer for the next two weeks. I will have tasty soup in the freezer for the next two weeks. I will have tasty soup in the freezer for the next two weeks.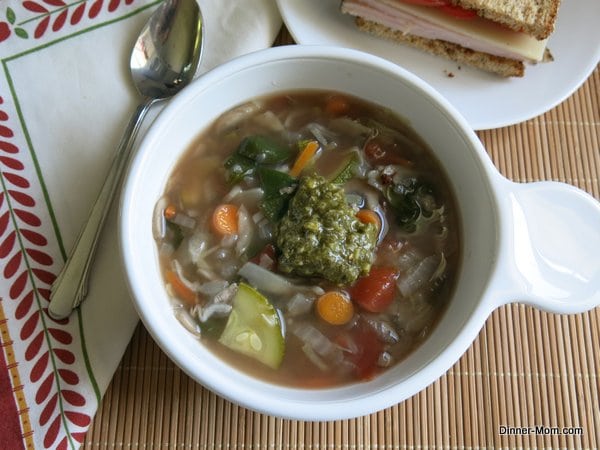 Another reason I wanted to share my soup obsession is because I love to punch it up with add-ins. One of my favorite toppings is a dollop of pesto. (Thank you for the idea Panera Bread!)
I always have Parmesan cheese on hand. The soup becomes a bit creamy when the cheese is stirred in. Mmmm.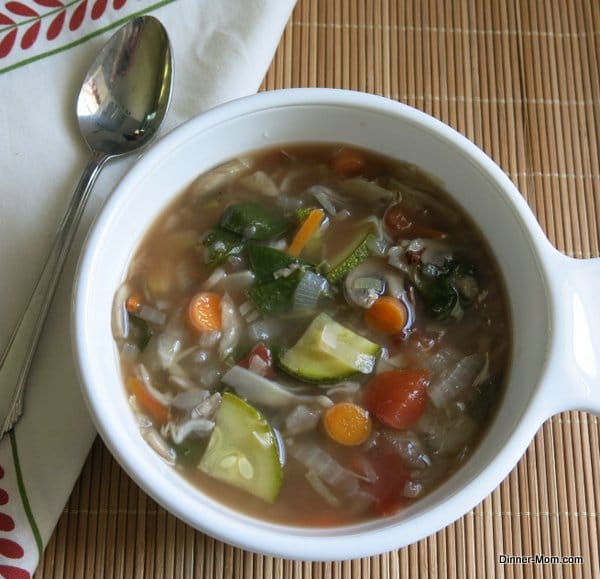 When you add in rice, beans or seafood…it's a meal. It's like a blank palate ready for a new artistic interpretation. Perhaps you have a few topping suggestions to add to the list?!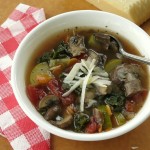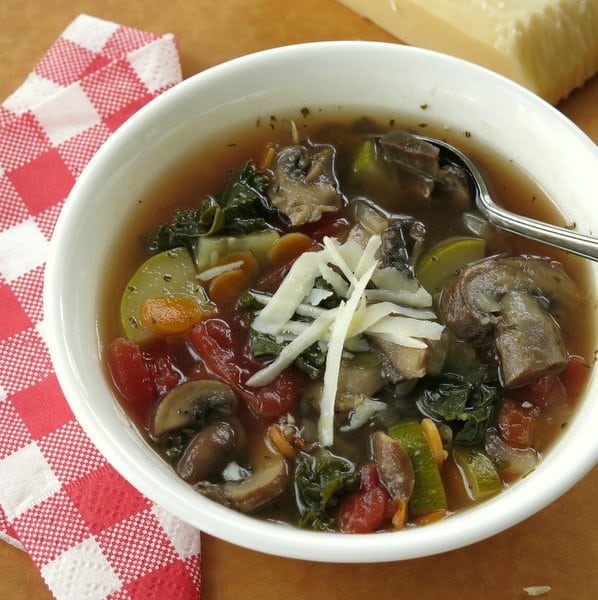 Hearty Vegetable Soup
Hearty vegetable soup is loaded with fresh produce and perfectly seasoned. Top it with pesto, Parmesan cheese or make it a meal. Make ahead and freeze leftovers.
Ingredients
2

teaspoons

olive oil

1

cup

onion

chopped, 1 small onion

3

cup

cabbage

shredded, about 1/2 head of cabbage

2

garlic cloves

minced

1

large zucchini

sliced and quartered

2

carrots

sliced

8

ounces

mushrooms

sliced

1

cup

baby spinach leaves

14.5

ounce

diced tomatoes

drained

32

ounces

low-salt vegetable broth

or chicken

1/4

cup

fresh basil

sliced in strips, about 1 Tablespoon dried

1

Tablespoon

fresh thyme

1 teaspoon dried

1/2

teaspoon

salt

1/4

teaspoon

pepper

Optional toppings such as pesto or Parmesan cheese
Instructions
Heat oil in large pot over medium heat.

Add onions, cabbage, garlic and saute until tender, about 5 minutes.

Add zucchini, carrots, mushrooms and saute for 5 minutes.

Add spinach, tomatoes, broth, basil, thyme, salt and pepper

Bring soup to a boil, reduce heat to low and simmer for about 20 minutes.

Add toppings of choice, such as a dollop of pesto or a sprinkling of Parmesan cheese.
Recipe Notes
Substitute or add seasonal vegetables and favorites such as celery, asparagus, potatoes and squash. Store leftovers in freezer. When you are ready to enjoy the soup, microwave from frozen for 1-2 minutes, stirring halfway through. Leave out carrots and use low-fat cheese topping to keep recipe South Beach Diet Phase 1 compliant.
Nutrition Facts
Hearty Vegetable Soup
Amount Per Serving (1 g)
Calories 39
% Daily Value*
Total Fat 0g 0%
Cholesterol 0mg 0%
Sodium 418mg 17%
Potassium 279mg 8%
Total Carbohydrates 7g 2%
Protein 1g 2%
* Percent Daily Values are based on a 2000 calorie diet.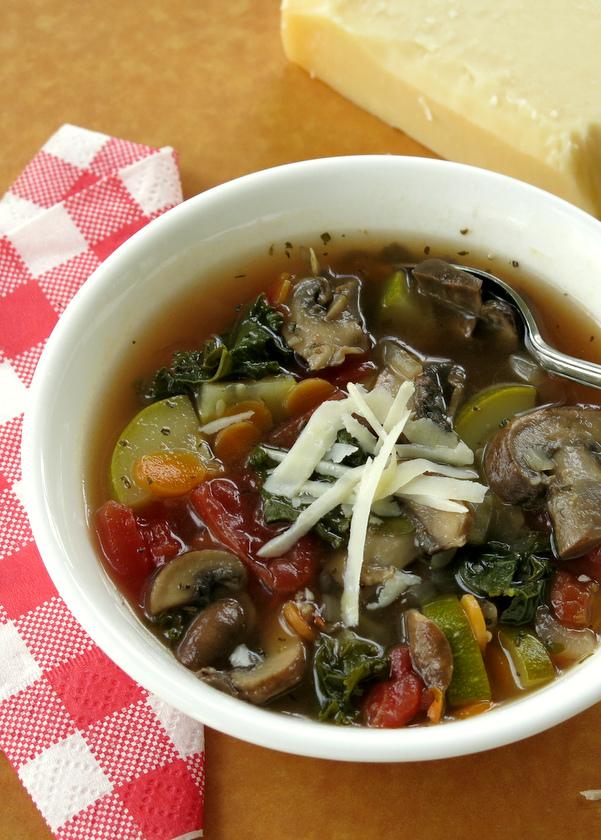 Enjoy!
NEVER MISS A RECIPE! SUBSCRIBE BY EMAIL & RECEIVE A FREE GIFT!
FOLLOW ME:
FACEBOOK | TWITTER| GOOGLE +| PINTEREST | INSTAGRAM