Whether you're a blogger, foodie fanatic or a busy mom, you need to learn how to use Yummly. It's an easy way to organize recipes, an excellent source for new ones and it will make a grocery list that totally makes sense and only includes the items you actually need.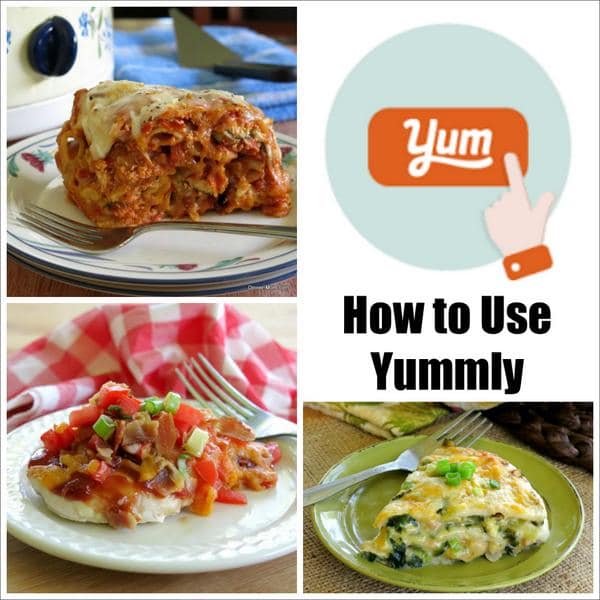 In a nutshell, Yummly includes lots of recipes and only recipes. You won't find round-ups or product reviews, or even spam from what I can tell. It's a huge database of recipes from big sites and small ones alike. In fact, anyone can add a recipe to Yummly with a quick click on a "yum" button using a bookmarklet on your computer or the "yum" button on a website (if they have one.)
I'm not going to cover every Yummly bell and whistle. But, I'll show you how to set-up an account, tell you why I think it's so awesome and share my very favorite feature. I have a few insights for my food blogging friends too.
Note that since this post was published Yummly continues to improve and even has a pro version. This post is strictly for the free version and is accurate as of August 6, 2019
How to Use Yummly … And Make a Grocery List
It takes seconds to set up an account on Yummly.com. Once this is done, you can install a bookmarklet on your computer's toolbar so you can easily "Yum" any recipe you come across. Just click the yum button and the recipe is saved to your private recipe box. The recipe box can bet set up with collections of recipes, such as dinner recipes, breakfast recipes, or crockpot recipes. All of the ingredients, time estimates for cooking, calories and nutritional information are housed on the Yummly site, but not the instructions. You'll need to head over to the source for the directions.
Since all the ingredient information is on the site, the search function is amazing. It allows you to customize your search based upon ingredients you want, don't want, types of cuisine and more to quickly hone in on the perfect choice. Answer some questions about your preferences and Yummly will suggest recipes for you too.
There's an app for that! Be sure to get the Yummly app too. It syncs with the website account.
How to Make a Grocery List
My absolute favorite thing about this app (that literally has me jumping up and down) is that you can create a shopping list quickly and easily. It's a big assist in meal planning.
When you find a recipe that you like, click on it and scroll down to see the ingredients. Click the plus sign to add the ingredients for the recipe to the grocery list. You can click to add all the ingredients or individually select which ones you need. Chicken Marbella, Baked Chicken Parmesan Meatballs and Battered Banana Pancakes have been selected for this example.
When you are ready to create a shopping list, click on the Menu and touch "List" or "Shopping List." All of the ingredients will populate the list.
Touch the gray box next to an item and it's removed to a separate "Got It" list. Click the + next to "Add to List" to include additional items on the list.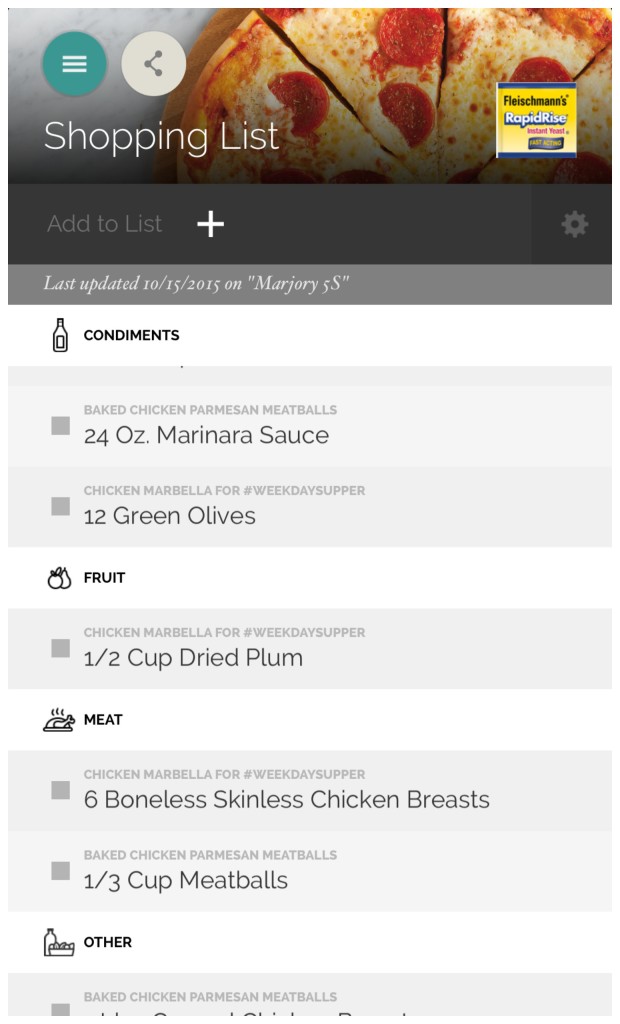 Of course, the list is on your phone. But you can easily email or text the list too.
How to Use Yummly If you are a Blogger
I know. The last thing you need is another social media outlet sucking up your time. This is not one of those sites and it is totally worth your time and effort.
Make it easy for visitors to your site to "Yum" your recipes by adding a yum button to your posts.
Every time you add a new recipe to your site "yum" it! It's in the Yummly database now for all to find.
Encourage your readers to use the yum button too. The more yums a recipe has, the more often it will be found through the search criteria in Yummly.
To become a publisher, let others know about the site. Check out Yummly for more details.