Italian Green Beans with Tomatoes is PROOF that a delicious and healthy side dish doesn't need to be complicated! It's an easy recipe to spice up green beans!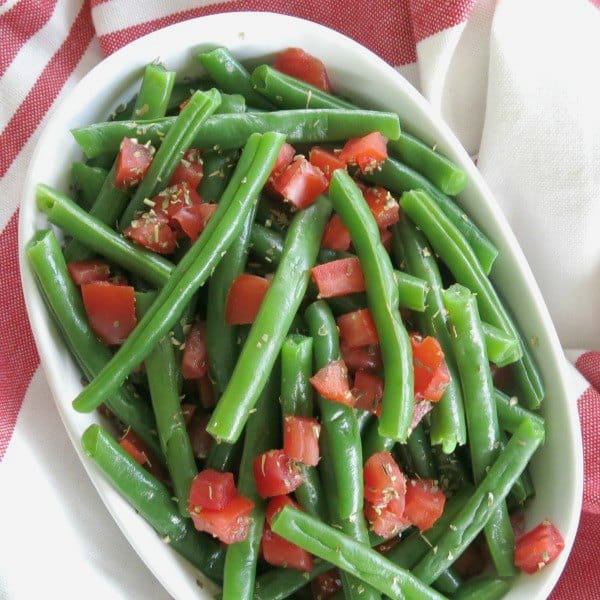 Do you spend so much time on the main course that the sides are often thrown together at the last minute or (gasp) forgotten?
Well, I have a plan for green bean lovers that doesn't require much forethought but still allows a more complex taste by combining fresh green beans and tomatoes!
It's an alternative to more elaborate green bean dishes that require sauteing, roasting or baking, like Baked Green Bean Fries…which are fantastically delicious and definitely have a place at the table. But, not when you need dinner on the table 5 minutes ago.
If you're having fresh green beans tonight, get some water boiling right away! Hop down to the end of the post for the recipe and more ideas to spice up green beans! Or, check out some of the frequently asked questions below.
Italian Green Beans with Tomatoes Recipe Notes
Here's more background on our tried and true method for tasty green beans every single time and how to jazz them up.
Types of Green Beans
This ingredient combination works with any variety of green beans, although the cooking time may vary. We used string beans (also known as snap beans) in the recipe pictured. Haricots Verts or thin French Green Beans, are more delicate and would also be perfect for this recipe!
Of course, it will work with frozen or canned green beans too.
How to Prepare Fresh Green Beans
Fresh green beans will be vibrant, firm and "snap" when you break them in half. Remove the tough ends by cutting them off with a knife. If there are young kids in the house, snapping them off is a great way to involve everyone in the cooking process!
Most green beans no longer have a "string" that has to be removed. Yay!!!
How to Boil Green Beans
This is our family's favorite way to enjoy fresh green beans (although any method can be used in this recipe.) Bring a large pot of water to a boil and add salt, if desired. There should be plenty of water in the pot so that the beans have room to move around. About 3 quarts of water is a good amount for a pound of green beans.
Add beans to the water and boil for about 10 minutes for sturdy beans and about 5 minutes for a slender bean, like Haricots Verts.
If you boil them for too long then they will be mushy and lose their color. If you don't boil them long enough then they may be too crisp for your taste. We've settled on 10 minutes at our house and everyone is happy. Lift one out and taste test to get to your "perfect" time.
Tip: Start the water and add green beans to the pot as you are prepping them. We race to get them all in before the water comes to a rolling boil.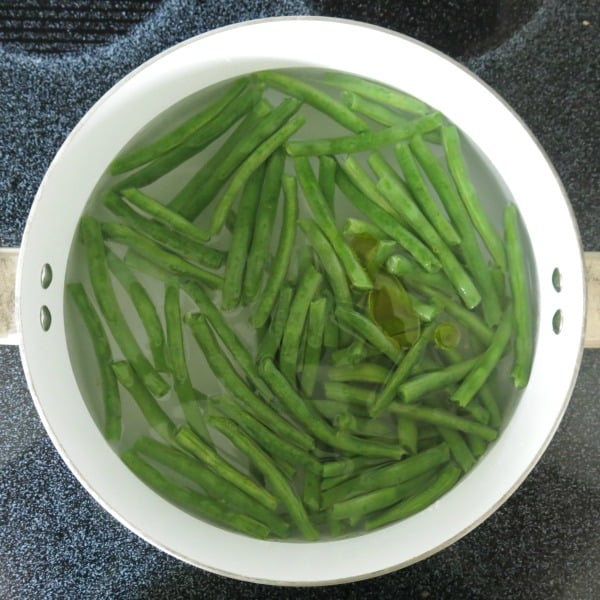 How to Chop Roma Tomatoes
Roma or plum tomatoes add a punch of color to this dish. Use your favorite tomato and use as many as you like!
We LOVE the ease and versatility of Roma tomatoes because they are so easy to seed and dice.
Cut the tomato in half,
Remove the fleshy center with a spoon.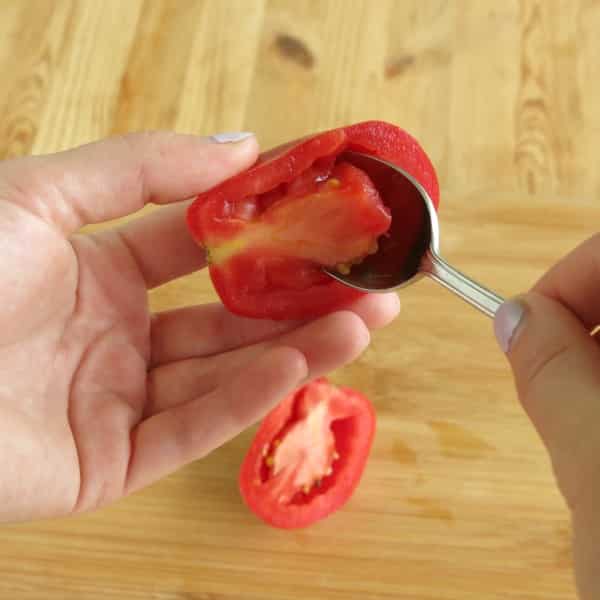 Cut each half into strips.
Cut each strip into small segments.
That's it!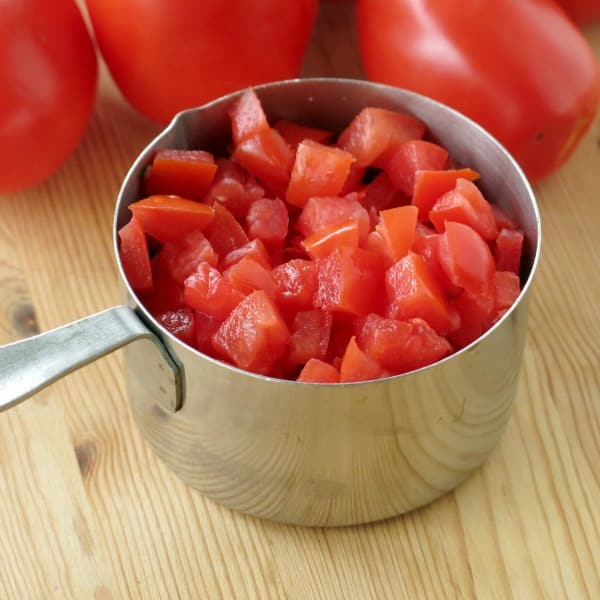 Italian Seasoning
Italian Seasoning is one of those spice blends that saves time! You don't need to pull out basil, oregano, garlic…and the list goes on. Just pull out a homemade Italian seasoning blend or one you bought at the store.
Bonus: You can cut back on the salt because Italian Seasoning has so much flavor.
Other Ways to Spice Up Green Beans
Inspired? Here are some other easy ideas for taking green beans to the next level, whether they are fresh, frozen or canned: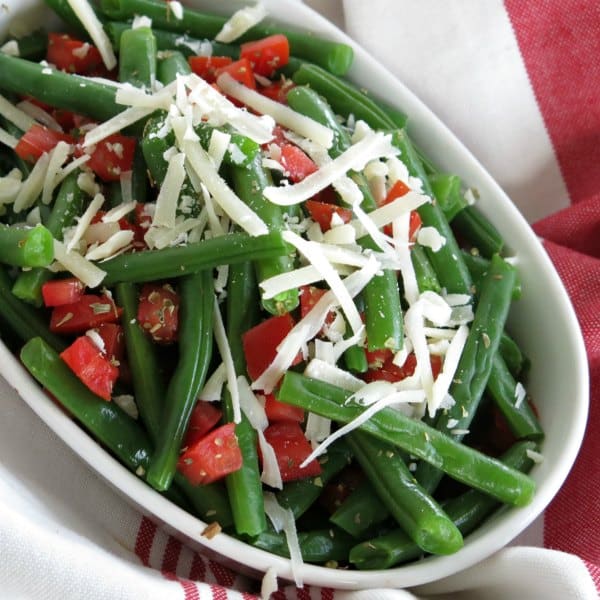 Please rate this recipe and tag @DinnerMom or #DinnerMom on social media. We love to see what you are cooking up!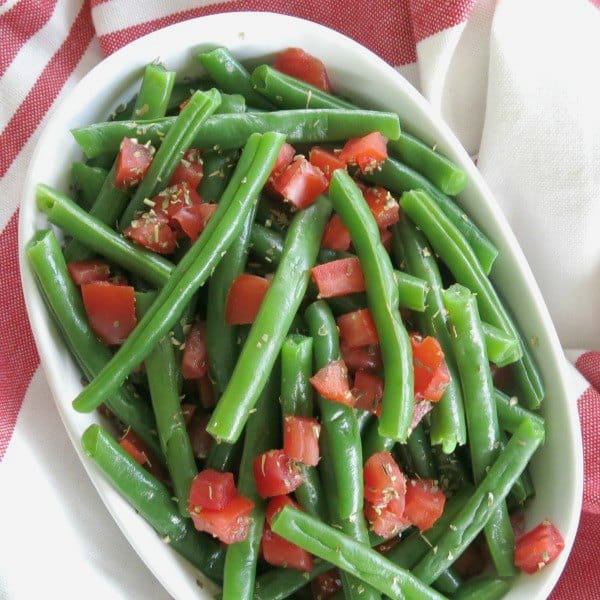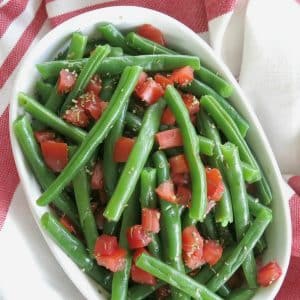 Italian Green Beans and Tomatoes
Italian Green Beans and Tomatoes is a fast and healthy way to spice up green beans!
Print
Pin
Rate
Ingredients
3

quarts

water

1

pound

green beans

3

Roma tomatoes

1

teaspoon

olive oil, optional

1

teaspoon

Italian Seasoning

Salt and pepper to taste
Instructions
Bring water to a rolling boil in a large pot.

While the water comes to a boil, cut or snap the ends off of the green beans and add to the pot.

Boil green beans for 10 minutes or until crisp-tender.

While green beans are boiling, chop Roma tomatoes

Remove green beans from pot to serving dish.

Toss green beans and chopped tomatoes with olive oil, if desired, and sprinkle with Italian seasoning.

Season to taste with salt and pepper, if desired.
Notes
Note: Total time assumes that tomato preparation occurs while green beans are cooking.
Nutrition
Calories:
45
kcal
|
Carbohydrates:
10
g
|
Protein:
3
g
|
Fat:
1
g
|
Saturated Fat:
1
g
|
Sodium:
45
mg
|
Potassium:
349
mg
|
Fiber:
4
g
|
Sugar:
5
g
|
Vitamin A:
1170
IU
|
Vitamin C:
20.2
mg
|
Calcium:
76
mg
|
Iron:
1.5
mg
Get the FREE plan to put Healthy Dinners on Autopilot