This post may contain affiliate links. Please read my disclosure.
It takes less than two hours to assemble these gourmet Make Ahead Freezer Meals. When you're done you'll have a top-notch dinner plan so you can take a week off from cooking and feel like you're on vacation!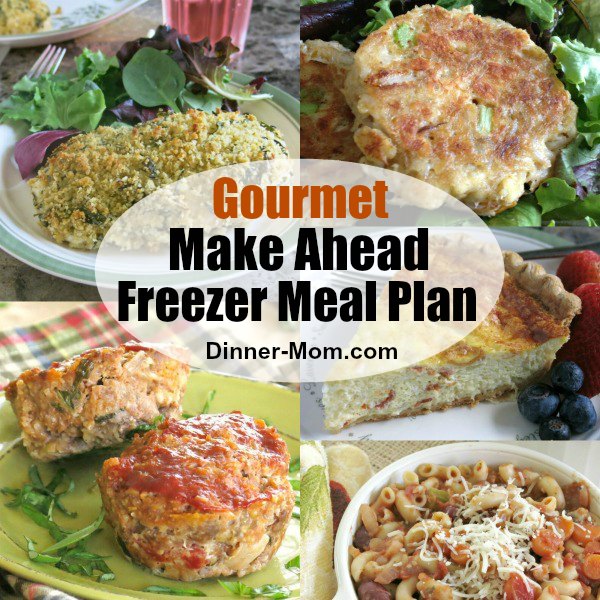 This prep ahead meal plan is adapted from the popular sessions we had at our brick and mortar Meal Assembly Store. We've done all of the planning for you from the printable grocery list to the freezer labels.
The easy step-by-step process will help you prepare the dinners quickly and efficiently, just like we did at our store!
This freezer meal prep plan is perfect for:
A week of easy dinners.
Easy dinners here and there throughout the month.
Entertaining guests over a long weekend.
A week at a beach house, cabin or staycation - you'll save money and still enjoy dinner!
As a gift for new parents!
You'll eat better too because these dinners are healthy!
Make ahead meals to freeze are also a fantastic activity to do with friends. It's easy to double or triple the recipes!
In case you are wondering, you'll have plenty of leftovers and may want to eat out one night…that's how you get to one week. We have suggestions for sides and desserts to round out the dinners too.
This post is long because it's the ENTIRE plan. You don't have to sign up for anything and it's completely FREE!
Index
Use the list below to see what's included and quickly find what you need.
Jump to: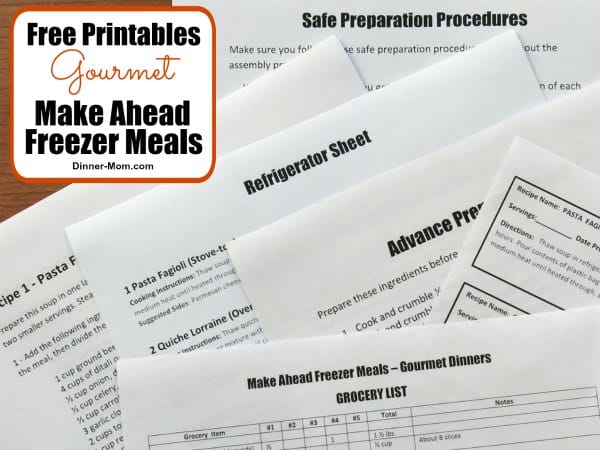 Make Ahead Freezer Recipes
Below are descriptions of the dinners in this plan PLUS suggestions to customize. Each recipe is also on our website and you'll find the nutritional information on these posts.
You don't need to print the recipes on the individual pages. We created streamlined Assembly Instructions which includes all of the dinner recipes in this plan.
This recipe was very popular at our store! Assemble the recipe in a standard size meatloaf tin, mini-meatloaf pan or a cupcake pan and bake it in the oven.
It's fantastic with chicken too!
Gourmet Meatloaf with Mozzarella and Sundried Tomatoes
This gourmet meatloaf is bursting with flavor. Mozzarella and Parmesan cheeses, onions, fresh basil and sundried tomatoes take this comfort food to a whole new level of delicious!
Check out this recipe
Cook crab cakes on the stove-top or bake in the oven.
Assemble this recipe in an aluminum tin or baking dish that can be stored in the freezer.
Maryland Style Lump Crab Cakes
Maryland style lump crab cakes are the perfect combination of meat, breading and spices. Follow the tips and suggestion to perfectly pan fry or bake in the oven. Make ahead and freeze using instructions from our meal assembly store.
Check out this recipe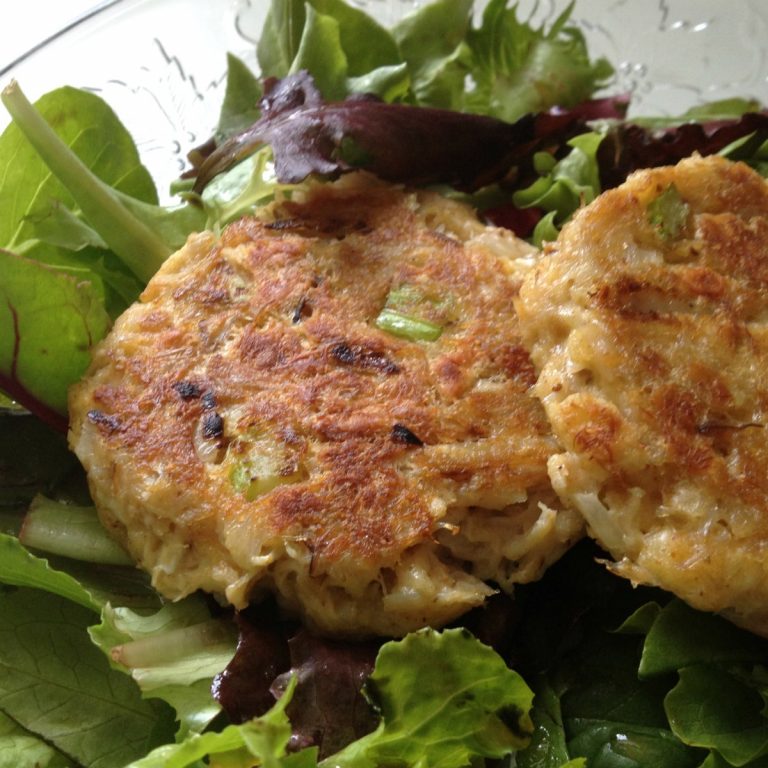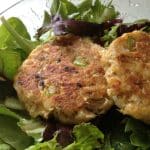 Leave out the ground beef crumbles out for a vegetarian dish.
This recipe cooks on the stove-top and is assembled in plastic freezer bags.
Pasta Fagioli Soup
Check your pantry. You might have most everything you need for this delicious pasta fagioli soup.
Check out this recipe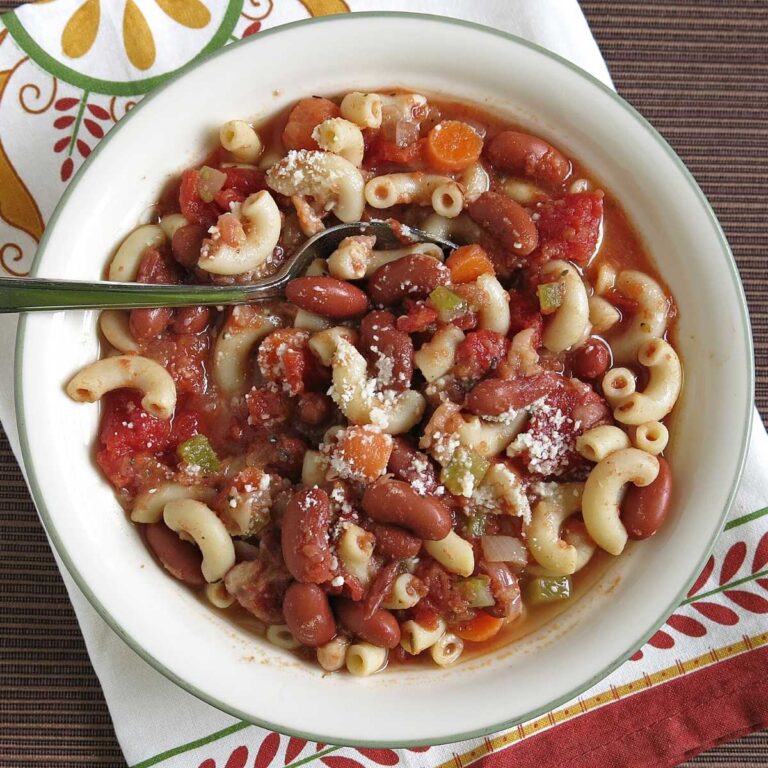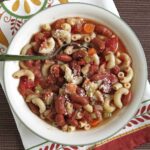 This easy and elegant recipe can be made with pork tenderloin instead of chicken too! Check out Herb Roasted Pork Tenderloin and substitute pork tenderloin for chicken on your list for the grocery store.
Assemble this recipe in an aluminum tin or baking dish that can be stored in the freezer.
Parmesan Herb Crusted Chicken Recipe
Parmesan Herb Crusted Chicken is juicy and delicious from a panko, Parmesan cheese, and herb breading that crisps in the oven. This easy recipe is weeknight-friendly and perfect for special occasions.
Check out this recipe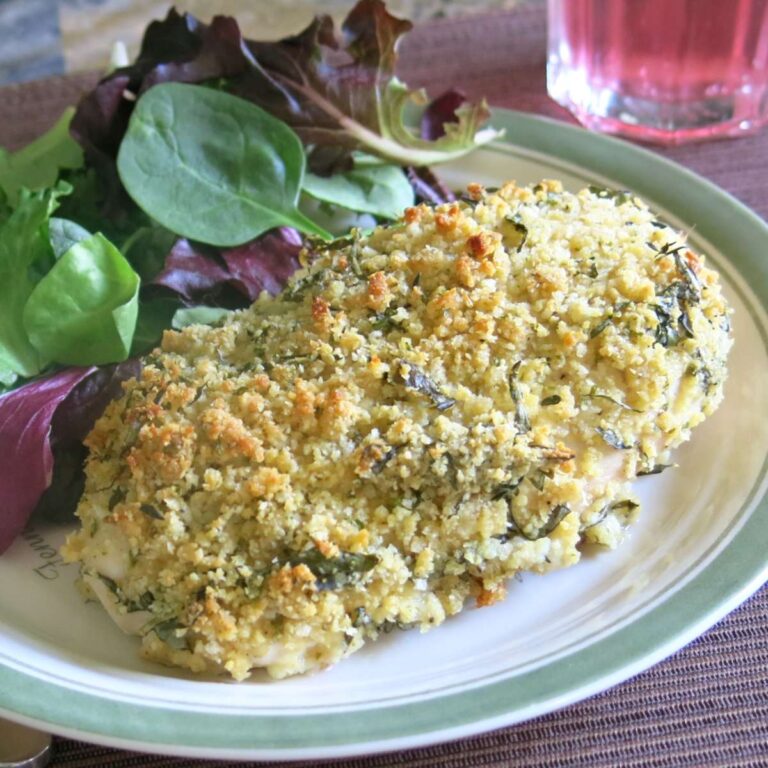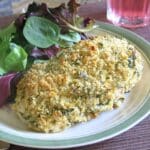 Quiche is perfect for a light dinner, lunch or even brunch. There are easy substitutions in the post below if you would prefer Quiche Florentine or Ham and Cheese Quiche. Just adjust the ingredients on the shopping list.
Leave the crust off for a crustless version.
This recipe cooks in the oven and is assembled in plastic freezer bags.
Steps in the Make Ahead Freezer Meal Plan
Save time (and frustration) by reading through the entire list of instructions before you go any further. You'll see what you're in for and can make adjustments as necessary.
Review the recipe instructions. Note that each entrée will serve 4-6 people. However, each recipe can be "split" and frozen in servings for 2-3 people. Decide how you want to package each dinner.
Review and adjust the Grocery List. Jot down any substitutions or adjustments in the notes column. Cross off items you have. Purchase items you need. If you are going to double or triple the recipe, then make those changes too.
Review the list of Other Kitchen Items. Gather or obtain any items you need.
Review the Advance Preparation List. Lots of prep can be done in advance. Make notes in the space provided regarding when the prep will be done and who will do it. Be sure to recruit some family members to help!
Print and cut the Labels. Print two sets if you plan to "split" the entrées.
Review the Safe Preparation Guide.
Cut, chop and prepare ingredients on the advance prep list a day or two before assembly.
Set everything up for assembly day. Do as much as you can the night before. Print out the recipes and tape them to your kitchen cabinets. Lift out the dry ingredients, measuring spoons, measuring cups, etc. and place them near each recipe. If more than one person is helping, consider making stations where each recipe will be assembled. Put all the items for packaging (aluminum foil, plastic wrap, labels, tape, marker) in a separate area.
Once everything is staged, BEGIN ASSEMBLY. Start with Recipe 1. Follow the instructions until the entrée is packaged and placed in the refrigerator or freezer. Then, proceed to the next recipe. The recipes are ordered to reduce opportunities for cross-contamination and ease of preparation.
When you are done, place your Refrigerator Sheet where you can see it. This is your inventory of what's in the freezer and it serves as a master list of cooking instructions too.
Check out the suggested sides for serving day on the Refrigerator Sheet. Add these items (or whatever you plan to serve) to your shopping list the week you plan to enjoy the entrée.
Sit back and plan how you'll spend your free time!
Printable Assembly Instructions
Print out the Assembly Instructions which are streamlined for the day you will be putting everything together.
Note: The instructions assume that all ingredients have been prepped (i.e., chopped, shredded, etc.)
Printable Freezer Labels
Print and cut out these Freezer Labels for Gourmet Dinner Plan before your session. Print two sets if you will be splitting any entrees.
Printable Refrigerator Sheet
Print out and tape the Refrigerator Sheet on the refrigerator so you'll know exactly what's inside! The suggested side dishes are listed here.
Printable Grocery List
Print out the Make Ahead Freezer Meals - Gourmet Grocery List and make any adjustments. Each numbered column corresponds with a recipe:
#1 - Pasta Fagioli
#2 - Quiche Lorraine
#3 - Crab Cakes
#4 - Gourmet Meatloaf
#5 - Herb Crusted Chicken
Use the blank lines to add side dishes or other items you may need.
Other Kitchen Items You May Need
You will also need these items on Assembly Day:
Freezer bags – Sturdy, gallon-sized bags designed for the freezer work best.
Stabilizing holder – Use a bowl or canister to stabilize a freezer bag when you are working with it. You can also purchase Baggy Racks on Amazon to hold the bags in place while you fill them. (Check out product suggestions in our Amazon Store.)
Assorted Baking Tins – Aluminum tins work nicely and can often be re-used. Purchase large lasagna size tins to store 6 pieces of chicken. Use smaller, approx. 9 inch cake tins for smaller serving sizes or 2-4. Of course, any baking dish that can be stored in the freezer may be used.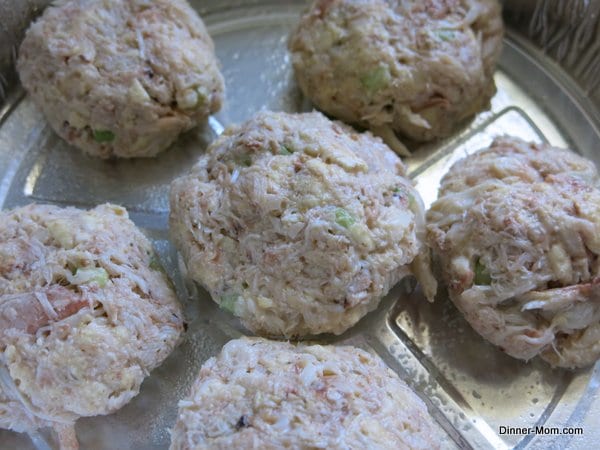 Meatloaf Tin or Cupcake Tins – The meatloaf can be assembled in a 1 pound meatloaf tin or in aluminum cupcake tins (about 12-14 tins are needed.) It can also be assembled in 3 mini loaf tins.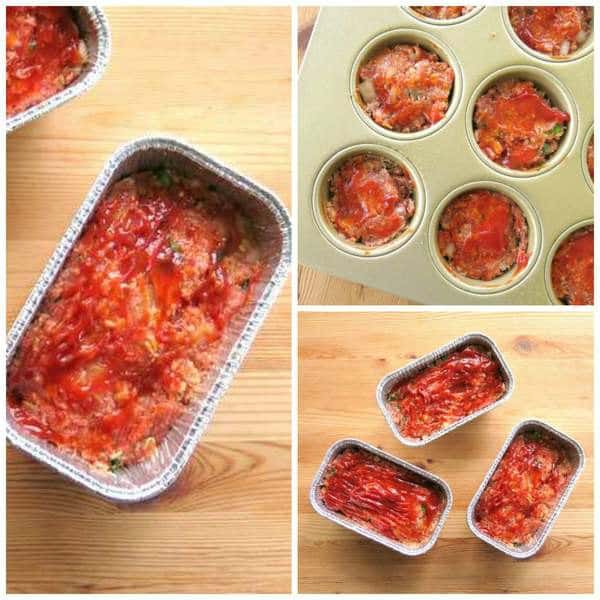 Aluminum foil – Heavy foil is needed to cover tins that don't come with a cover.
Plastic wrap – Rolls of plastic wrap that can be adjusted in length.
Disposable Gloves – Not a requirement. These are nice to have when working with raw meat.
Disinfectant Cleaner – Make sure you have plenty of cleaner and towels ready to clean surfaces during preparation.
Advance Preparation List
Do any or all of these things a day or two before assembling the make ahead freezer meals:
Cook and crumble ½ pound ground beef
Cook and crumble 8 slices of bacon
Shred Swiss cheese (or purchase already shredded cheese)
Shred Mozzarella cheese (or purchase shredded cheese)
Cook 4 ounces of ditali or macaroni pasta
Crush 30 saltines in a plastic bag
Dice Onion
Dice Celery
Shred or dice carrots
Slice sundried tomatoes (or purchase julienned)
Cut basil into strips
Chop parsley
Chop thyme
Drain kidney beans
Drain great northern beans
Set out the dry ingredients along with measuring spoons, cups and other items needed.
Make sure refrigerated items are easily accessible.
Printable Advance Preparation List.
Safe Preparation Procedures
Make sure you follow these important procedures throughout the assembly process:
Wash your hands before you get started, between the preparation of each entrée and any time you touch raw meat.
If you have disposable plastic gloves, use new gloves each time you handle raw meat.
Never touch raw meat with measuring cups or spoons.
Use separate bowls for the preparation of each entrée or wash the bowl before using it again. Because each entrée must be cooked to a different temperature, you don't want one entrée to have been cross-contaminated with another entrée that cooks to a different temperature.
Wipe work surfaces with a disinfectant cleaner before you get started, after the preparation of each entrée and whenever there is a spill.
Keep refrigerated ingredients cold until you are ready to use them.
Immediately store assembled entrees in the refrigerator or freezer.
Print the Safe Preparation Procedures and review with everyone that will be helping!
Make Ahead Freezer Meal Plan Video
So...What do you think? Is this type of meal planning tool helpful? We have more make-ahead freezer meal sessions in the works and would love your feedback to make the process as helpful and easy as possible.