Got a new post? One way to spread the word is to submit a picture linked to your blog to one of the many photography submission sites for food…just for food!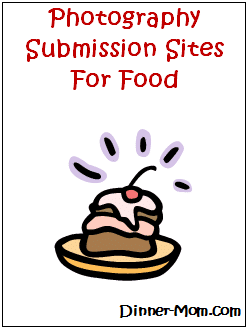 The original sites that do this sort of thing are Foodgawker and Tastespottting. But, it's not easy to meet the criteria of these two sites. They are choosy!  It pays to learn the requirements though. If one of those sites accepts your submission, then you are almost guaranteed to get quality traffic and possibly a call from bigger publications doing round-up posts and such . 🙂
Here's a list of photography submission sites for food that I regularly submit to and consistently drive traffic to my site:
There are a lot more sites around the internet. Some are brand new and others have been around for a while. The list is constantly changing too. I've just discovered some of the sites below and I am in the process of trying them out. Here they are in alphabetical order.
Photography submission sites for food vary in terms of what types of photos and recipes are accepted, how you submit entries and the picture sizes required. So, check out the submission guidelines for each site. Original photography and content is required. Many don't allow posts for recipe round-ups and most are curated for photo quality and content.
It takes time to submit recipes to these sites and it helps to develop a streamlined submission routine. Find out which ones work for you and focus your efforts there. The bonus to this strategy is that you're more likely to make connections with other bloggers in that community…and having some food blogger friends is a good thing.
Is there a good site missing from the list? Let me know!
Return to The Dinner-Mom Food Blog Resources Index.