It was our pup's 4th birthday and it was Father's Day this past weekend. It just seemed appropriate to make a version of "poppy chow" that everyone could snack on. Not the pup, but us human's, particularly the dad that was watching the U.S. Open.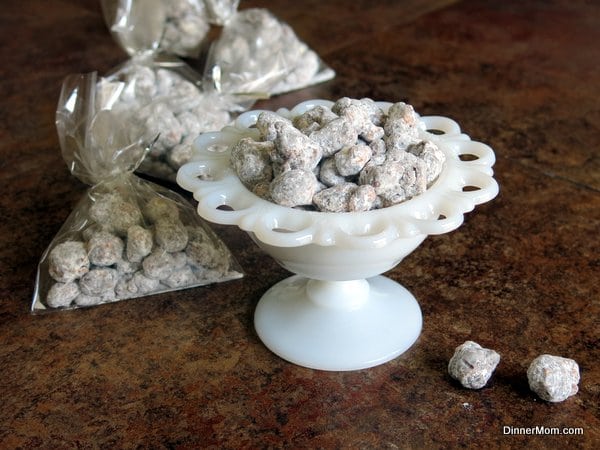 I've seen this recipe all over the internet using either popcorn or Chex Mix (i.e., Muddy Buddies.) But, the credit for "poppy chow" always seems to tie back to this recipe by Two Peas and their Pod.
We can't do peanut butter at our house, so we made a few adjustments, mainly by switching out the peanut butter for SunButter (i.e., sunflower seed butter.) We also used honey instead of butter. The result reminds me of the Energy Bites that we make all the time. But, this poppy chow is a whole lot sweeter!
Here's the nitty, gritty details on how it is made. It was a bit messy the first time. (Yup…We had a lot of poppy chow last weekend.) But, it was really delicious and really addictive and I just wanted to be sure I gave a totally accurate description of the process. Honest. It had nothing to do with the fact that we kept gobbling it up before the picture shoot. 🙂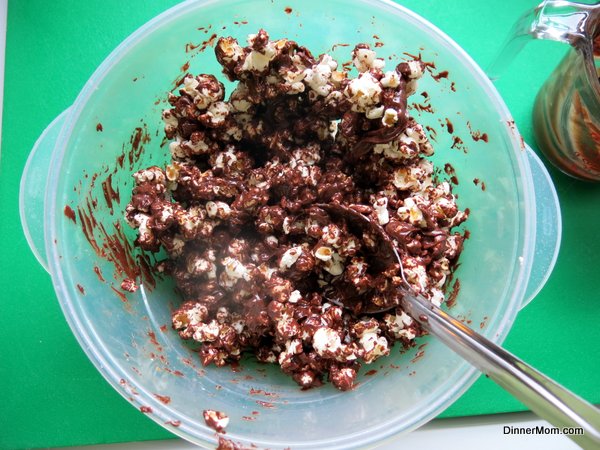 Air pop the popcorn and remove any unpopped kernels from the bowl.
Put the chocolate, SunButter, and honey in a microwave safe bowl and heat for about 1 minute. Stir. If it is smooth and creamy, you're done. Otherwise, heat for an additional 15-30 seconds. Stir in the vanilla.
Now it is time to combine the popcorn and the chocolate. It's sticky and the chocolate is a bit thick. It's not runny. Just mix everything together with a big spoon until the popcorn is mostly coated.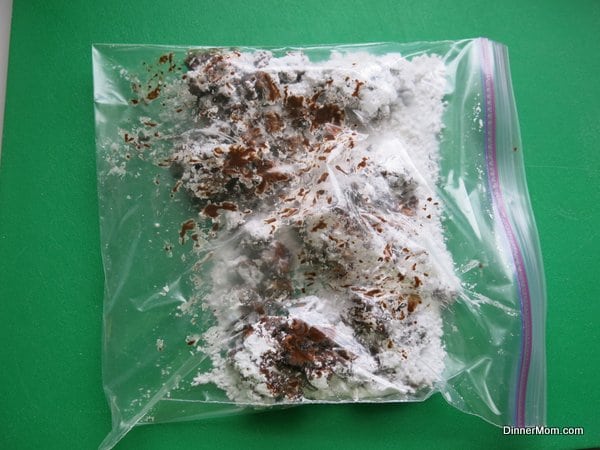 To coat the sticky, gooey chocolate-coated popcorn with powdered sugar, add about 1/2 cup of confectioner's sugar to a ziplock bag. Add about a 1/3 of the popcorn to the bag. Seal it, seal it good. Now, flip it around, break up large pieces without ever opening the bag, and flip it around some more. Then, pour it out on some parchment paper or aluminum foil.
Repeat with another 1/3 of the popcorn mixture and another 1/2 cup of confectioner's sugar. Then repeat the process again after that.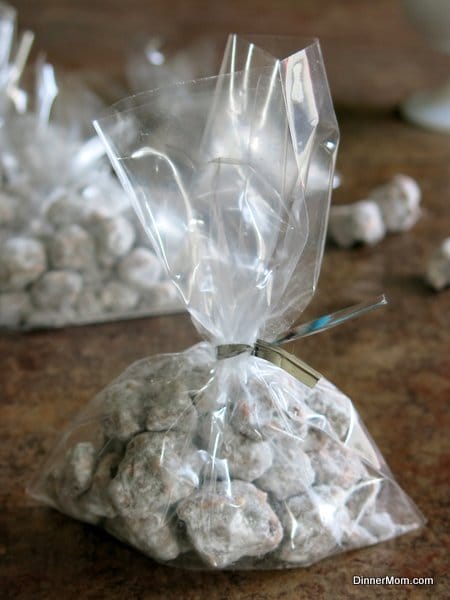 You can package it up in some little bags. Or pour it in a big bowl. If you have leftovers, you can store those in an air tight container for a few days.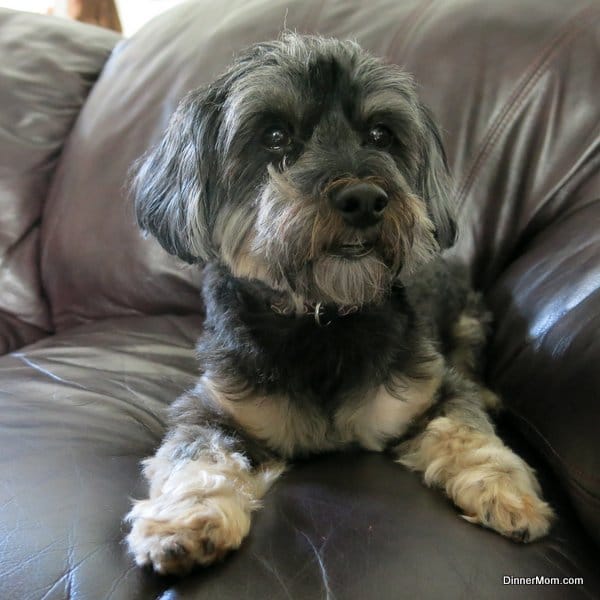 I had to take this opportunity to post this picture of Sirius Black (you know…from Harry Potter) our 4 year old Yorkie Poo. He did not get to eat any of the poppy chow. But, he sure enjoyed watching us make it. We did spoil him with belly rubs, long walks and a new ball for his B-day though.
Don't they sort of look like moon rocks?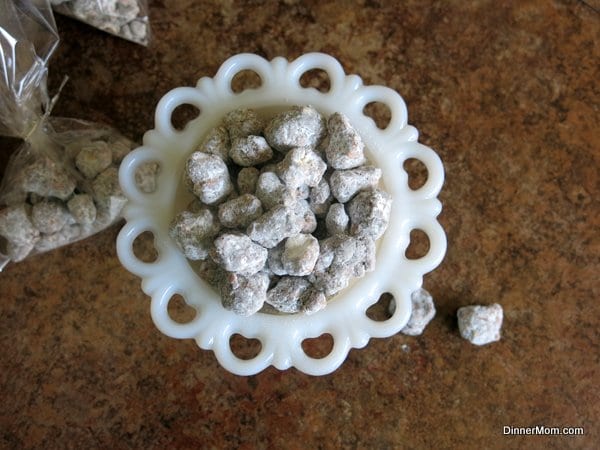 Poppy chow is easy to make and very tasty. Got a party coming up? It's quite the conversation starter!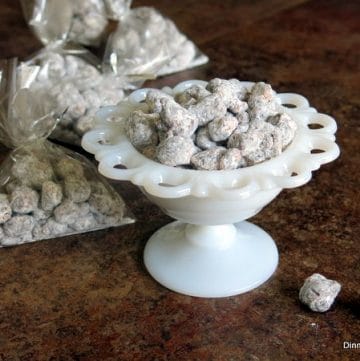 Poppy Chow – Chocolate & SunButter Coated Popcorn
Poppy chow is just popcorn coated with a mixture of chocolate, SunButter and honey and a dusting of powdered sugar. But, what a conversation starter!
Print
Pin
Rate
Ingredients
9

cups

air-popped popcorn

1/4 cup unpopped

3/4

cups

mini chocolate chips

about 1 cup if regular sized

1/2

cup

SunButter

sunflower seed butter

1/3

cup

honey

1

teaspoon

vanilla extract

1 1/2

cups

powdered sugar
Instructions
Melt chocolate chips, SunButter and honey in the microwave for about 1 minute. Stir. If necessary, heat further in 15 second increments.

Stir in vanilla.

Pour chocolate mixture over cooked popcorn and stir until all kernels are mostly coated.

Place about 1/2 cup of powdered sugar into a ziplock bag and add 1/3 of the popcorn.

Seal bag and turn to coat popcorn with powdered sugar.

Pour popcorn out onto a cookie sheet to set.

Repeat steps two more times with the remaining popcorn.

Store leftovers in an airtight container.
Instantly Upgrade Dinner!
FREE Low-Carb Sauce Cheat Sheet HERE!
Nutrition
Calories:
359
kcal
|
Carbohydrates:
60
g
|
Protein:
6
g
|
Fat:
12
g
|
Saturated Fat:
3
g
|
Cholesterol:
3
mg
|
Sodium:
14
mg
|
Potassium:
60
mg
|
Fiber:
2
g
|
Sugar:
44
g
|
Vitamin A:
70
IU
|
Vitamin C:
0.4
mg
|
Calcium:
39
mg
|
Iron:
1.4
mg
Nutritional and Food Safety Disclaimer
Enjoy!