Dinner's done when you serve Roasted Acorn Squash straight from the "bowl." It's stuffed with a protein-packed filling of farro, white beans, mushrooms and onions and topped with crumbled feta cheese.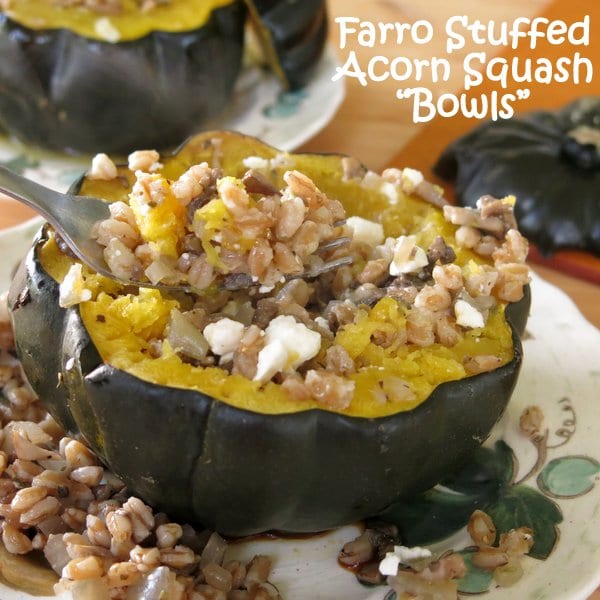 Have some mealtime fun…and rack up a few ooos and awws too! How? By eating dinner straight from an acorn squash "bowl" filled with farro stuffing. Just before serving, open the "lid" and sprinkle a little crumbled feta cheese on top.
Savor it…
It's late in the season. But, acorn squash is still quite abundant. Let me suggest that if there is just one last squash recipe you have to try before they disappear, THIS IS IT!
Roasted Acorn Squash "Bowls"
Many stuffed squash recipes call for the squash to be halved and stuffed. There's absolutely nothing wrong with that. It's just not enough.
My goal is to make it a meal. A hearty one that is pleasing to the eye, super tasty…and that has an enticing aroma that brings everyone to the dinner table with a smile. Check!
Yep, it makes sense to give each person their own bowl. Acorn squash can be on the smallish side anyways…at least compared to the often much larger butternut squash and spaghetti squash cousins.
To prep the squash, slice a thin piece off the bottom so it will sit flat and pretty. Then, slice off the lid, about 1 inch down from the stem. Scoop out the seeds and stringy flesh and discard them. But, be sure to keep the lid!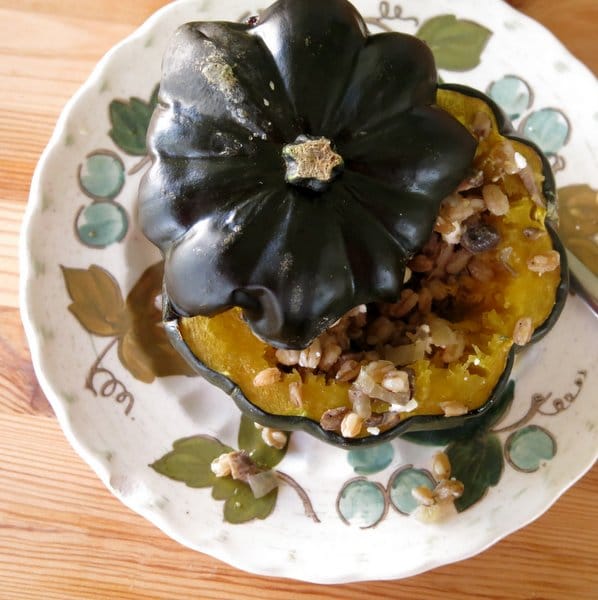 Each acorn squash is stuffed with a mixture of farro, mushrooms, onions and white beans. The top is placed back on the squash as it roasts in the oven, sealing in all of the flavors so they meld beautifully.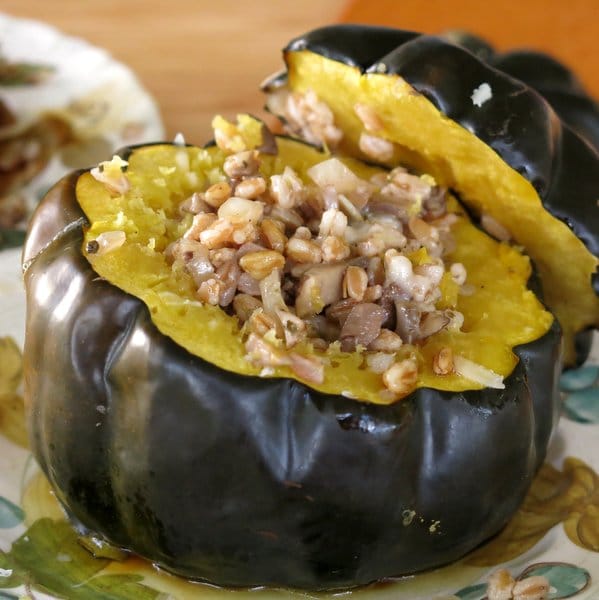 You can sit down and enjoy this roasted acorn squash piping hot from the oven. Or, if you are even remotely a fan of feta cheese, then you must sprinkle a little on top! This tangy addition has me craving yet another bowl!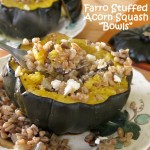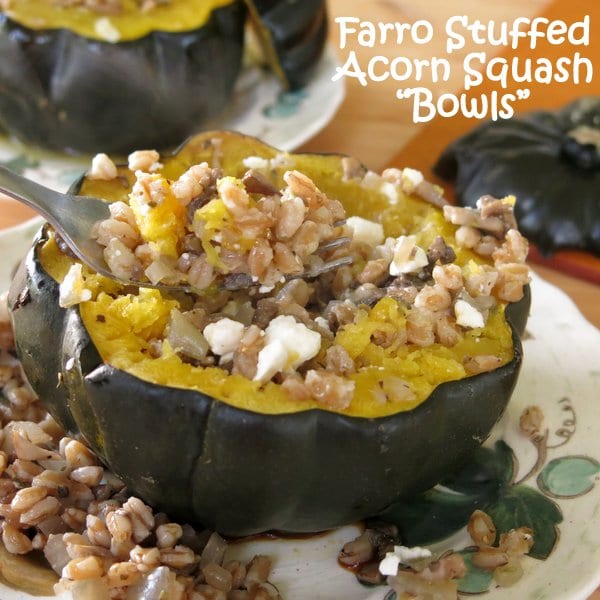 Roasted Acorn Squash Stuffed with Farro
Dinner's done when you serve Roasted Acorn Squash stuffed with farro, white beans, mushrooms and onions straight from the "bowl." Top it with feta cheese!
Ingredients
4

acorn squash

4

teaspoons

butter

or vegan substitute

1

cup

uncooked farro

2 cups cooked

1

Tablespoon

olive oil

1

small onion

diced (approx. 1 cup)

8

ounces

mushrooms

diced

1

teaspoon

oregano

16

ounces

white beans

1 can, rinsed and drained (about 1 1/2 cups)

1/2

teaspoon

salt

1/4

teaspoon

pepper

1/2

cup

reduced fat crumbled feta cheese

leave out for vegan option
Instructions
Preheat oven to 400 degrees F.

Cut a small sliver off the bottom of each acorn squash so they will sit upright in the baking dish.

Cut the top off of the acorn squash about 1 inch below the stem. Retain the acorn "lid" for later in the process. (See picture in post.)

Scoop out seeds and stringy flesh and discard.

Place 1 teaspoon of butter in the bottom of each acorn squash.

Place squash on a baking sheet covered with aluminum foil.

Cook farro according to package directions. Drain and set aside when finished.

While farro is cooking, heat 1 Tablespoon of olive oil in a large pan over medium heat.

Add onions, mushrooms and oregano to pan and saute until tender, about 5 minutes.

Add farro and white beans to pan with onion and mushroom mixture and stir to combine.

Season with salt and pepper.

Spoon stuffing into the cavity of each acorn squash.

If there is leftover stuffing, and there may be depending upon the size of the squash, serve it on the side.

Place acorn "lid" on top of each acorn squash.

Roast in the oven for 1 hour or until flesh of the squash is tender to the touch of a fork. Check at 45 minutes.

Open lid and sprinkle with feta cheese, if desired.
Nutrition Facts
Roasted Acorn Squash Stuffed with Farro
Amount Per Serving
Calories 647
Calories from Fat 117
% Daily Value*
Total Fat 13g 20%
Cholesterol 27mg 9%
Sodium 564mg 24%
Potassium 2503mg 72%
Total Carbohydrates 117g 39%
Protein 24g 48%
* Percent Daily Values are based on a 2000 calorie diet.
Enjoy!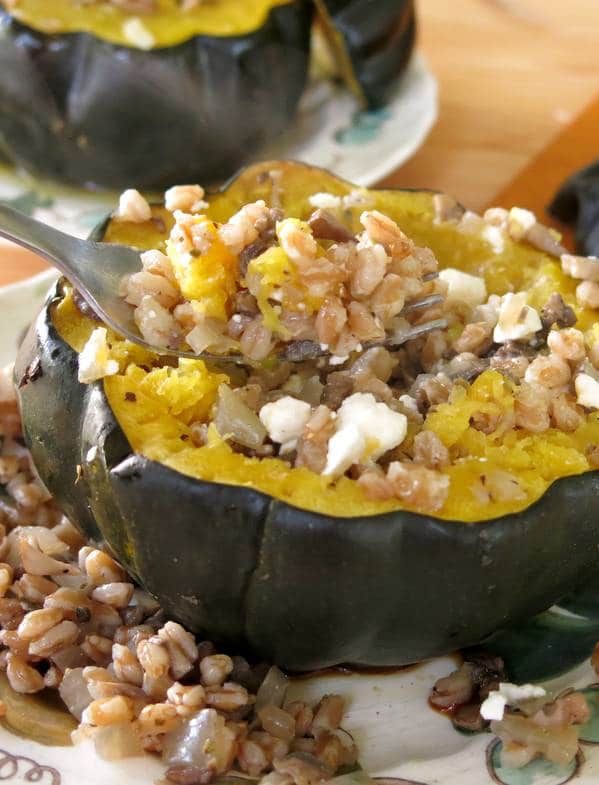 NEVER MISS A RECIPE! SUBSCRIBE BY EMAIL & RECEIVE A FREE GIFT!
FOLLOW ME: