This post may contain affiliate links. As an Amazon Influencer, I earn from qualifying purchases.
These EASY Spiralized Zucchini Recipes are the secret to getting dinner on the table fast! We've added tips to turn them into a complete meal. PLUS Our How-To Guide will answer all your zoodle questions including how to keep them from getting soggy!
The recipes are perfect for low-carb, keto and gluten-free diets and they're just plain fun to eat so you end up eating more vegetables.
We collected our favorite spiralized zucchini recipes below. Most cook quickly on the stovetop. If you're using our Healthy Weekly Dinner Plan, these recipes will perfectly complement almost any Core Recipe!
In case you are new to the spiralizing craze, here are answers to the most frequently asked questions.
Jump to:
Make with a spiralizer
Long curling zucchini noodles or "zoodles" are easy to make with a handheld spiralizer.
Wash and dry the zucchini.
Slice off the hard ends.
Place zucchini in the spiralizer and begin turning (the zucchini or the spiralizer) so that "noodles" of zucchini form.
The noodles are usually so long that you'll need to cut them into more manageable pieces.
You don't need to peel the zucchini first unless it's been waxed (or if there are picky eaters at the table.) The skin has nutritional value.
You can also leave the skin on and just pick out some of the dark green strands when you're done spiralizing. That's the easy way to do it!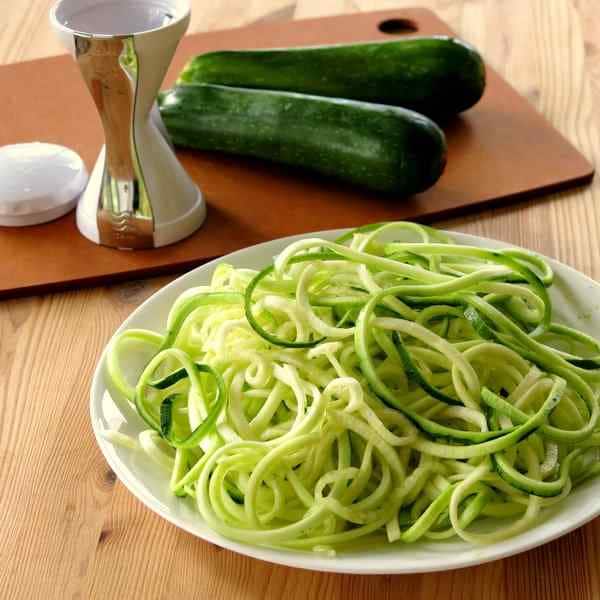 Make without a spiralizer
You don't have to own a special gadget to enjoy all the wonderful spiralizer zucchini recipes. Use a vegetable peeler instead. Or, use a knife if you're skilled with one.
Wash the zucchini and pat it dry.
Hold the zucchini in place and peel the zucchini into long silky ribbons.
Turn the zucchini and continue peeling until you reach the core.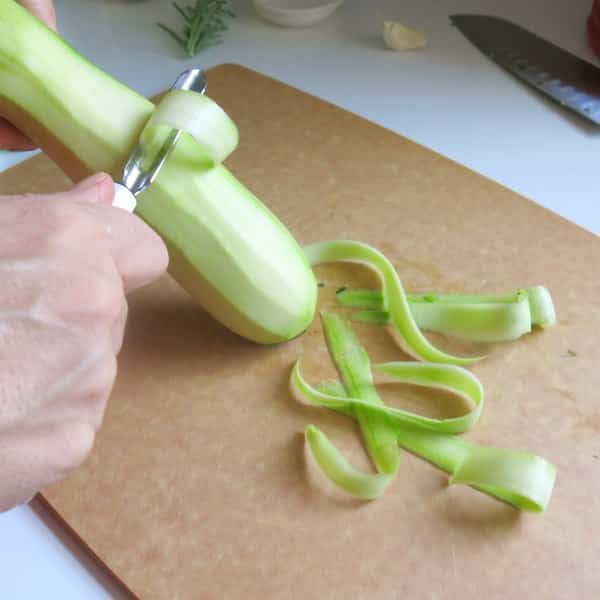 You may want to stop when you get to the seedy core, which is left behind with many handheld spiralizers. Some people find the seeds from to be bitter. I usually chop up anything zucchini that is left and add it to the dish too!
Another option: Just cut the zucchini into quarters!
Make-ahead tips
Zoodles can absolutely be made ahead of time! Store raw zucchini noodles in the refrigerator for 3-5 days in a container lined with paper towels which will absorb the excess moisture.
We don't recommend this option for zoodles. The texture changes drastically! But, if you do decide to take on this challenge, read the tips in How to Freeze Zucchini by the Kitchn first.
Prevent soggy noodles
Follow these tips for tender but firm (a.k.a. al dente) zucchini noodles:
Always blot zucchini noodles dry before using them.
Don't overcook them. It only takes a few minutes to soften the noodles. If you will be adding additional ingredients to the pan after cooking the zoodles, then take that time into account.
If cooking them in a skillet, don't use a lid which will steam the noodles and cause them to release more liquid.
Add salt just before serving if needed and not while cooking. (Salt will cause the zucchini to release water too.)
Eat them right away!
Can you eat raw zucchini?
It is perfectly safe to eat raw zucchini!
Got a question that we haven't addressed? Leave us a comment below and we will add it to the list!
And now for the recipes!
Almost all of these recipes below cook in minutes in a skillet. We've added some suggestions for turning each recipe into a complete meal!
Zucchini Noodle Alfredo
Make Zucchini Chicken Alfredo by topping this with your favorite chicken. Our is Baked Blackened Chicken.
Lemon Garlic Zucchini Noodles
This pairs nicely with so many proteins. Our favorite is Skillet Shrimp.
Garlic Parmesan Zucchini Noodles
This recipe is easily turned into a spaghetti dinner. Top it with easy easy chicken meatballs or crumbled gourmet meatloaf. Add marinara just before serving to keep the zoodles firm.
Zucchini Ribbons
The "noodles" in this recipe are made with a vegetable peeler but could be made with a spiralizer too.
Shrimp Zoodles
This Mediterranean inspired dish demonstrates how easy it is to add ingredients to the noodles to create a one-dish meal with lots of tastes and textures.
Crustless Zucchini Pie
You can even use noodles to make a spaghetti pie-like dish!
Need more ideas for using up all that zucchini? Check out Zucchini Recipe Ideas which includes everything from microwave zucchini chips and healthy zucchini muffins to chocolate zucchini brownies.