Welcome to The Dinner-Mom!
We're on a mission to make dinner easy, healthy and fun…and to put recipes, ideas and resources at your finger-tips.
Our Philosophy
Crowd your diet with good food and eat healthy 80% of the time. We sneak in love to add extra fruits and veges to recipes and otherwise make them as healthy as possible, so long as they still taste delicious. But, you'll find occasional indulgences here as well. 🙂
Popular Recipe Categories
Head to the Recipe Index to view all of our categories.
We tag recipes that may meet certain criteria or are easily modified, such as vegan, low-carb and gluten-free.
Our Most Popular Recipes
Free Mini Make Ahead Gourmet Meal Session
Would you like to take a week off from cooking dinner?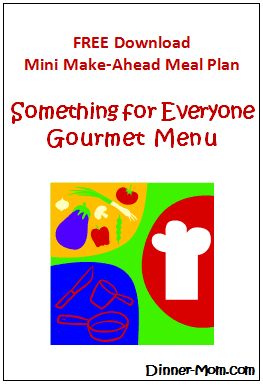 We pulled 5 favorites from our meal assembly store (Cheesy Meatloaf with Sundried Tomatoes, Herb Crusted Chicken, Maryland Style Crab Cakes, Pasta e Fagiole and Quiche Lorraine) and set up a complete meal assembly plan, including a shopping list, customization tips, labels, recipes and more.
Sign-up for our free emails and receive a complimentary copy of the Mini Make Ahead Meal Plan: Something for Everyone Gourmet Menu to download.
FOLLOW US!
FACEBOOK | TWITTER| GOOGLE +| PINTEREST | INSTAGRAM