Move over broccoli florets. Ribbons made from broccoli stalks perfectly complement Thai Beef Strips in this easy, one-pan recipe that takes less than 30 minutes to prepare. 
Confession. Up until now, I've just tolerated broccoli.
I am a big fan of greens, particularly zucchini. And, there are plenty of other vegetables that you'll run into all the time on The Dinner-Mom site…like mushrooms and green beans.
However, my luke warm relationship with this superfood ends here and now. I discovered something that changed the fate of this cruciferous vegetable forever…at least in my house.  You can scrape the tender inside of the long stalks into "ribbons" and these ribbons have a mild, delicate "broccoli" taste that I really, really like. Really.
Or, maybe it's because of the noodle-like form and noodles are fun. Whatever the reason, I'm in love with broccoli stalk ribbons and will never waste another broccoli stalk again!
Thai Beef Sauce
The sauce glazing the beef and broccoli is amazing too. The twist is coriander. And, it's not surprising that I like coriander since it's the dried seeds of cilantro. I can sprinkle cilantro on just about anything. 🙂
The sauce can be prepared ahead of time. It's a simple combination of soy sauce (or coconut aminos for a soy-free, gluten-free version,) canola oil, brown sugar and coriander.
Start to finish, the entire recipe takes just minutes to make. The longest part is making the broccoli ribbons…
Broccoli Stalk Ribbons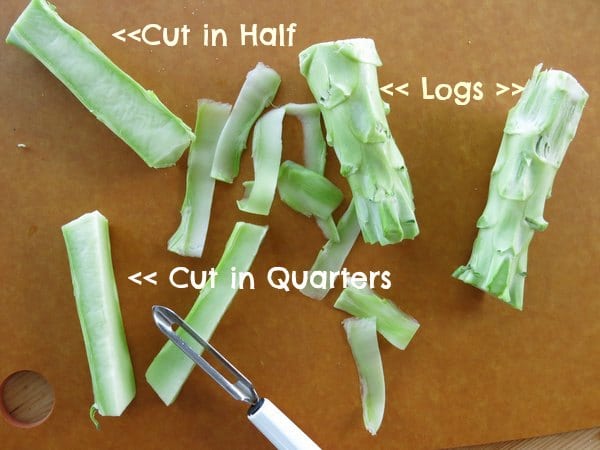 And, making the ribbons really isn't that hard either. Here's the process. Cut the florets off the stalks and save them for another recipe, like Roasted Broccoli with Sesame Dressing.
Cut the stalk in half and then cut the halves in half. In other words, cut the stalks into quarters. Use a vegetable peeler to make long ribbons, stopping before your reach the tough outer layer.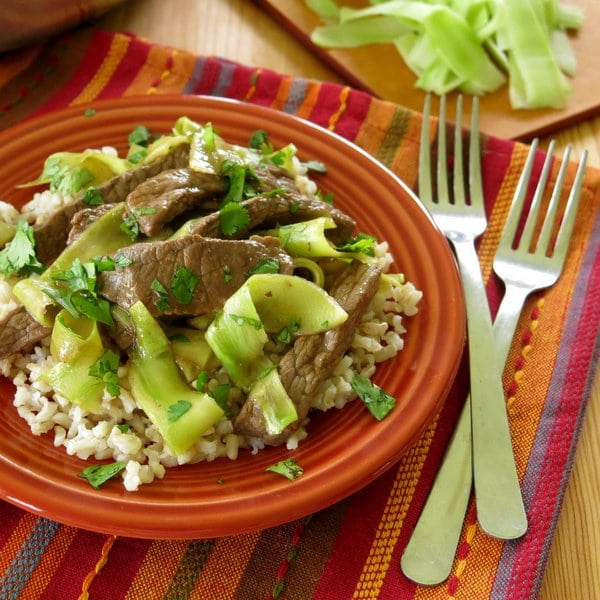 Actual cook time is literally 5 minutes. Brown the beef, add the sauce and broccoli ribbons to the pan, stir and you're done. Serve it over rice or salad greens. This is truly a one-pan, less than 30 minute dish that is delish!
Thai Beef and Shaved Broccoli Stalk Ribbons
Beef strips and ribbons made from shaved broccoli stalks are glazed in a Thai-inspired sauce in this easy, one-pan recipe.
Ingredients
One head of broccoli

1/2

cup

soy sauce

low salt or coconut aminos

2

Tablespoons

canola oil

1

teaspoon

ground coriander

1

Tablespoon

brown sugar

1

Tablespoon

sesame oil

1

pound

of beef

such as top round beef, cut into thin strips

1/4

cup

cilantro

chopped
Instructions
To prepare broccoli ribbons, cut florets from stalks so that you end up with a log shaped stalk.

Cut log in half (and then cut the halves in half.) See picture in post.

Lay cut logs on a cutting board with the smooth side up and use a vegetable peeler to make "ribbons" stopping before you get to the tough outer layer.

Combine soy sauce (or coconut aminos,) canola oil, coriander and brown sugar in a small bowl and set aside.

Heat sesame oil in skillet over medium-high heat.

Add beef to a large skillet and cook for about 3 minutes or until browned and just cooked through.

Add broccoli stalk ribbons and sauce to skillet, stir to coat beef with sauce.

Cook over medium high heat for about 2 minutes more.

Top with cilantro.
Recipe Notes
*Coconut aminos can be found in a health food store and are a good substitute for soy sauce. It's also gluten-free. *Meat can usually be found already cut in stir-fry strips. If cutting your own strips, then place meat in the freezer for about 30 minutes before cutting to make the job easier.
Enjoy! 
NEVER MISS A RECIPE! SUBSCRIBE BY EMAIL & RECEIVE A FREE GIFT!
FOLLOW ME: