Weekly Meal Plan: Busy Family Edition is a new a feature on The Dinner-Mom. We're hoping to provide dinner inspiration for the following week, 'cuz you eat better and there is less stress when you have a plan come 5:00.
This one is designed with a busy family in mind. It has easy family favorites. There are 5 meals, side suggestions, plus tips to lighten prep throughout the week.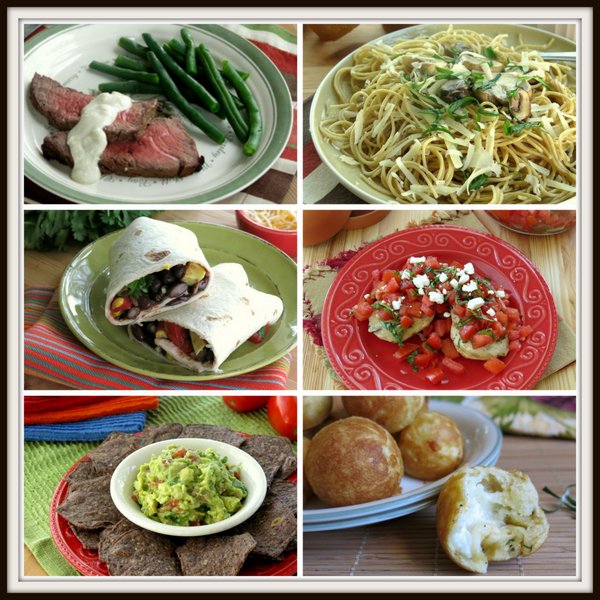 Recipes for the Weekly Meal Plan: Busy Family Edition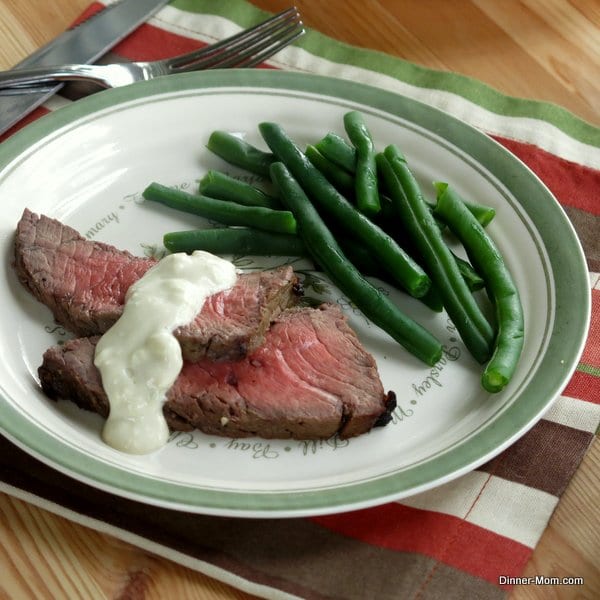 Make this when you have a little extra time, possibly on Sunday night. Make more meat than you need and slice it up for Spicy Black Bean Wraps later in the week. The London Broil stands alone. If you make the blue cheese sauce,  you can freeze any extra sauce.
Serve it with a big batch of roasted vegetables. (Cut zucchini, red onions and carrots into uniformly sized pieces. Toss with a little olive oil, sprinkle with salt and pepper and roast at 375 degress F for about 20 minutes or until vegetables are soft and lightly browned.)  Use the leftover vegetables in the pasta dish tomorrow.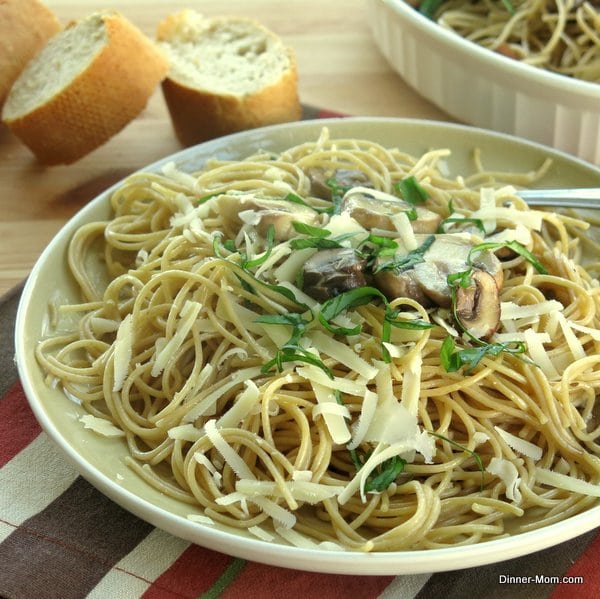 For an easy Meatless Monday entree, make spaghetti with pasta, olive oil, garlic and mushrooms. Stir in the extra veges you made the day before! Of course, you can always add a few meatballs too. By the way, that's a compromise mixture of whole wheat and regular pasta. 🙂
We have Tex-Mex once week, which certainly makes planning a little easier. Add the London Broil meat to these wraps if desired. We love it with guacamole (see picture a little later.) The nice thing about these wraps is that you can throw in whatever you have on hand or love.
You can use frozen already cooked chicken for this recipe or fresh chicken breasts. If using fresh, place the chicken in a dish, top it with the fresh bruschetta and bake at 350 degrees F for 30 minutes.  Hopefully, you chopped up some extra tomatoes when you made your guacamole yesterday! Cook a little extra chicken and chopped that up for pizza night.
Day 5 – Pizza Night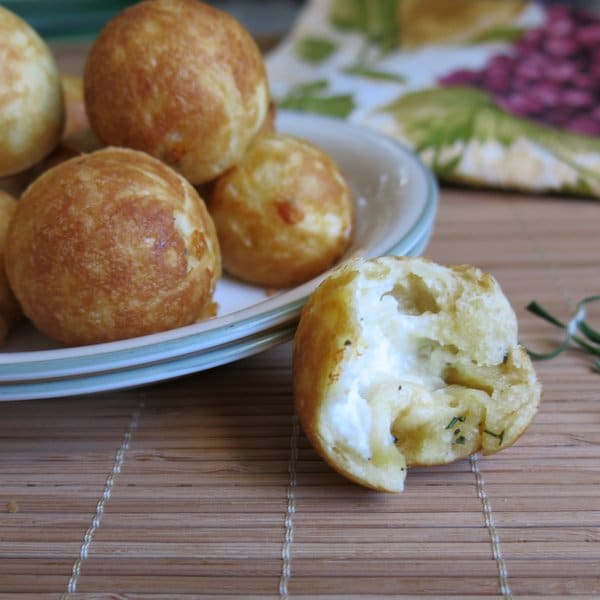 The Weekly Meal Plan for Busy Families would not be complete without pizza night! My girls love Three Cheese Garlic and Rosemary Pizza Bites.  And, you don't need a cake pop maker…just cook them in the oven. I like to top a big green salad with them.
OR…
Check out this BBQ Chicken Pizza by Garnish with Lemon. It has many of the ingredients used throughout the week and they are used in a whole new way.
Here's what we're snacking on this week: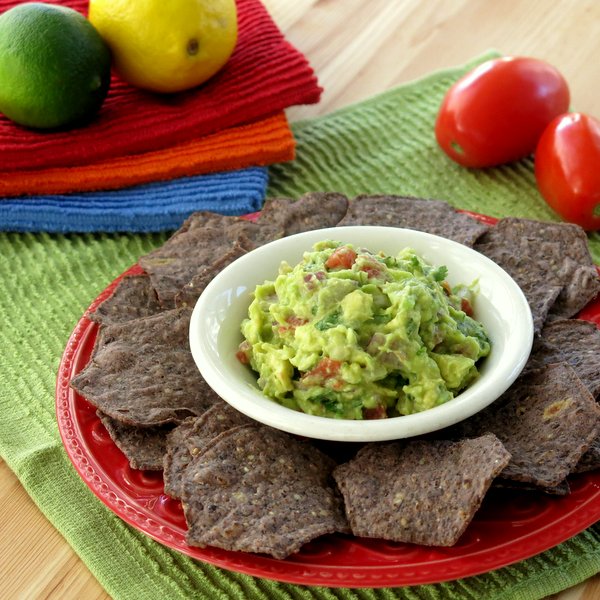 Roma tomatoes are used in the bruschetta, guacamole, black bean wraps and would be nice on the BBQ  pizza too. So make sure you cut up plenty when you have them out.
Take notes, make substitutions, post the menu and make your grocery list. It's easy to make a grocery list and save recipes using ZipList. If you are not familiar with this awesome resource, here's a quick tutorial.
Happy Meal Planning, TGIF and enjoy your weekend!