Download one of our FREE Printable Weekly Dinner Menu Templates and learn how to meal plan using our EASY step-by-step process. It will save time, money and your sanity!
Post the weekly menu for everyone to see and that haunting question "What's for dinner?" will never happen again!
Jump to:
Weekly Dinner Menu Templates
First, print out the menu template that best meets your needs.
When you're done scroll down and follow the easy steps to make next week's plan.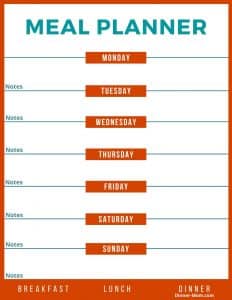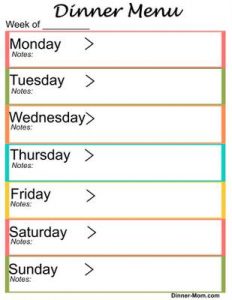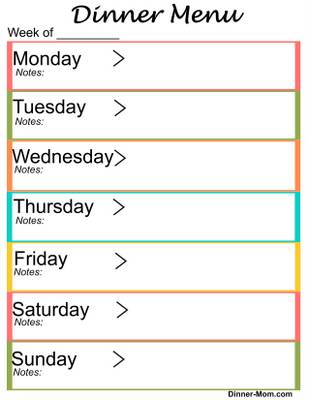 How to Meal Plan
Consistency is the key to successful meal planning. The more you do it, the easier it becomes, just like any habit. So, set aside a time each week to make the magic happen.
Here's how to create a meal plan for the week:
Print out a weekly dinner menu template to write everything down on. A whiteboard or chalkboard works too!
Review your calendar and jot down any events that are happening during the week in the Notes section.

Include soccer games, plans to eat out, late meetings or anything else that impacts the dinner hour.

Consider how much time you will have to make dinner based upon your notes from Step 2.

Will you need a dinner that takes less than 30 minutes to make?
Will you have extra time to double a recipe and freeze a dinner for later?
Can you make extra protein, like chicken or beef, and make a different meal the next day? Cook once, eat twice!
Not sure what time to start dinner? Would a slow cooker dinner solve the problem?

Decide what to make and slot the items into the planner.

Things to consider:

Favorite family dinners - It's never a good idea to make too many new recipes in a given week. Start with what works and then go from there.
What's in season? Check out our Seasonal produce guide.
What items do you have on hand and what's on sale.
Are there dinners in the freezer that you made ahead of time?
Plan around a dinner theme, such as Meatless Monday, Tex-Mex Tuesday, Pizza Night, Soup and Sandwiches, etc.

Browse our recipe index or check out our dinner boards on Pinterest where we pin recipes from all our favorite bloggers and recipe sites.

Make a grocery list.

It doesn't matter whether it's a paper list on the refrigerator or a Google doc on your phone. Tip: Having a consistent place to keep this list is helpful, particularly if you want other family members to add things to the list.

Gather any recipes that are needed and save them to one place.

For example, save them to a designated board on Pinterest.

Review and repeat!

When the week is over, review the weekly dinner plan and do it again! Which dinners were a success this week and what changes should you make next time? Jot the answers down in the Notes section.
Save your weekly plans with the feedback. Hopefully, you'll get to a point where you can slightly modify or use the same meal plans over and over again as we did in our Healthy Weekly Dinner Plan. It doesn't get any easier than that!We hope you found these suggestions on how to meal plan helpful. We'd love to hear about any tips or successes you've had!