Print out our Seasonal Produce Guide and use it for shopping and meal planning. We've linked our recipes to fruits and vegetables in the chart below.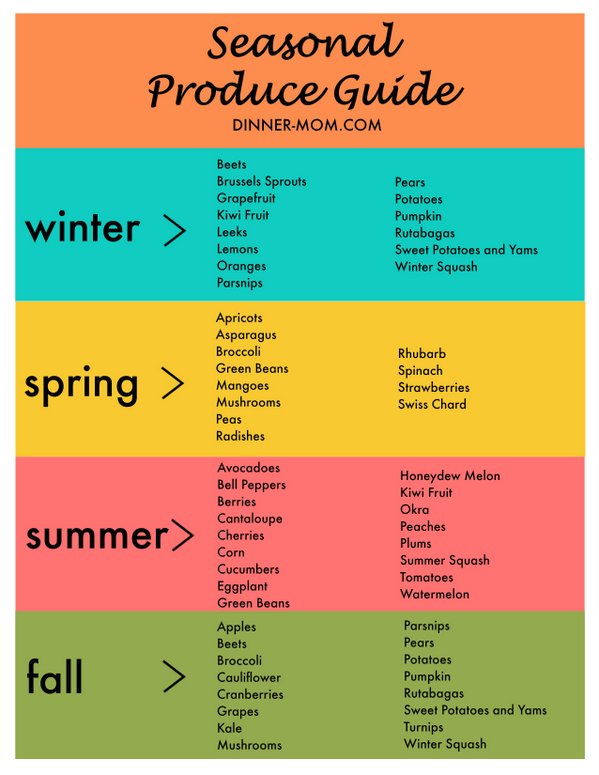 Jump to:
How to eat seasonally
Eating with the seasons is easier than you think! Look for farmer's markets and produce stands. Grocery stores label or will tell you where their produce is sourced and fruits and vegetables are often on sale when they're abundant. Simply knowing what is in season will help you make better selections.
Eating seasonally simply means taking advantage of the harvest schedule and incorporating fruits and vegetables in your diet and meal planning when produce is at its peak. Eating locally means enjoying produce that doesn't have to travel very far. Both elements allow consumption as close to harvest as possible so the ingredients are fresher, taste better and retain their nutritional value. It will save you money too!
Check out our Free Weekly Dinner Menu Template and easy step-by-step process for making dinner planning a breeze!
When are fruits and vegetables in season?
In order to make great choices and meal plans you need to know what's in season!
We've created a cheat sheet which shows the time of year commonly used fruits and vegetables are at their peak. These are general guidelines! Of course, it varies by region. For example, here in Florida strawberries flood the market around February. In California, strawberries are more readily available in Spring.
What fruits and vegetables are available year-round?
For many areas of the country, common fruits and vegetables are available year-round. But, they may not be sourced locally. We left bananas, onions, carrots, celery and lettuce off the printable template.
Printable Seasonal Produce Guide
Print out the Seasonal Produce Guide for Fruits and Vegetables Printable and keep it handy for meal planning. If you want to quickly see what types of recipes you can make with a particular ingredient, search by ingredient in our search bar!
Winter
Beets
Brussel Sprouts
Grapefruit
Kiwi Fruit
Leeks
Lemons
Oranges
Parsnips
Pears
Pumpkin
Rutabagas
Sweet Potatoes and Yams
Winter Squash (such as Butternut Squash, Acorn Squash, and Spaghetti Squash)
Popular winter recipes:
Spring
Apricots
Asparagus
Broccoli
Green Beans
Mangoes
Mushrooms
Peas
Radishes
Rhubarb
Spinach
Strawberries
Swiss Chard
Popular Spring Recipes
Summer
Avocadoes
Bell peppers
Berries (such as blackberries, blueberries, raspberries)
Cantaloupe and melons
Cherries
Corn
Cucumbers
Eggplant
Green Beans
Honeydew Melon
Kiwi Fruit
Okra
Peaches
Plums
Summer Squash (such as Yellow Squash and Zucchini)
Tomatoes
Watermelon
Popular Summer Recipes
Fall
Apples
Beets
Broccoli
Cauliflower
Cranberries
Grapes
Kale
Mushrooms
Parsnips
Pears
Potatoes
Pumpkin
Rutabagas
Sweet Potatoes and Yams
Turnips
Winter Squash (such as Butternut Squash, Acorn Squash, and Spaghetti Squash)
Popular Fall Recipes
This philosophy is key to creating a Healthy Weekly Dinner Plan using core recipes.