Elevate your next steak dinner…or burger…with a burgundy mushroom sauce laced with onion and garlic.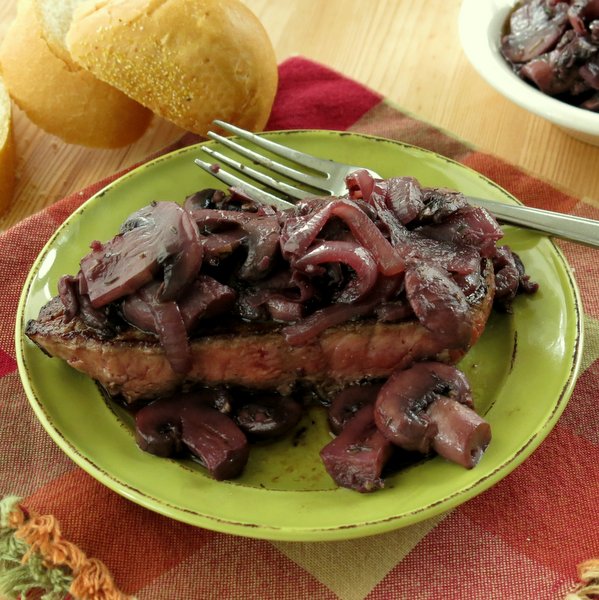 This week the Sunday Supper group partnered with Gallo Family Vineyards to showcase ways to pair, cook and entertain with Hearty Burgundy wine. It's turning 50 this year and that deserves a celebration! I was lucky enough to receive a limited edition bottle commemorating the anniversary. It contains the "original Red Blend," combining flavors ranging from dark berry to red plum and is matched as close as possible to the original blend for this wine. I'm a little nostalgic at the thought.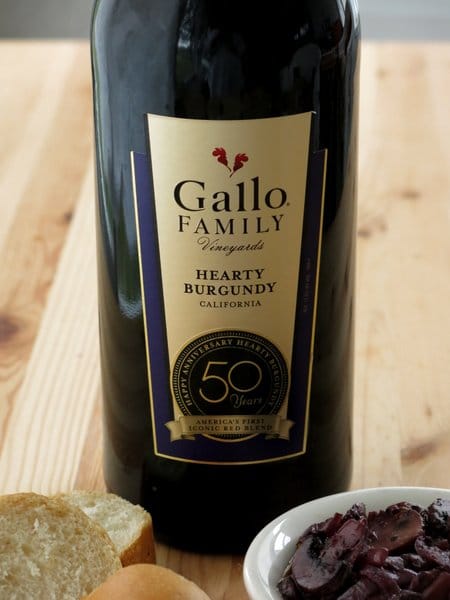 The first recipe that came to mind for this occasion is burgundy mushroom sauce.
Sweet onions, garlic and meaty mushrooms are sauteed and then soak up Hearty Burgundy wine while the mixture reduces to a sauce. You'd think such a rich tasting side would take a long time to prepare. But, it doesn't. The entire steak dinner takes about 30 minutes start to finish.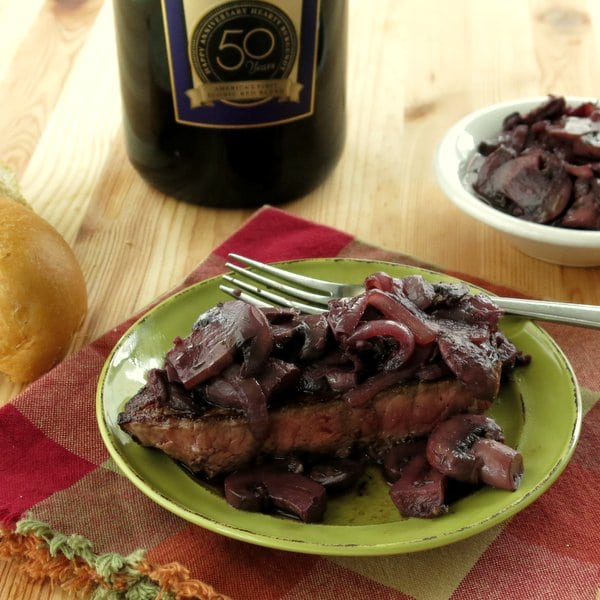 I love the out-on-the-town feel of this recipe! The steak is for my hubby. It's a great topping on burgers too. But, I'd be perfectly happy with just a big bowl of the burgundy mushroom sauce and a glass of Hearty Burgundy wine. 🙂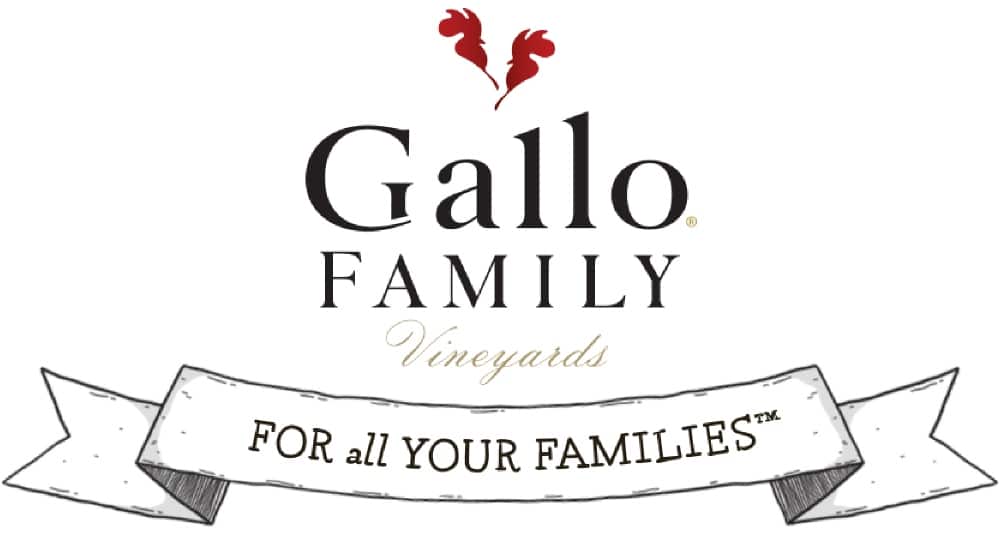 Visit Gallo Family Vineyards to learn more about their selection of wines, perfectly pair wine with various types of food or use the store locator. The Limited Edition Hearty Burgundy wine is in stores now. They offer 16 different wines year-round, so it's easy find the perfect one. You can also stay connected through Facebook, Twitter, Instagram and YouTube.
Compensation was provided by Gallo Family Vineyards via Sunday Supper, LLC. However, the opinions expressed herein are completely my own and are not indicative of the opinions or positions of Gallo Family Vineyards.
Burgundy Mushroom Sauce over Beef for #SundaySupper
Mushrooms, onions and garlic are sauteed and then soak up Hearty Burgundy wine while the mixture reduces to a sauce. Take your steak dinner or burgers to the next level with this easy recipe.
Ingredients
4

beef filets

about 1 1/4 inch in thickness

1

Tablespoon

olive oil

Salt and Pepper

1/4

cup

butter

3

Tablespoons

olive oil

divided

1/2

white onion

sliced

1

pound

mushrooms

sliced

2

garlic cloves

minced

1/2

teaspoon

dried thyme

1

cup

Hearty Burgundy wine
Instructions
Rub both sides of the beef filets with olive oil and season with salt and pepper.

Set beef filets aside and allow them to reach room temperature while preparing mushroom sauce.

Melt butter and 2 Tablespoons olive oil in a large skillet over medium high heat.

Add onions and cook for about 5 minutes.

Add mushrooms, garlic and thyme and cook for about 3 minutes more.

Stir in wine, scraping up any brown bits and cook until liquid is reduced by half, about 8-10 minutes.

Remove mushroom sauce to serving dish and keep warm.

The pan should still be hot from mushroom sauce.

The instructions below are for a medium-rare steak. Add 1-2 minutes to the cook time for a medium-well to well-done steak.

Add beef filets to pan and cook for about 3-4 minutes without moving the filets.

Flip the beef filets and cook for 3-4 minutes more.

Allow steak to rest for about 5 minutes before serving.

Top steaks with Burgundy Mushroom Sauce.
Nutrition
Calories:
312
kcal
|
Carbohydrates:
7
g
|
Protein:
4
g
|
Fat:
26
g
|
Saturated Fat:
9
g
|
Cholesterol:
31
mg
|
Sodium:
111
mg
|
Potassium:
456
mg
|
Fiber:
1
g
|
Sugar:
3
g
|
Vitamin A:
7.1
%
|
Vitamin C:
4.7
%
|
Calcium:
1.7
%
|
Iron:
5.9
%