This post may contain affiliate links. As an Amazon Influencer, I earn from qualifying purchases.
Bake individual beef crescent roll pot pies in a muffin tin. This easy recipe makes mini-sized cups perfect for dinner or an appetizer.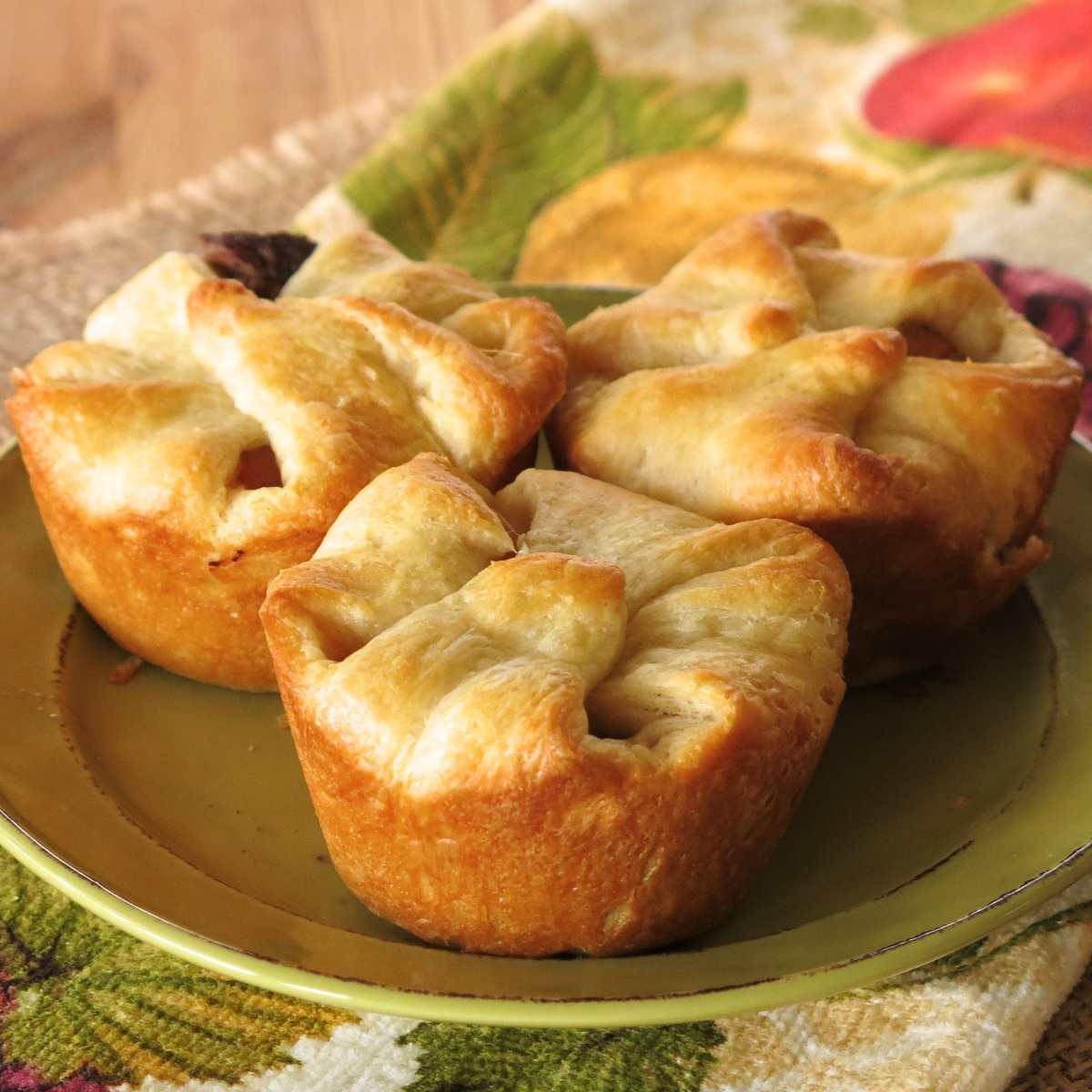 Crescent roll pot pies may be the tastiest recipe you've ever made with leftovers!
Do you hear this refrain at your house? But I don't waaaaant leftovers. I'm emphasizing the whiny tone. Sometimes, I'm the complainer!
Well, the simple technique used in this recipe solves the problem! Nobody can resist beef and veggies when they're nestled in soft, flaky pastry dough... not even picky eaters.
These beef pot pies are filled with tender beef, mushrooms, onions, carrots, and tomatoes in a red wine sauce. You can even use frozen vegetables to make our Crock-Pot Beef Stew, which is the base for these personal-sized pies.
Make this crock-pot recipe for dinner one night and bake pot pies in the oven the next day! It's a classic cook once, eat twice strategy.
You can use your favorite hearty stew from the grocery store instead. And you'll also find more filling ideas below.
Jump to:
Ingredients
Here's what you'll need to make beef crescent roll pot pies:
Crescent roll dough, such as Pillsbury crescent rolls - You'll find this in the refrigerated section of a grocery store.

Pastry sheets are also available. I like the flexibility of having a can of rolls in the refrigerator.

Beef and vegetable stew - Make beef and vegetable stew and save approximately 2 cups to make 8 muffin tin pot pies.

You can also use canned, fresh, or frozen stews from the grocery store in this recipe or any of the suggestions in the section below for the filling. The technique is the same.
Please see the recipe card at the bottom of this post for the complete list of ingredients with measurements plus recipe instructions.
Directions with Pictures
Here's how to make easy crescent roll pot pies: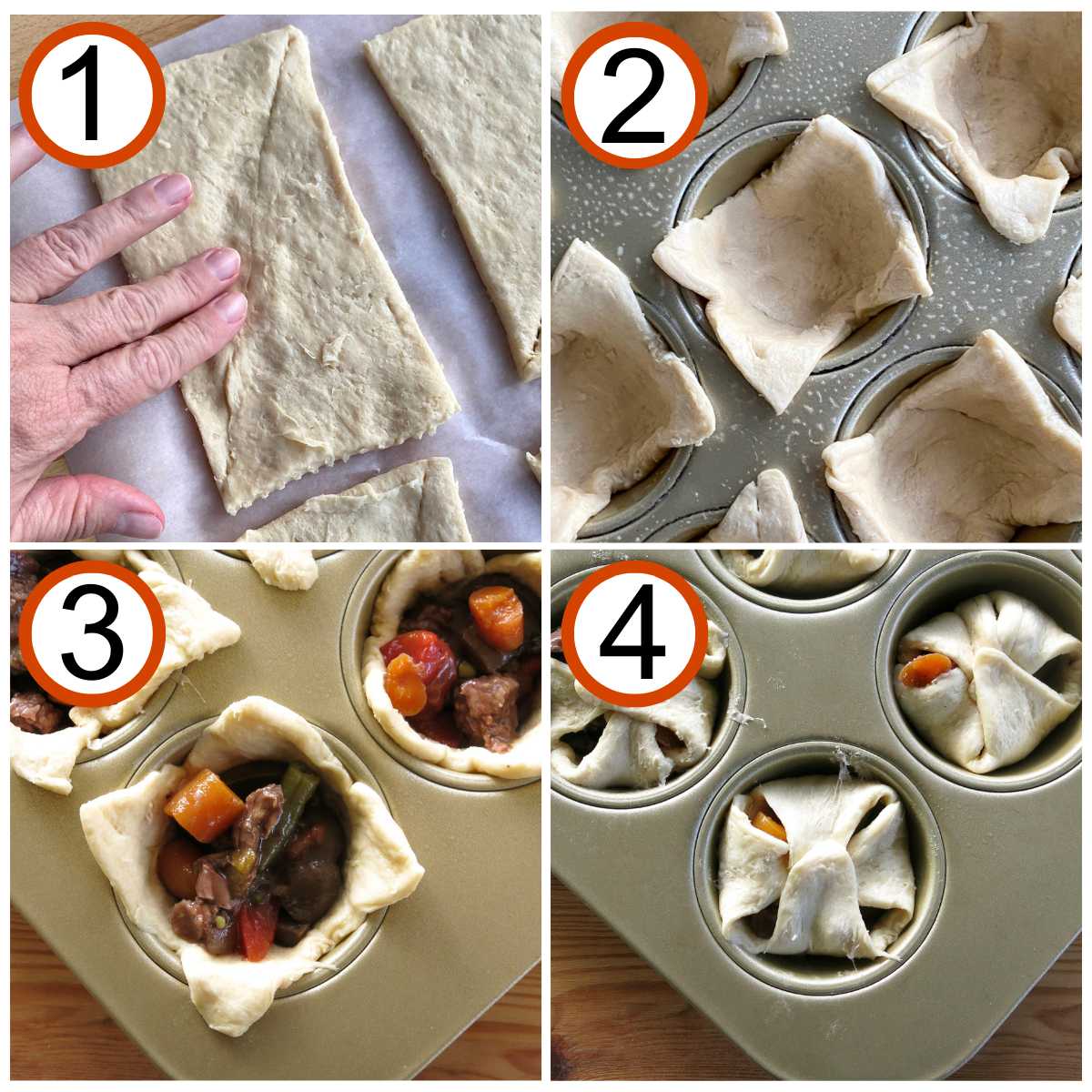 Roll the crescent roll dough out on a cutting board and pinch the seams together. Cut the dough into 8 equal-sized squares using a pizza cutter or knife.
Press the dough into a muffin tin coated with cooking spray, allowing the corners to drape over the edges.
Fill the wells with the beef and vegetable filling until they're about level with the top of the muffin tin.

Shred or cut the beef and chop the vegetables into smaller pieces, if necessary.
The stew ingredients should be wet from the sauce. No additional liquid needs to be added to the filling unless it is very dry.
Avoid adding excess liquid. It will make the bottom of the pot pies soggy.

Pull the corners to the middle, bake until golden brown, and enjoy!

There's no need to brush the top with anything.
The result is nothing short of indulgent.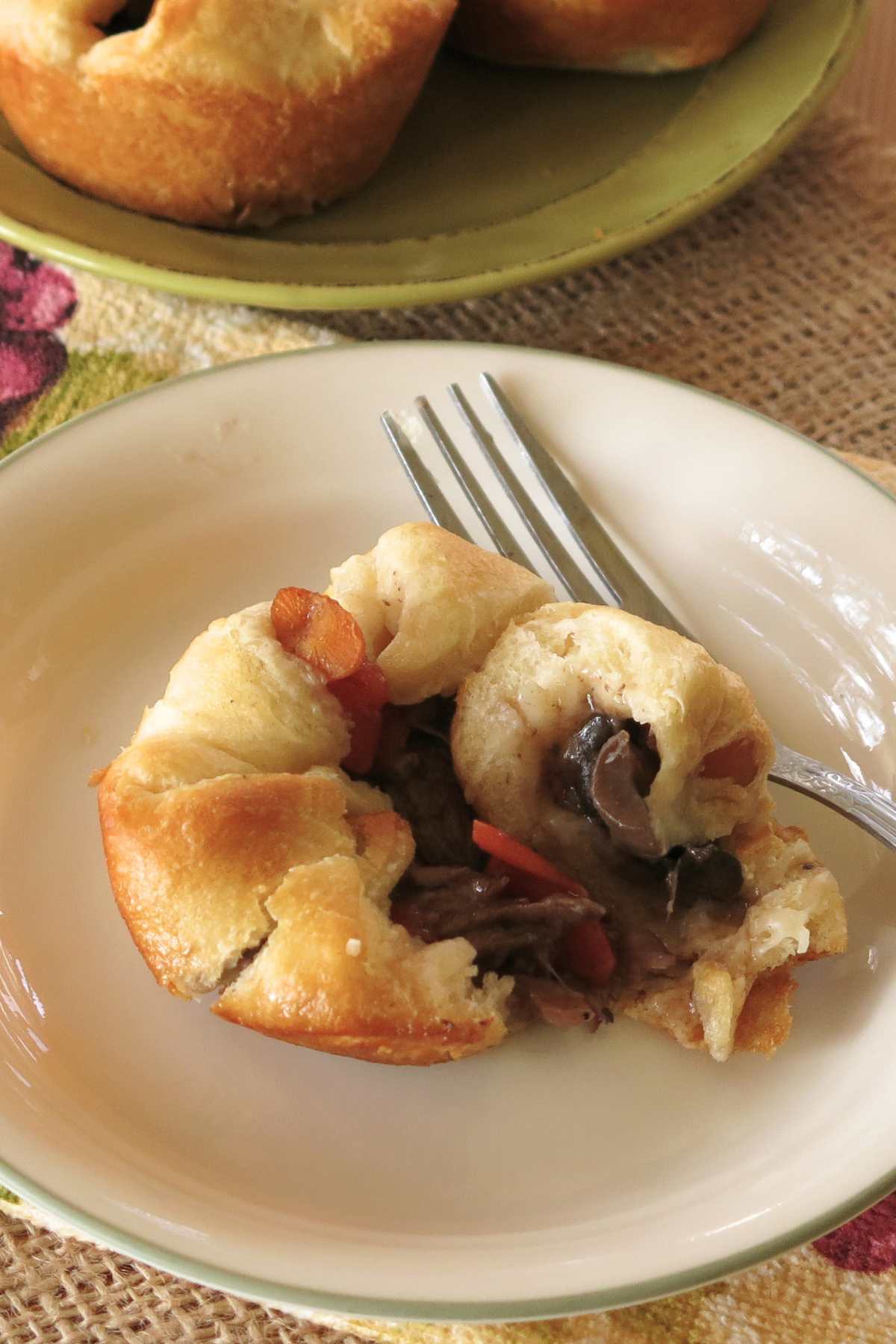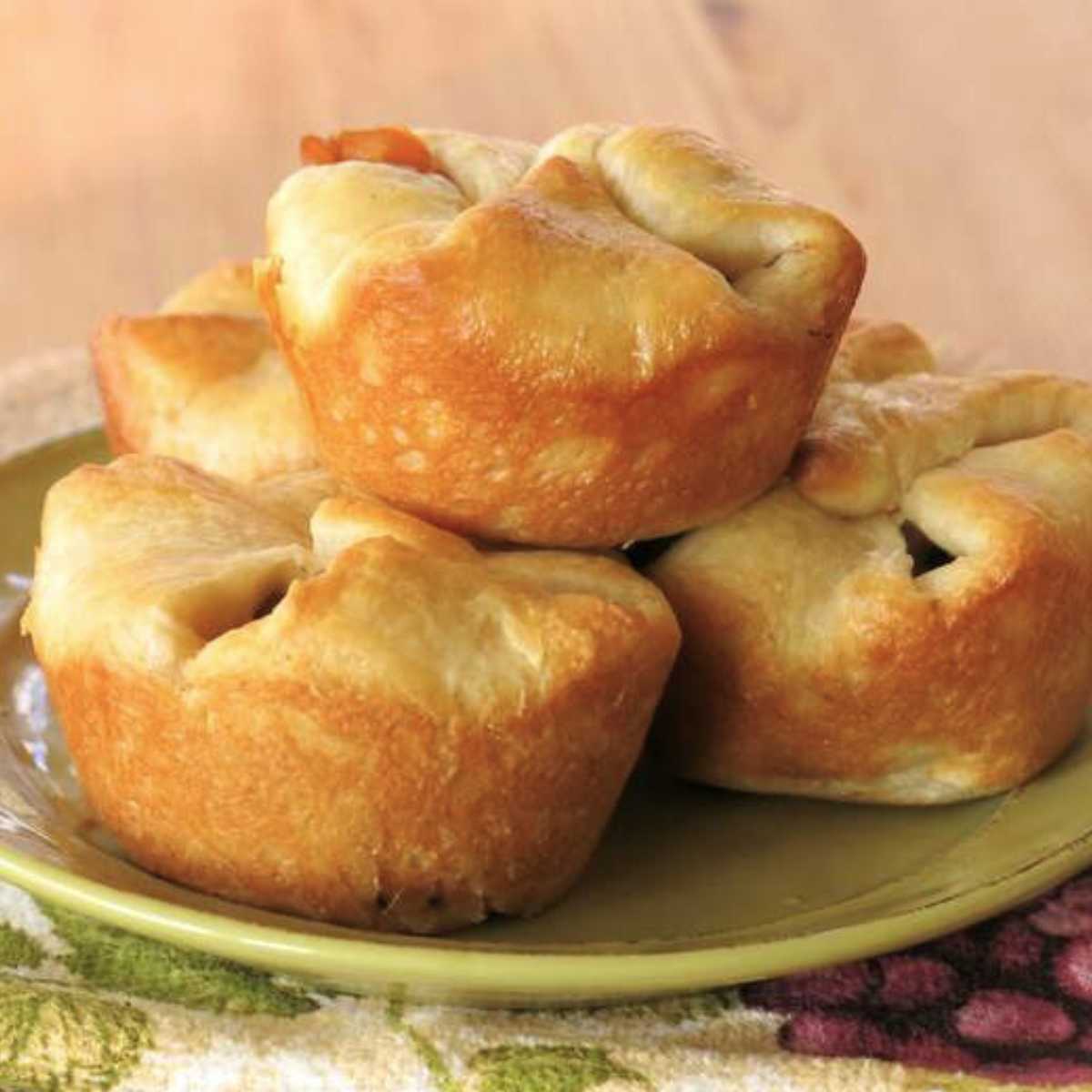 What to Serve with Beef Pot Pie
Beef crescent roll pot pies are rich and filling, so light and healthy side dishes pair beautifully. Mix and match these ideas:
Green Salad with a light vinaigrette contrasts nicely with the rich filling of pot pie. Top crisp mixed greens with cherry tomatoes, cucumbers, radishes, and feta or goat cheese.
Mashed Potatoes are a popular pairing. Put your slow cooker to work again and make creamy mashed potatoes ahead of time!
Mashed Cauliflower is a lower-carb and veggie-packed side. Make fully loaded cauliflower mash using frozen cauliflower. It's pure comfort food, too.
Cranberry Sauce - The tartness of cranberries can provide a delightful contrast to the savory flavors of the pie. Low-sugar cranberry sauce is easy to make on the stovetop.
Soup: If you're in the mood for a multi-course meal, spicy butternut squash soup or any autumn-inspired soup can be a lovely precursor to the main pot pie dish.
More Recipes with Crescent Roll Dough
Here are a few more ways you can use crescent roll dough:
Did you make this recipe?
Please leave a rating and tell us how you liked it!
📋 Recipe
This recipe was first published on October 26, 2017, and has been updated to improve the reader experience.