Paprika Parmesan Baked Chicken is cheesy with just the right amount of kick. Follow our no-mess process to make this recipe in minutes. We'll even show you how to freeze it and cook it from frozen.
Kids and adults alike loved this recipe at our Make Ahead Meal Store! The tasty breading is light and low-carb and can be made gluten-free too.
This recipe is inspired our popular Parmesan Cauliflower Bites, which also calls for paprika. It's fair to say we're hooked on this tasty breading combination and you'll probably see it again. 🙂 And, if you're not that into paprika, try Parmesan Chicken Nuggets!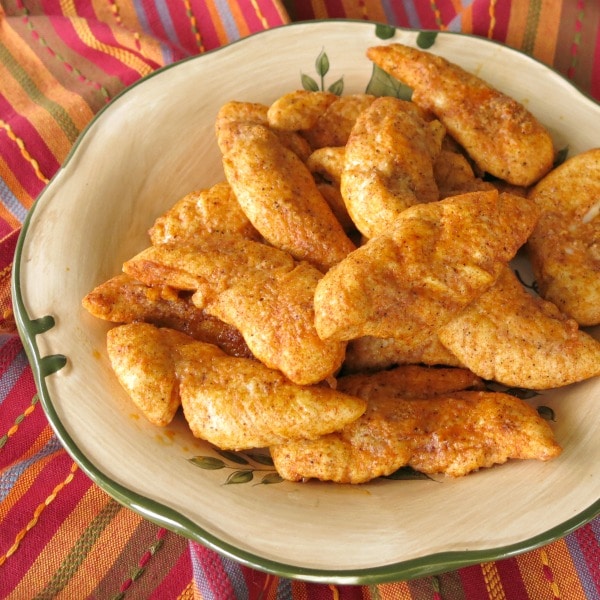 How to make Paprika Parmesan Baked Chicken
Making this recipe really is a breeze if you follow this process:
Breading Ingredients in Paprika Chicken
To make the breading for this recipe, combine grated Parmesan cheese, paprika, salt, pepper and flour in a LARGE bowl or oblong container with a lid. (We'll explain why you need a big container in a minute.)
Types of flour that may be used depending up dietary needs:
Unbleached all-purpose Flour – since only 1/4 cup is needed, we don't agonize much about the carbs.
Almond flour or meal for a gluten-free or even lower-carb version. We prefer the coarser almond meal, which contains some almond skin. The taste is slightly different, but the paprika flavoring continues to shine through.
Note that this recipe is appropriate for chicken breasts, chicken tenders or chicken nuggets. The smaller the piece of chicken, the more surface area for the breading!
Types of Paprika
You will generally find smoked, hot and sweet paprika at the grocery store. Each one has a different flavor depending upon the type of pepper use to make it. Paprika is made from grinding peppers. Read more about the different types of paprika in this article by Bon Appetit.
If you don't have a favorite, we suggest using sweet paprika.
How to bread Paprika Parmesan Chicken
Use our tried and true method! We use this process to make Oven Baked Chicken Tenders, Broiled Scallops with a Parmesan Crust and just about any other smaller-sized ingredient that needs to be breaded:
Break an egg in a large bowl, whisk it and then add all the chicken to the bowl. Mix until all the pieces of chicken are coated with egg.
Combine the breading ingredients in a separate large bowl with a lid.
Lift the chicken out of the bowl with the egg and into the bowl with the breading, allowing excess egg to run off the chicken first.
Once the chicken has been transferred, seal the bowl and gently turn it several times to coat the chicken with breading.
Open the lid and lift the chicken pieces onto a cooling rack placed over a baking tin. This will ensure that all sides are evenly crisped. Spray the cooling rack to prevent sticking first. Paprika Parmesan Chicken can also be baked directly on a baking sheet.
Sprinkle any leftover breading on top of the chicken, hitting any areas that are light on breading first.
FAQ:
YES – Gallon-sized ziplock bags can be used instead of bowls.
YES – The traditional method of breading by dipping the chicken in egg and then rolling it in the breading will also work.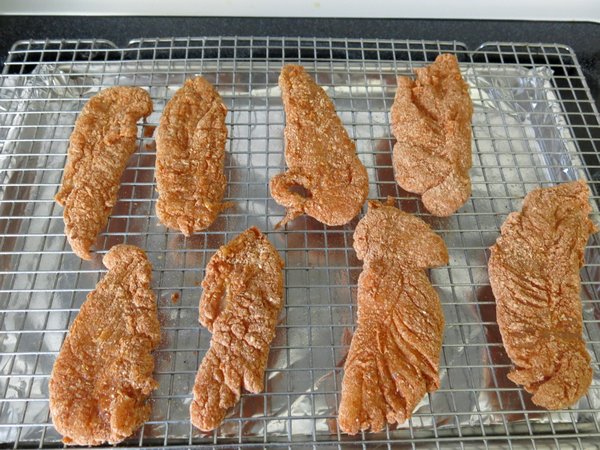 The cook time will vary depending upon the thickness of the chicken and on the oven. It usually takes 15-20 minutes cooked in a 350 degrees F oven. The chicken should not be pink.
How to Freeze Paprika Parmesan Baked Chicken Recipe
Paprika chicken may be prepared and frozen before cooking. Place the prepared chicken in a single layer in a freezable container. Cover and label.
Defrost the chicken in the refrigerator overnight and then follow the cooking instructions. Chicken tenders also cook nicely from frozen. Add about 10 minutes to the cook time.
Faster than takeout and no ketchup required. 🙂
Please rate this recipe if you make it and tag @DinnerMom #DinnerMom on social media. We love to see what you are cooking up.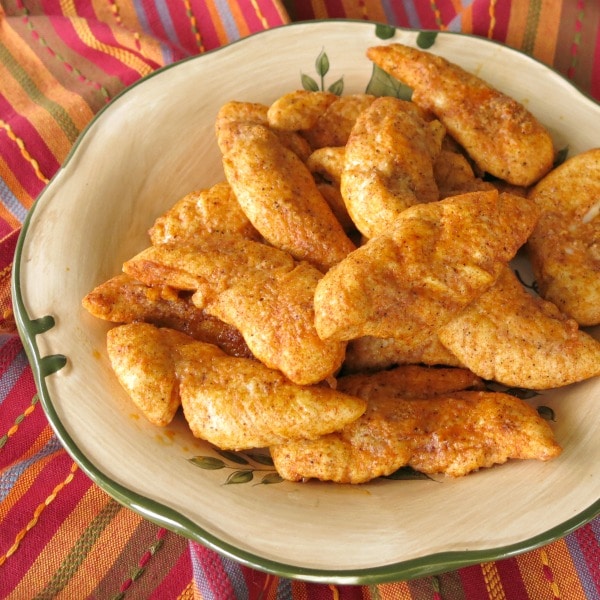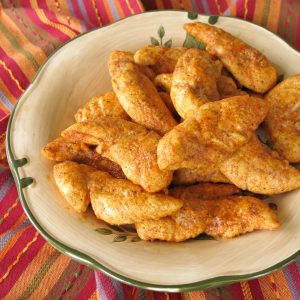 Paprika Parmesan Baked Chicken Recipe
Paprika Parmesan Baked Chicken is cheesy with just the right amount of kick. Follow the no-mess process we used at our Meal Assembly Kitchen to make this recipe in minutes.
Print
Pin
Rate
Ingredients
2

pounds

chicken

tenders, nuggets or breasts

1

egg

lightly beaten

3/4

cup

Parmesan cheese

finely grated

1/4

cup

unbleached flour

2

teaspoons

paprika

1/2

teaspoons

salt

1/2

teaspoon

pepper
Instructions
Preheat oven to 350 degrees F.

Lightly whisk egg in a large bowl.

Add chicken to bowl and turn to coat with egg. Set aside.

Place the remaining ingredients into a separate large bowl or oblong shaped container with a lid. Seal and shake to combine contents.

Lift chicken tenders into the bowl with the breading ingredients, allowing excess egg to drip from chicken before adding it to the breading bowl.

Seal the bowl tightly and gently turn the bowl to coat the chicken with the breading mixture. Do this in batches, if necessary.

Place breaded chicken tenders on cooling rack sprayed to prevent sticking. Place the cooling rack on top of a baking sheet. If there is breading leftover, sprinkle over the chicken tenders.

Bake for 15-20 minutes or until chicken is no longer pink. Enjoy!
Notes
To make ahead and freeze, prepare the chicken tenders, but don't cook them. Freeze in a single layer in a baking tin. Cover and store for up to 2 months for best results. Or transfer to a plastic bag once frozen. Chicken can be cooked from frozen, add about 10 minutes and check to be sure chicken is no longer pink.
Nutrition
Calories:
252
kcal
|
Carbohydrates:
4
g
|
Protein:
38
g
|
Fat:
8
g
|
Saturated Fat:
3
g
|
Cholesterol:
132
mg
|
Sodium:
580
mg
|
Potassium:
596
mg
|
Vitamin A:
510
IU
|
Vitamin C:
1.8
mg
|
Calcium:
160
mg
|
Iron:
1
mg
FREE Quick Start Guide: Healthy Dinners on Autopilot!
Sign Up HERE!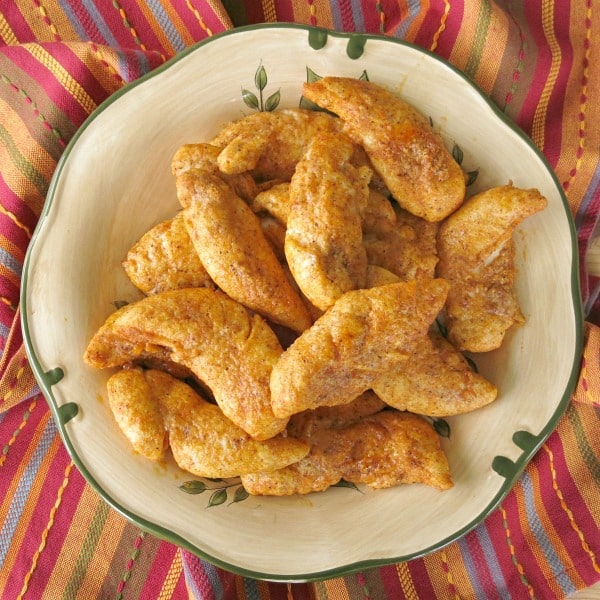 Follow Us!
FACEBOOK | PINTEREST | INSTAGRAM | TWITTER | NEWSLETTER