This post may contain affiliate links. As an Amazon Influencer, I earn from qualifying purchases.
Healthy Bang Bang Chicken with homemade sweet and spicy sauce is an easy recipe for a restaurant favorite that's baked, not fried!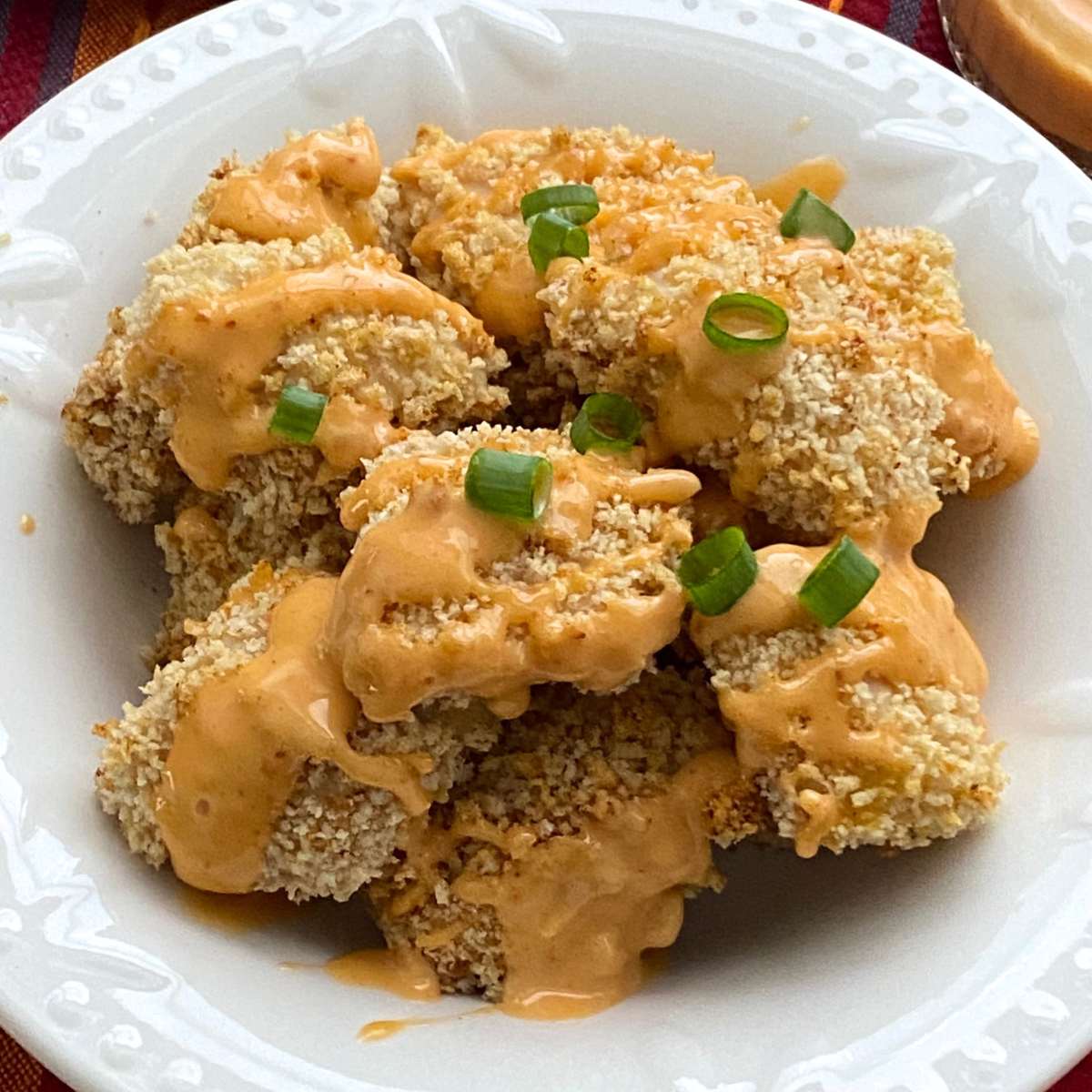 Are you a fan of this popular dish at Bonefish Grill and The Cheesecake Factory? Whether it's chicken or shrimp on the menu, I order it, even though I don't love deep-fried food.
If you enjoy this irresistible dish, too, we've got you covered with a simple recipe and tips that will rock your dinner routine.
Here's why you'll love this lightened-up recipe:
It's simple to make! You can even start with frozen chicken nuggets. Either way, this recipe is done in 30 minutes or less.
It's lower in carbs and calories.
You can adjust the heat level in the easy bang bang sauce.
You can use Greek yogurt instead of mayonnaise to make the sauce even healthier.
There's an air fryer option.
The same breading, sauce, and process can be used to make bang bang shrimp.
It's budget-friendly, and you won't need to leave your house!
Jump to:
How to Make Healthy Bang Bang Sauce
Here's what you'll need to make Bang Bang Chicken Sauce that's perfect for shrimp, cauliflower, and more. Use Greek yogurt for a super healthy preparation or mayonnaise for the classic restaurant-like sauce.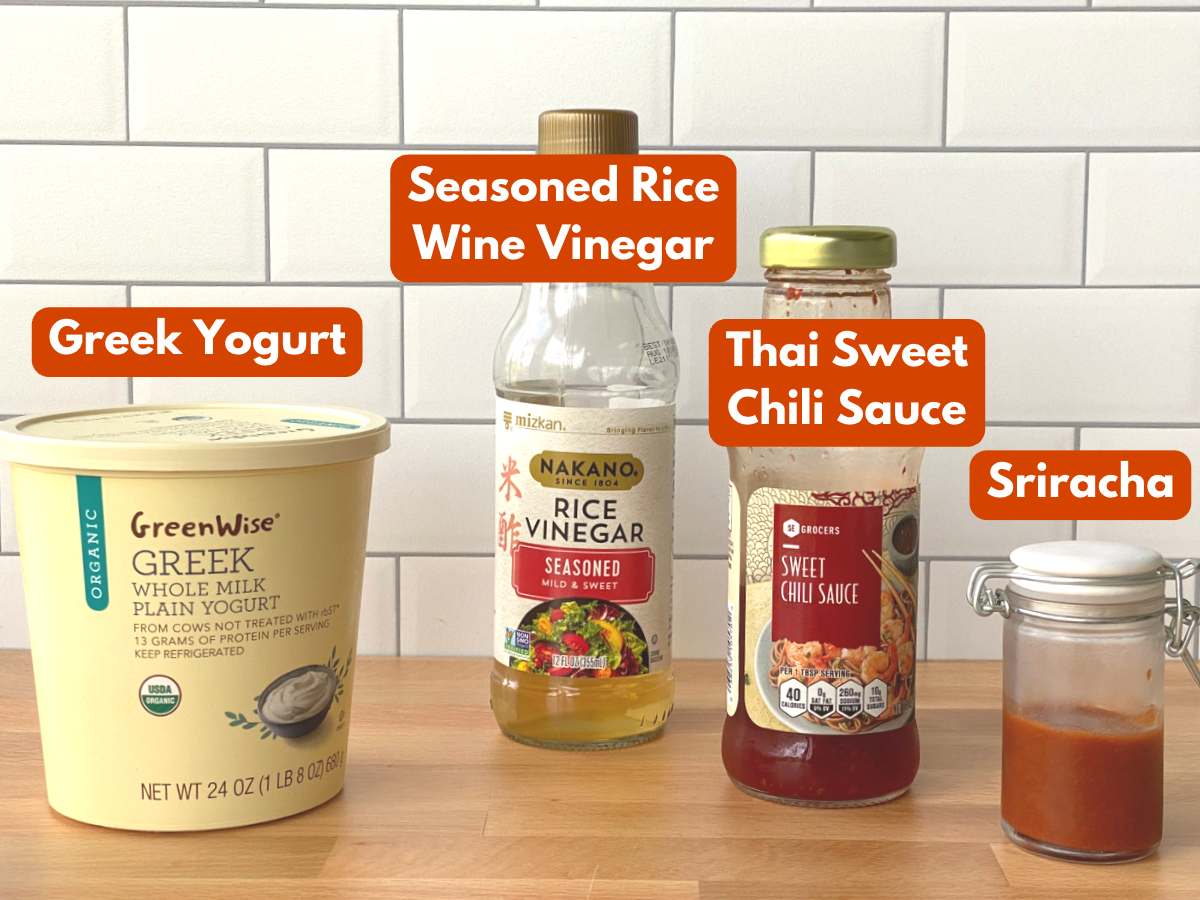 Greek yogurt or Mayonnaise may be used. We used yogurt to make the sauce below, which makes it slightly pink.
Seasoned rice vinegar is mildly sweet with some acidic zing from added sugar and salt. Unseasoned can be used, but the sauce will be less sweet and not quite the same.
Thai sweet chili sauce is a condiment that includes a mixture of red chili peppers, rice wine vinegar, and sweetener.
Sriracha hot sauce adds heat! This is the ingredient you will adjust to your desired level of spiciness.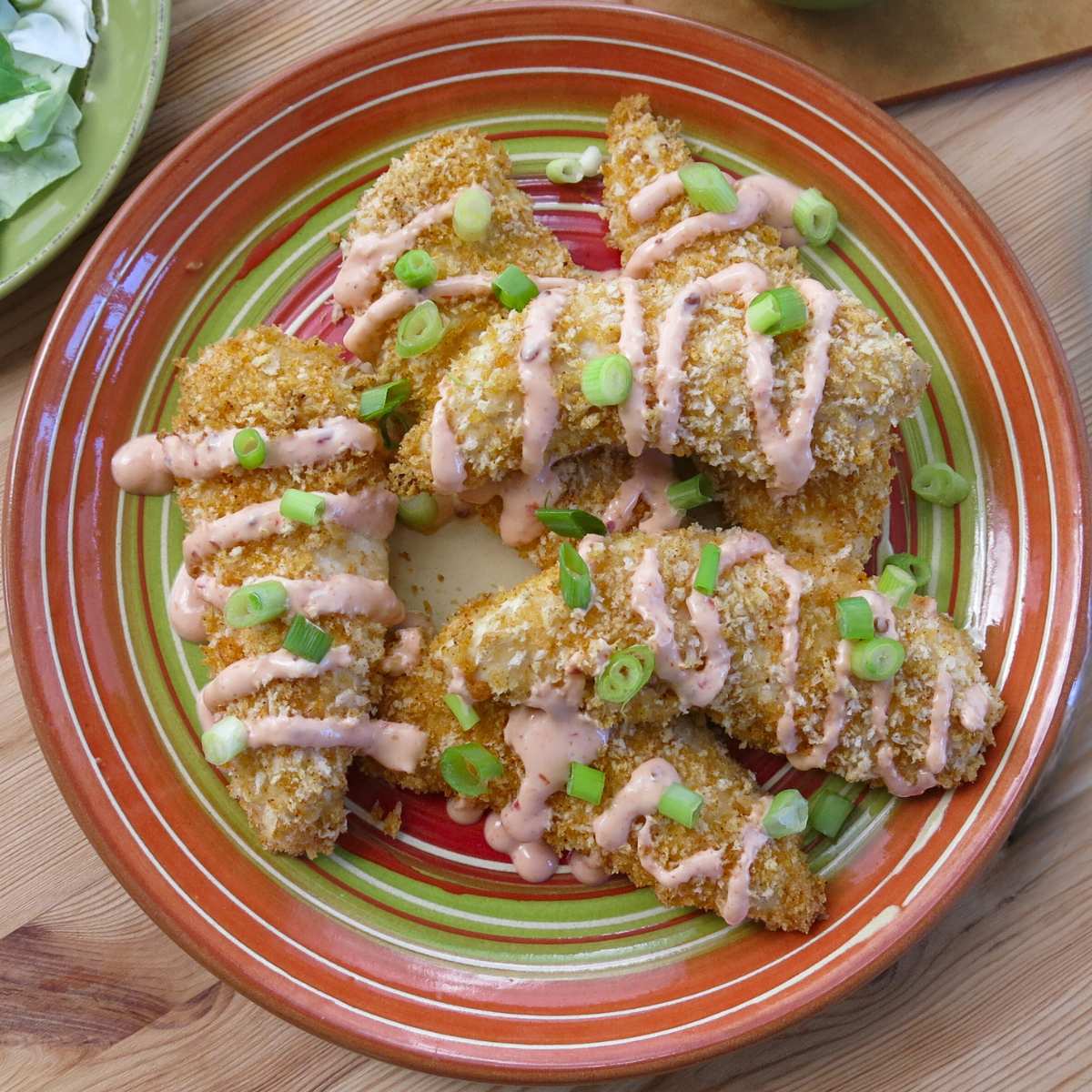 Ingredients
Here's what you'll need to make this healthy bang bang chicken recipe: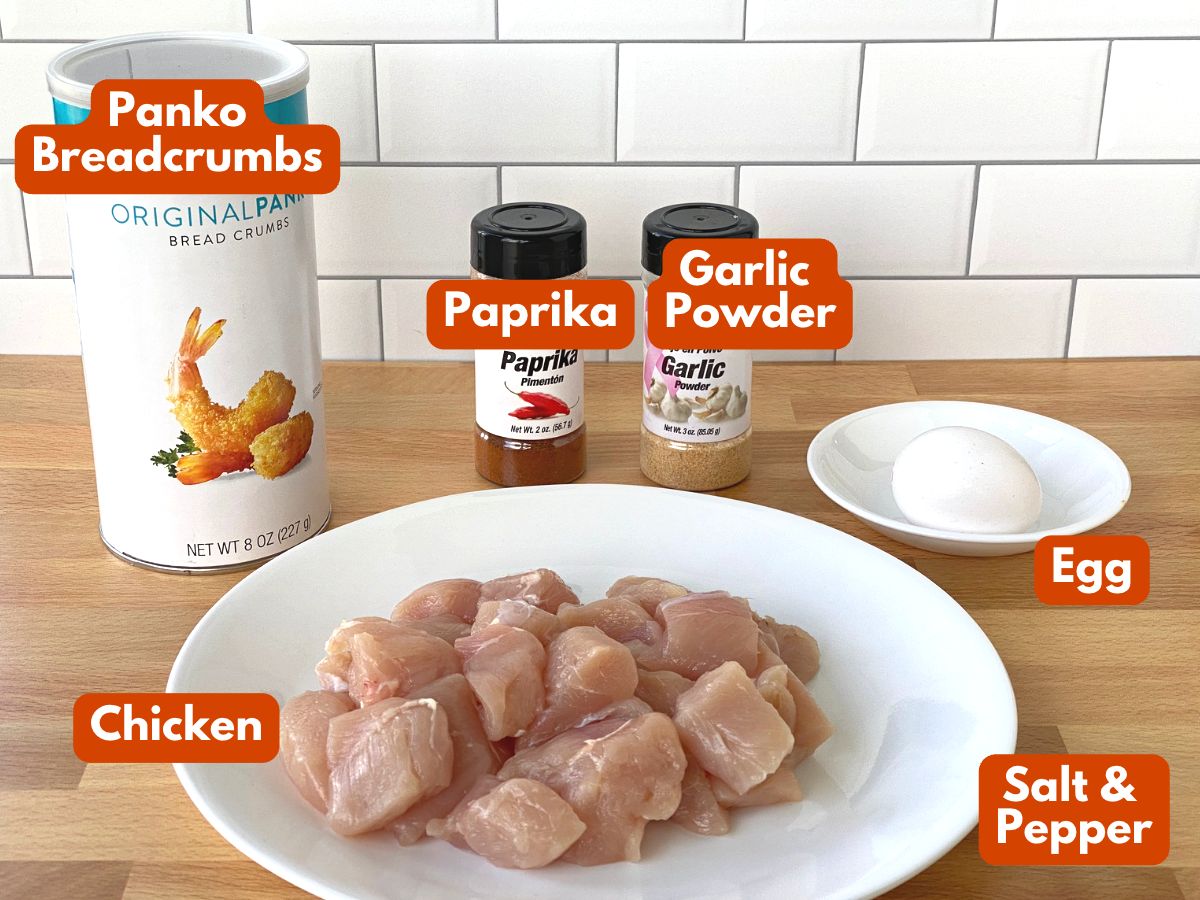 Chicken breasts cut into 1-inch cubes. Chicken tenders can be used instead.
Panko breadcrumbs make the nuggets crispy. We used unseasoned ones and added paprika, garlic powder, salt, and pepper. You can stick with seasoned breadcrumbs and leave out the spices. Regular breadcrumbs will work, too, but the nuggets will be less crunchy.
Egg or oil can is used to make the breading stick to the chicken.
Please see the recipe card at the bottom of this post for the complete list of ingredients with measurements plus recipe instructions.
Directions with Pictures
Here's how to bread and bake chicken nuggets for bang bang chicken: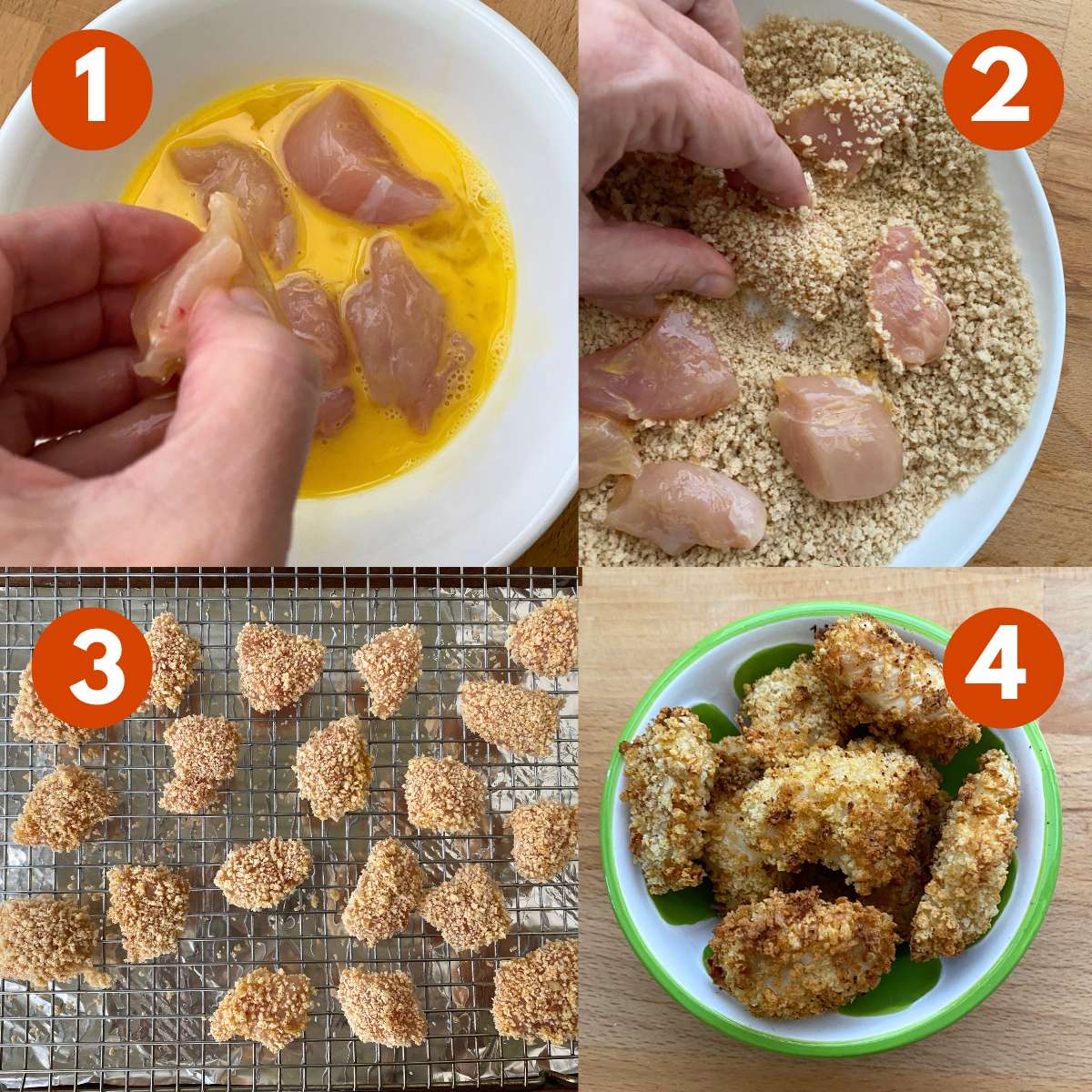 Before starting, whisk an egg in a small bowl and combine panko breadcrumbs, paprika, and garlic powder in a second shallow bowl.
Dip chicken pieces in the egg, allowing the excess egg to drip off.
Dredge each piece of chicken in the breading mixture.
Place chicken directly on a baking sheet. Or, to allow air circulation, place a cooling rack on top of a baking sheet, coat it with cooking spray, and place the chicken pieces on top. Lightly spray with olive oil or cooking spray for crispy chicken bites.
Bake until golden brown and crispy and no longer pink inside.
Toss the hot chicken with the creamy sauce, drizzle it over the top, or serve on the side as a dipping sauce. Garnish with sliced green onions! 👇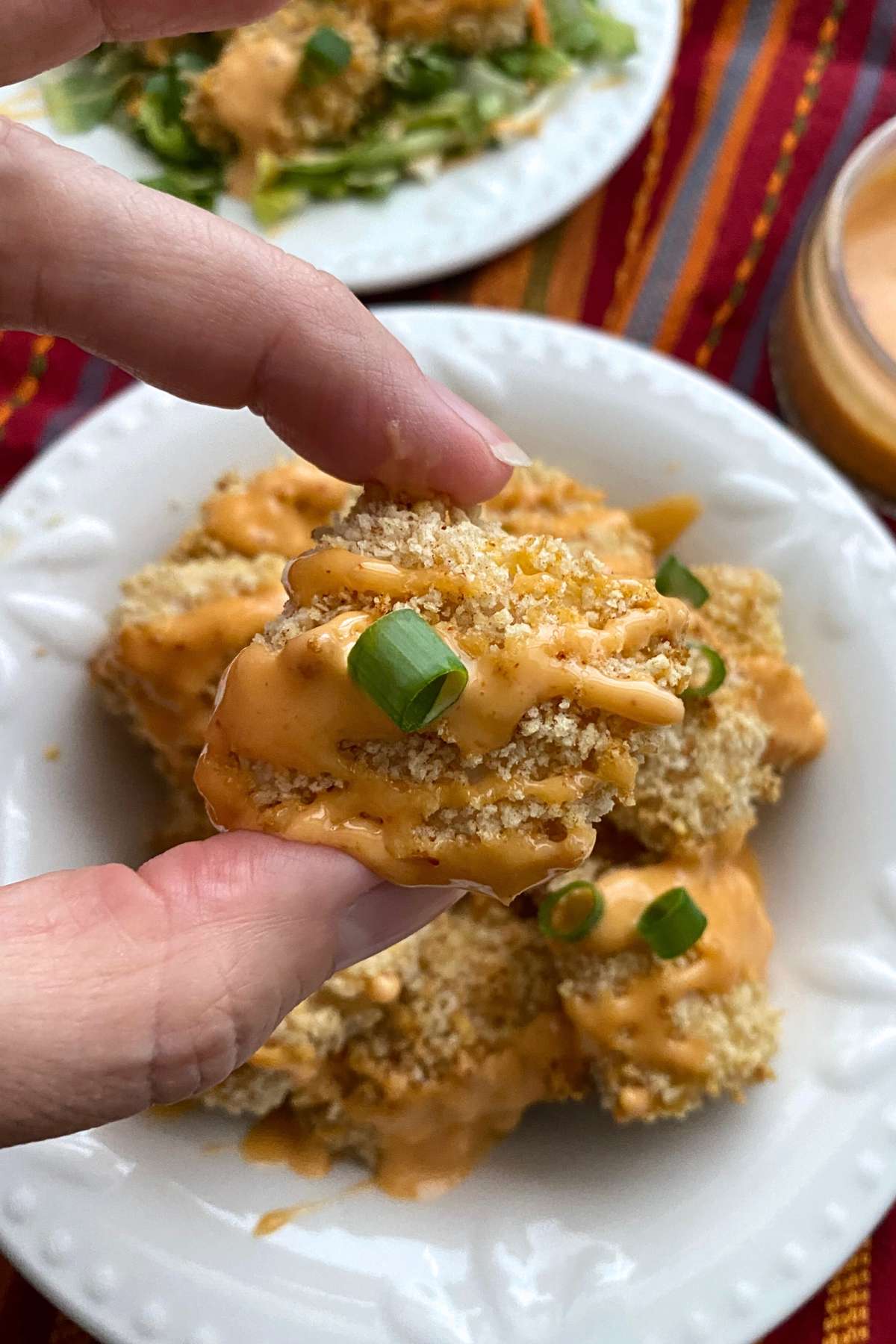 Air Fryer Directions
Air fryer bang bang chicken is easy to make too:
Place chicken nuggets in a single layer on the crisper plate or in the basket after it has been misted with olive oil.
Cook for 15-20 minutes at 375 °F, flipping the chicken halfway through. Check them frequently until you have a good idea of how your machine works and the proper timing. Chicken is done when the internal temperature reaches 165 °F.
Note: Because the air fryer heats up quickly, you don't need to preheat it first. But you can, and that will also shave a few minutes off the total cook time.
Storage and Reheating
Here's how to store leftover bang bang chicken:
Refrigerator - Place extras in an airtight container in the refrigerator for 3-4 days.
Reheat - Warm chicken fingers in the oven at 375 °F until heated through, about 15 minutes. Alternatively, reheat in an air fryer. We don't recommend the microwave because the breading will not be soggy.
Freeze - Leftovers may be frozen in a freezer bag or container for up to 3 months.
What to Serve with Bang Bang Chicken
So you have bang bang chicken on the menu. Lucky you! It pairs well with many things, and the sauce often does double duty. Here are some fantastic ways to serve it.
Serve it over salad greens. The sauce becomes the dressing!
Make bang bang pasta with your favorite noodles!
On steamed rice or cauliflower rice.
Over Asian-inspired slaw.
In tacos with all the fixings.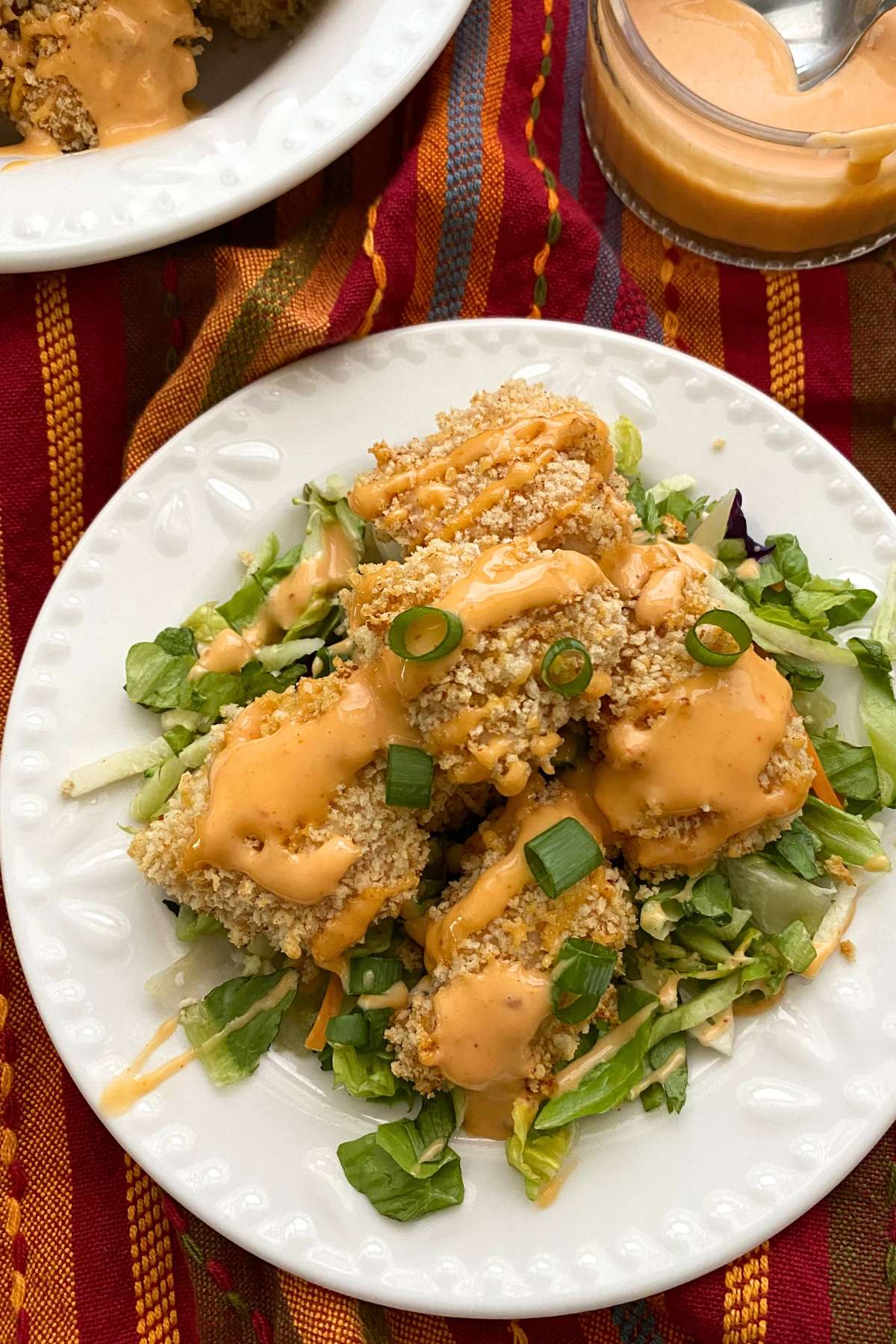 More Baked Chicken Recipes
Did you make this recipe?
Please leave a rating and tell us how you liked it!
📋 Recipe
This recipe was published on May 20, 2014, and has been updated to improve the reader experience.