This post may contain affiliate links. Please read my disclosure.
Kids and adults love Garlic Parmesan Chicken Bites cooked in an air fryer or oven-baked. Easy homemade recipe for lightly-breaded nuggets.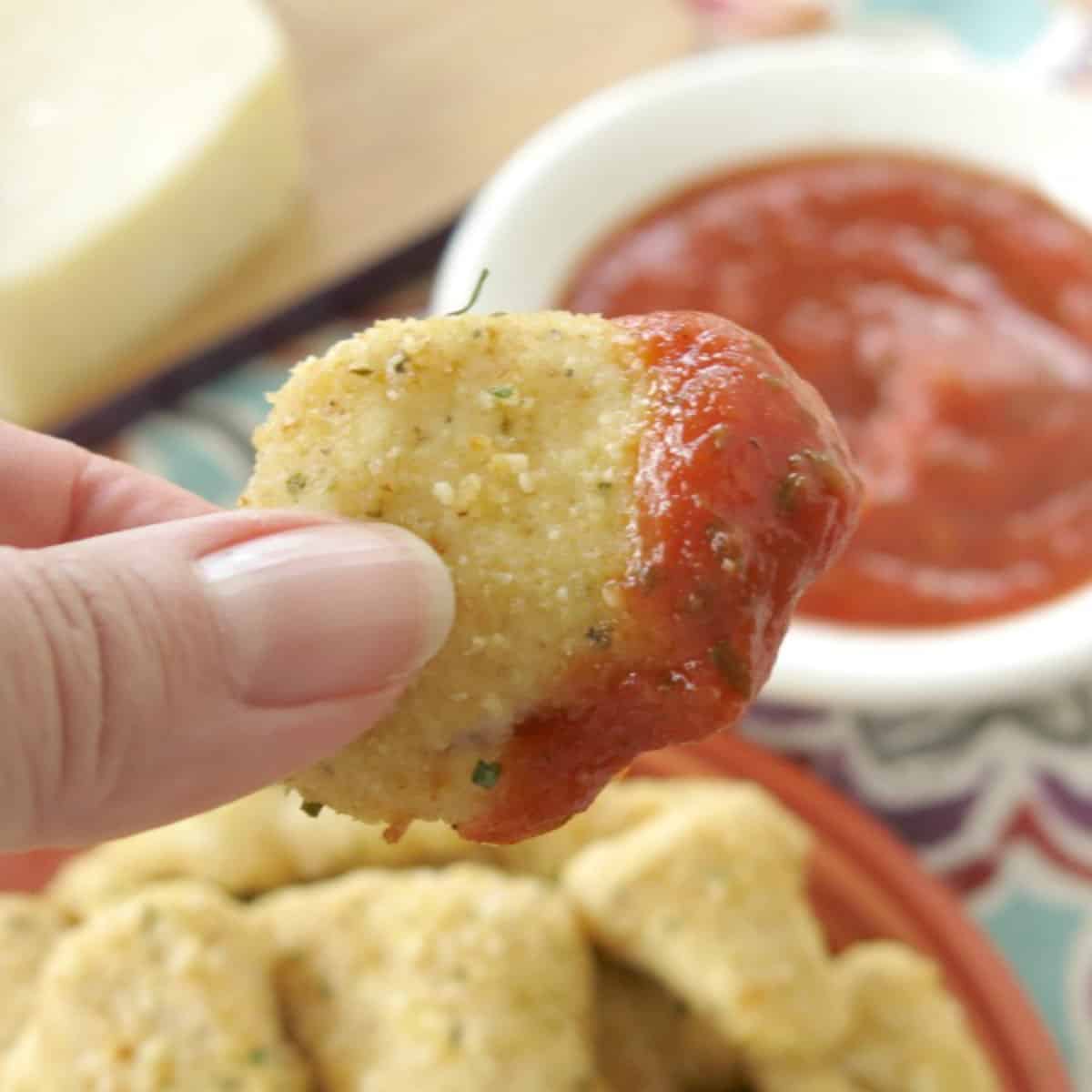 Yes, these tasty bites of parmesan chicken are perfect for little kids, especially when dunked in marinara. But I'm a mom and enjoy these garlic chicken bites, too, over a nice big green salad.
Unlike many frozen nuggets, these bites are mostly chicken with a cheesy coating. So they're low-carb.
You can also pass them off as boneless chicken wings at parties! They are a huge hit with lemon garlic aioli and one of the first things to disappear.
If your family enjoys this Italian-inspired flavor profile, check out Chicken Parm Meatballs and Eggplant Parmesan Stacks too.
Jump to:
Ingredients
You only need a few simple ingredients to make this easy recipe for Garlic Parmesan Chicken Bites:
Boneless, skinless chicken cut into nugget-sized pieces (see the section below)
Butter and/or olive oil is the coating used, so the breading adheres.
Parmesan cheese, finely grated
Breadcrumbs - we used ones with Italian seasoning mixed in!
Garlic powder
Salt and pepper
Please see the recipe card at the bottom of this post for the complete list of ingredients with measurements plus recipe instructions.
How to cut chicken
Use boneless, skinless chicken breasts to make nuggets (and chicken fingers too!) We use poultry shears instead of a knife. Cut chicken into strips and then cut strips into bite-sized pieces that are about 1½ inches.
Be sure to cut chicken pieces about the same size so the bites cook evenly.
Tip: Blot the chicken pieces dry before the breading process so the Parmesan cheese and breadcrumbs will adhere nicely.
Easy breading technique
Use the following process to bread homemade chicken nuggets. It's the one we developed at our Meal Prep Stores. As you might imagine, following the typical breading process for hundreds of customers daily would be quite a mess!
You'll need 2 large containers with lids or 2 large freezer bags that seal.
Here's how to bread chicken with a Parmesan crust:
Combine melted butter and olive oil in one large container. Add chicken pieces and stir to coat the chicken.
Add breading ingredients to a second large container, close the lid, and shake to combine.
Lift chicken pieces into the breading container, allowing excess butter to drip off first.
Close the second container and gently shake.
Move nuggets to a baking sheet and press any leftover breading over spots that are not covered to your liking.
If you're doubling the recipe or using small containers, follow the process in batches.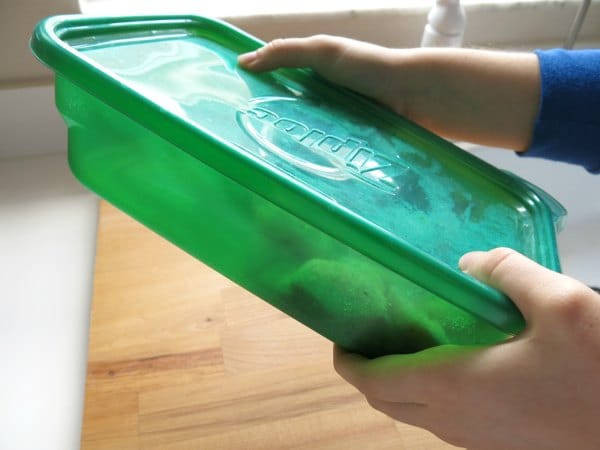 Air Fryer Directions
Make perfectly crisp Garlic Parmesan Chicken Nuggets in an air fryer! A 4-quart air fryer handles about 1 pound at a time.
Preheat the air fryer for 3 minutes at 375°F.
Place breaded chicken in a single layer on the crisper plate or in the basket after it has been misted with olive oil.
Cook for 15-20 minutes at 375°F, flipping the chicken bites halfway through. Check them frequently until you have a good idea of how your machine works and the proper timing. Chicken is done when the internal temperature reaches 165°F and the outsides are golden brown.
Every air fryer machine works differently. So, always follow the manufacturer's instructions. One of my favorite things about this appliance is that it's easy to check the progress. Just pause, remove the basket, and adjust accordingly.
Oven Directions
Here's how to make baked Parmesan Chicken Bites so they're juicy on the inside and crispy on the outside:
Place chicken bites on a cookie rack spritzed with non-stick cooking spray and placed on top of a sheet pan. This allows air to circulate on all sides of the chicken bite and prevents the bottom from getting soggy.
Cook for about 15 minutes then turn the oven to broil and cook nuggets for about 3 minutes to crisp the top. The exact cooking time will vary based on the size of the chicken pieces and oven.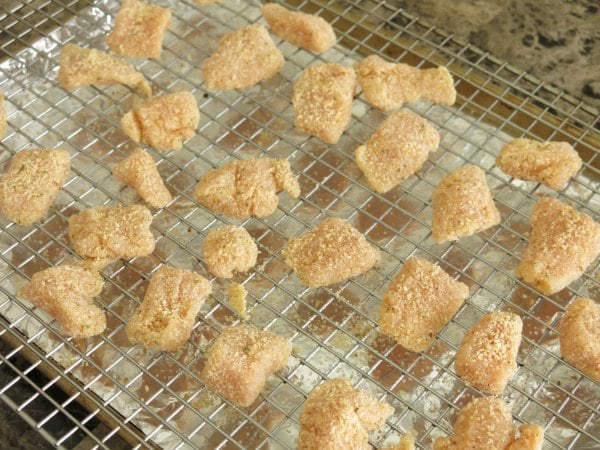 Breading variations
The type of breadcrumbs used impacts the flavor and texture. We used seasoned breadcrumbs for the Parmesan Chicken Bites pictured. Other options:
Panko breadcrumbs for a crunchier outside
Gluten-free breadcrumbs
Almond meal (not flour!) for a keto-friendly nugget
The ratio of breadcrumbs to Parmesan cheese impacts the texture too. We used a 1 x 1 ratio, which resulted in a cheesier nugget. Use ½ cup of breadcrumbs and 2 Tablespoons Parmesan cheese for an even crispier version.
Storage
Store leftover garlic parmesan chicken bites in an airtight container in the refrigerator for 3-4 days. Reheat them in the air fryer or oven until crispy.
How to freeze
Freeze Parmesan Chicken Nuggets before or after cooking them!
Option 1: Cook nuggets and allow them to cool. Place them in a single layer in a freezer bag. Once frozen, the nugget breading should stay on and the bag can be stored upright. Reheat nuggets in an air fryer or oven.
Option 2: Prepare the nuggets, but don't cook them. Place them in a single layer in the freezer-safe container. Keep them in a single layer until you're ready to cook them. Cook from frozen by adding about 10 minutes to the cook time. Or, defrost them overnight in the refrigerator and cook per the directions.
All the tips for cooking air fryer frozen chicken nuggets you buy at the store apply!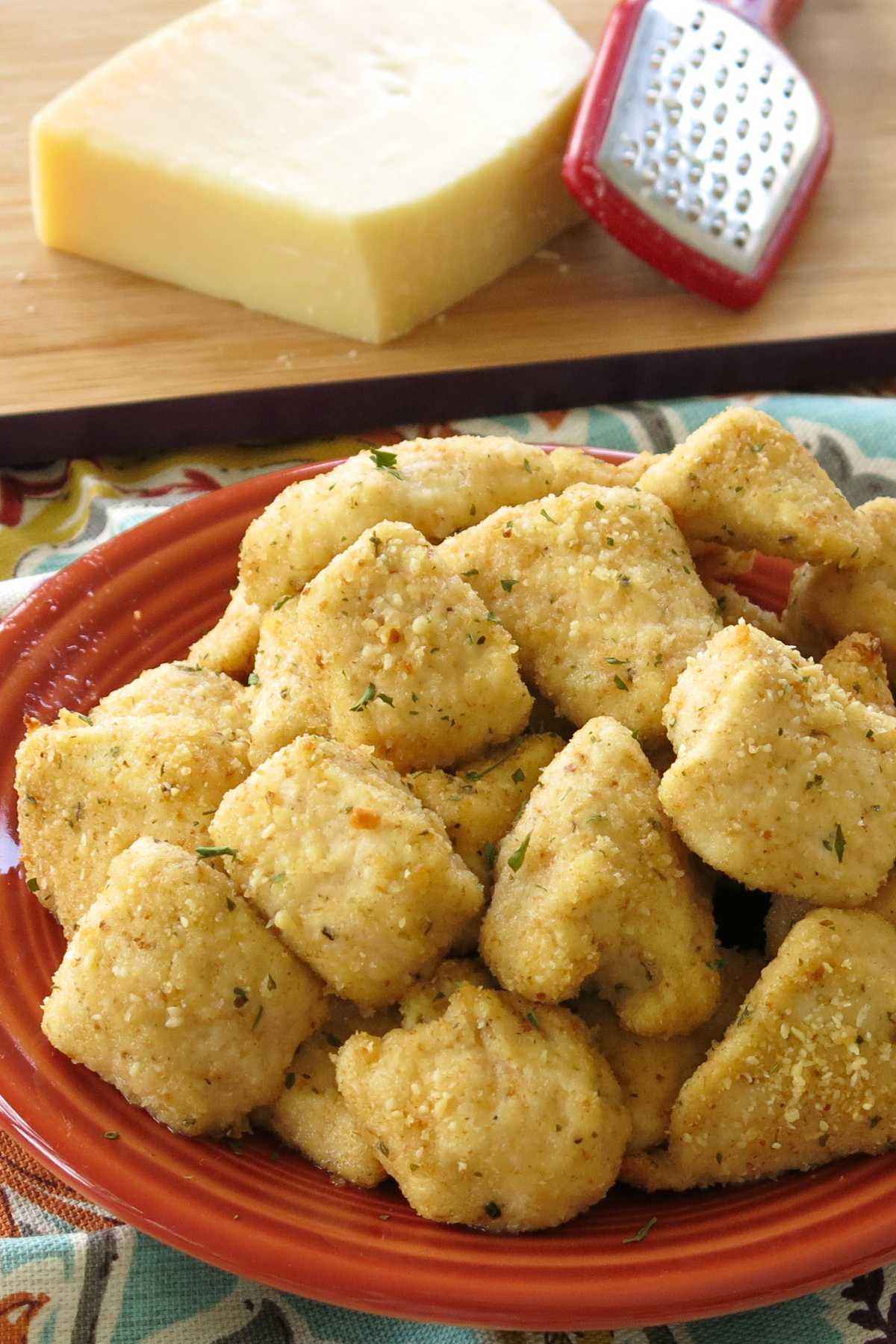 More Chicken Bites to Try!
Did you make this recipe?
Please leave a rating and tell us how you liked it!
📋 Recipe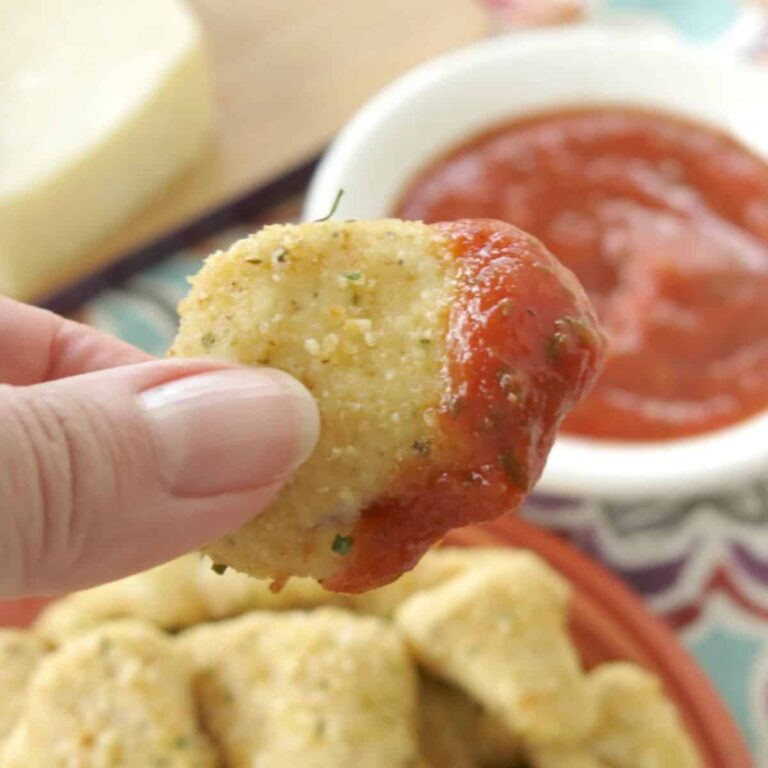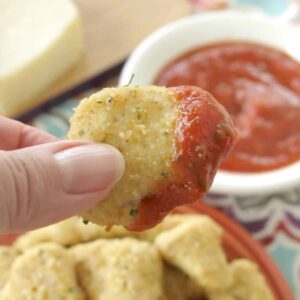 Garlic Parmesan Chicken Nuggets (Air Fryer or Oven-Baked)
Kids and adults love Garlic Parmesan Chicken Bites cooked in an air fryer or oven-baked. Easy homemade recipe for lightly-breaded nuggets.
Email Ingredients + Recipe
Print
Pin
Rate
Ingredients
2

Pounds

Chicken, boneless, skinless

cut into 1 ½ inch pieces

2

Tablespoons

butter

melted

2

Tablespoons

olive oil

⅓

cup

bread crumbs, seasoned

or Pankdo

⅓

cup

Parmesan cheese

finely grated

½

teaspoon

garlic powder

¼

teaspoon

pepper

¼

teaspoon

salt
Instructions
Preheat oven to 375 degrees °F. If using an air fryer, preheat for 3 minutes.

Pat chicken dry with a paper towel.

Combine melted butter and olive oil in a large bowl.

Add chicken pieces to bowl with butter/olive oil mixture. Turn chicken in bowl until all pieces are coated with the buttery mixture.

Add remaining ingredients to a separate large bowl with lid and stir to combine.

Lift chicken pieces coated in butter into bowl with breading, allowing excess butter drip off before adding each piece to the breading bowl.

Seal breading bowl tightly and gently turn until chicken is coated with breading.
Oven
Place chicken on a baking sheet coated with cooking spray. Press any breading left behind in the bowl over the top of the nuggets.

Bake for 15 minutes or until chicken is cooked through and no longer pink in the center.
Air Fryer
Place chicken on cripser plate misted with olive oil. Press any breading left behind in the bowl over the top of the nuggets and mist more olive oil over the top.

Cook for 15-20 minutes at 375 °F, flipping halfway through or until chicken is cooked through and no longer pink in the center. Pause and check progress as needed.

Under either method the internal temperature should reach 365 °F.
Grab 5 Low-Carb Sauces
and get more easy, healthy recipes! JOIN HERE
Nutrition
Calories:
287
kcal
|
Carbohydrates:
5
g
|
Protein:
34
g
|
Fat:
14
g
|
Saturated Fat:
4
g
|
Cholesterol:
110
mg
|
Sodium:
426
mg
|
Potassium:
559
mg
|
Vitamin A:
205
IU
|
Vitamin C:
3.1
mg
|
Calcium:
73
mg
|
Iron:
1
mg
Nutritional and Food Safety Disclaimer