This post may contain affiliate links. Please read my disclosure.
Phyllo Wrapped Salmon is the elegant dinner entree that everyone will talk about and it takes just minutes to prepare.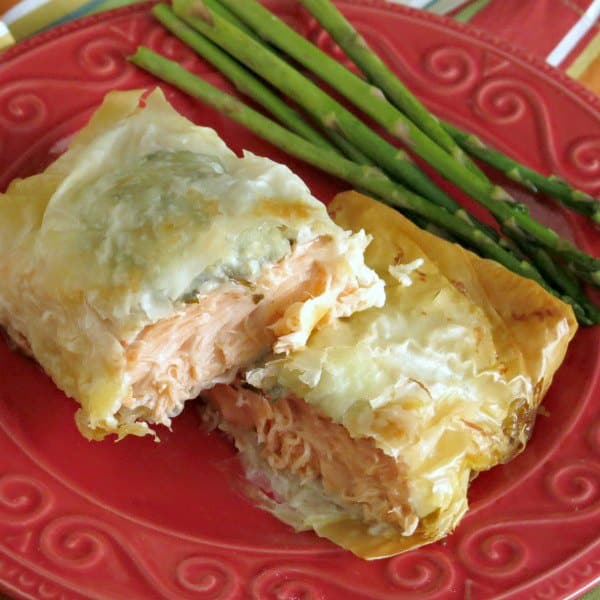 Phyllo dough takes an ordinary dish to an extraordinary one, in my humble opinion. It's fancy, but doesn't add too many extra calories and (egg, dairy, and soy) is allergy-friendly. And, who can resist salmon en croute?!
At first, it may seem daunting to work with this delicate pastry, which also goes by filo dough. Alas, it is also very forgiving in the final presentation. Salmon topped with pesto and cheese and wrapped in phyllo perfectly makes my point and so does Phyllo Wrapped Asparagus.
This entree was always popular at our store, perhaps because customers got to play with dough and ended up serving a beautiful dish no matter how much the phyllo dough cracked or tore during the assembly process.
This recipe works with chicken too! Extra pesto? Check out this Healthy Pesto Chicken Recipe which can be made with salmon!
Lastly, don't forget to check out Bourbon Marinated Salmon for yet another tasty option for enjoying this healthy fish.
Tips for Working with Phyllo Dough
Before we get down to business, here are some rules for working with phyllo pastry (or filo dough, in case you have ever gotten into a debate about such things. It is pronounced with a long i.)
These are my tips for success:
Completely defrost the phyllo dough according to the directions. Don't rush it. If you unroll it too soon, it WILL crack apart.
Make room in your refrigerator to temporarily hold a cookie sheet.
Roll the dough out onto a cookie sheet. Cover the dough with plastic wrap and then a wet towel. When you are not using the dough, store it in the refrigerator.
Don't worry about cracks or tears. They will happen and your entree will still taste and look terrific!
The box the dough comes in should have lots of handling tips too.
With these rules in mind, let's make phyllo-wrapped, pesto cheese salmon.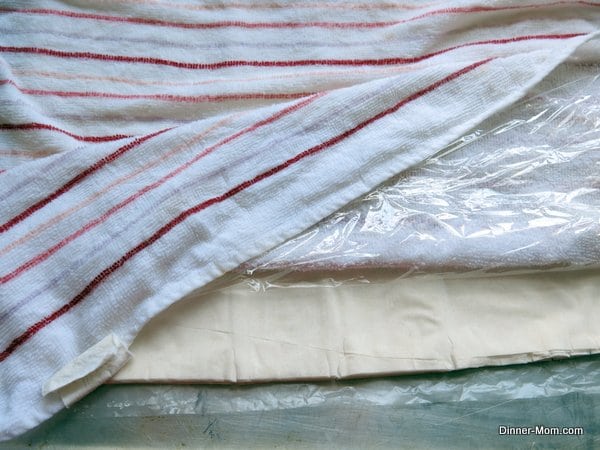 How to Make Phyllo Wrapped Salmon
First, gather and layout all of the ingredients and measuring utensils. Remember to wait until you are ready to wrap and roll to pull out the filo dough.
Note: This is a more or less recipe as in top with a little extra cheese if you'd like or use a little less pesto if desired.
Take 1 sheet of phyllo dough and place it on a work surface. Sprinkle 1 Tablespoon of Parmesan cheese over it. Next, take a second sheet of phyllo dough and place it on top of the first one.
If you are studying the pictures, then you may see an occasional crack. Sometimes I violate my cardinal rule and leave the dough out a little too long while taking pictures. It doesn't change the outcome at all!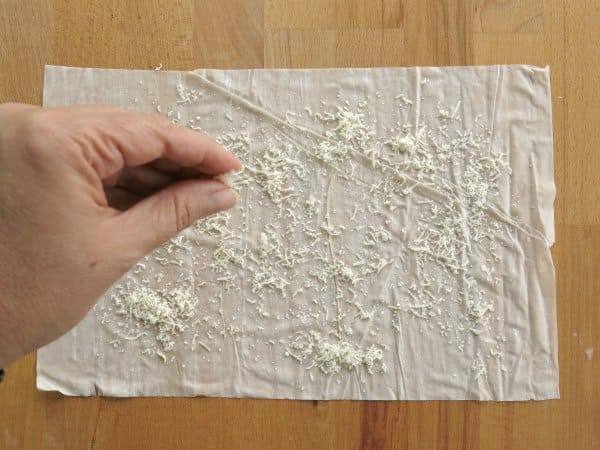 Place salmon on top of prepared phyllo dough sheets about 2 inches from the left side. Season with salt and pepper if desired. Top each piece of salmon with about 1 Tablespoon of pesto and ¼ cup of Mozzarella cheese.
I use a prepared pesto from a jar. But, there are so many great options out there, such as cilantro pesto, or spinach pesto from Weelicious.com.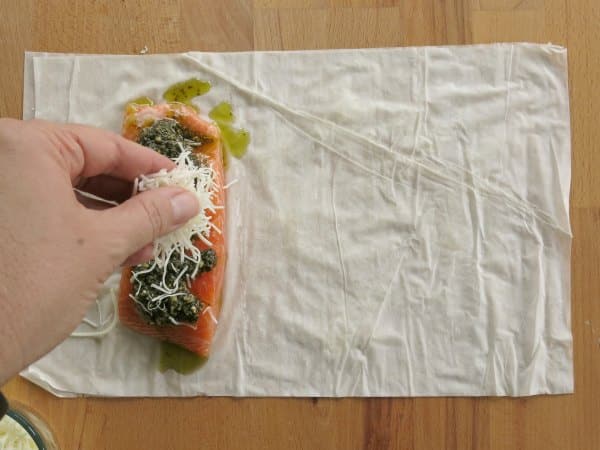 Fold the long sides over the salmon and then roll it up jelly style so that the pesto and cheese end up on top. If necessary, just fold the excess amount underneath.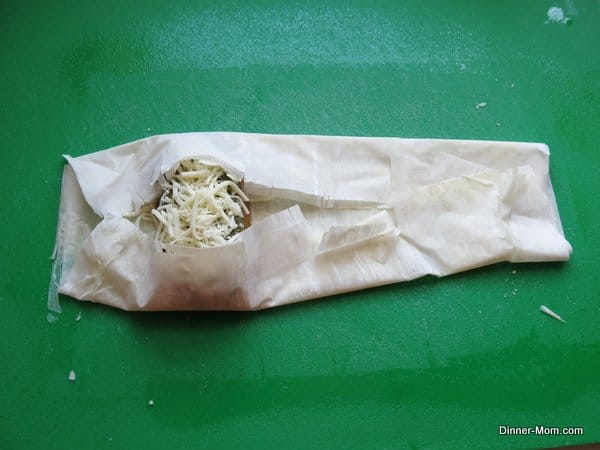 Spray a little cooking spray on top or brush it with butter. Any cracks that were in the edges of the phyllo dough won't show!
Now, repeat, repeat and repeat (and possibly repeat and repeat) for the number of servings phyllo salmon you needed.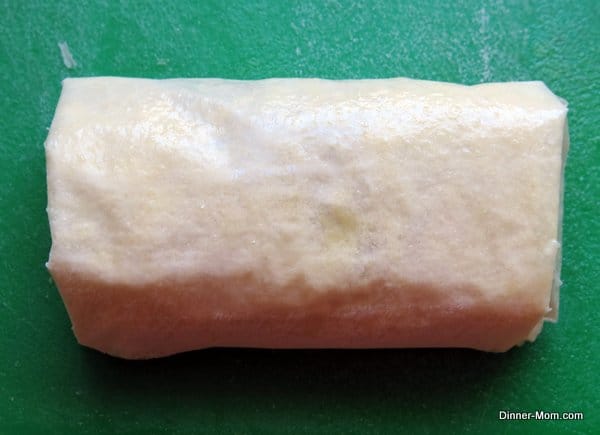 Bake phyllo wrapped salmon in a 350ºF oven for about 20-25 minutes. The cooking time really depends upon the thickness of the fish and that can vary widely which is why I always rely on my trusty cooking thermometer.
Fish should reach a temperature of 145ºF. If the top is getting too brown, tent it with some aluminum foil.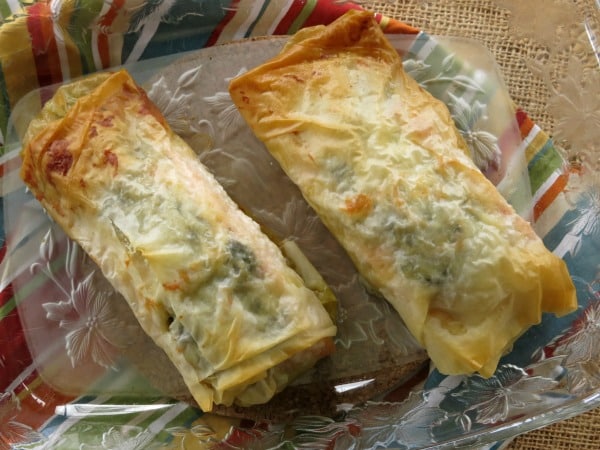 Did I mention the same recipe can be used on chicken too?
Video: How to Make Phyllo Wrapped Salmon
We recapped the entire process in this video:
How to Make Ahead and Freeze Phyllo Wrapped Salmon
To make ahead and freeze phyllo wrapped salmon, assemble it but do not cook. Place packets in a baking dish or aluminum tin and cover and freeze right away.
Store for up to 2 months for best quality. Defrost and cook according to instructions.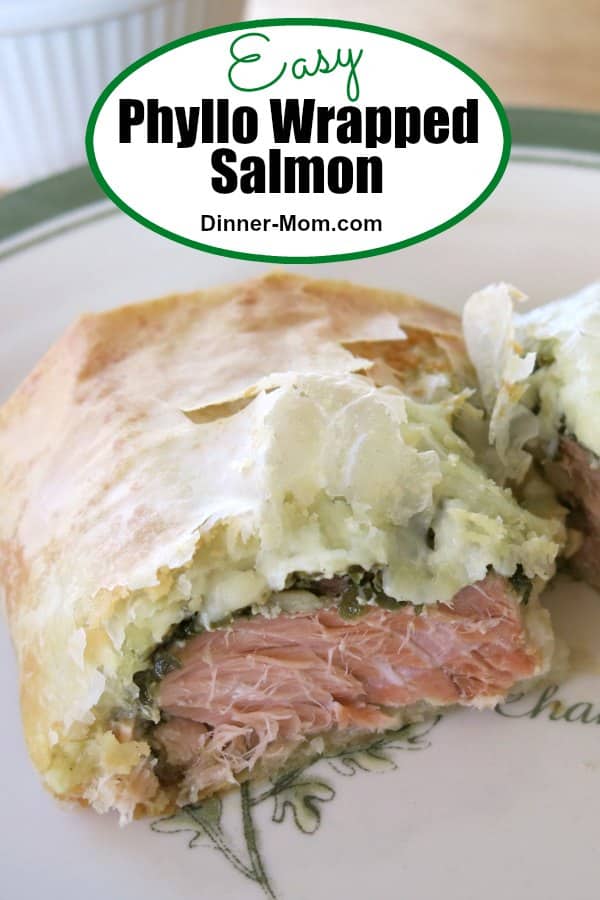 Please rate this recipe and tag @DinnerMom and #DinnerMom on social media. We love to see what you are cooking up!
📋 Recipe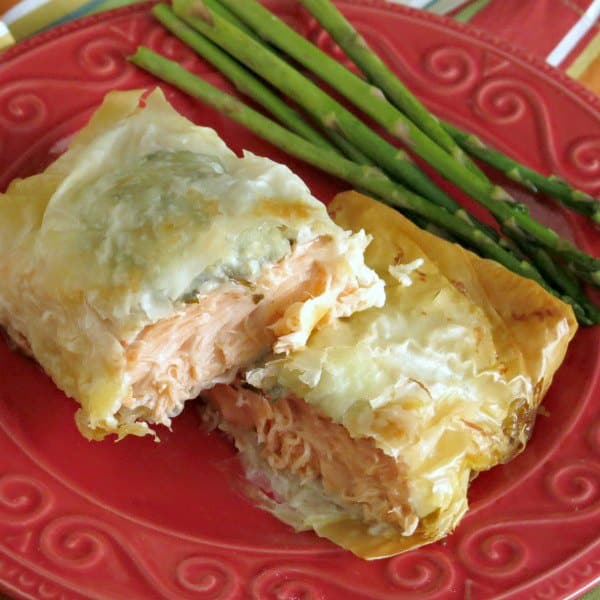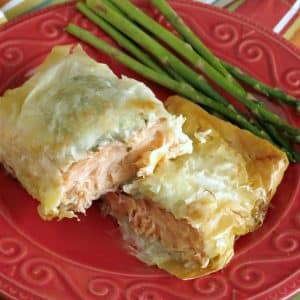 Ingredients
8

sheets

Phyllo dough

9 x 13 inches

4

Tablespoons

Parmesan cheese

20

ounces

Salmon fillets

¼

cup

Pesto

1

cup

Mozzarella cheese

shredded

Cooking spray

or melted butter

Salt and Pepper to taste
Instructions
Preheat over to 350 degrees.

Gather all of your ingredients and utensils before lifting phyllo dough out of the refrigerator,

Place 1 sheet of phyllo dough on a work surface.

Sprinkle 1 Tablespoon Parmesan cheese over the phyllo dough.

Place a second sheet of phyllo dough over the first piece.

Place one salmon fillet about 2 inches from the left-hand side of the prepared phyllo dough sheets.

Season with salt and pepper if desired.

Top with 1 Tablespoon pesto and ¼ cup of mozzarella cheese.

Fold the long sides up over the salmon and then roll up so that the pesto and cheese are on the top (not the bottom.) Tuck extra phyllo dough underneath.

Lightly spray the top of the wrap with cooking spray or brush with melted butter.

Repeat for each salmon fillet.

Bake uncovered for 20 to 25 minutes or until the internal temperature reaches 145 degrees. If the phyllo doughs begins to brown too much, then tent it with aluminum foil.
Notes
Dish can also be made with chicken; Cook to a temperature of 170 degrees (about 30 minutes.) This entree may be made ahead and frozen. Make dish and place in aluminum or other baking tin (freeze right away so the dough does not become soggy from the pesto.) Cover with foil and plastic wrap. Store for up to two months in the freezer.
Grab 5 Low-Carb Sauces
and get more easy, healthy recipes! JOIN HERE
Nutrition
Calories:
435
kcal
|
Carbohydrates:
14
g
|
Protein:
38
g
|
Fat:
23
g
|
Saturated Fat:
7
g
|
Cholesterol:
104
mg
|
Sodium:
577
mg
|
Potassium:
733
mg
|
Vitamin A:
595
IU
|
Calcium:
245
mg
|
Iron:
2.1
mg
Nutritional and Food Safety Disclaimer