This post may contain affiliate links. Please read my disclosure.
Phyllo Wrapped Asparagus with a lemon garlic aioli dipping sauce is an impressive appetizer or side dish. Follow our easy step-by-step tutorial to make it for your next party or celebration!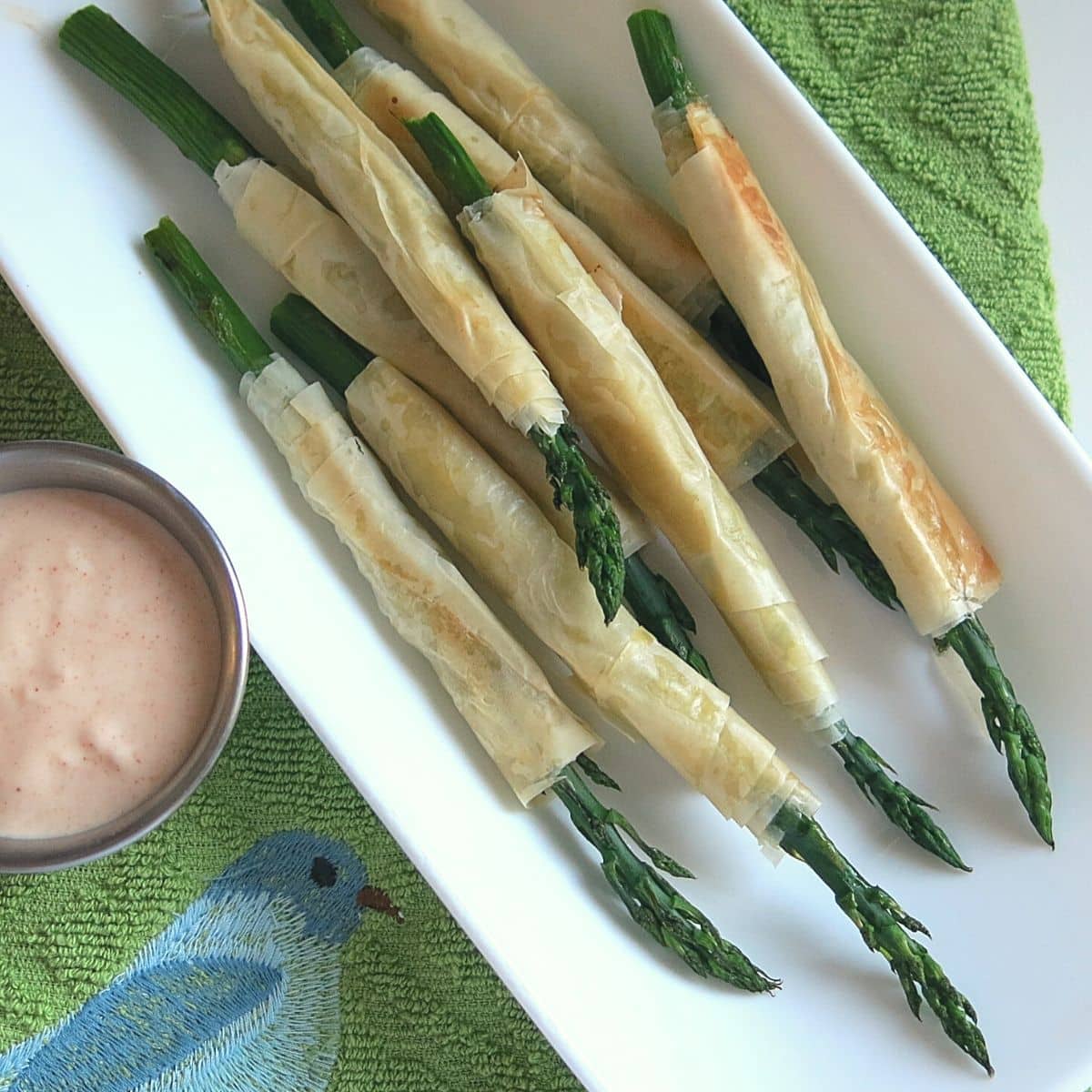 I learned an important lesson when I served asparagus wrapped in phyllo dough. Even someone who avoids vegetables will love asparagus if it's wrapped in a melt-in-your-mouth dough!
It's the same phenomenon that occurs when I make Phyllo Wrapped Salmon!
I've always said that vegetables just need better PR. The presentation and dipping sauce make all the difference.
The filo pastry used in this recipe makes the asparagus stalks easy to pick up and eat with your fingers. So, it's an excellent party appetizer and perfect for spring celebrations!
We've detailed each step in the process to make them and answered questions that frequently come up.
Jump to:
Do you need to cook the asparagus first?
To blanch or not to blanch. That is the question. It can be made both ways. Blanching is recommended for thicker stalks so the final phyllo wrapped asparagus spears won't be crunchy.
After breaking off the tough ends of the asparagus, bring a pot of water to a rolling boil and submerge the asparagus for 2-3 minutes, depending upon the size of the stalks. When removed from the water, the stalks should be firm. Transfer them from the boiling water with tongs and immediately submerge them in a bowl with ice water for about a minute. Finally, remove the stalks to a paper towel and pat dry before proceeding to the next step.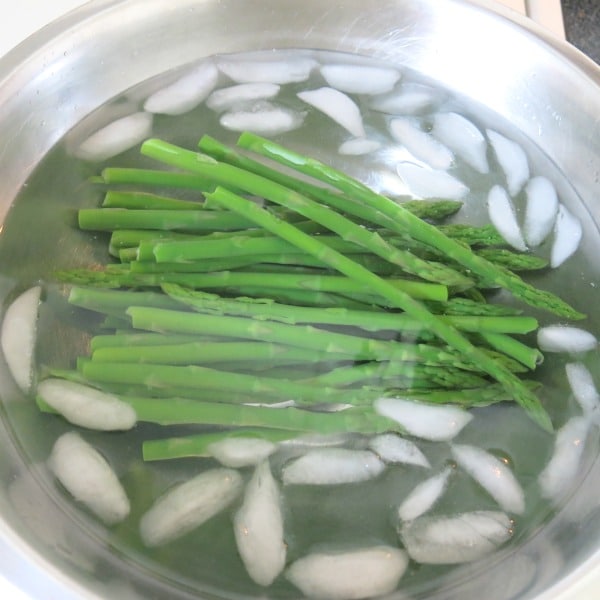 How Much Dough Do You Need?
How much dough will you need? It depends upon how many asparagus spears you have.
A 1 pound box of Athens filo dough contains forty 9 x 14 sheets. There are two packets in a box and each packet contains 20 sheets. Once defrosted, roll out the dough from one packet, keeping it stacked. Using scissors, cut the stack into 4 strips that are about 3 ½ x 9 inches. 4 sets of strips will wrap 80 asparagus stalks. If you are not going to wrap that many, adjust accordingly!
Keep the rest of the dough for another use!
Only 2 sets of strips are needed to cover 40 stalks (1 pound of asparagus.)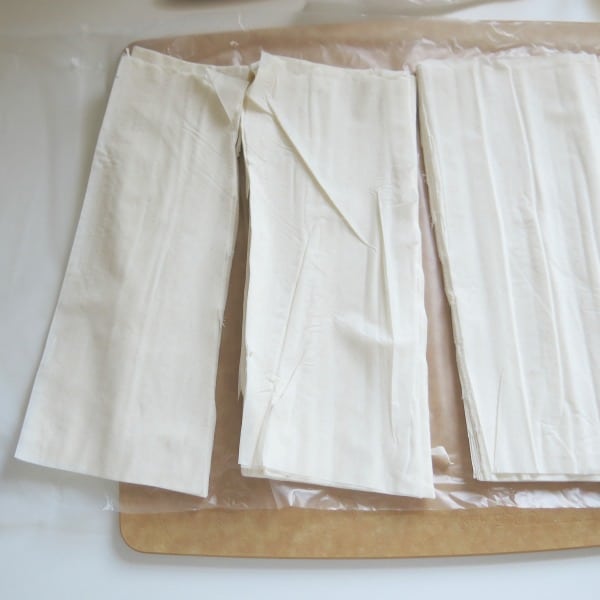 Tips for Working with Phyllo Dough
Work fast.

Keep the phyllo dough moist by placing a lightly damp cloth or paper towel over it.
Keep the dough in the refrigerator when you are not using it.
Don't worry about rips and tears...it will taste great! I promise!
Make-ahead tip: You can't rush the defrosting process for phyllo dough. Lift it out of the freezer the night before you want to make this recipe!
How to Roll Asparagus in Phyllo Dough
Melt butter and gently brush it over a strip. Brush one or two at a time because a little too much butter quickly makes the dough too soft to work with. Use a non-dairy alternative or olive oil to make this recipe vegan.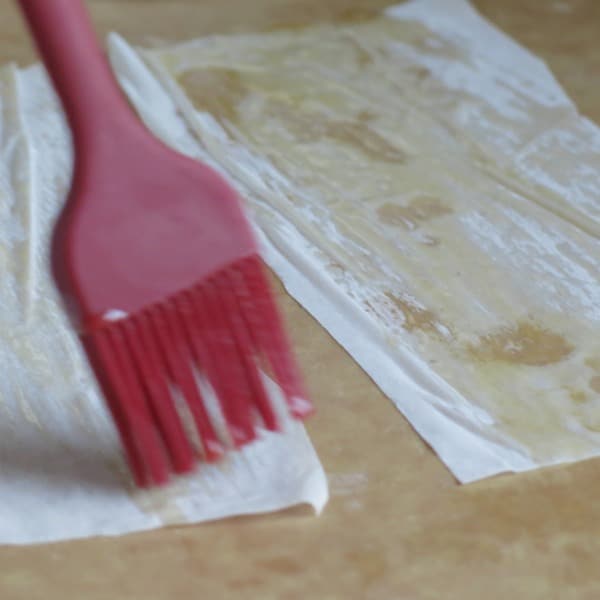 Roll each asparagus in phyllo dough, jelly-roll style. Place a stalk of asparagus near the end of the phyllo dough strip and then use fingers to roll it up.
Tip: many hands make this job much faster...and fun!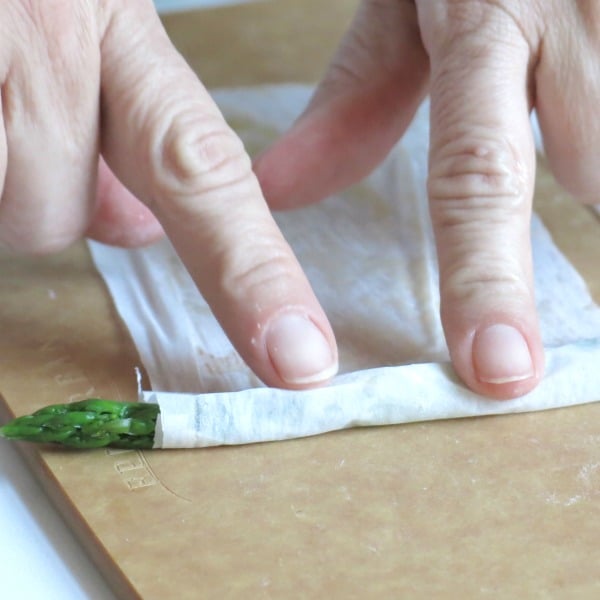 Immediately place the asparagus phyllo wraps on a baking sheet sprayed to prevent sticking. Brush a little more butter over the top. Bake in a 375 °F oven for about 15 minutes or until the pastry is lightly browned.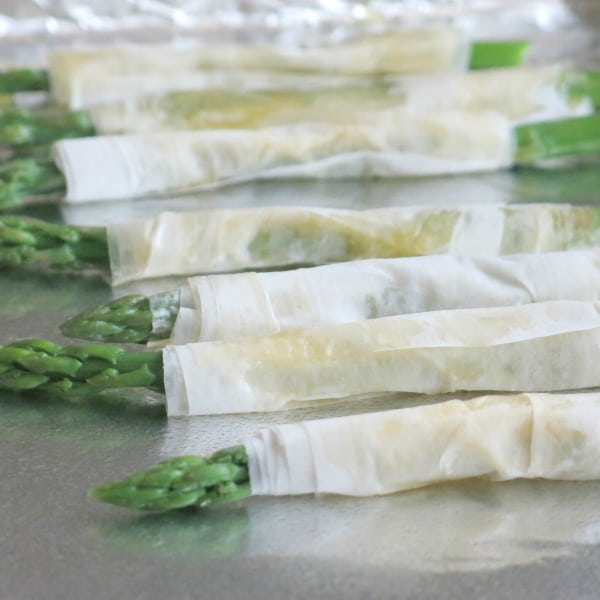 Lemon Garlic Aioli Dipping Sauce
While asparagus is in the oven, make lemon garlic aioli by mixing mayonnaise, lemon, garlic, and paprika in a small bowl. This easy dipping sauce is delicious drizzled over fish, chicken, and just about any vegetable!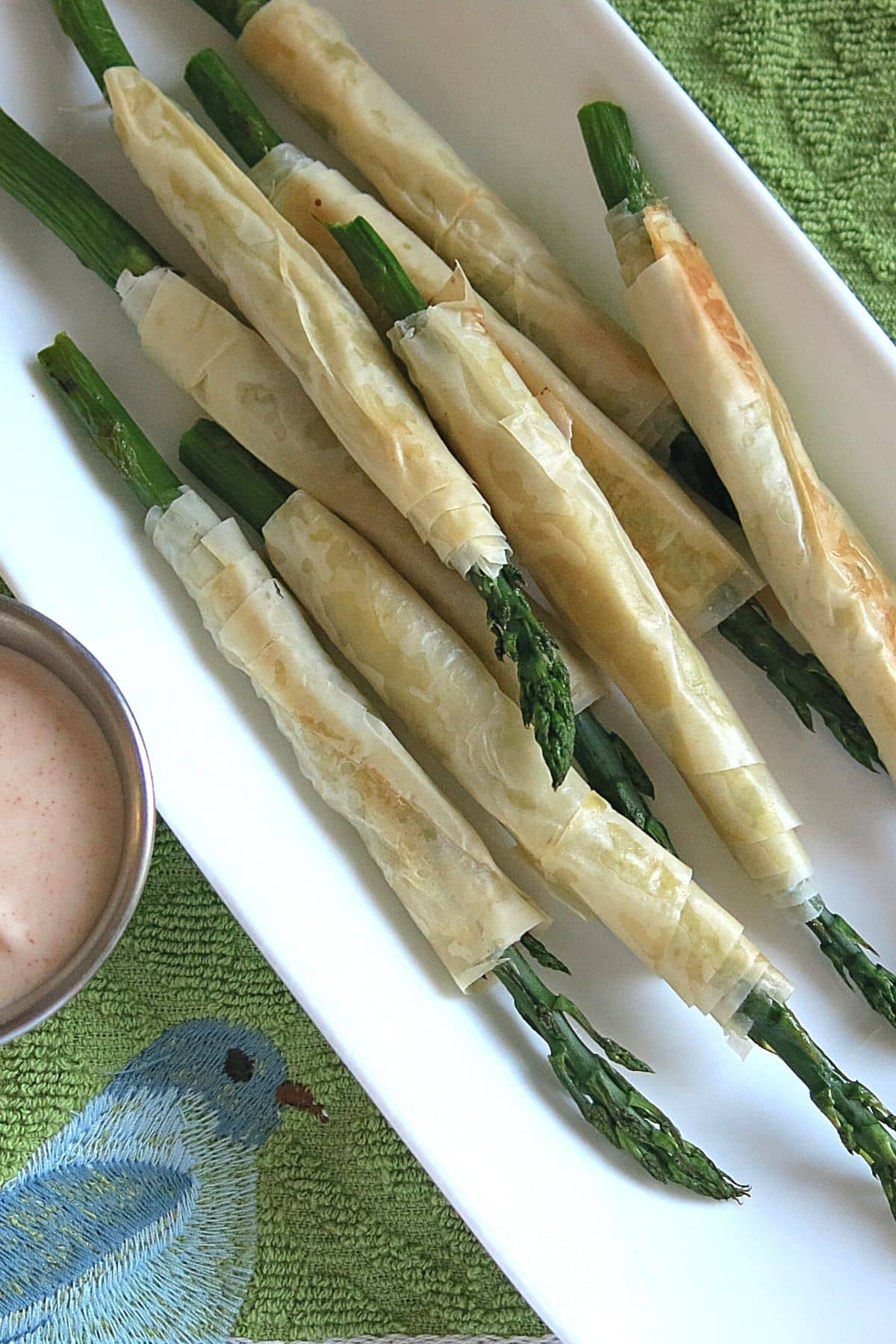 Variations
Make it vegan - Use vegan mayonnaise or olive oil.
Add cheese - Sprinkle Asiago or Parmesan cheese over a phyllo dough strip and then top that layer with another strip of phyllo dough and then roll the asparagus in the double-layered dough strip. Note that you may end up using more dough for each bundle.
Double it up - You can put 2-3 asparagus in a strip of dough. This works well when it will be served as a side dish that will be eaten with a fork.
More Asparagus Recipes
Did you make this recipe?
Please leave a rating and tell us how you liked it!
📋 Recipe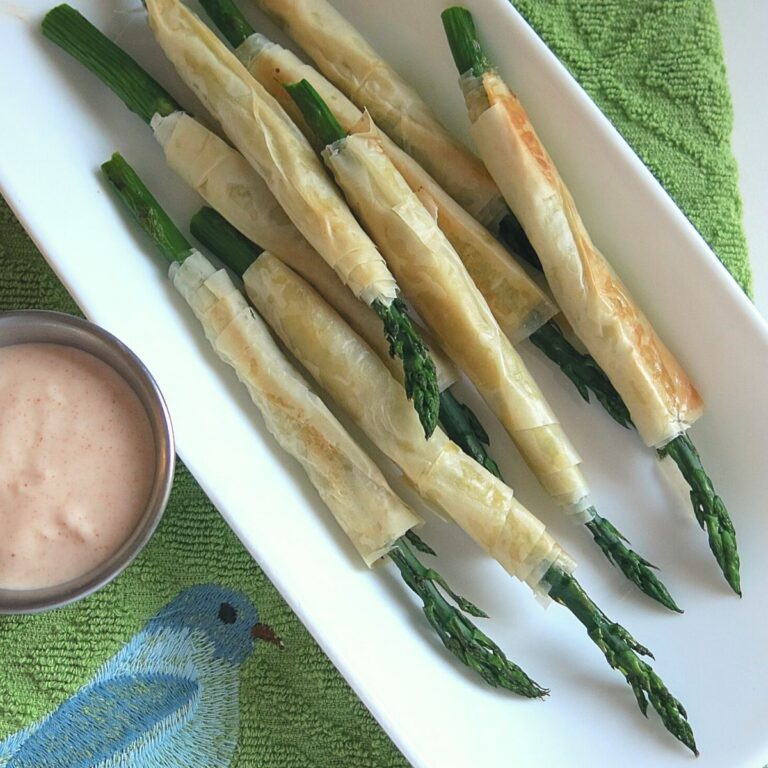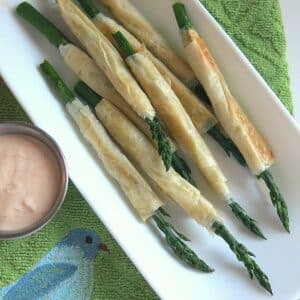 Ingredients
Phyllo Wrapped Asparagus
1

pound

asparagus spears

approx 40 stalks

4

ounces

Phyllo pastry dough, defrosted

¼ of a 1 pound box. Reserve the remaining dough for another use.

¼

cup

butter

melted (or vegan alternative)
Aioli
¼

cup

mayonnaise

or vegan alternative

1

garlic clove minced

1

Tablespoon

lemon juice

Pinch

paprika
Instructions
Asparagus
Wash asparagus and break off tough ends.

Fill a large bowl with water and ice.

Bring another pot of water to a rolling boil.

Add asparagus and boil for 2-3 minutes (thick stalks will take 3 minutes)

Remove asparagus and submerge in ice water for about 1-2 minutes.

Pat asparagus dry.

Preheat the oven to 375 °F.

Cut phyllo pastry dough into strips. Unroll 1 packet of dough and cut the dough in half. Then, cut each half down the middle. Reserve remaining dough for another use.

Keep unused dough strips covered with plastic wrap and a damp towel. If not using phyllo dough for an extended period, keep it in the refrigerator.

Using a pastry brush, spread melted butter over a phyllo dough strip.

Place asparagus at one end and roll up jelly style.

Place asparagus on a cooking sheet coated with cooking spray.

Repeat for each asparagus stalk.

Lightly brush butter over the rolled asparagus stalks on the cooking sheet.

Bake for about 15 minutes or until pastry dough is lightly browned.
Aioli
Mix all of the ingredients in a small bowl.
Notes
You'll find more expert tips and pictures above.
Adjust the serving size using this information: A one-pound box of Athens fillo dough contains 40 sheets in two packets. One 20 sheet packet will cover 80 asparagus stalks, because the stack is cut into 4 sets of strips that are about 3 ½ x 9 inches. 
Grab 5 Low-Carb Sauces
and get more easy, healthy recipes! JOIN HERE
Nutrition
Calories:
30
kcal
|
Carbohydrates:
1
g
|
Fat:
2
g
|
Cholesterol:
3
mg
|
Sodium:
32
mg
|
Potassium:
25
mg
|
Vitamin A:
120
IU
|
Vitamin C:
0.7
mg
|
Calcium:
3
mg
|
Iron:
0.3
mg
Nutritional and Food Safety Disclaimer