Here's a lesson I learned making phyllo wrapped asparagus: Even someone who avoids vegetables will like asparagus if it is wrapped in phyllo pastry dough and can be dipped in a lemony garlic aioli. Everyone else will love it.
Furthermore, that person (who generally avoids veges) might just eat more asparagus than you planned…so, if you try this recipe, make plenty!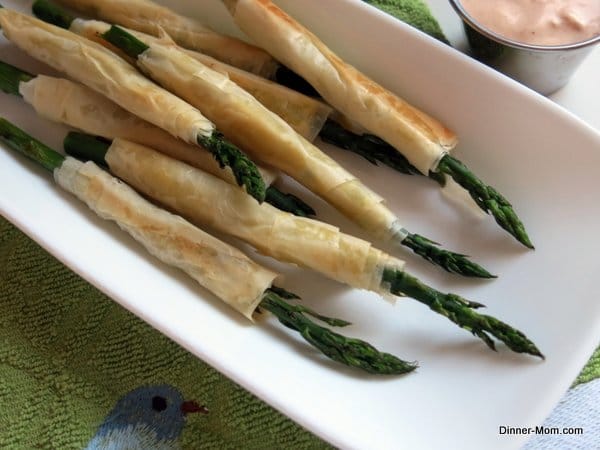 The flaky pastry makes the asparagus easy to pick up and eat with your fingers. (Note to self: this would make an excellent party appetizer.)
Dipping the asparagus in a lemony garlic aioli was a happy bonus. For the record, aioli is associated with the Provencal region of France. It is traditionally served with plainly prepared food (I'm assuming that's because it adds a tasty kick to whatever is served.) Since we liked this dipping sauce a lot, my head is spinning with ideas to use it again…stay tuned.
Traditional preparation of aioli involves raw egg yolks, garlic, lemon and olive oil. But, with an egg allergy in the house, we had to make some adjustments.  This version uses mayonnaise and it's quick. We used soy-free Vegenaise and it was very tasty.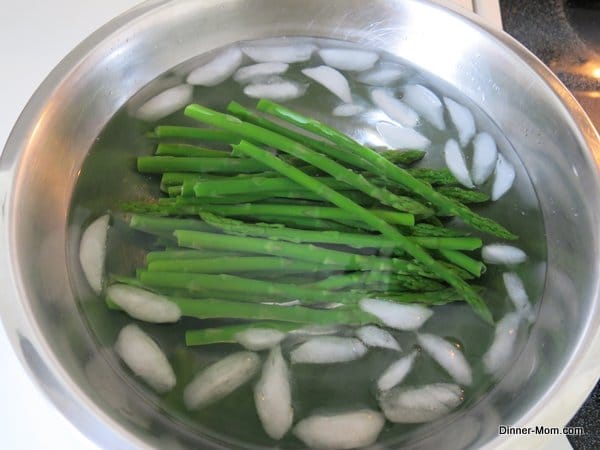 To blanch or not to blanch. That is the question. Recipes for phyllo wrapped asparagus are abundant on the internet. Some do. Some don't. I didn't want to risk it being too crunchy, so I did. After breaking off the tough ends of the asparagus, bring a pot of water to a rolling boil, submerge the asparagus for about 2-3 minutes, depending upon the size of the stalks. Transfer the stalks from the boiling water with tongs and immediately submerge them in a bowl with ice water for about a minute. Finally, remove the stalks to a paper towel and pat dry for the next steps.
How much dough will you need? It depends on how many asparagus spears you have.
A 1 pound box of Athens fillo dough contains forty 9 x 14 sheets. There are two packets in a box and each packet contains 20 sheets. Roll out the dough from one packet, keeping it stacked. Using scissors, cut the stack in up to 4 strips that are about 3 1/2 x 9 inches. If you make 4 sets of strips, then you can wrap 80 asparagus stalks. If you are not going to wrap that many, adjust accordingly! Keep the rest of the dough for another use.
I only needed 2 sets of strips to cover 40 stalks (which was 1 pound of asparagus.)
By the way, the inspiration for this recipe is borne from the fact that I had a lot of phyllo dough left over after making phyllo-wrapped salmon with pesto and cheese. There are some great tips for working with phyllo in that post or on the Athens site. To summarize,
Work fast.

Keep the phyllo dough moist.
Keep it in the refrigerator when you are not using it.
Don't worry about rips and tears…it will taste great!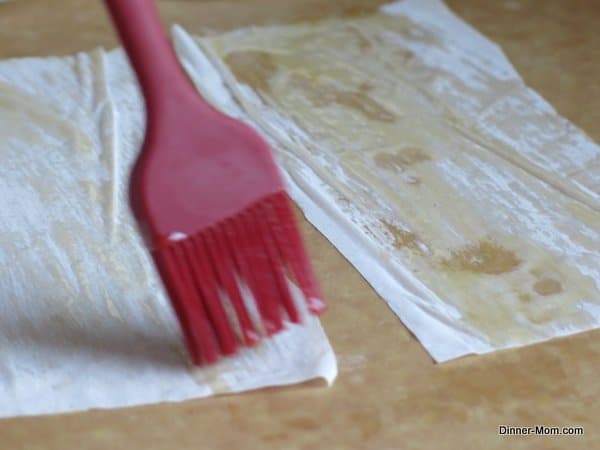 Next up, melt the butter and gently brush it over a strip. I only did one or two at a time because a little too much butter quickly makes the dough too soft to work with. Note that we use Fleischmann's Unsalted or Smart Balance since they are dairy-free.
Tip: many hands makes this job much faster…and fun!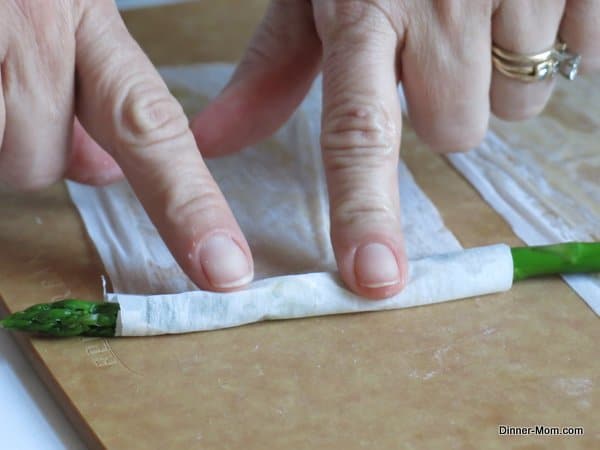 Roll each asparagus in the phyllo dough, jelly roll style.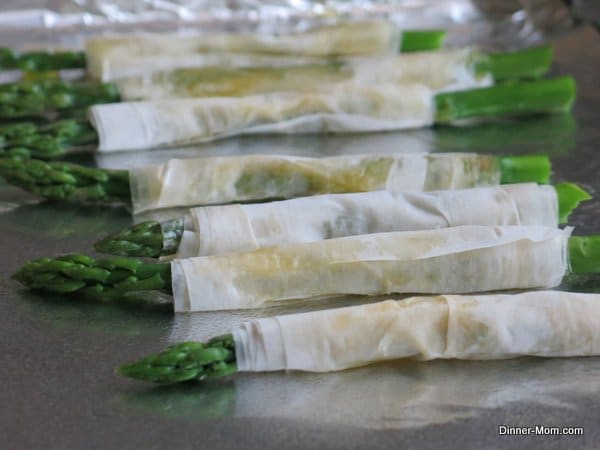 Place the phyll0 wrapped asparagus on a baking sheet sprayed with cooking spray. Brush a little more butter over the top. Bake in a 375 degree oven for about 15 minutes or until the pastry is lightly browned.
While the asparagus are in the oven, make the aioli by mixing together mayoinnaise, lemon, garlic and paprika. Easy.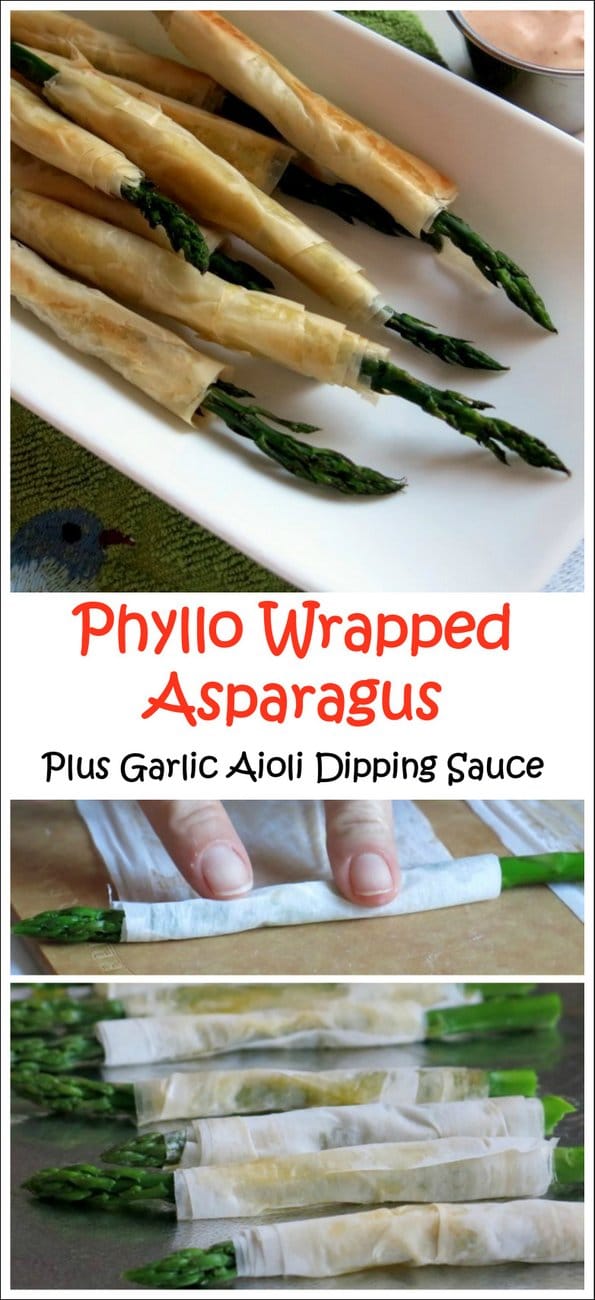 If you want to:
Adjust the serving size –  There are 40 sheets of dough in a 1 pound box of Athens fillo dough, packaged in two packages of 20 sheets. A stack of 20 sheets will cover 80 asparagus stalks. If you use the whole box you will be able to cover 160 asparagus stalks.
Make it vegan – Use vegan mayonnaise, such as Vegegaise and butter substitute.
Make it low-fat – Use low-fat mayonnaise and margarine.
Give it even more pizzazz – Sprinkle Parmesan cheese over a phyllo dough strip and then top that layer with another strip of phyllo dough and then roll the asparagus in the double-layered dough strip. Note that you use twice as much dough for each asparagus stalk.
Double it up – You can put 2-3 asparagus in a strip of dough. This works well when it will be served as a side dish that will be eaten with a fork.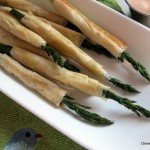 Phyllo wrapped asparagus
Asparagus wrapped in phyllo pastry dough with a lemon garlic aoili dipping sauce will wow a crowd. Detailed tutorial and lots of tips to adjust the serving size and customize for vegan or low-fat versions.
Ingredients
Phyllo Wrapped Asparagus
Asparagus spears

about 1 pound, 40 stalks

Phyllo pastry dough

1/4 of a 1 pound box. Reserve the remaining dough for another use.

1/4-1/2

cup

butter

melted (or vegan alternative)
Aioli
1/4

cup

mayonnaise

or vegan alternative

1

garlic clove minced

1

Tablespoon

lemon juice

Pinch

paprika
Instructions
Asparagus
Wash asparagus and break off tough ends.

Fill a large bowl with water and ice.

Bring a another pot of water to a rolling boil.

Add asparagus and boil for 2-3 minutes (thick stalks will take 3 minutes)

Remove asparagus and submerge in ice water for about 1-2 minutes.

Pat asparagus dry.

Preheat oven to 375 degrees.

Cut phyllo pastry dough into strips. Unroll 1 packet of dough and cut the dough in half. Then, cut the half down the middle. You will end up with 2 stack of strips that are about 3 1/2 x 9 inches. Reserve the remaining dough for another use.

Keep unused dough strips covered with plastic wrap and a wet towel. If not using phyllo dough for an extended period of, keep it in the refrigerator.

Using a pastry brush, spread melted butter over a phyllo dough strip.

Place asparagus at one end and roll up jelly style.

Place asparagus on a cooking sheet coated with cooking spray.

Repeat for each asparagus stalk.

Lightly brush butter over the rolled asparagus stalks on the cooking sheet.

Bake for about 15 minutes or until pastry dough is lightly browned.
Aoili
Mix all of the ingredients together.
Recipe Notes
Adjust the servicing size using this information: A one pound box of Athens fillo dough contains 40 sheets in two packets. One 20 sheet packet will cover 80 asparagus stalks, because the stack is cut into 4 sets of strips that are about 3 1/2 x 9 inches. To make it vegan or low-fat by selecting the appropriate butter substitute or mayonnaise.
Enjoy your veges!
NEVER MISS A RECIPE! SUBSCRIBE BY EMAIL & RECEIVE A FREE GIFT!
FOLLOW ME:
FACEBOOK | TWITTER| GOOGLE +| PINTEREST | INSTAGRAM