This slow cooker beef shoulder roast recipe with red wine mushroom sauce is special occasion fancy and weeknight dinner friendly. It's a pot roast that always received top ratings at our meal assembly stores because of the AMAZING "gravy" that smothers fork-tender beef.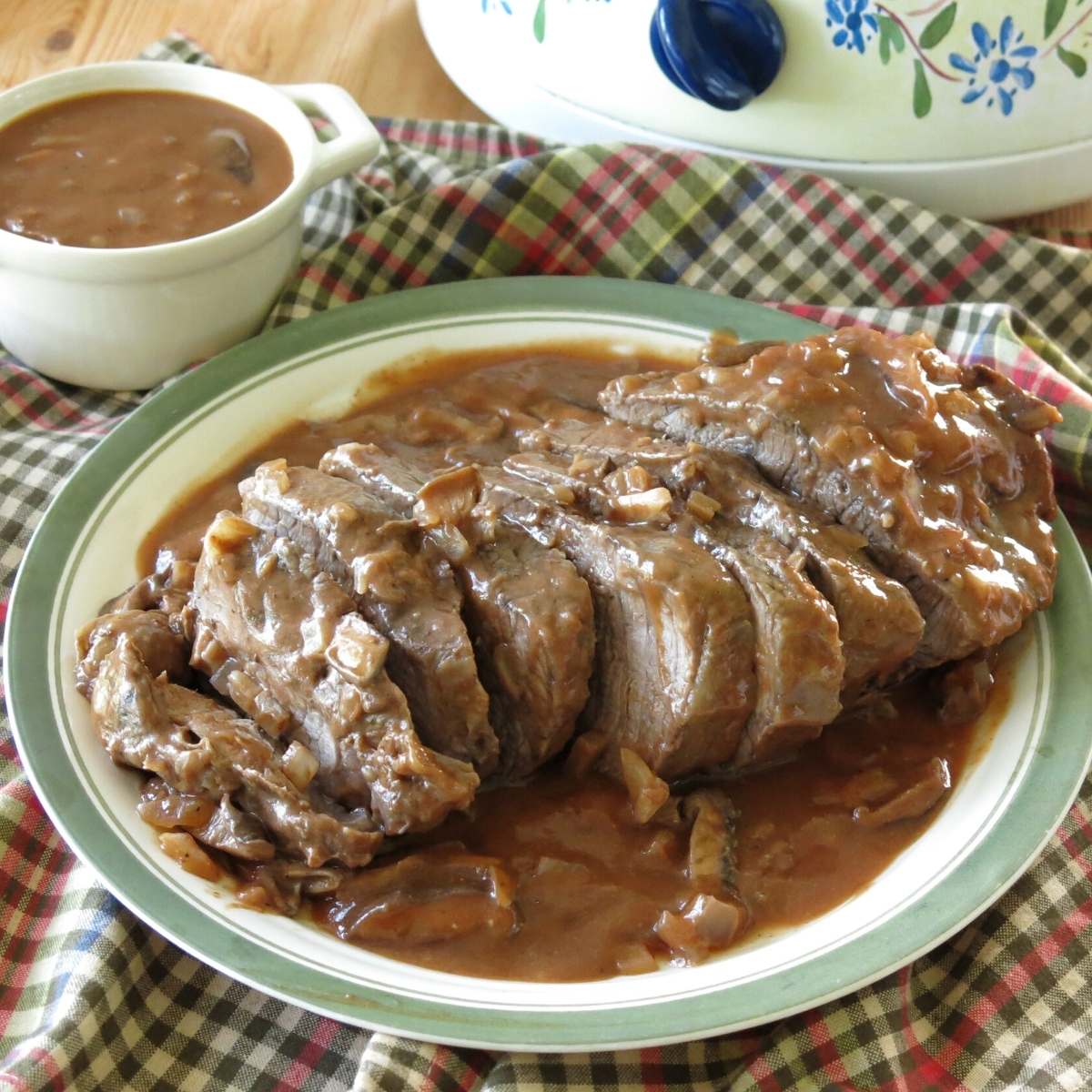 Have plenty of mashed potatoes or cauliflower mash on hand to soak up every last drop of the gravy which becomes silky smooth once it thickens in the slow cooker. You're going to want to lick the plate clean!
Even though it's easy to make, we include this recipe in our Special Occasion Dinners collection too. Its presentation is beautiful. There's no rushing around in the kitchen as guests arrive. And, the aroma that fills your house is very, very inviting.
Main Ingredients
The main ingredients you use can take this recipe over the top!
Beef Shoulder - This is the cut of meat we used at our stores. When cooked slowly over low heat it stays moist and tender. Other cuts you can use: chuck, brisket, or round roasts.
Mushrooms - Any type of mushroom will work. We used shiitake mushrooms. It's equally delicious with white button, baby bella, or cremini mushrooms. Or, use a mixture of all your favorites. Be adventurous! The recipe calls for 8 ounces, but mushroom lovers may want to use up to 16 ounces.
Red wine - Use dry red wine. We used Merlot. Other options include Cabernet Sauvignon or Pinot Noir. Use whatever you like to drink. And, if you don't drink wine, just buy little bottles and store them in a cool place for your next recipe!
Onion - Roughly chopped white or sweet onion.
Everything else - You'll also need ketchup, Dijon mustard, Worcestershire sauce, garlic, salt, pepper, and corn starch.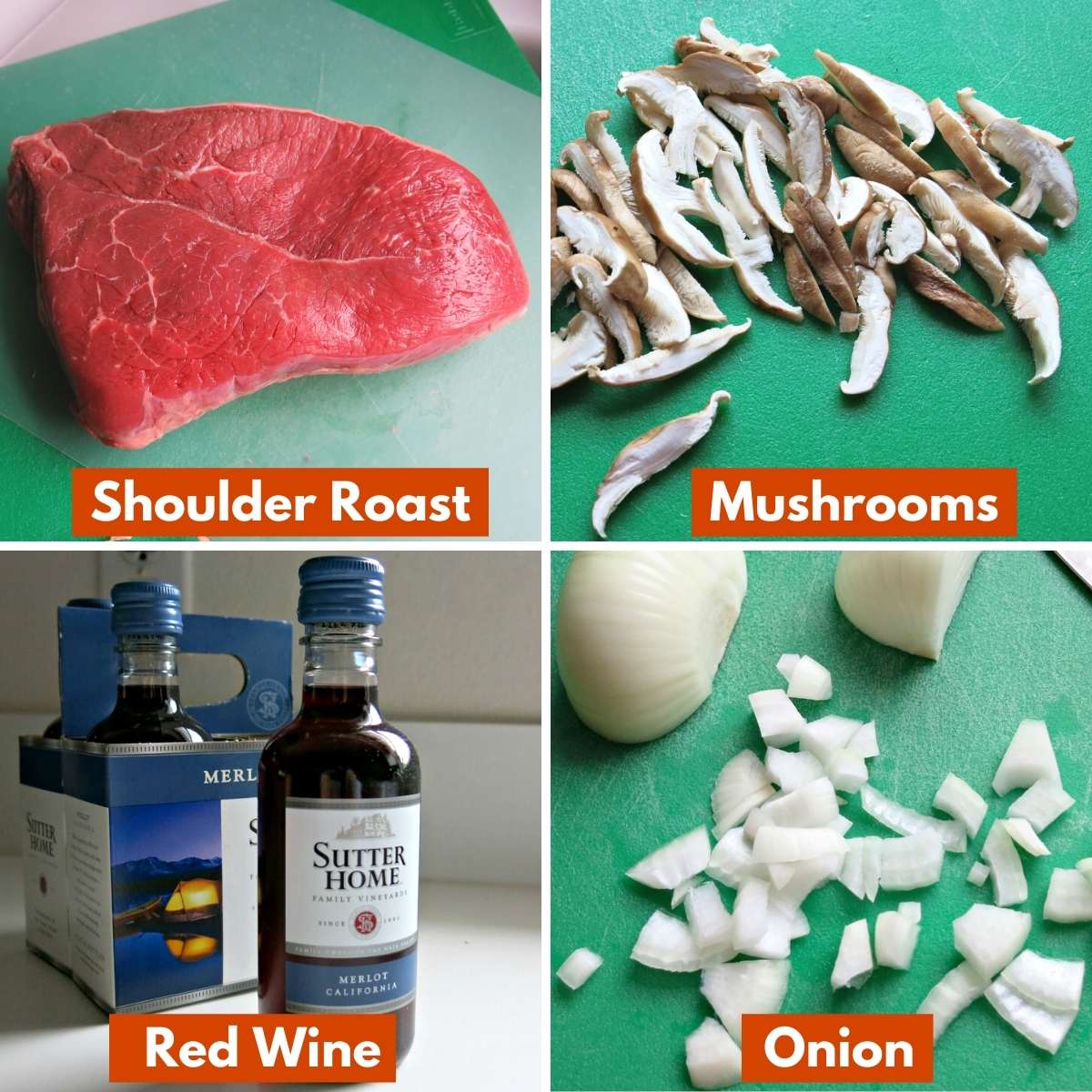 Preparation Tips
The preparation of this pot roast is simple, but I've noted more tips and variations below:
Beef Shoulder
Use a roast that is between 2 and 3 pounds so you'll have plenty of liquid and mushroom gravy for serving time.
I love this cut because it is relatively low in fat and still works well in a crock-pot. You do not need to brown the meat on the stove-top first. But, you definitely can and it only adds to the flavor!
To brown the meat, heat oil (canola, vegetable, or avocado oil) in a large pan over medium-high heat. Pat the shoulder roast dry and add to the skillet. Cook for about 3 minutes on each side or until browned to your liking.
Shiitake Mushrooms
Shiitake mushrooms have a smoky flavor and hold their own in this recipe. If you decide to use this type of mushroom, here are a few tips:
The stems are tough and should be cut off close to the cap and discarded.
They're very porous, so it's best to wipe off any dirt which a damp paper towel rather than dousing them with water. This is true no matter which type of mushroom you use.
Slice the mushroom caps in thin slices.
Use dried shiitake mushrooms after they've been reconstituted.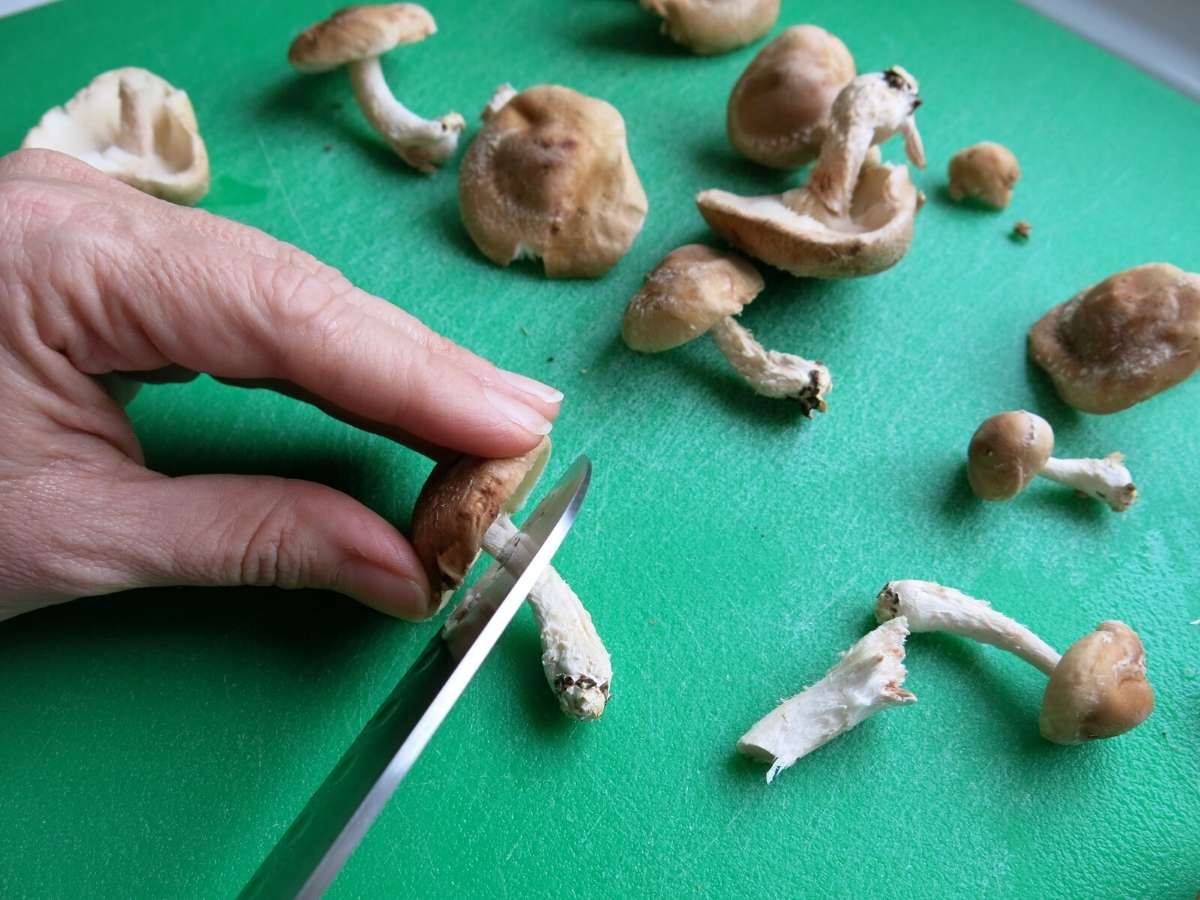 Red Wine Mushroom Sauce
To make the sauce, mix together ketchup, red wine, water, Dijon mustard, Worcestershire sauce, minced garlic, salt, and pepper. That combination may sound odd. But, trust me. It's delicious!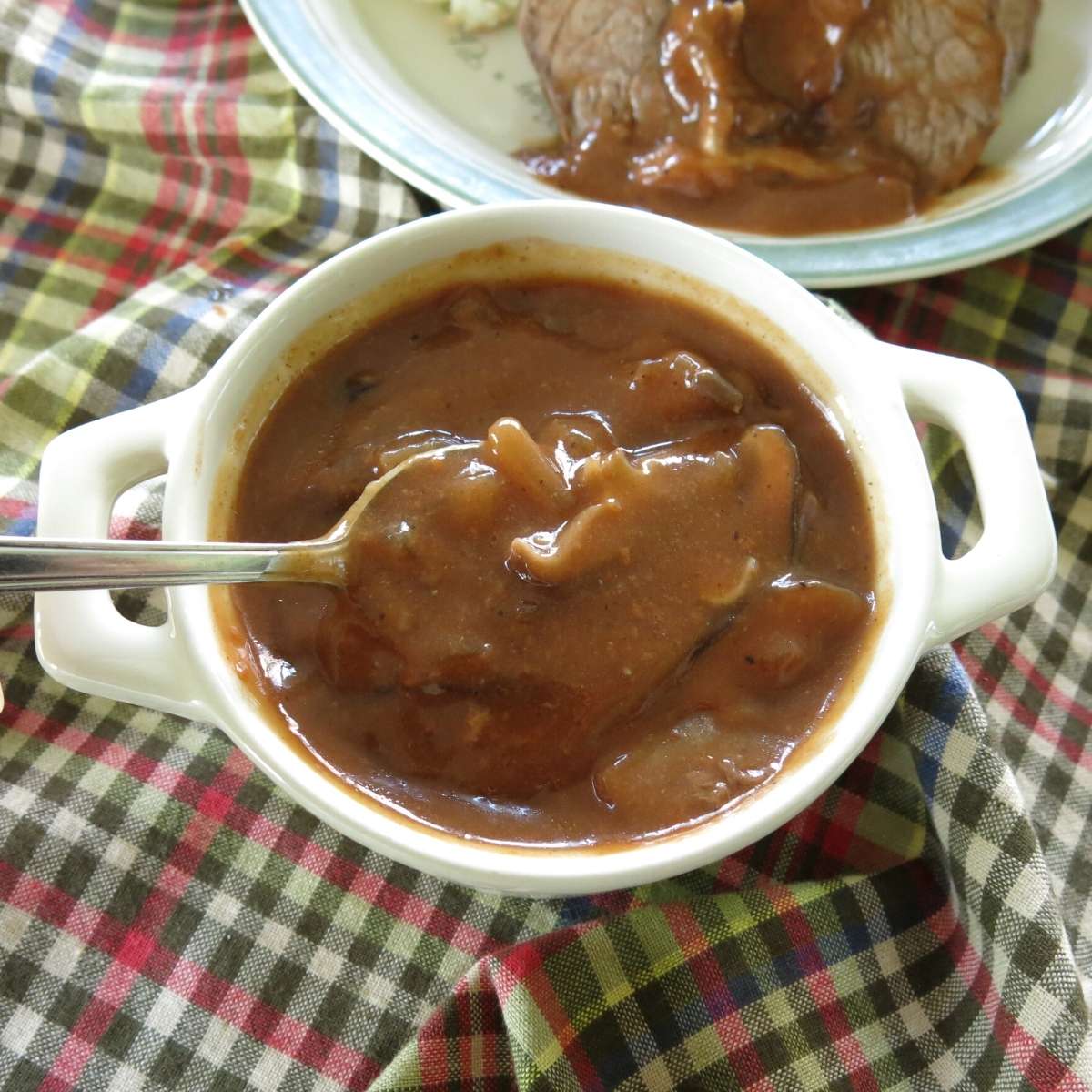 Pour it over the beef shoulder, mushrooms, and onions in the slow cooker and let it cook.
The magic occurs at the very end of the cooking process. Lift out the meat and stir a slushy mixture of corn starch and water into the liquid, mushrooms, and onions. Turn the temperature to high and cook for about 10 minutes more. Keep the meat warm.
The sauce turns into a velvety, delicious gravy that you absolutely have to use on everything in sight.
Food allergy tip: Worcestershire sauce contains soy and often gluten. We have left this ingredient out and still marveled at the result.
Cook Time
We suggest cooking a shoulder pot roast on low for about 6-8 hours for the very best result. However, it can be cooked on high for about 4-6 hours too.
We've never made it any other way. But, I'm sure it could be. This Classic Sunday Pot Roast by the Stay at Home Chef has instructions for a dutch oven and an instant pot!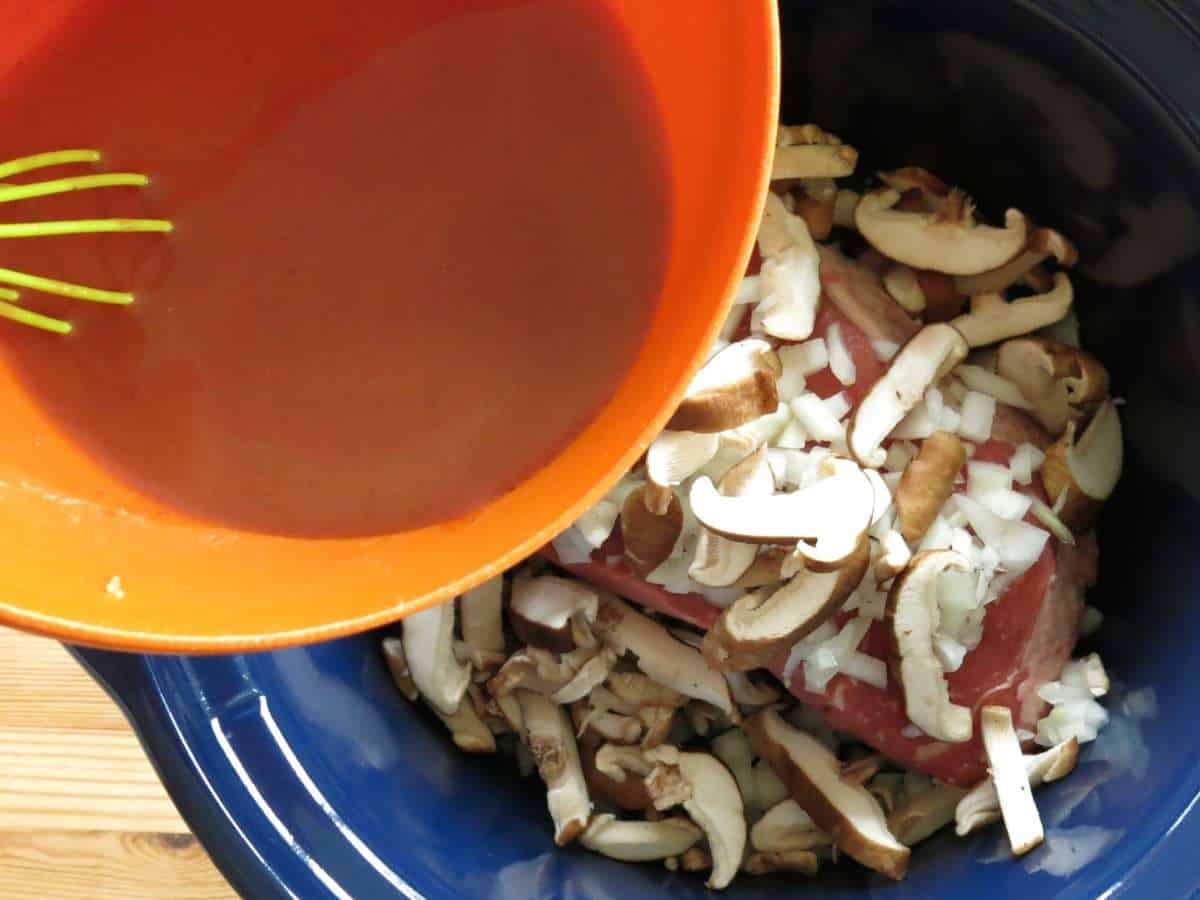 Freezer Instructions
This is a recipe, known as Black Forest Pot Roast, from our meal assembly stores. It's definitely freezer-friendly before you cook it! So, make an extra bag when shoulder roasts go on sale and you have everything out.
To make a bag for the freezer add all of the ingredients (except for the slushy corn starch and water mixture) to a large freezer-safe bag, removing any excess air as you close it. Place that bag inside another one as a safety precaution.
It stores well in the freezer for about 2-4 months. Completely defrost in the refrigerator before cooking. Be sure to label it and make a note that you need to add the corn starch at the end.
FAQ
Why is my pot roast tough?
Pot roast can be tough if cooked too long, not long enough, or if there is not enough liquid in the slow cooker. The proportions and timing for this recipe should yield a fork-tender pot roast with lots of extra sauce.
Can I add other vegetables?
Add hearty vegetables that can withstand 6-8 hours in a crock-pot, such as carrots. Be mindful of how many extra ingredients you add though so that there is still enough liquid to keep the shoulder roast moist.
How do you reheat a roast without drying it out?
Ladle extra sauce over the pot roast. For small portions, you can cover and microwave for several minutes without it becoming dry. For larger portions, place meat topped with sauce in a covered baking dish and reheat at 300 °F until warmed through, about 20 minutes depending upon the amount and thickness.
How do you reheat sauce?
For red wine mushroom gravy that is stored separately from the meat, cover and microwave on high for 1 minute. Remove cover, stir and continue heating at 30 second intervals until warmed through.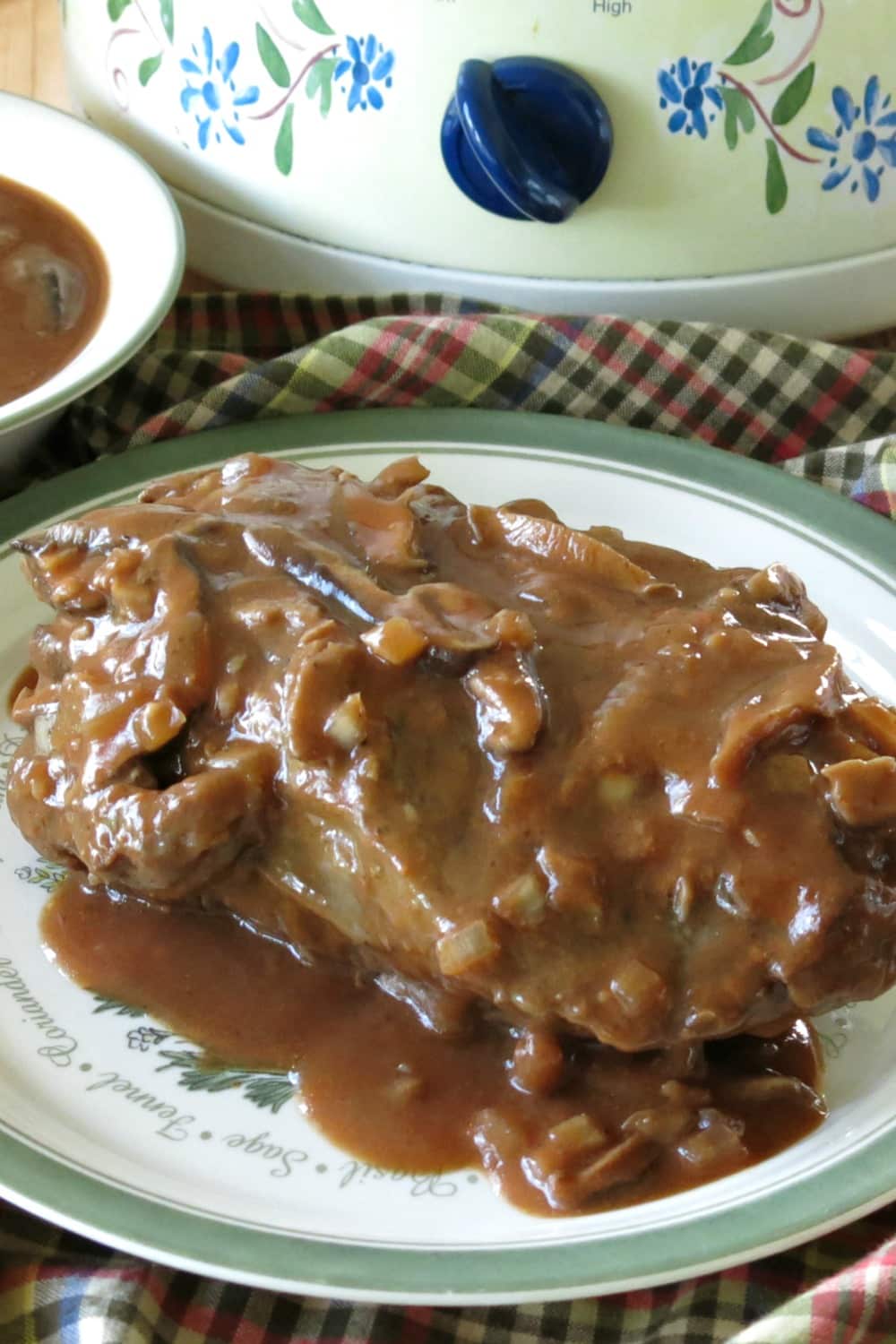 Other Shoulder Roast Recipes
We use the same cut of beef to make:
Please rate this recipe and tag @DinnerMom or #DinnerMom on social media. We love to see and share what you are cooking up!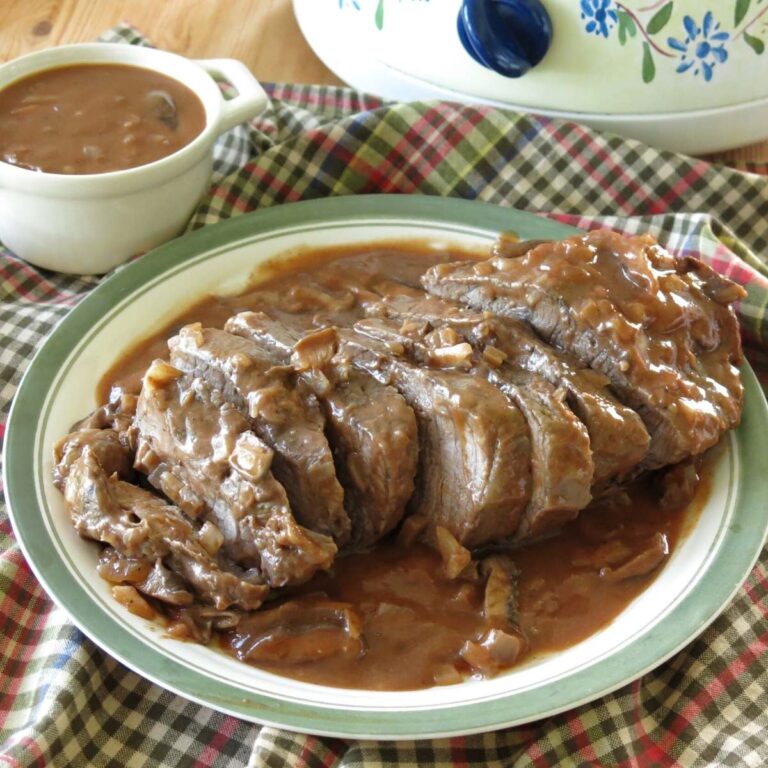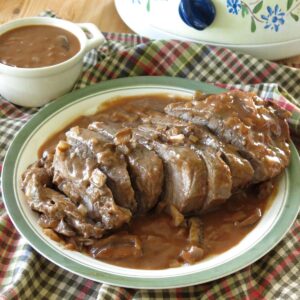 Beef Shoulder Roast with Red Wine Mushroom Gravy
This slow cooker beef shoulder roast recipe with red wine mushroom sauce is special occasion fancy, weeknight dinner friendly, and freezable.
Print
Pin
Rate
Ingredients
2

pounds

Boneless beef shoulder roast

Up to 3 pounds

1

medium onion

roughly chopped, about half of an onion

8

ounces

mushrooms

sliced, shiitake or mushroom of choice

½

cup

ketchup

½

cup

dry red wine

such as Merlot

½

cup

water

¼

cup

Dijon Mustard

2

Tablespoons

Worcestershire sauce

4

garlic cloves

minced

1

teaspoon

salt

¼

teaspoon

pepper

2

Tablespoons

corn starch

3

Tablespoons

water
Instructions
Place beef shoulder roast in crock-pot.

Add chopped onions and sliced mushrooms.

Mix ketchup, red wine, water, Dijon mustard, Worcestershire sauce, minced garlic, salt and pepper together in a medium-sized bowl.

Pour sauce mixture over shoulder roast.

Cook on low for 6-8 hours.

Remove meat from crock-pot and keep warm.

Mix corn starch with 3 Tablespoons of cold water.

Add corn starch mixture to the juices in the crock-pot and stir.

Turn the heat to high and cook for 10-15 minutes more.

Serve sauce over meat.
Notes
This recipe can be made ahead of time and frozen. Mix all of the ingredients (except for the corn starch/water mixture) in a ziplock bag. Add beef roast. Store in freezer 2-4 months for best quality. Defrost completely in refrigerator before cooking.
Grab 5 Low-Carb Sauces
and get more easy, healthy recipes! JOIN HERE
Nutrition
Calories:
349
kcal
|
Carbohydrates:
14
g
|
Protein:
45
g
|
Fat:
10
g
|
Saturated Fat:
4
g
|
Cholesterol:
122
mg
|
Sodium:
850
mg
|
Potassium:
840
mg
|
Fiber:
1
g
|
Sugar:
7
g
|
Vitamin A:
103
IU
|
Vitamin C:
4
mg
|
Calcium:
41
mg
|
Iron:
5
mg
Nutritional and Food Safety Disclaimer
This recipe was originally published 2/15/2013. It was updated to improve the reader experience.