Steak Shish Kabobs in Red Wine Marinade infused with garlic and rosemary make a very memorable and low-carb meal. Grill or broil them in the oven. Lots of tips from our Meal Assembly Kitchen store.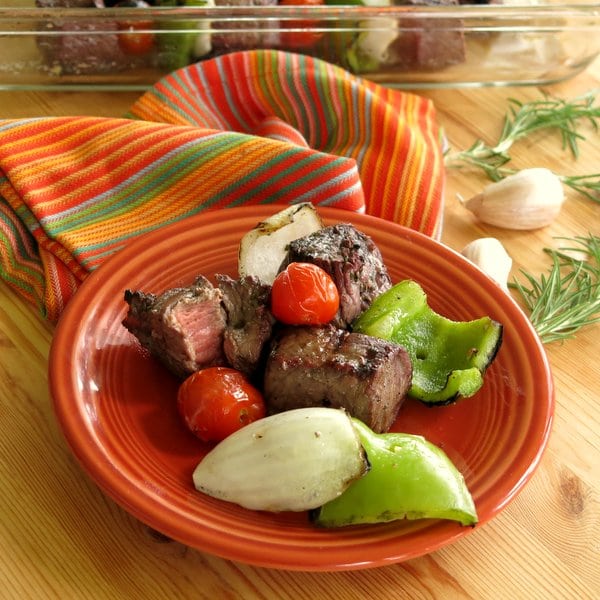 Summer is for grilling and chilling! As for the grilling, let me suggest Steak Shish Kabobs. It's a meal on a stick, which is just plain fun! Add a salad or rice and dinner is done.
This red wine marinade with garlic and fragrant rosemary perfectly tenderizes sirloin steak fillets. Alternate meat with vegetables that cozy up to the beef for even more flavor.
My Chief Grilling Officer (a.k.a. my hubby) reluctantly switched from our tried and true zesty marinade (a.k.a. for Best London Broil Marinade) to make this recipe. The result?
Two thumbs up. And, he is very, very picky. 🙂
Jump to:
How to Make Shish Kabob Marinade
A good marinade can take a nice cut of beef from pretty good to outstanding!
The main ingredient is a dry, fruity red wine. Use a favorite one that you might drink, rather than buying a cooking wine with added salt. Since we don't drink a lot of wine, we buy small bottles for cooking purposes to make recipes like Crock Pot Beef and Vegetables in Red Wine Sauce and Red Wine Marinade for Pork Tenderloin.
We used Merlot. Other options include Cabernet Sauvignon, Pinot Noir, and Cabernet Franc.
Below are the other ingredients you will need to prepare:
Lots of pressed or minced fresh garlic.
Fresh rosemary, which may or may not be inspired because it's the only fresh herb that grows with any predictability at my house! Substitute 1 teaspoon of dried rosemary if desired.
Olive oil, lemon juice, salt, and pepper are the remaining ingredients. This marinade is perfect for sirloin, flank steak, and beef tips.
How long to marinate steak
Marinating steak allows the tissues to break down and has a tenderizing effect. the beef absorbs more liquid and that makes the cooked steak juicier.
Place beef cubes in a flat glass dish or plastic bag, so that the beef is covered with marinade. Marinate for at least 2 hours or up to 24 hours for the best flavor.
The rich, fragrant smell of the wine in this marinade wafts through the room...you just know that the steak is going to taste fabulous!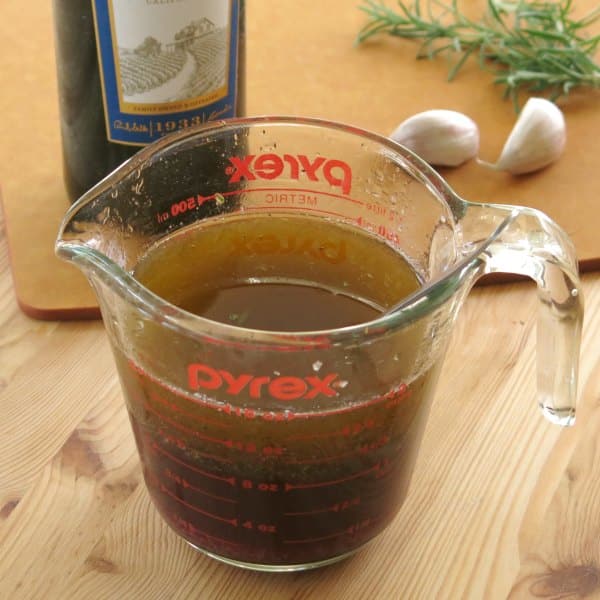 How to Assemble Steak Shish Kebabs
Did you catch that? I just called it a Kebabs instead of a Kebobs. Turns out either pronunciation is correct. Either way, these are delicious and easy to assemble.
Preparing Wooden Skewers
Soak wooden skewers before using them. Place them in a bowl of water for about 30 minutes. I've read suggestions for soak times from 10 minutes to overnight, and sometimes in wine.
It's supposed to prevent the skewers from burning, although the tips will char anyways. In fact, some experts say you don't need to soak wooden skewers at all.
Just to be safe, we always soak for at least 30 minutes. Or, buy metal skewers!
Vegetables to use for Steak Shish Kabobs
Alternate beef cubes with tomatoes, green pepper, and onion or your favorite vegetables. Other things to try in this recipe:
Mushrooms
Zucchini
Yellow squash
Red onion
Check out our Seasonal Produce Guide for more ideas!
Brush vegetables with a little marinade if desired. But, once everything is in place, THROW AWAY THE EXCESS MARINADE! It is not safe to eat.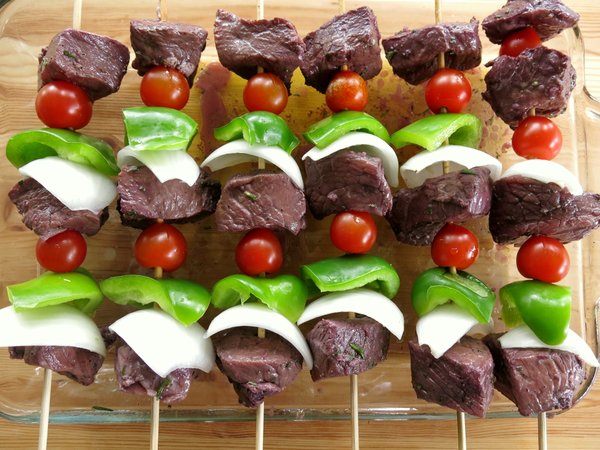 Cooking Tips for Steak Shish Kabobs
Cook kabobs on the grill over medium-high heat or broil them in the oven!
The exact cook time will vary depending upon the thickness of the meat cubes and how pink you like your beef. For safety, cook beef to an internal temperature of 160 degrees F.
Monitor the shish kabobs as they cook because they're done very quickly. Use an oven mitt and turn them at least once for consistent browning. It takes about 4-5 minutes per side for slightly pink meat.
If you are broiling, move the cooking rack to within 3-4 inches of the heating element and use a broiling pan so that excess liquid can drain into a lower pan.
How to Freeze Steak in Red Wine Marinade
Believe it or not, we offered a recipe just like this one at our Meal Assembly Kitchen Store! Options to freeze:
Add the marinade and beef to a freezer-safe bag. Seal tightly it, removing excess air, and store in the freezer. When ready to cook, defrost the bag, skewer the meat and add fresh vegetables.
Or, add fresh vegetables to the bag with the meat marinade. Hearty and thick cut vegetables, such as onion, peppers and cherry tomatoes will be fine.
Don't forget to label containers. Use within 2 months for the very best results.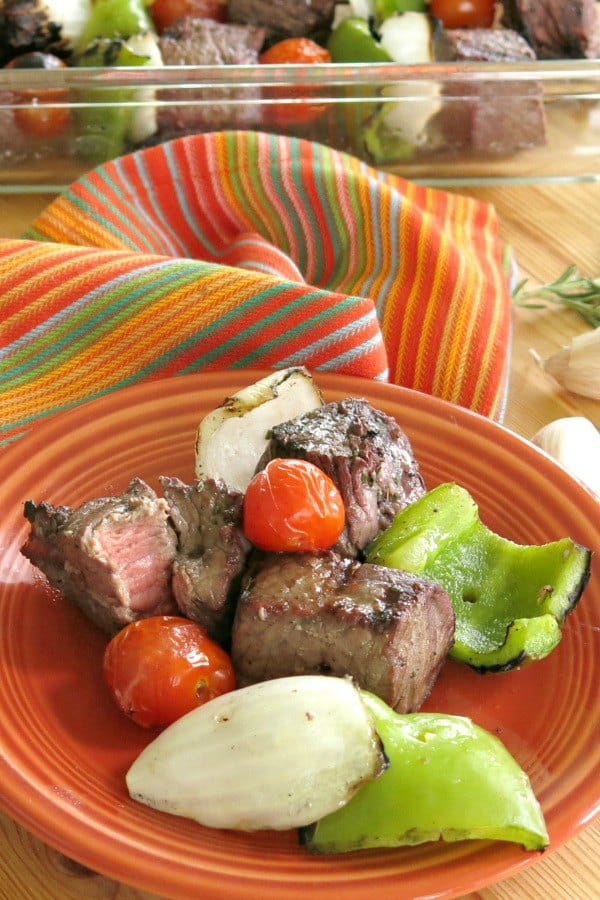 More Steak Recipes
Please rate this recipe and tag @DinnerMom or #DinnerMom on social media. We love to see what you are cooking up!
📋 Recipe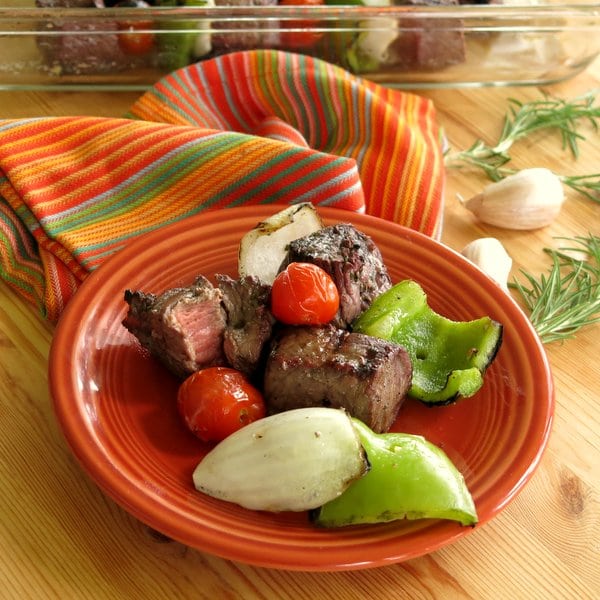 Steak Shish Kabobs in Red Wine Marinade
Tenderize your beef shish kabobs with this fragrant red wine marinade with a hint of rosemary. Add your favorite vegetables and you're in for an easy and memorable meal!
Share by Text
Print
Pin
Rate
Ingredients
Marinade
1

cup

Red wine

we used Merlot

¾

cup

olive oil

1

Tablespoon

lemon juice

1

teaspoon

salt

1

teaspoon

pepper

3-5

garlic cloves

pressed or minced

1

Tablespoon

fresh rosemary

chopped; 1 teaspoon dried
Kabobs
2

pounds

sirloin steak fillets

cut into 1 ½ inch cubes

2

green peppers

cut into 8 pieces

1

white onion

quartered

24

cherry tomatoes

8-10

skewers

soak wooden skewers in water for 30 minutes before using
Instructions
Mix marinade ingredients together and pour into a large bag that seals or a flat container.

Add beef to bag and marinate for at least 2 hours and up to 24 hours.

Remove beef from marinade, discarding excess marinade.

Assemble shish kabobs by alternating meat cubes and vegetables on a skewer. 3 pieces of meat fit nicely on a 12 inch skewer.

Grill over medium heat for about 3 minutes on each side. Use an oven mitt to turn the skewers.
Grab 5 Low-Carb Sauces
and get more easy, healthy recipes! JOIN HERE
Nutrition
Calories:
357
kcal
|
Carbohydrates:
7
g
|
Protein:
34
g
|
Fat:
19
g
|
Saturated Fat:
4
g
|
Cholesterol:
92
mg
|
Sodium:
484
mg
|
Potassium:
792
mg
|
Fiber:
1
g
|
Sugar:
3
g
|
Vitamin A:
490
IU
|
Vitamin C:
50.8
mg
|
Calcium:
61
mg
|
Iron:
3.3
mg
Nutritional and Food Safety Disclaimer