I've got two great recipes for you today. Don't you love bogos?! The first recipe is for an easy blue cheese sauce that perfectly complements London broil or any cut of beef…and green beans too. The second is a zesty marinade for beef. They work spectacularly together and freeze well too.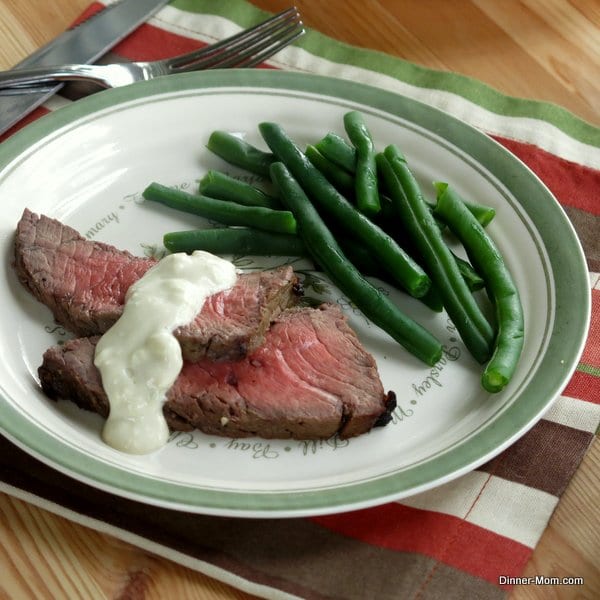 Pictured is top round London broil that was marinated in a zesty combination that includes red wine vinegar, lemon juice, soy sauce, garlic, dry mustard and few other things. I'm not much of a beef eater. But, when I do indulge, I like it rare. My girls do too. Hmmmm…
The creamy blue cheese sauce is like the " icing." I actually dislike crumbled blue cheese…by itself. But, I looove this blue cheese sauce on beef and green beans. I don't feel the least bit guilty about this creamy sauce because a little goes a long way. If there is any sauce leftover, I freeze it in small-sized portions. Then, I pull it out and warm it up whenever a dish needs a little pizzazz.
Here's how the dinner prep goes.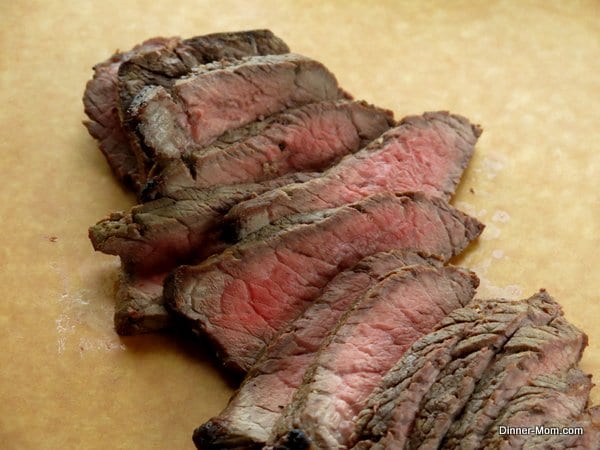 Mix up the marinade in a plastic bag and add the beef. Marinate the meat for up to 24 hours. Or, go ahead and freeze it. Often, I buy several cuts of meat when they are on sale, mix up the marinade and freeze the meat right in the marinade. The Chief Grilling Officer (aka my hubby) usually takes over at this point. If not, I broil it. The meat in this picture was broiled. Isn't it lovely?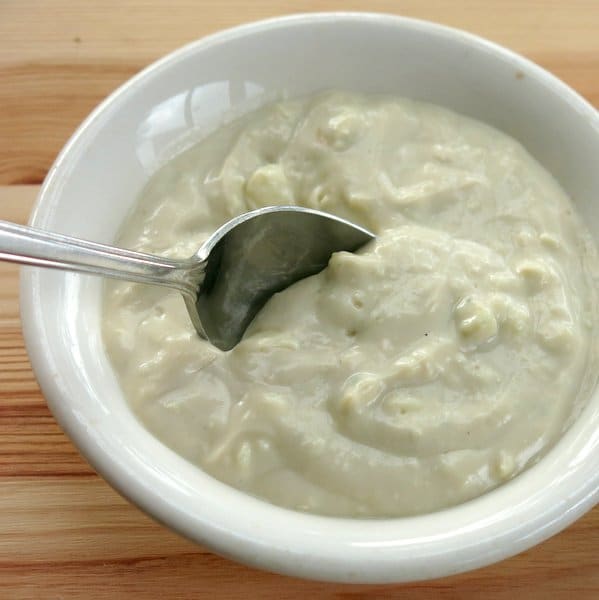 This creamy blue cheese sauce has just 4 ingredients: mayonnaise, sour cream, Worcestershire sauce and crumbled blue cheese. I use low-fat everything and still feel very satisfied. I found this gem at Allrecipes a looong time ago and I see it is still getting rave reviews.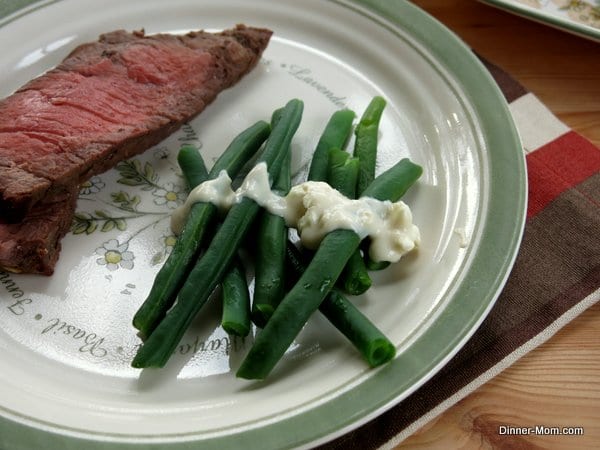 Did I mention that this sauce is great on green beans!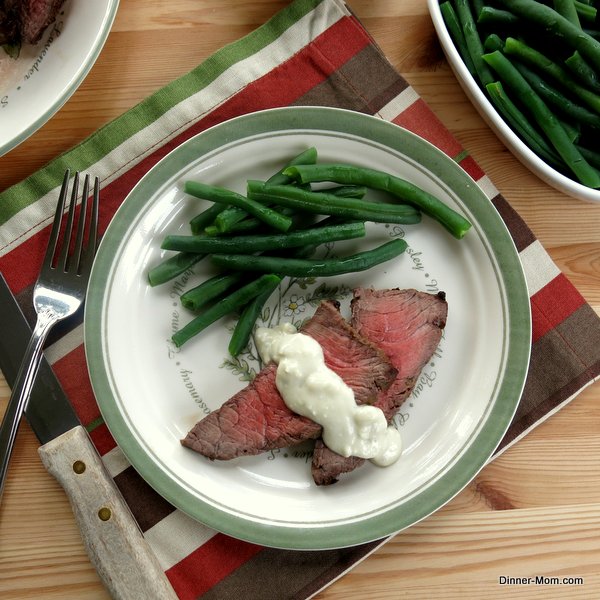 And, of course London Broil.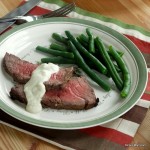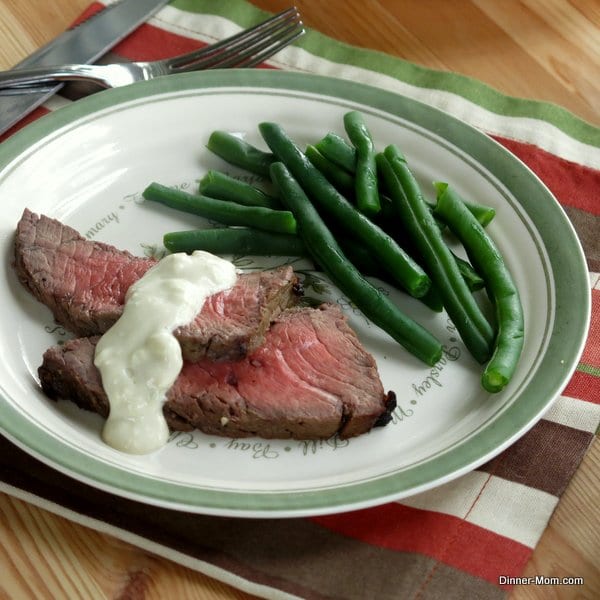 Blue Cheese Sauce on London Broil and Green Beans
Serve this easy blue cheese sauce over any cut of beef or over London Broil that has soaked up this zesty marinade recipe. Put a dollop on green beans too!
Ingredients
Marinated London Broil
1/2

cup

canola oil

1/4

cup

soy sauce

2

Tablespoons

lemon juice

2

Tablespoons

red wine vinegar

1

Tablespoon

ground mustard

1

teaspoon

pepper

2

garlic cloves

minced

2-3

pounds

top round London broil
Blue Cheese Sauce
1/3

cup

mayonnaise

2/3

cup

sour cream

1 1/2

teaspoons

Worcestershire sauce

4

ounces

crumbled blue cheese
Green Beans
1

pound

green beans

ends removed

Salt
Instructions
Marinated London Broil
Combine marinade ingredients in a ziplock bag.

Add beef and marinate for at least 2 hours and up to 24 hours, preferably flipping bag halfway through.

Remove beef from bag and discard excess marinade.

To broil, place oven rack 3-4 inches from heating element and cook for about 7-10 minutes on each side or until meat is desired doneness.
Blue Cheese Sauce
Combine mayonnaise, sour cream and Worcestershire sauce in a small sauce pan.

Stir in crumbled blue cheese.

Heat sauce over medium-low heat for several minutes to warm.
Green Beans
Bring 2 quarts of water to a rolling boil.

Add salt and green beans.

Boil for about 10-14 minutes or until green bean reach desired tenderness.
Recipe Notes
Uncooked beef can be frozen in the marinade. When ready to enjoy, defrost in refrigerator overnight and then cook as usual. If you have any blue cheese sauce leftover, you can freeze that too. For best results, consume within 2 months of freezing.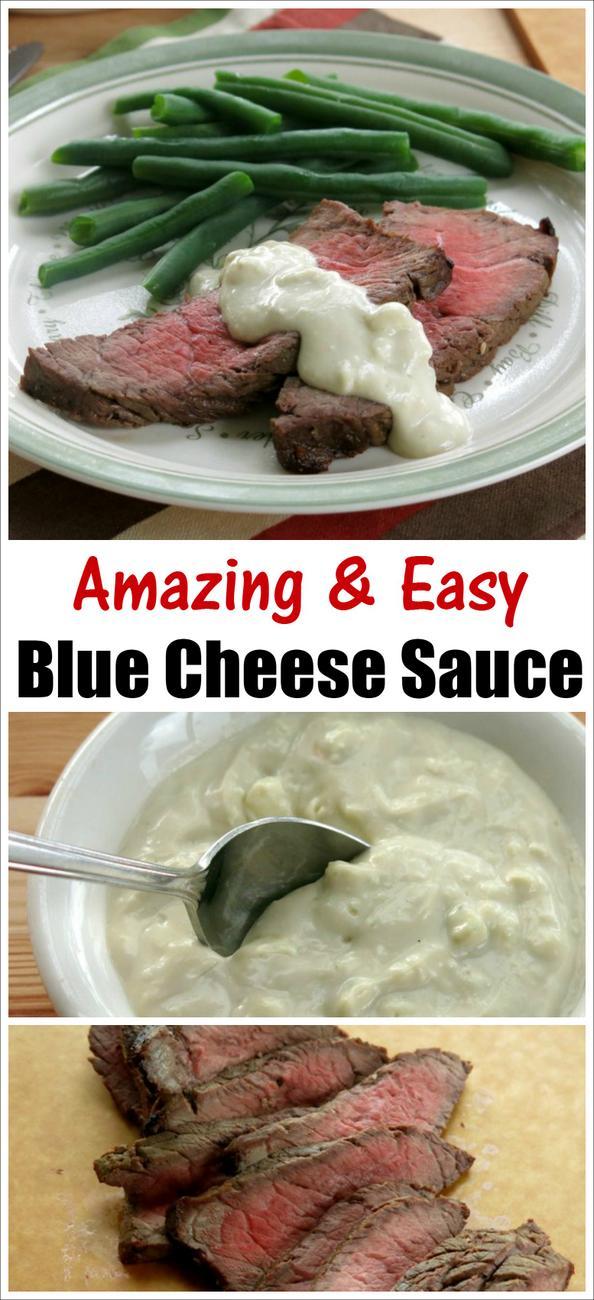 Enjoy!