This post may contain affiliate links. As an Amazon Influencer, I earn from qualifying purchases.
Learn how to make the best London Broil in the oven! It's a bold claim, but thousands of customers used these directions, tips, and the marinade at our Make-Ahead Meal Kitchens to prepare tender and juicy steak.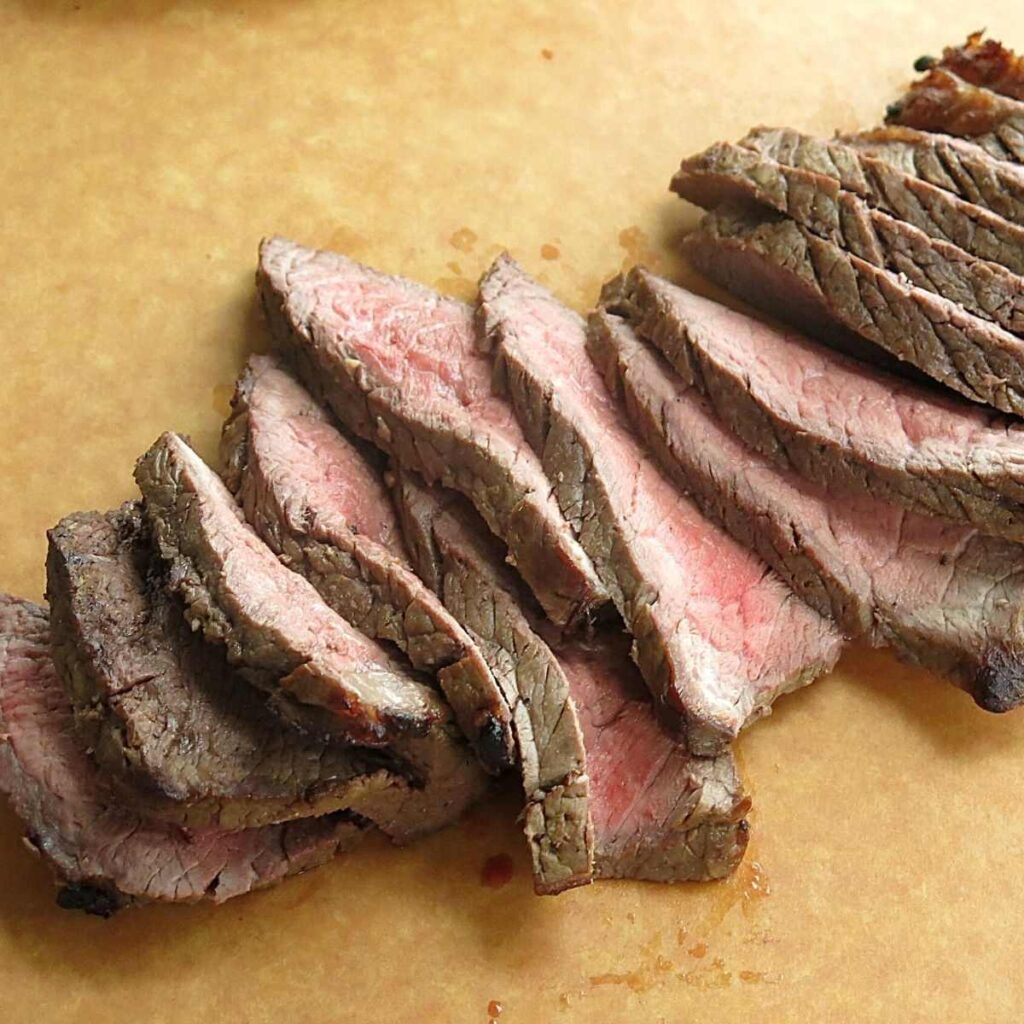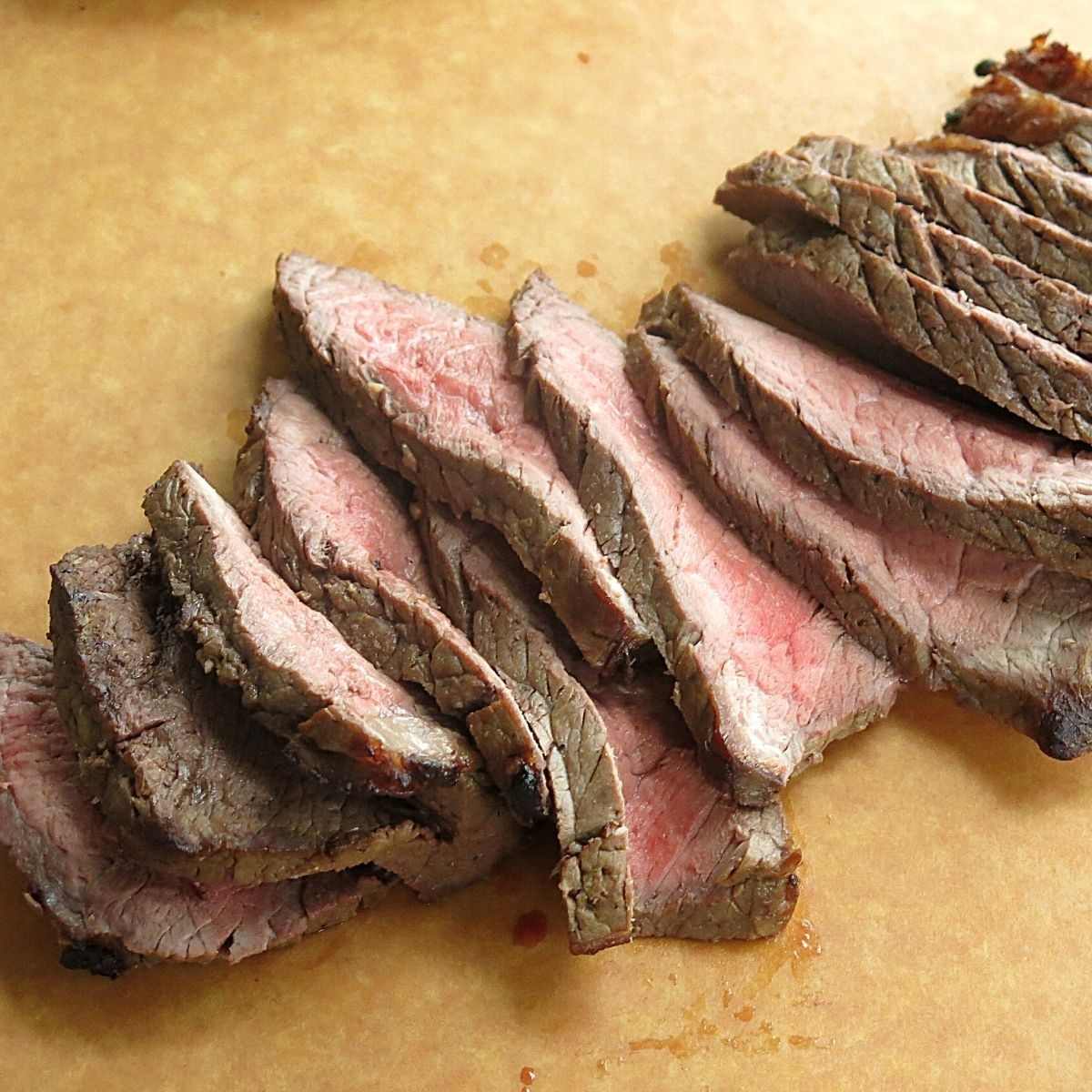 This classic recipe is perfect for weekly dinner planning. Make it for dinner one night and prep a second meal for the freezer. Then, plan for leftovers so you can make easy fajitas or steak salad the next night.
This guide is packed with tips and marinade ideas to make outstanding top sirloin steak or london broil every single time!
Jump to:
What is London Broil?
This question came up A LOT at our store! London Broil is not a cut of meat. It's the name for preparing a cut of beef.
London broil is meat that is marinated, cooked and thinly sliced. In the grocery store, buy top round steak or flank steak to make this recipe. Common Cuts of Beef by Real Simple provides overviews of the various cuts.
How to Tenderize Beef
Tenderizing helps break down tough muscle fibers in beef. Top round steak and flank steak need this because they are lean cuts of meats...as in not much fat. To avoid steak that is tough and chewy, tenderize it!
Here are some easy steps to tenderize London Broil:
Use a fork to poke holes in the meat. (Or pound it with a mallet, which is preferable if the meat is uneven in thickness.)
Marinate meat with a recipe that includes an acidic ingredient, like red wine vinegar and lemon juice (like this recipe!.)
Cut the meat across the grain before serving. Tips below.
Don't overcook it! Check out the suggested times and temps below.
Marinade Ingredients
This marinade yields about 1 cup of marinade, which is perfect for 2 pounds of London Broil or other beef. Double or Triple it as necessary.
Canola oil
Soy sauce - or use Coconut Aminos for a soy-free marinade
Red wine vinegar
Lemon juice
Worcestershire sauce - for a soy-free marinade leave this out
Ground mustard
Pepper
Garlic
Mix it up in advance and store it in the refrigerator. It will keep for about week in a glass jar.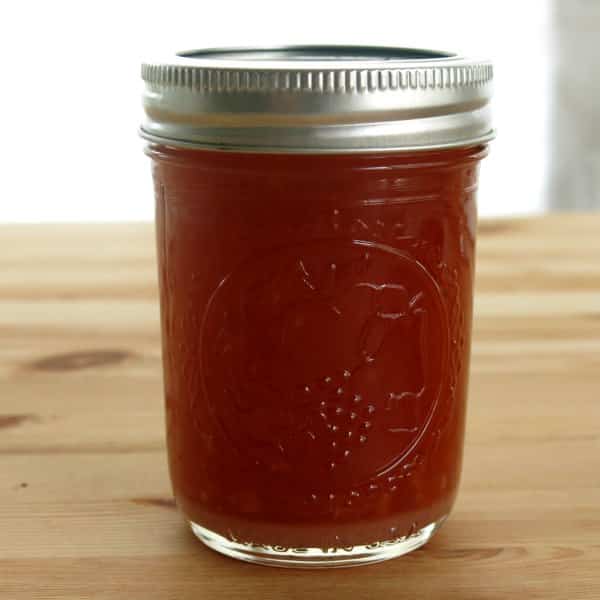 How Long to Marinate
We recommend marinating London broil or other beef for a minimum of 2 hours in the refrigerator. 4 hours is better and overnight will allow all the flavor to sink in.
The easiest way to marinate beef is to place it in a resealable plastic bag with the marinade so it can be easily turned every so often. Otherwise, place the meat flat in a glass baking dish.
If using the plastic bag method, place the first plastic bag in another plastic bag or a baking dish to contain any leaks that may happen!
Safety Tip: Always marinate meat in the refrigerator and not on the counter!
However, it is a good idea to allow the London Broil to come to room temperature (it takes about an hour) before you begin cooking it.
How to Cook in the Oven
The best way to cook London Broil is to broil it in the oven. The length of time it takes to broil London Broil in the oven will vary depending upon the thickness of the meat. Generally, top round steaks are about 1 inch in thickness. Flank steaks are thinner. It also depends on how you enjoy your steak.
Remove meat from bag and discard the excess marinade. It can't be reused.
Move the cooking rack within 3 to 4 inches of the heating element. Place meat on a broiler pan (sprayed with non-stick cooking spray) and cook for 14 - 20 minutes, flipping halfway through.
If you're not used to cooking beef in the oven, then flip at 7 minutes and check for doneness at 14 minutes and go from there.
Per the USDA's Safe Minimum Internal Temperature Chart, beef should always be cooked to an internal temperature of 145 °F.
However, here are internal temperatures for London Broil with a pinker center.
Medium-rare meat about 135 °F
Rare meat about 125 °F.
Use a meat thermometer to get things just the way you like them. The internal temperature will continue to rise a little when you take it out of the oven so take it out about 5 degrees before desired doneness.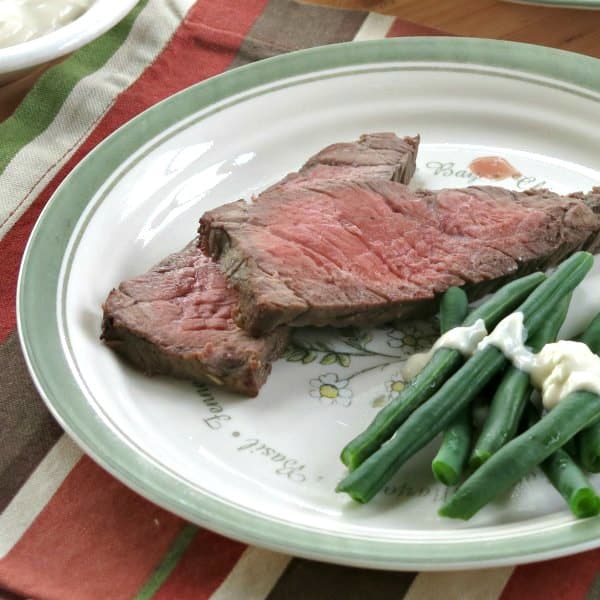 How to Cook Steak in the Oven at 350 °F
If you would prefer baking London Broil in a 350 degree Fahrenheit oven, then be sure to baste with wet ingredients so it doesn't dry out. It will take more time to cook at the lower temperature (possibly 10 minutes more.) Another option is to sear the meat first on the stovetop and then bake.
Cut Against the Grain
Tip: Allow meat to rest for 5 minutes before cutting. This allows the juices to seep back into the meat. The Spruce Eats provides a scientific explanation in the Secret to a Juicy Steak is Letting it Rest.
When you're ready to cut the meat, go against the grain or the meat will be stringy and each bite will be chewy because you have to soften the meat.
The muscle fibers go in one direction. Slice the meat in the opposite direction. In the picture below, the muscle fibers ran left to right, so we cut the meat the other way.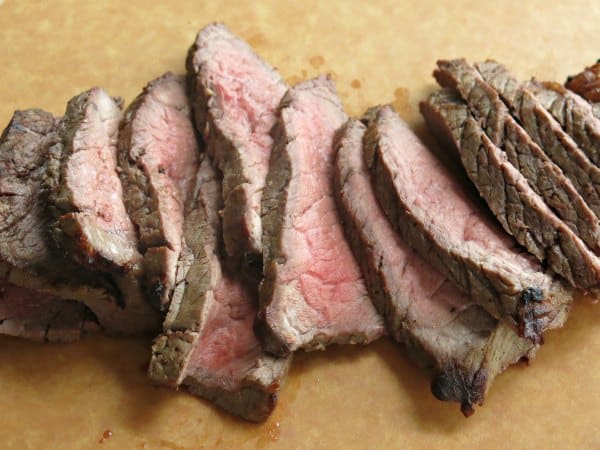 How to Grill
To grill London Broil, discard the marinade and place the meat on an oiled grate. Cook for 14 - 20 minutes using the temperature guidelines and cutting techniques described above.
Freezer Guide
It is totally and completely possible to freeze london broil or flank steak in marinade. Simply prepare the recipe up to the point where you would put it in the refrigerator to marinate. It's best to use a resealable plastic bag for freezing.
Seal the bag, removing as much excess air as possible. Label and place in the freezer for up to 2 months.
Remove the bag to the refrigerator and allow it to defrost overnight when you are ready to enjoy it.
The London Broil will begin marinating as it begins to freeze...and will marinate some more as it defrosts.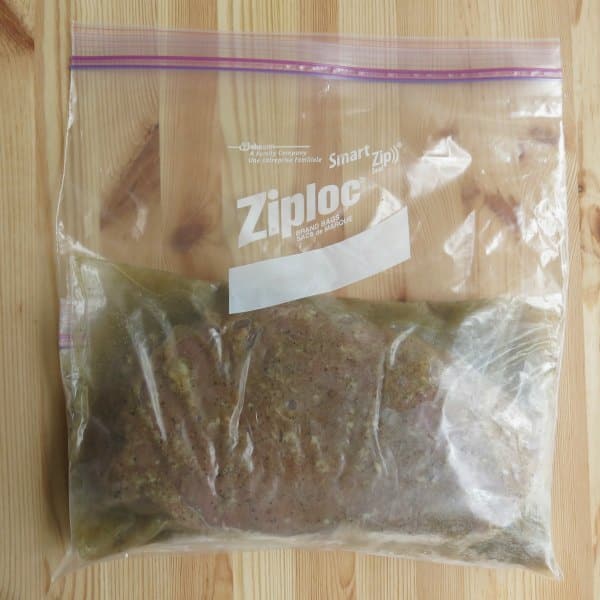 Serving Ideas
London Broil is weeknight dinner friendly and can be prettied up for special occasions like Valentine's Day, New Year's or an Anniversary.
Our favorite topping ideas:
Add a few simple sides, like crispy green beans, corn on the cob, or salad and dinner is done!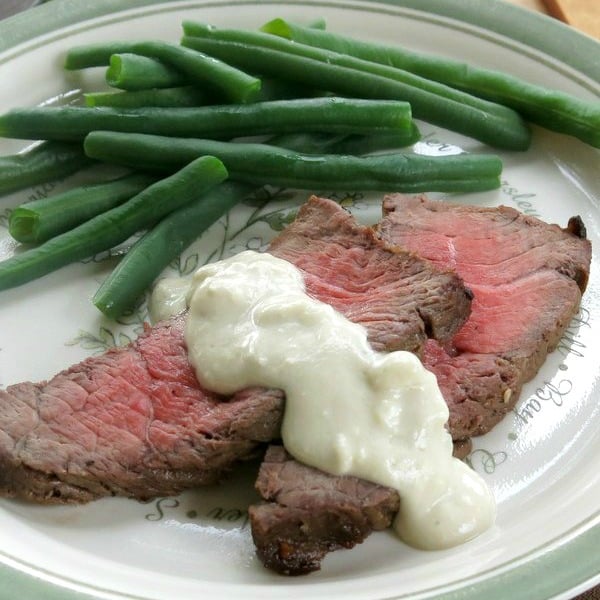 More Beef Recipes
The marinades in the first two recipes are also great with London Broil:
Please rate this recipe and tag @DinnerMom or #DinnerMom on social media. We love to see what you are cooking up!
📋 Recipe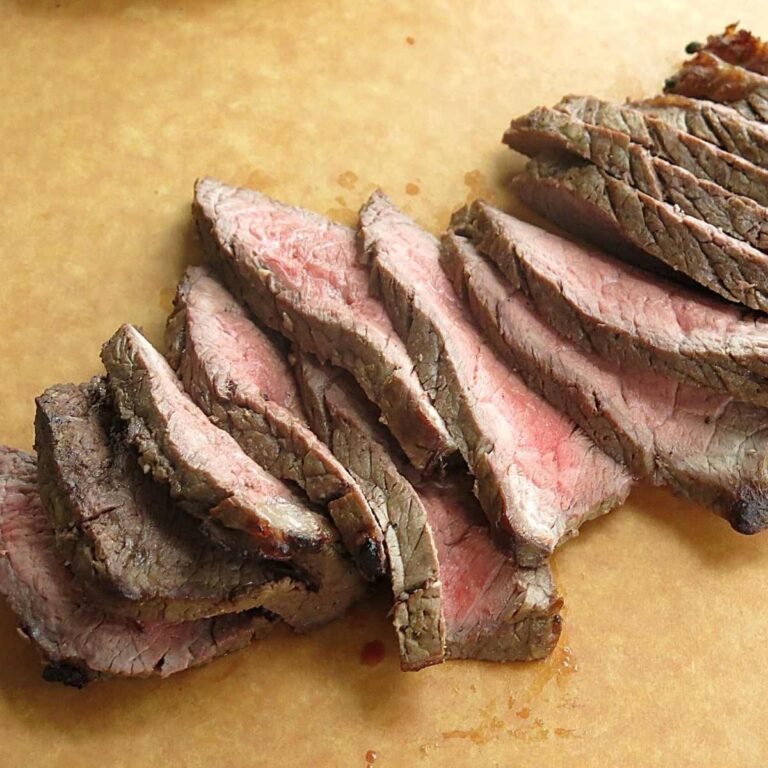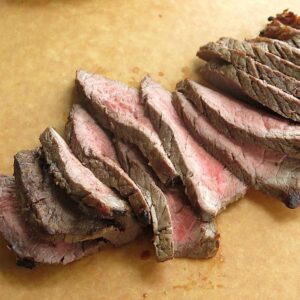 Best London Broil in Oven
Make the best London Broil in the oven using marinade and tips used by thousands of customers of our Stores to make tender, juicy steak.
Email Ingredients + Recipe
Print
Pin
Rate
Ingredients
½

cup

canola oil

or avocado oil

¼

cup

soy sauce

2

Tablespoons

lemon juice

2

Tablespoons

red wine vinegar

2

Tablespoons

Worcestershire sauce

1

Tablespoon

ground mustard

1

teaspoon

pepper

2

garlic cloves minced

2

pounds

top round steak

or flank steak
Instructions
Combine marinade ingredients in a ziplock bag or small bowl.

Add beef and marinate for at least 2 hours and up to 24 hours, preferably flipping bag several times.

Remove beef from bag and discard excess marinade.

Set oven to broil and place oven rack 3-4 inches from heating element.

Place beef on broiler pan and cook for about 7-10 minutes on each side or until meat is desired doneness.

Allow meat to rest for about 5 minutes before thinly slicing meat across the grain.
Notes
You'll find more expert tips and step-by-step pictures above!
Note: Nutritional estimate assumes ½ of the marinade is discarded and not consumed.
Grab 5 Low-Carb Sauces
and get more easy, healthy recipes! JOIN HERE
Nutrition
Calories:
296
kcal
|
Carbohydrates:
2
g
|
Protein:
36
g
|
Fat:
14
g
|
Saturated Fat:
2
g
|
Cholesterol:
92
mg
|
Sodium:
692
mg
|
Potassium:
638
mg
|
Vitamin C:
2.6
mg
|
Calcium:
44
mg
|
Iron:
3.7
mg
Nutritional and Food Safety Disclaimer