Looking to cook up some fun? Make Crock Pot Baked Potatoes (or Sweet Potatoes) and serve them to your guests with an array of tasty toppings.
We have more than 20 ideas to get you started.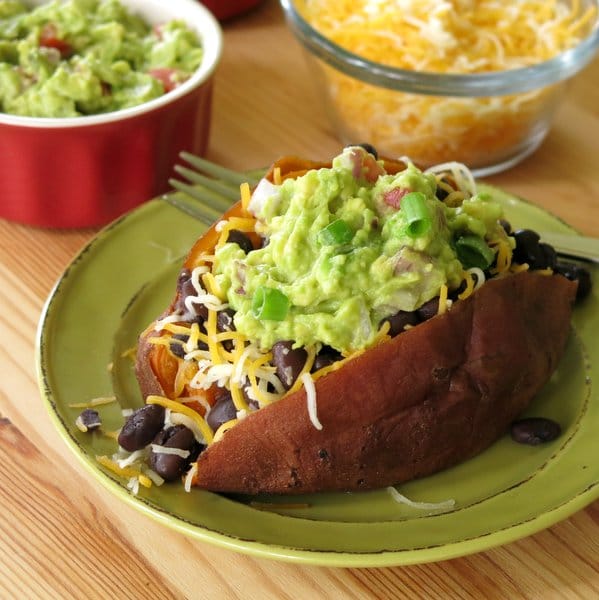 The amazing crock pot does it again!
I had 14 people at my house for a family gathering. (Yes…14!)  And, baked Idaho and sweet potatoes were on the menu. How do you simply and easily get that many fluffy and delicious potatoes all done at once with minimal effort?
Package 'em up and cook them in your slow cooker!
Layering Crock Pot Baked Potatoes
Wash, poke, oil and sprinkle each potato with salt before packaging each one individually in aluminum foil. Then, fill the crock pot to the top, if necessary, stacking the potatoes on top of each other.
I cooked 14 smallish sized potatoes all at once. Cook for about 4 hours on high or 8 hours on low.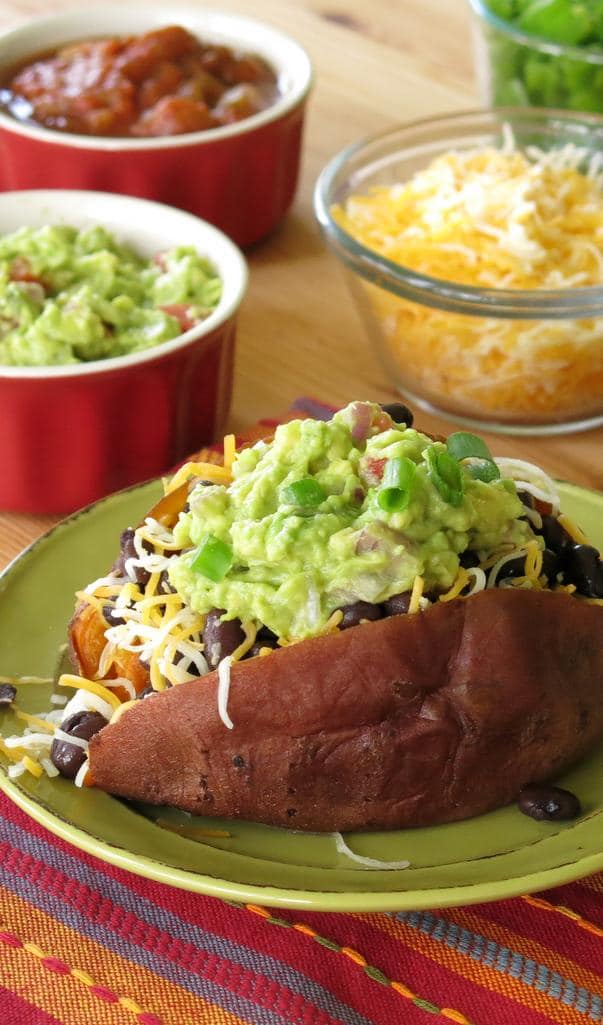 Ideas for a Topping Bar
Go big…and make it a meal by serving hearty toppings (such as beans and ham) along side traditional favorites (such as sour cream, cheese and chives.) Serve some "surprises" too, such as guacamole, pesto or chili for the adventurous diners.
It's fun to see what combinations people come up with.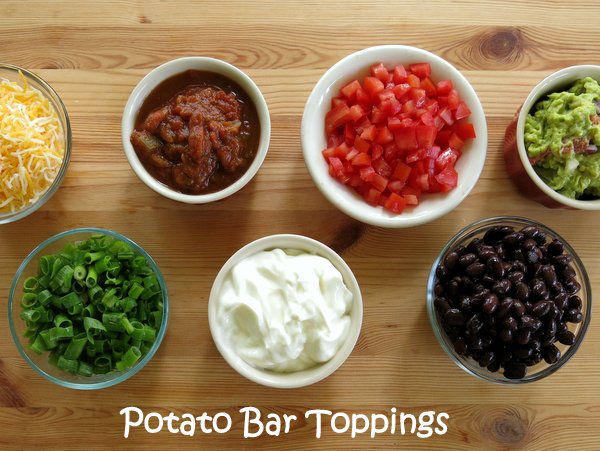 Make everything ahead of time and dinner time (or party time) will be a breeze.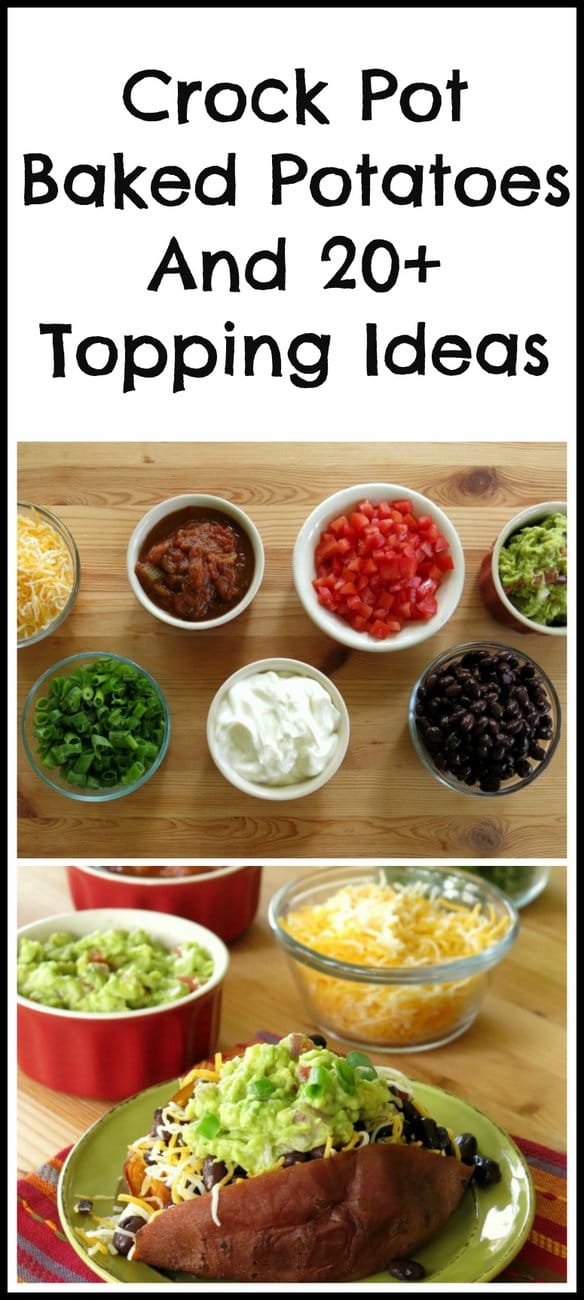 Here's a list of ideas for a topping bar to get your started:
Butter (or substitute)
Compound Butter, such as garlic butter (or substitute)
Sour cream
Yogurt
Shredded or crumbled cheese (including ones like feta, goat and pepper jack cheeses)
Bacon
Green onion or red onion
Salsa
Cilantro, basil and other fresh herbs
Chili
Sauces, such as alfredo, marinara and pesto
Chopped ham, chicken or other protein
Crunchy items such as crushed tortilla chips, nuts or seeds
Caramelized Onions
Avocado
Mushrooms
Tomatoes
Broccoli
Any favorite vegetable!
Guess how I topped mine?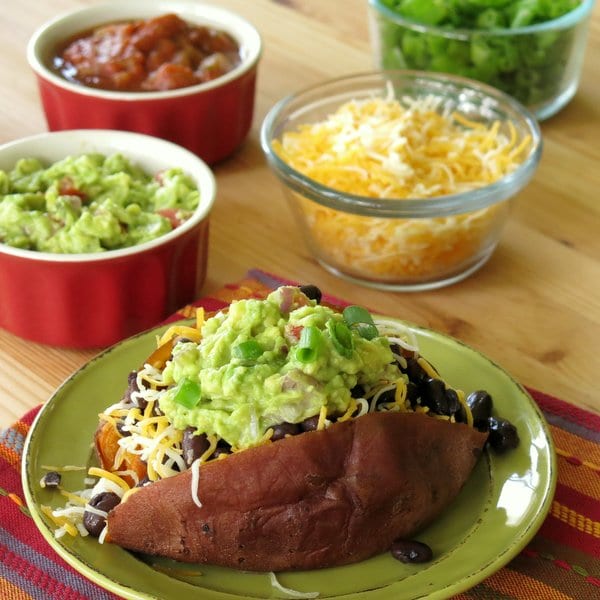 Southwestern all the way…baby!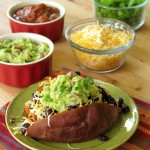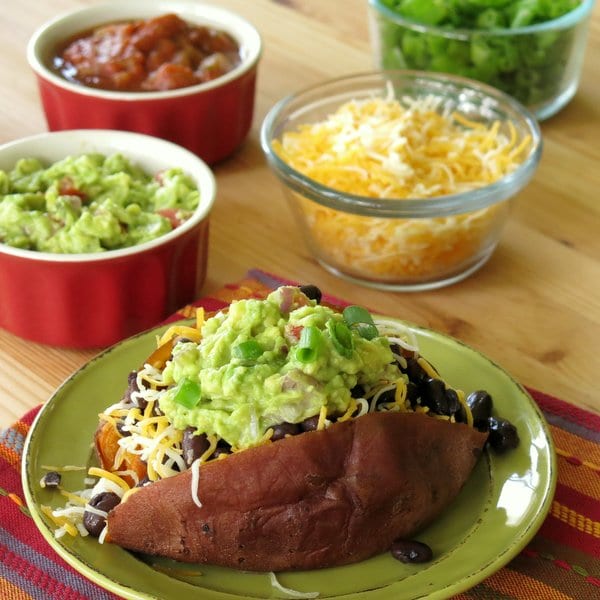 Crock Pot Baked Potatoes or Sweet Potatoes
Whether you're having a party, or need a fun weeknight dinner, crock pot baked potatoes and sweet potatoes are easy to make. 20+ topping ideas too.
Ingredients
1

sweet potatoes

or baking potatoes; any amount that will fit in the crock pot

1

teaspoon

olive oil

Sea Salt
Instructions
Wash and scrub potatoes and pat dry.

Pierce skin with a fork 4-5 times on all sides.

Generously coat the skin of the potatoes with olive oil.

Sprinkle sea salt on the potatoes.

Place each potato in the center of a piece of aluminum foil and wrap so that no skin is exposed.

Place potatoes in the crock pot, layering potatoes on top of each other if necessary.

Cook on high for 4 1/2-5 hours or on low for 8-10 hours or until tender. Sweet potatoes tend to cook a little faster. Large potatoes (or a full crock-pot) tend to cook a little longer.

Unwrap, split open and fill with your favorite toppings.
Recipe Notes
Be sure to check out the list of topping ideas!
Nutrition Facts
Crock Pot Baked Potatoes or Sweet Potatoes
Amount Per Serving
Calories 147
Calories from Fat 36
% Daily Value*
Total Fat 4g 6%
Sodium 71mg 3%
Potassium 438mg 13%
Total Carbohydrates 26g 9%
Protein 2g 4%
* Percent Daily Values are based on a 2000 calorie diet.
Enjoy!
NEVER MISS A RECIPE! SUBSCRIBE BY EMAIL & RECEIVE A FREE GIFT!
FOLLOW ME: