This post may contain affiliate links. As an Amazon Influencer, I earn from qualifying purchases.
Make Crock-Pot Apple Butter sugar-free or with low sugar. This easy, healthy recipe naturally sweetens breakfast foods and desserts.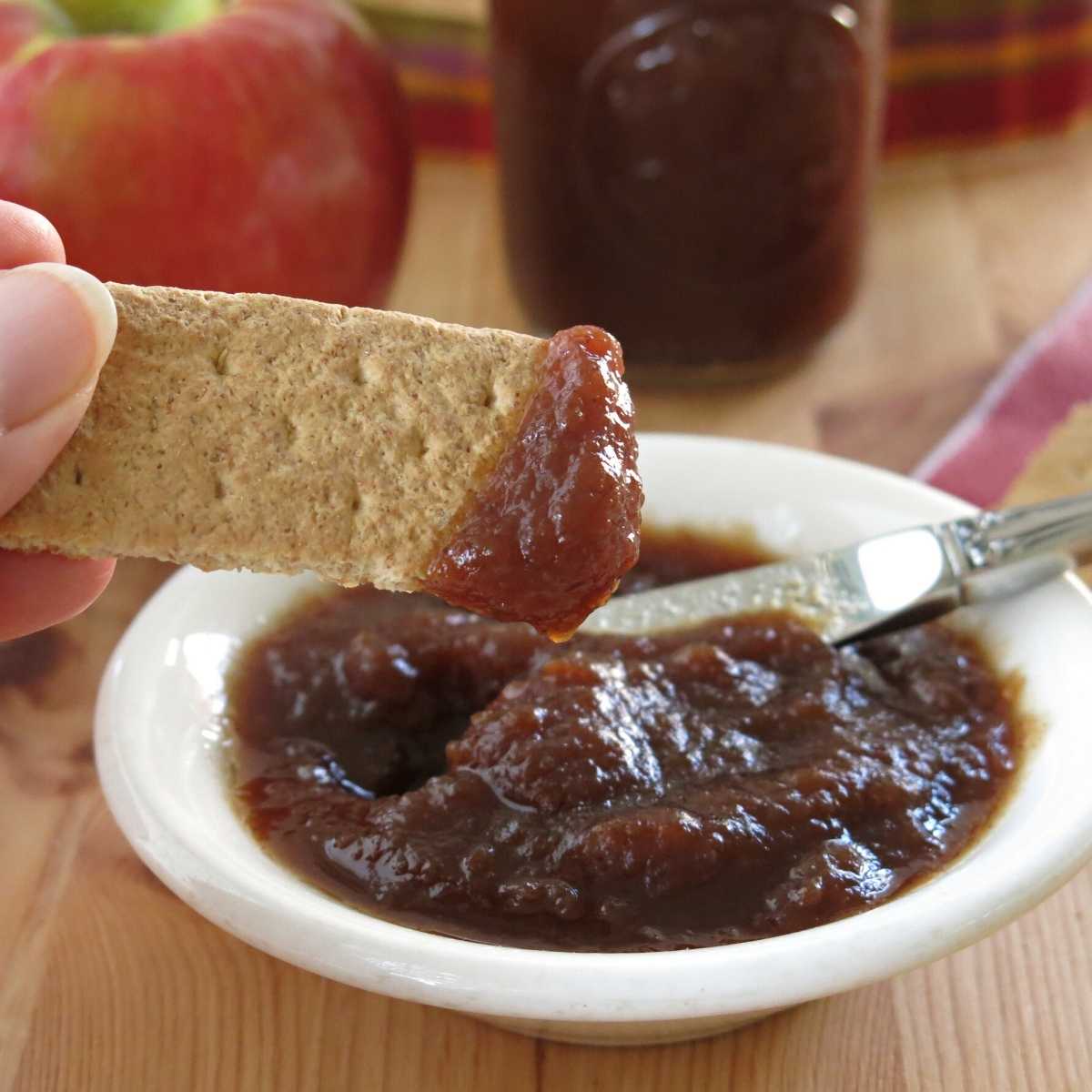 Do you have fresh apples on hand from a day at an apple orchard? Lucky you! Even if you pick them up at the grocery store, you won't regret making homemade apple butter in your slow cooker.
The best thing about making it yourself is that you control the amount of added sugar. And we've made it every way imaginable, from no sugar at all or with a stevia sugar blend to a small amount of brown sugar.
You'll find so many ways to use it, from stirring it into your morning steel-cut oats at breakfast to drizzling it over yogurt.
When I needed a "glue" to hold together stuffing muffins, it was fully up to the task and gave them a spectacular burst of flavor.
It's not difficult to make this healthy apple butter recipe, but there's quite a bit of cooking time. Make it overnight, and your house will smell amazing in the morning. Problem solved!
Jump to:
Ingredients
You'll need just a few simple ingredients to make delicious apple butter with little to no sugar.
Apples - only use sweet apples!
Cinnamon
Nutmeg
Salt
Vanilla Extract
Optional Added Sweetener - see the section below for options.
Please see the recipe card at the bottom of this post for the complete list of ingredients with measurements plus recipe instructions.
Best Apples for Sugar-Free Apple Butter
Use sweet apples if you plan to cut back on the sugar. A variety of apples will give the best flavor. Apples on the sweeter side include:
Ambrosia
Honey crisp
Gala apples
Pink Lady
Golden Delicious
Red Delicious.
Tart apples, like Granny Smith, are easy to find in the grocery store. Use those in another recipe.
Do you have to use sugar to make apple butter?
No. You don't have to add any sugar at all to this homemade apple butter recipe. It's a matter of taste and dietary restrictions. The amount and type of sugar added is up to you!
I adapted this recipe from the one at My Baking Addiction. And, yes...the apple butter is divine. But I found that I absolutely didn't need as much sugar. I cut the amount in half, and in later batches, I cut it down even further.
I've made it with none at all. The sweetness of the apples and the spices make up the difference.
You can also use a sugar substitute or a sugar blend with a combination of refined sugar and stevia or erythritol.
Step-by-Step Process with Pictures
Here's the easy process to make healthy slow cooker apple butter that's sugar-free or low-sugar: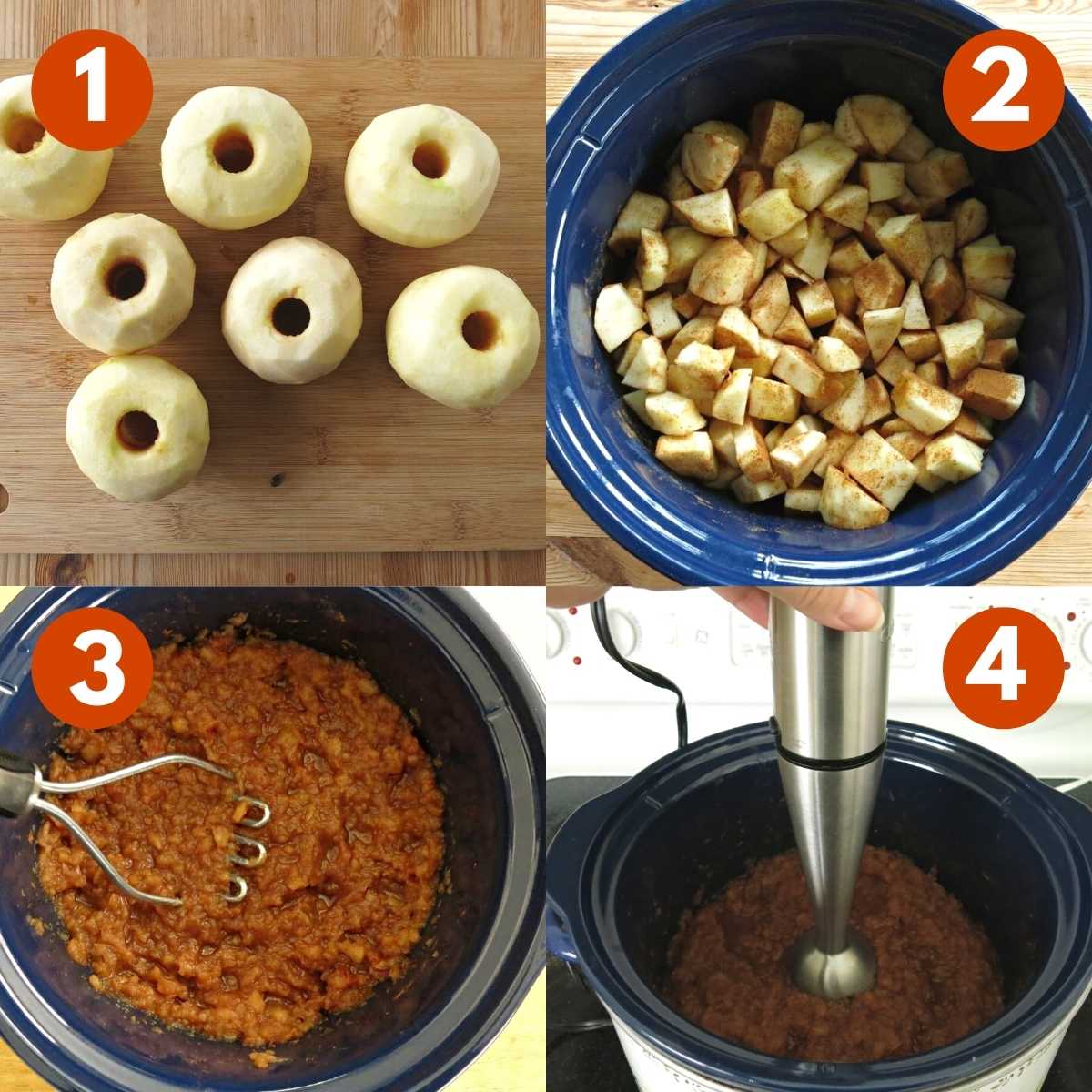 1. Core, peel, and chop apples. It sounds like quite an ordeal. But it's not that bad, particularly if you use an apple corer. This recipe makes A LOT of apple butter. Make a half batch if you're not planning to share it as a gift or want to avoid stowing some jars away in the freezer.
Note: Peeling the apples is optional! Puree the apple peels with the softened apples. The skins will almost disappear at the end of the process, with just a few small pieces here and there.
2. Place the apple chunks in a slow cooker and toss with spices (except for the vanilla) and sugar (if using.) Cover and cook on low in a slow cooker for 10 hours.
Tip: Cook it overnight and wake up to a home filled with an amazing aroma. You're welcome!
3. After the apples have been slow-cooked for 10 hours, stir in the vanilla extract and break up the apple slices with a spoon or potato masher. Re-cover and cook for 2 hours more.
4. Allow the apple mixture to cool, then puree it with an immersion blender, a regular blender, or in batches in a food processor. Process until the finish is smooth. However, it's okay to leave some chunks if that's how you roll. It will continue to thicken as it cools.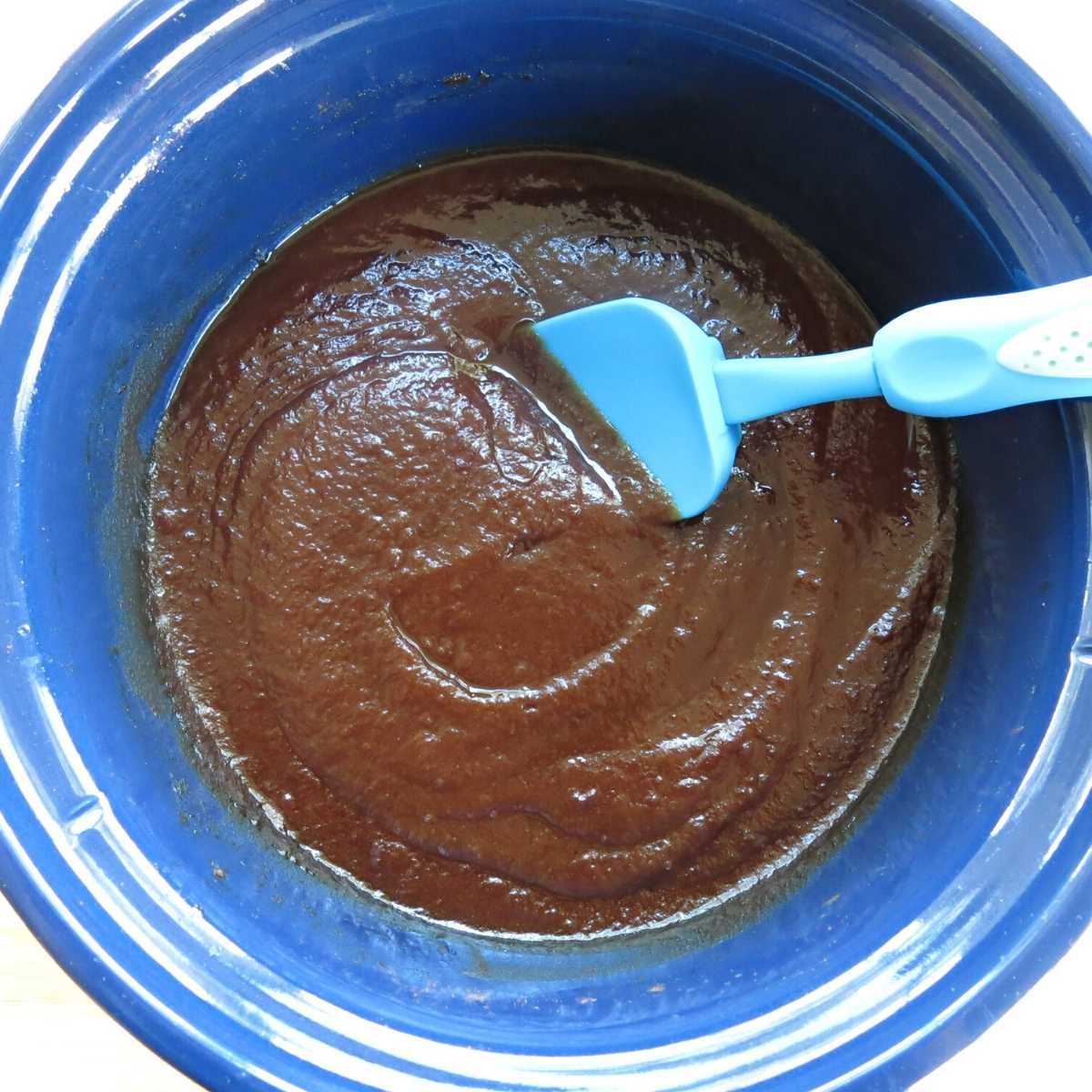 How to Make Apple Butter Thicker
Apple butter should be thick and creamy. Added sweetener helps make it that way. But it's not the only way!
Leave the lid ajar on the crock-pot for the last hour of cooking so that the excess liquid evaporates! Also, apple butter will continue to thicken as it cools.
If you're in a hurry, you can also make a slurry with 1 tablespoon of cornstarch and 1 tablespoon of water. Stir it into the apple butter.
FAQ
What is the difference between applesauce and apple butter?
Apple butter has been cooked longer and is more concentrated than apple sauce. It's thicker and has a more intense flavor. It's generally flavored with spices and extracts too. Apple sauce is made by cooking and processing apples until they are smooth. It typically has a thinner consistency and fewer spices added.
How do you know when apple butter is done cooking?
The consistency of the apple butter will be thick and silky, and slide off a spoon slowly. Cook it as long as you like. It will fall somewhere between apple sauce and apple butter.
Storage
This recipe makes about 8 cups. So, there will be plenty to share!
Spoon apple butter into an airtight container. Store in the refrigerator for up to 2 weeks or in the freezer for up to two months.
It makes a fun edible gift too. Decorate small mason jars with ribbons and tags if you are giving some away. Even better... pair it with a loaf of bread.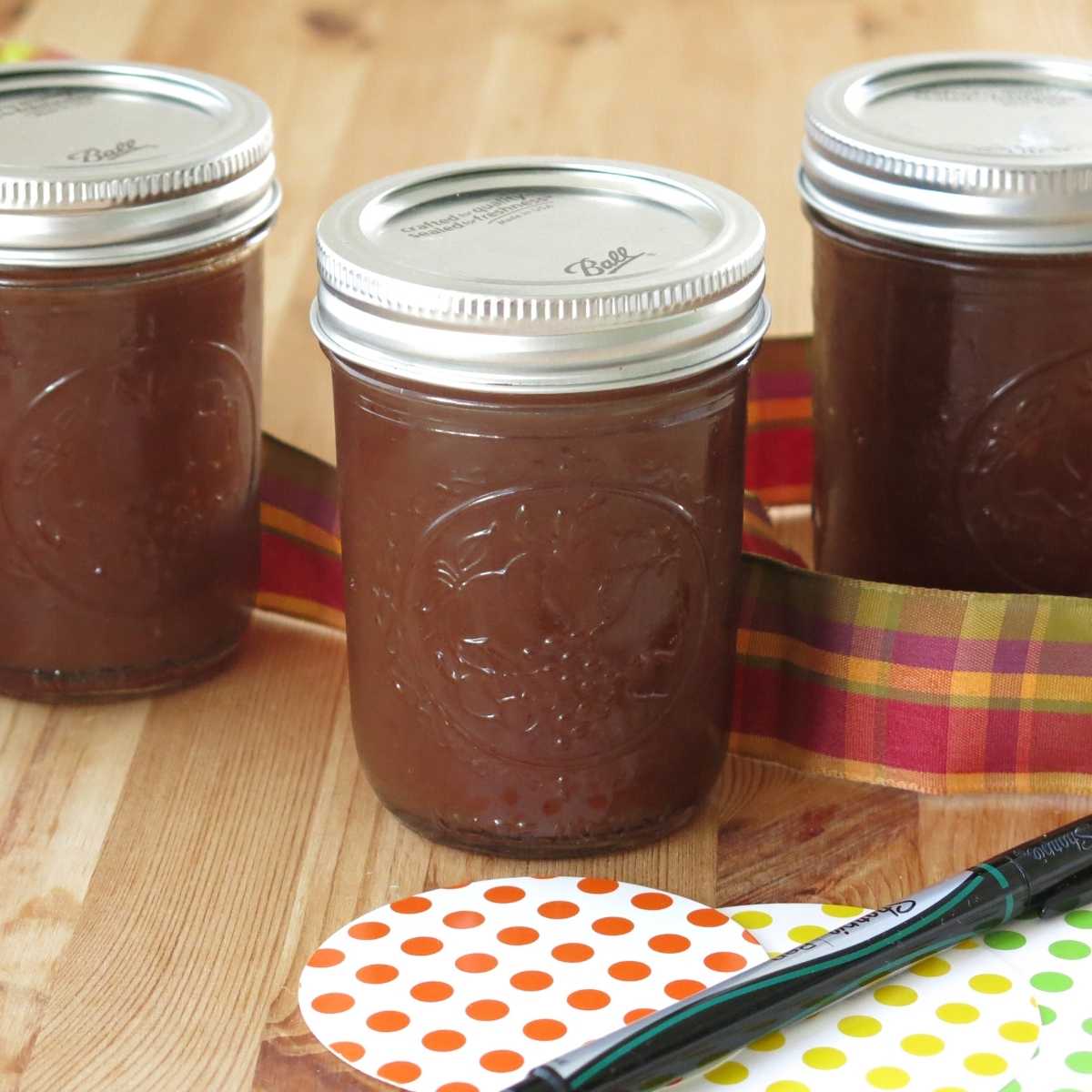 How to Use Apple Butter
There is no shortage of ways to enjoy it:
Slather it on toast, an English muffin, or crackers.
Stir it into oatmeal.
Drizzle it over pancakes or waffles.
Use as a dip for cookies and graham crackers
Use it as a sweetener for recipes that call for applesauce.
Top yogurt, whipped cottage cheese pudding, or ice cream with it.
These recipes also use or would be perfect with healthy sugar-free apple butter: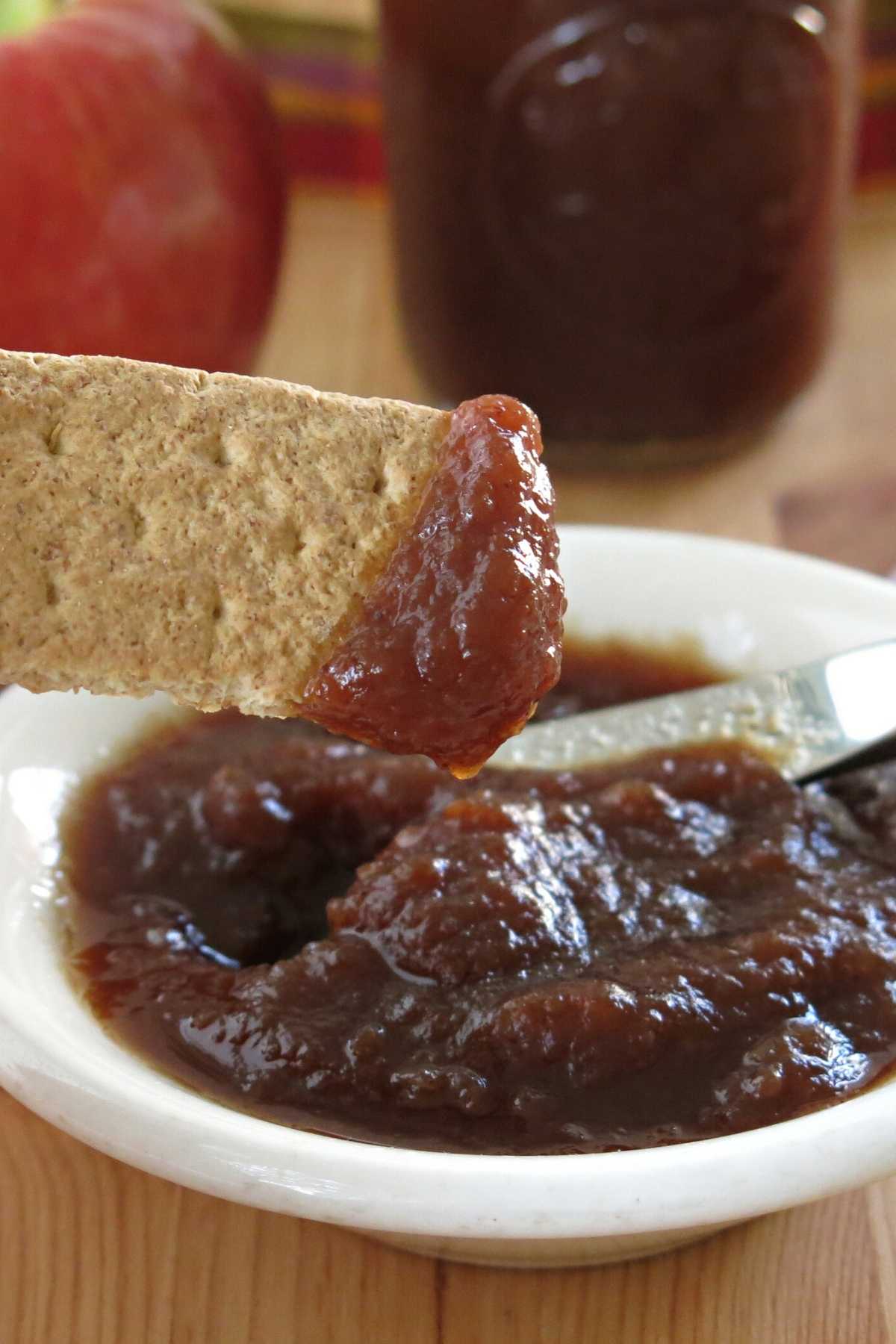 Did you make this recipe?
Please leave a rating and tell us how you liked it!
📋 Recipe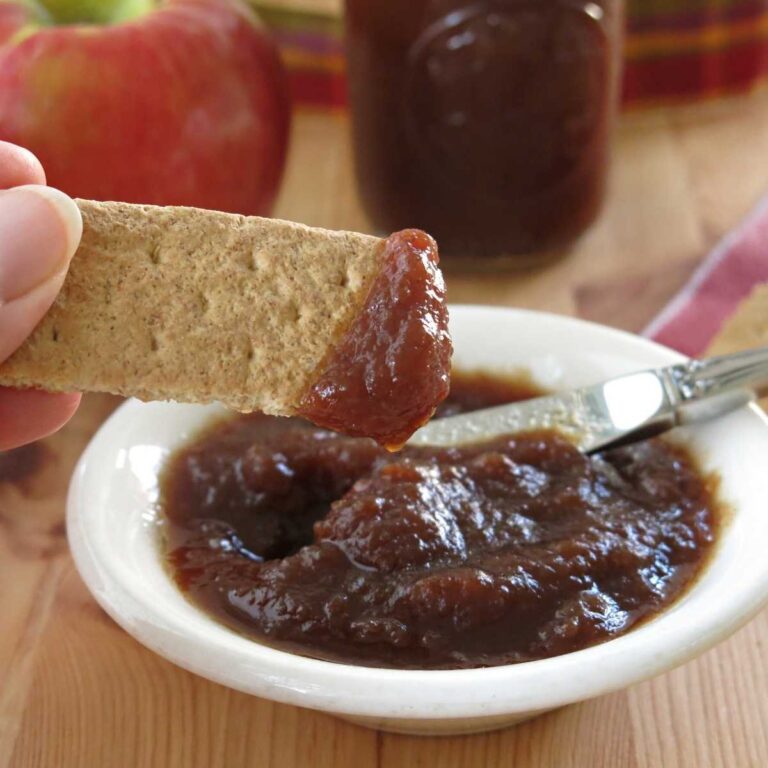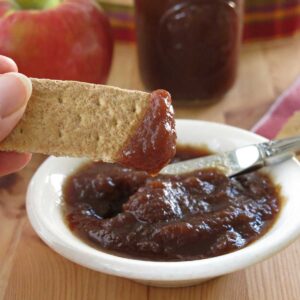 Crock-Pot Apple Butter (Sugar-Free or Low Sugar)
Make Crock-Pot Apple Butter sugar-free or with low sugar. This easy, healthy recipe naturally sweetens breakfast foods and desserts.
Email Ingredients + Recipe
Print
Pin
Rate
Ingredients
6

pounds

apples

A mixture of sweet apples, such as honey crisp, pink lady, gala, or golden delicious works best

1

cup

brown sugar (or sugar-free sweetener)

Use up to this amount or none at all. See notes below regarding options.

1

Tablespoon

cinnamon

½

teaspoon

nutmeg

¼

teaspoon

salt

1

Tablespoon

vanilla extract
Instructions
Core and slice apples and place them in the bottom of a crock-pot. Note: peeling is optional and can be pureed with the softened apples later in the process.

Mix together cinnamon, nutmeg, salt, and added sweetener if you're using any.

Toss apple slices with spice mixture.

Cook on low for 10 hours.

Stir in vanilla extract and crush large apple pieces with a spoon.

Cook on low for 2 more hours.

Optional: Leave the lid ajar for the last hour of cooking to allow excess liquid to evaporate if you feel like the apple butter is too runny.

Allow apples to cool slightly and then puree with an immersion blender or a regular blender (or transfer in batches to a food processor.) Apple butter will continue to thicken as it cools.

Transfer to an airtight container and store in refrigerator for up to two weeks or store in the freezer for up to 2 months.
Notes
See step-by-step photos and more tips above.
The recipe makes about 8 cups; the serving size is 2 Tablespoons.
The nutritional estimate assumes a full cup of sugar is used.
Added sweetener is optional. Use little to no sugar if desired. A stevia / erythritol blend may be used or combination of granulated, brown, and sugar substitutes will work.
Note: little sugar does help thicken apple butter.
Use sweet apples such as:
Ambrosia
Honey crisp
Gala
Pink Lady
Golden Delicious
Red delicious.
Grab 5 Low-Carb Sauces
and get more easy, healthy recipes! JOIN HERE
Nutrition
Calories:
36
kcal
|
Carbohydrates:
9
g
|
Protein:
1
g
|
Fat:
1
g
|
Saturated Fat:
1
g
|
Polyunsaturated Fat:
1
g
|
Monounsaturated Fat:
1
g
|
Sodium:
11
mg
|
Potassium:
51
mg
|
Fiber:
1
g
|
Sugar:
8
g
|
Vitamin A:
23
IU
|
Vitamin C:
2
mg
|
Calcium:
7
mg
|
Iron:
1
mg
Nutritional and Food Safety Disclaimer
This post was originally posted on 12/17/13 and has been updated to improve the reader experience.