This post may contain affiliate links. As an Amazon Influencer, I earn from qualifying purchases.
Make the best Stuffing Muffins with a handful of ingredients, including cranberries. Easy vegan recipe for stuffing cups.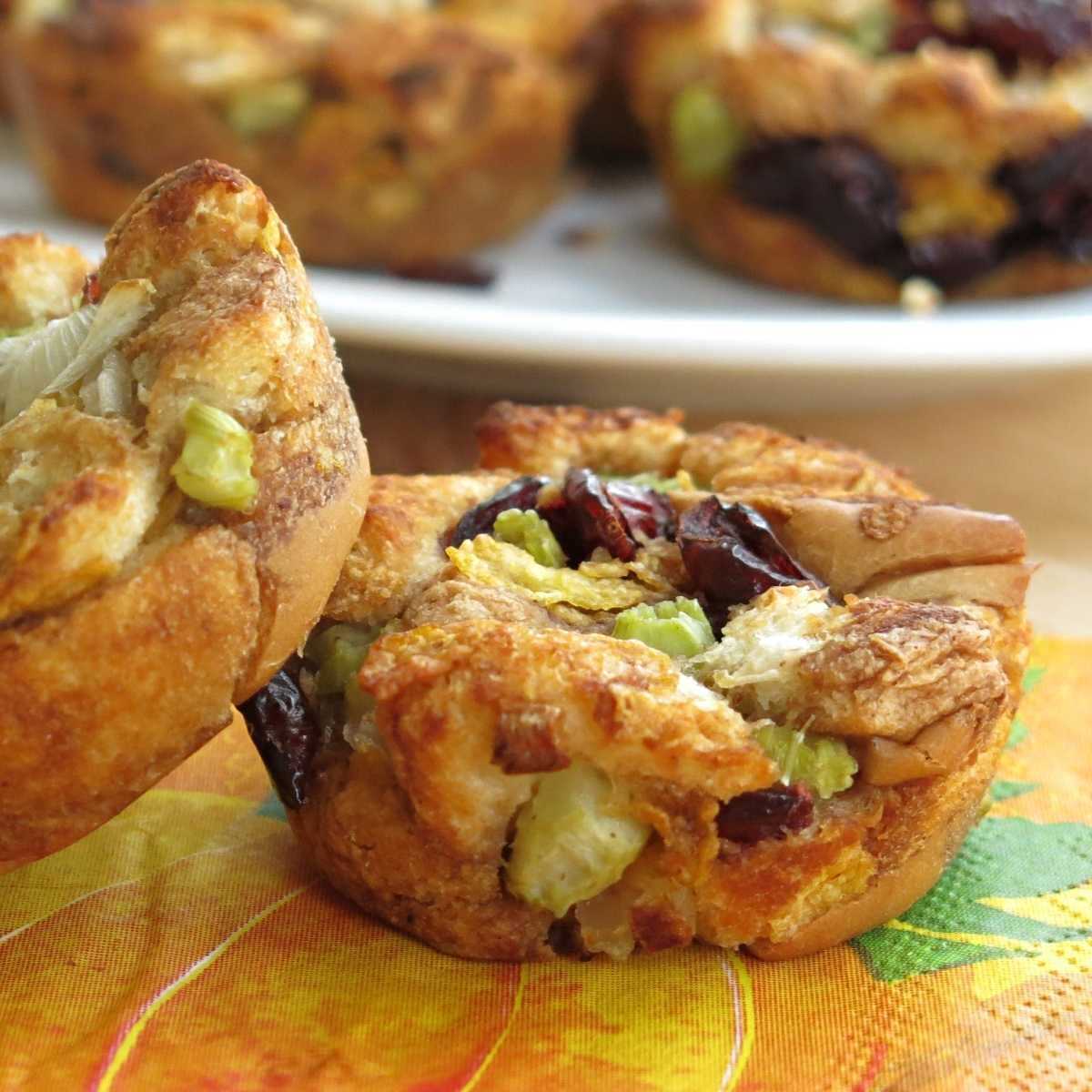 These muffin tin stuffing cups make Thanksgiving and Christmas dinners stress-free:
They're portioned controlled, and easy to serve.
Everyone gets to enjoy crispy edges!
This presentation adds a bit of fun and whimsy to the meal. They're kid-friendly, too.
On a day when oven space is at a premium, these stuffing muffins are efficient to store and warm.
You can make them ahead of time.
They don't require a stovetop. Just mix and bake.
They are egg-free and dairy-free and loved by everyone!
Stuffing can be a source of much debate at holiday dinners. Everyone has their favorite ingredients and methods passed down through the years. So it's with trepidation that I dabbled with our traditional oven-baked stuffing.
Luckily, these stuffin' muffins share many of the same ingredients as the classic side dish. So, you can easily make both, which means there are lots of leftovers. And that's always a good thing.
You generally don't associate apple butter with stuffing (although apples definitely are!) It happens to be the "glue" that holds everything together.
Make a batch of our Low Sugar Crock Pot Apple Butter or buy a jar at the store. You won't regret using it to make these tasty little muffins.
Jump to:
Ingredients
Here's what you'll need to make these easy stuffing muffins:
Soft bread - gluten-free or low-carb may be used, but it should not be crusty.
Apple butter
Cranberries or raisins
Onions - finely diced
Celery - finely diced
Cornflakes - crushed
Directions with Pictures
Here's how to make stuffing cups in a muffin tin:
STEP 1 Generously grease muffin tin wells with vegan butter. It helps form the outer crust, and the stuffing muffins will pop right out when they are done.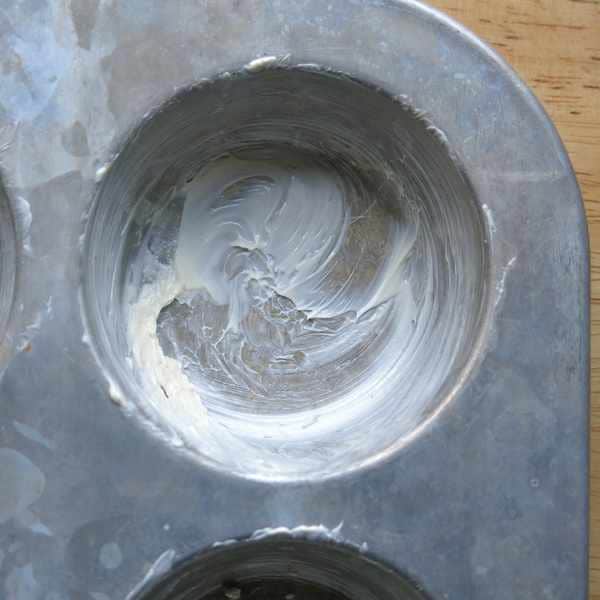 STEP 2 - Cut soft bread into small cubes and drizzle with apple butter. Note that this bread is soft, not stale or dried, and not extremely crusty either. Gently toss the bread cubes with a fork so that the apple butter is evenly distributed. Use our recipe for Crock Pot Apple Butter that is lower in sugar, or use your favorite brand.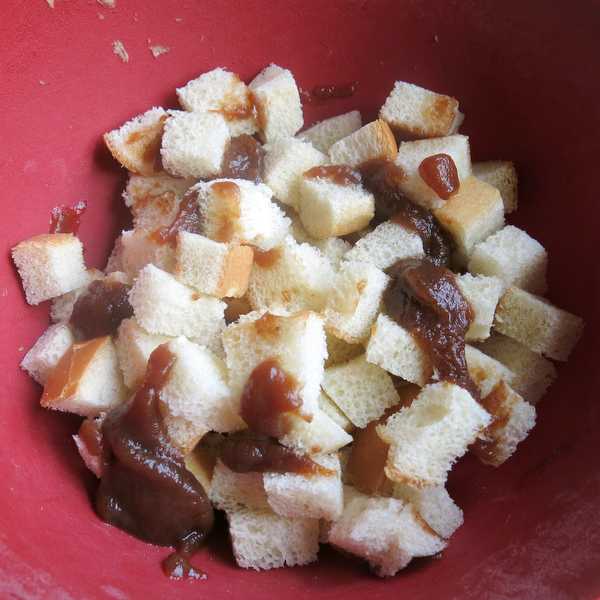 STEP 3 - Place 5-6 bread cubes in the bottom of the muffin tin wells to ensure that the bottom is solid. The bread cubes should be very lightly coated with apple butter. (If you have too many goodies on the bottom, the muffin will not stick together, so wait before adding the other ingredients.)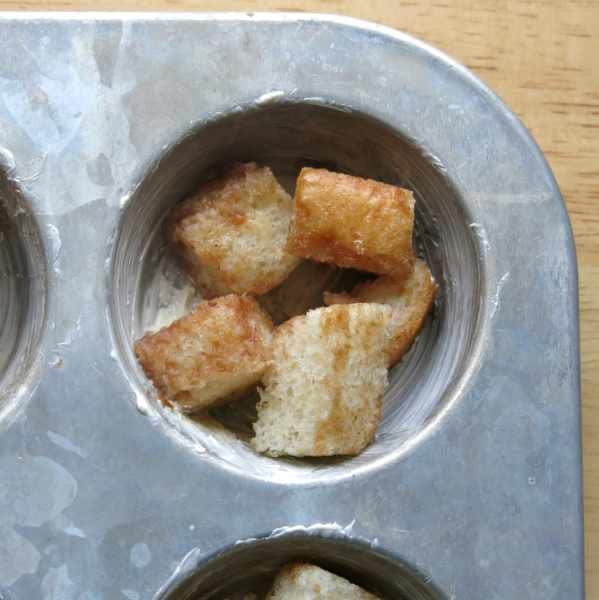 STEP 4 - Stir together the remaining bread cubes, finely diced celery and onion, crushed cornflakes, and dried cranberries. Toss with a fork to combine.
In case you are wondering...
No. You don't need to saute the onions and celery first. They will soften as the muffins bake.
Corn flakes? Yes. It's one of the secret ingredients in our family stuffing recipe and adds a delicious crunch. You can use chopped walnuts or pecans instead, though.
STEP 5 - Spoon more bread cubes and goodies into the muffin tin wells being carefully distributing the ingredients. The vegetables and other goodies will gravitate to the bottom, so be sure to dig down to the bottom of the bowl. Each well should be overflowing.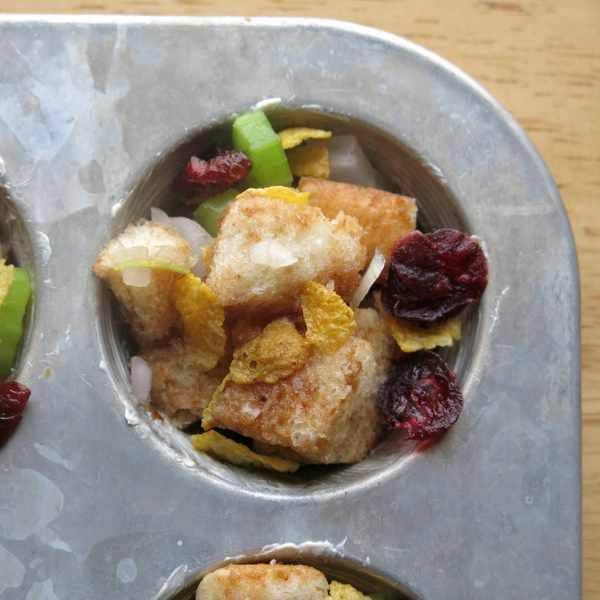 STEP 6 - Press the mixture down with a measuring cup, spoon, or your hands. The once-mounded muffin ingredients should now fill up about half the muffin tin well. This step is absolutely necessary to make the breading "stick" together during the cooking process. Trust me!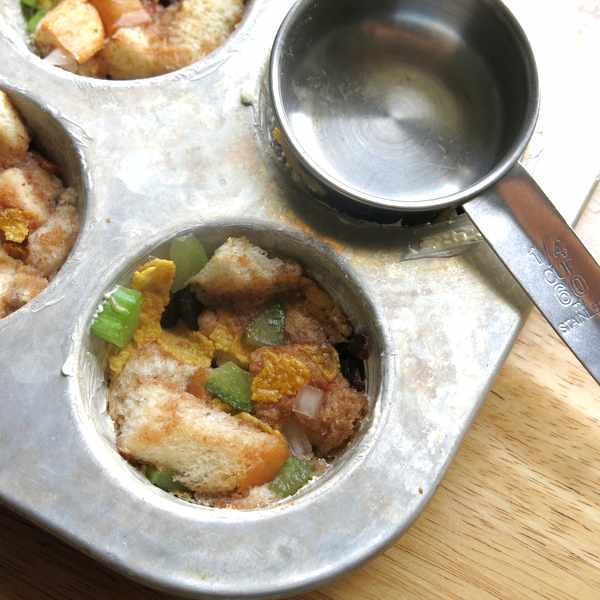 STEP 7 - Bake the stuffing muffins in a 375°F oven for 20-25 minutes. The tops should be browned and firm to the touch. Allow the muffins to cool in the pan for about 10 minutes, and then carefully pop them out with a fork. Serve warm or at room temperature.
Make Ahead Tips
Prepare this recipe up to 2 days in advance and store the stuffing muffins in the refrigerator. Wait until the day of serving to bake in the oven. Or, bake at the time of preparation and reheat in the oven or a toaster oven before serving for about 10 minutes. We do not recommend using the microwave.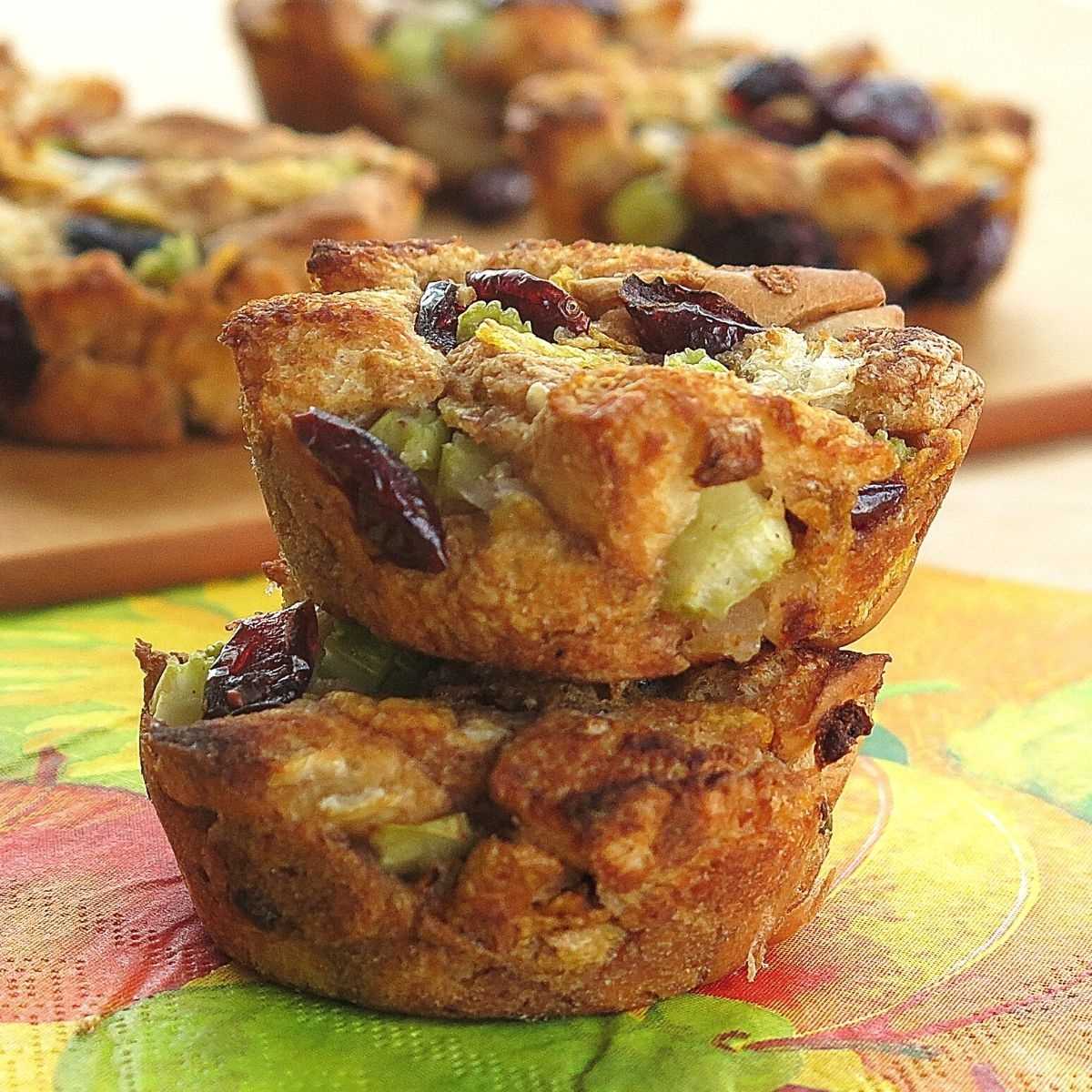 Can you freeze stuffing muffins?
Stuffing muffins store very well in the freezer. For best results, wrap individually in plastic wrap. When ready to enjoy, remove them from the freezer to the refrigerator and allow them to defrost overnight. To reheat, remove the muffins from the plastic wrap and warm in a toaster oven for about 10 minutes. Use within 2 months of freezing.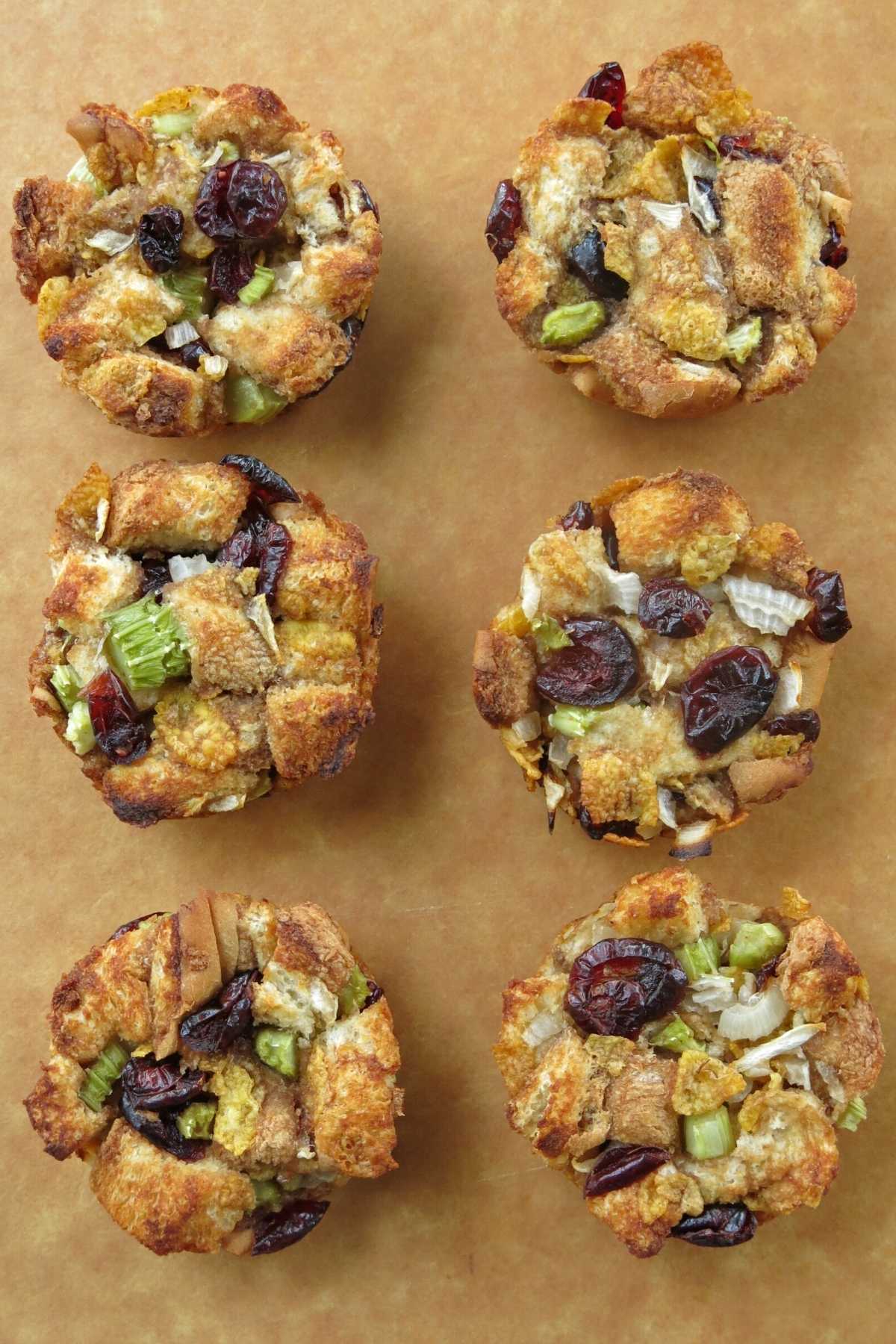 These stuffing cups are so easy to make...don't wait for the holidays to enjoy them!
More Holiday Side Dish Recipes
Did you make this recipe?
Please leave a rating and tell us how you liked it!
📋 Recipe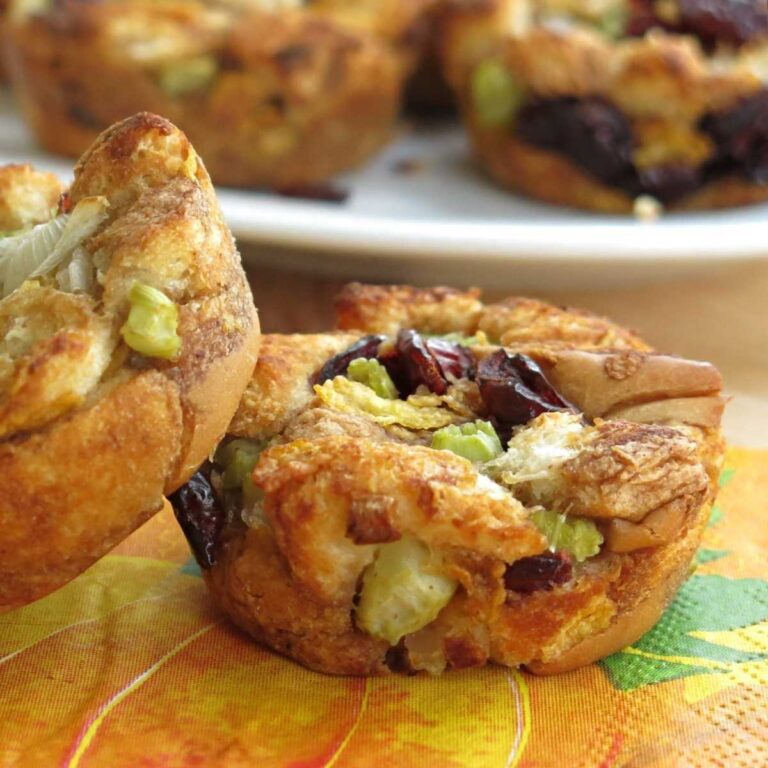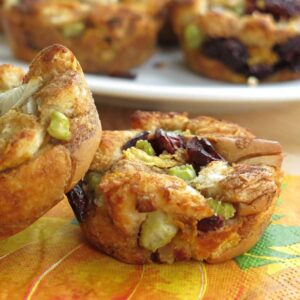 Easy Stuffing Muffins or "Cups"
Make the best Stuffing Muffins with a handful of ingredients, including cranberries. Easy vegan recipe for stuffing cups.
Email Ingredients + Recipe
Print
Pin
Rate
Ingredients
8

cups

soft bread

cut into 1-inch cubes (about 2 slices of bread equals 1 cup); gluten-free if needed

1

Tablespoon

Vegan Butter

for greasing muffin tins

¼

cup

apple butter

½

cup

celery

finely diced

½

cup

onion

finely diced

½

cup

corn flakes, gluten-free

crushed; regular or gluten-free

½

cup

dried cranberries
Instructions
Generously grease 12 muffin tins with butter.

Drizzle apple butter over bread cubes and gently toss with a fork to evenly coat.

Place 4-5 bread cubes in the bottom of each muffin tin.

Add celery, onion, corn flakes and dried cranberries (a.k.a goodies) to remaining bread cubes.

Fill each muffin tin with the bread cube and goodies mixture being careful to get both bread and goodies in each muffin tin. (The goodies tend to fall to the bottom of bowl.)

Press the mixture down with the bottom of a measuring cup, spoon or with your hands until the mixture is compact and fills up about half of the muffin tin.

Add additional bread cube and goodies mixture to each tin so that it is heaping slightly over the top.

Again, press the mixture down so that is compact and just even or slightly over the top of the muffin tin.

Bake for 20-25 minutes or until the top is browned and firm.

Allow stuffing muffins to cool in the muffin tin for about 5-10 minutes.

Gently remove stuffing muffins with a fork.

Enjoy warm or at room temperature.
Notes
See step-by-step pictures are more tips above.
Grab 5 Low-Carb Sauces
and get more easy, healthy recipes! JOIN HERE
Nutrition
Calories:
129
kcal
|
Carbohydrates:
24
g
|
Protein:
3
g
|
Fat:
2
g
|
Cholesterol:
2
mg
|
Sodium:
185
mg
|
Potassium:
64
mg
|
Fiber:
1
g
|
Sugar:
7
g
|
Vitamin A:
70
IU
|
Vitamin C:
0.9
mg
|
Calcium:
90
mg
|
Iron:
1.6
mg
Nutritional and Food Safety Disclaimer