Got 15 minutes? Then you can enjoy a delicious plate of Apple Dessert Nachos featuring Ambrosia apples. They're a stunner at the holiday dessert table and healthy too!
We fancy ourselves apple lovers at our house. An apple day keeps the doctor away…as the saying goes. You'll find them in lunch boxes, at the bottom of my purse and in a big bowl on the counter.
We make apple chips, apple butter and make microwave baked apples topped with granola.
Yep. Apple lovers. 🙂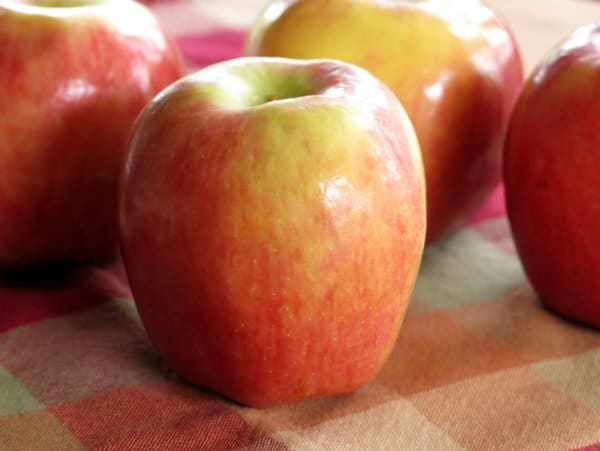 Then, along came Ambrosia Apples…proof that not all apples are created equal.
The first time we tried this relatively new apple variety (it's only 10 years old,) it knocked our flip flops off (hey, we're in Florida!) They are hands-down the sweetest apples we've ever tasted. And, sooo crisp. Nature's candy! They truly live up to their name which means "Food of the Gods."
I'm gushing. I know. But, they're stunning to behold with their bright reddish blush over a creamy yellow background.
And, easy to work with too. They don't turn brown as quickly as other apples when they are sliced and they retain their shape in pies and tarts.
My love affair with apples has reached a new high. I originally wrote about these apples in December 2014 and I still buy them every time they are available at the grocery store!
How to Make Apple Dessert Nachos
What's a girl to do with an irresistibly sweet apple at the holidays?  Make apple dessert nachos, of course!
Check out the delish toppings on these babies. They are pretty healthy too. In less than 15 minutes, you (and your family or friends…of course) can sit down to a delicious plate of apple nachos.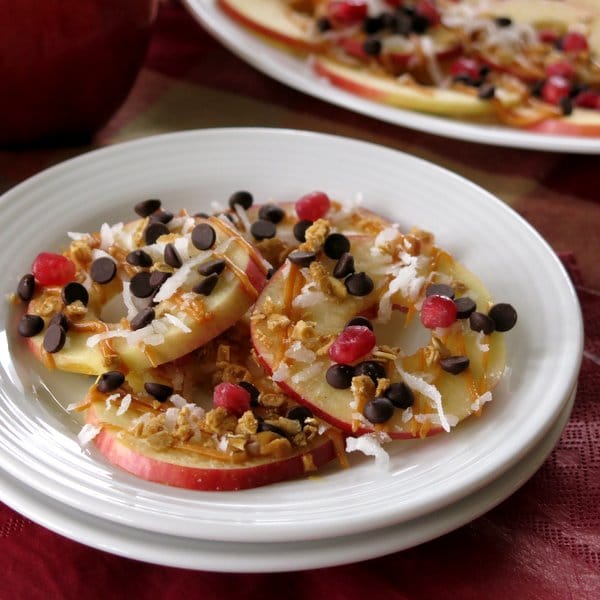 A few tips…
Spread the apple slices out on several plates or a large platter before you begin the layering process…so each slice gets a share of the goodies. No stacking!
The sweetened nut butter can be drizzled with a spoon when slightly heated. Or, spoon it into the corner of a plastic bag, nip the corner and pipe it over the apple slices.
The apple slices can be any thickness desired or even wedges. Use the thickest setting on a mandoline or the apple slices are just too flimsy.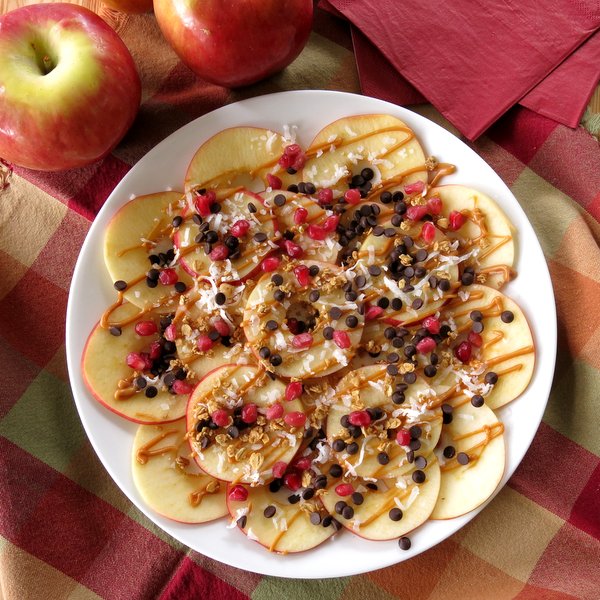 They are sure to wow the crowd at the dessert table!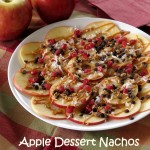 Ambrosia Apple Dessert Nachos
Got 15 minutes? Then you can enjoy a delicious plate of Apples Dessert Nachos featuring Ambrosia apples. They will be the stunner of your holiday dessert table and they're healthy too!
Ingredients
4

Ambrosia Apples

1/4

cup

almond butter

or favorite nut butter; sunflower seed butter also works well

1

Tablespoon

honey or agave nectar

1/4

cup

coconut flakes

1/4

cup

mini chocolate chips

1/4

cup

granola

1/4

cup

pomegranate arils
Instructions
Slice apples into thin 1/4 inch slices (I used the 3 setting on a mandoline)

Arrange slices on a platter slightly overlapping pieces.

Stir almond butter and honey together and warm in the microwave for 10-15 seconds.

Drizzle almond butter mixture over apples.

Scatter remaining ingredients over the apple slices.

Enjoy!
Nutrition Facts
Ambrosia Apple Dessert Nachos
Amount Per Serving (4 g)
Calories 228
Calories from Fat 99
% Daily Value*
Total Fat 11g 17%
Cholesterol 1mg 0%
Sodium 10mg 0%
Potassium 262mg 7%
Total Carbohydrates 32g 11%
Protein 3g 6%
* Percent Daily Values are based on a 2000 calorie diet.
Enjoy!
NEVER MISS A RECIPE! SUBSCRIBE BY EMAIL & RECEIVE A FREE GIFT!
FOLLOW ME: