Wondering how to declutter and organize a pantry so you can quickly find what you need? Follow these steps to clean out and makeover this important space in your home. You'll find lots of ideas and tips for small kitchens too!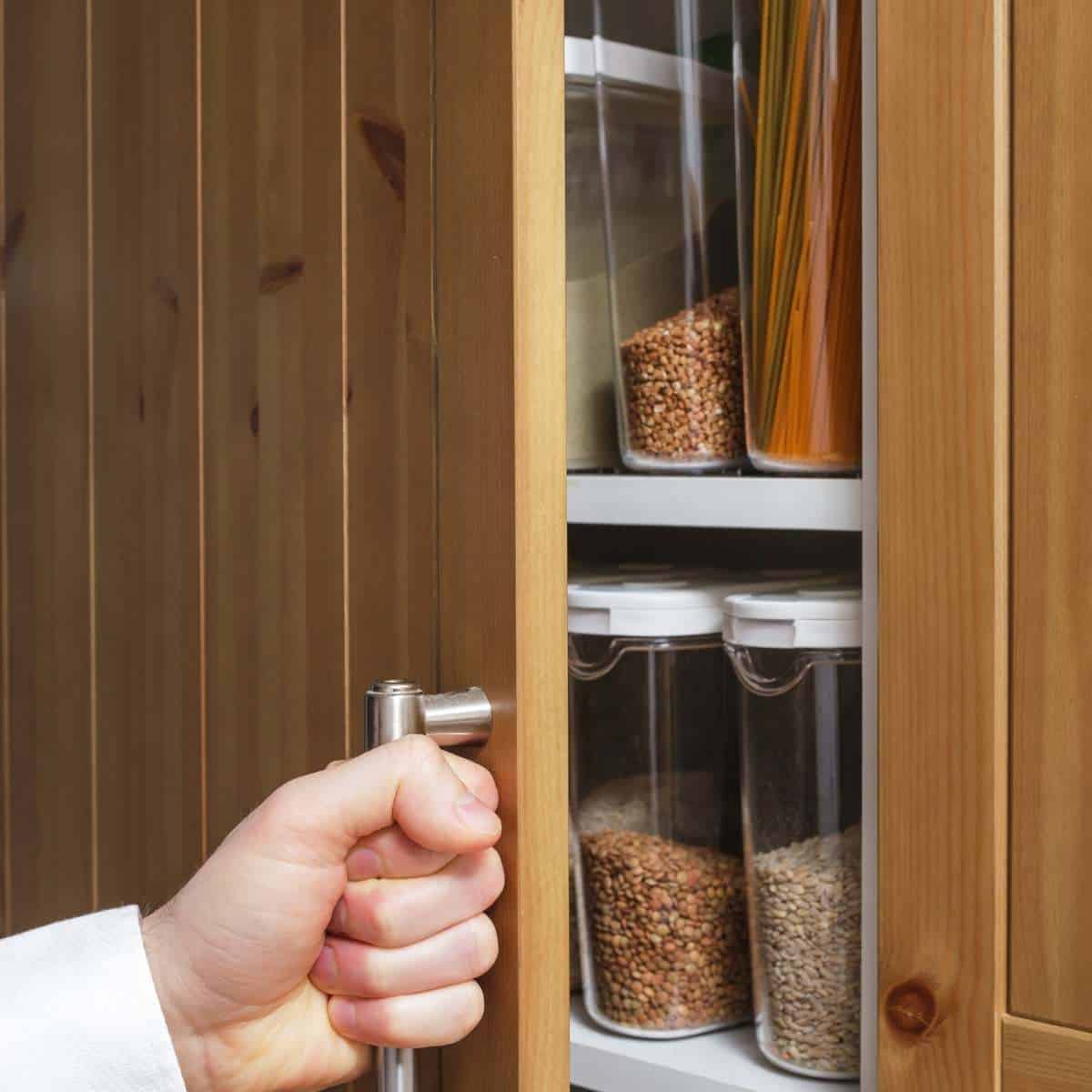 If you're working through our Healthy Kitchen Reset series, then you already have a cabinet of organized spices! Congratulations. We're going to use the same process to sort out and arrange everything else in that area.
1. Take Everything Out
Pull out ALL of your pantry items and place them on a large table. Group similar items together, such as canned goods, flours, cereals, unopened condiments, etc. Include items that are normally stored on the counter or tucked away in a different area too, such as coffee or fresh fruits and vegetables.
At this point, I also like to step back and take in just how much food I'm lucky enough to have!
2. Clean the Shelves
Take this opportunity to remove the crumbs and wipe the surfaces clean. Replace shelf paper that's soiled.
3. Toss Expired Ingredients
Throw away ingredients that are old or past their prime.
TIP: As you go through the items, use a marker to re-write the expiration date in big lettering so you don't have to hunt for it next time!
4. Donate Items that Don't Fit Your Goals
If you're making a fresh healthy start in your kitchen, then now is the perfect time to critically think about each category of items and determine if you want to make changes. As you pick up each item, ask if it is moving you toward your lifestyle goals.
Do you want to enjoy more whole grains, eat less sugar or eliminate processed foods?
If you have unopened items that are still good, donate them to a charity! If they're partially used, think about making up a dish as a gift.
5. Assess Dry Good Storage
Have you ever admired a pantry that has all of the dry goods lined up in neatly labelled storage containers? It's not just for looks!
Reasons to Decant Dried Goods
It prevents pests and insects from making their way into your food.
Clear containers allow a quick assessment of what you have on hand.
You can buy things in bulk and save money.
It allows for efficient use of space.
Honestly, I cringe at the idea of going through a process like this. But, it can save money in the long run. At a minimum, I move flours and sugar to containers that are easy to scoop from. I put smaller bags in a sealable plastic bag. If it's an item with a quick turnover, such as cereal, I do don't a thing!
If you take this step, be sure to select storage containers that will meet your needs for scooping and measuring. Also, don't forget to label the container with the contents and the expiration date.
You may even want to store some items in the refrigerator or freezer instead.
6. Organize for Easy Use
Next, assess the space that's available for pantry items! The ultimate goal is to have a designated area for everything that makes sense for your family and eating style.
Also, you want to be able to easily see what you have on hand.
Pantry Groupings
The most common way to store items is like with like. Some groupings to consider:
canned goods
pasta/rice
unopened condiments
cereals
flours and baking items
oils and vinegars
drinks
But that's not the only way!
Another option: Consider creating a group for a specific need, such as afternoon snacks, breakfast options and quick dinner essentials.
TIP: Create a specific area for things that are about to expire so you can plan to use them up ASAP. This really has saved me many times from throwing an expensive item out!
Storage Space (Especially for Small Pantries)
I sincerely hope you have a big pantry that you can walk into and turn around. But, if you're like me, then your allocation for pantry space may be small to not existent (been there!) Don't panic.
First, identify all the potential spaces you have. Here are some ideas:
Dedicated Pantry - Your dwelling may have one or you may be able to designate a convenient closet as your pantry.
Cabinet - upper and/or lower ones
Wall shelving
Counter space - store spices, vinegars or often used baking goods in attractive containers.
Drawers - perfect for strategic groupings such as coffee.
Purchased storage unit like an armoire, rolling island or converted office supply cabinet.
Back of a door with space for hanging rack.
I'm definitely not suggesting you scatter your pantry about the kitchen! It's best to try to keep everything in one place. But, if you don't have much to work with, then you might need a couple of locations.
If you're going to create a special grouping for snacks, then it might make sense to keep that in a different space.
Arrange for Easy Access
The goal is to arrange your pantry so you don't have to move things around too much to see what you have. That's a sure way for it to get messed up when in a hurry. Ideally, you should be able to see everything!
Here are some storage accessories to accomplish this:
Risers or Tiered shelves - perfect for cans!
Lazy Susan Turn Table - they come in buckets too which is great for tall slender items, like oils and vinegars
Pull Out Bins - be sure to label!
Over the Door Racks - perfect for solid pantry doors!
More Arrangement Tips
As you're spacing everything out also do these things:
Rotate items so that new items are behind older ones (a.k.a. LIFO - last in first out for my accounting friends!)
Leave extra space for new items, especially when you have just done a pantry purge.
Consider a u-shaped arrangement for deep shelves.
Adjust shelf height to maximize space if you can.
Reconsider the location of non-food storage items, such as paper goods.
Tips to Keep the Pantry Organized
You're not done! Follow these tips to keep your pantry organized, in stock and fresh year round.
Circle or re-write the expiration date with a Sharpie when you're unpacking the groceries so you can quickly see the date.
Label bins and spaces and make sure everyone knows where to look and put things back.
Keep an ongoing shopping list that everyone uses to keep track of things that are running low. For example, keep a magnetic pad on the refrigerator door.
Set a date to review your pantry periodically. For example, do a quick check before you go to the grocery store, on trash day or seasonally. It won't take much time once it becomes a routine.
More Ways to Declutter and Organize
Join the conversation!
Leave a comment below with your tips and suggestions.