This post may contain affiliate links. As an Amazon Influencer, I earn from qualifying purchases.
Use a free printable Habit Tracker and Goal Planner to chart a path and achieve your goals! There's a weekly and monthly version and easy instructions. Looking for inspiration to get started? Check out the mini and micro habit examples.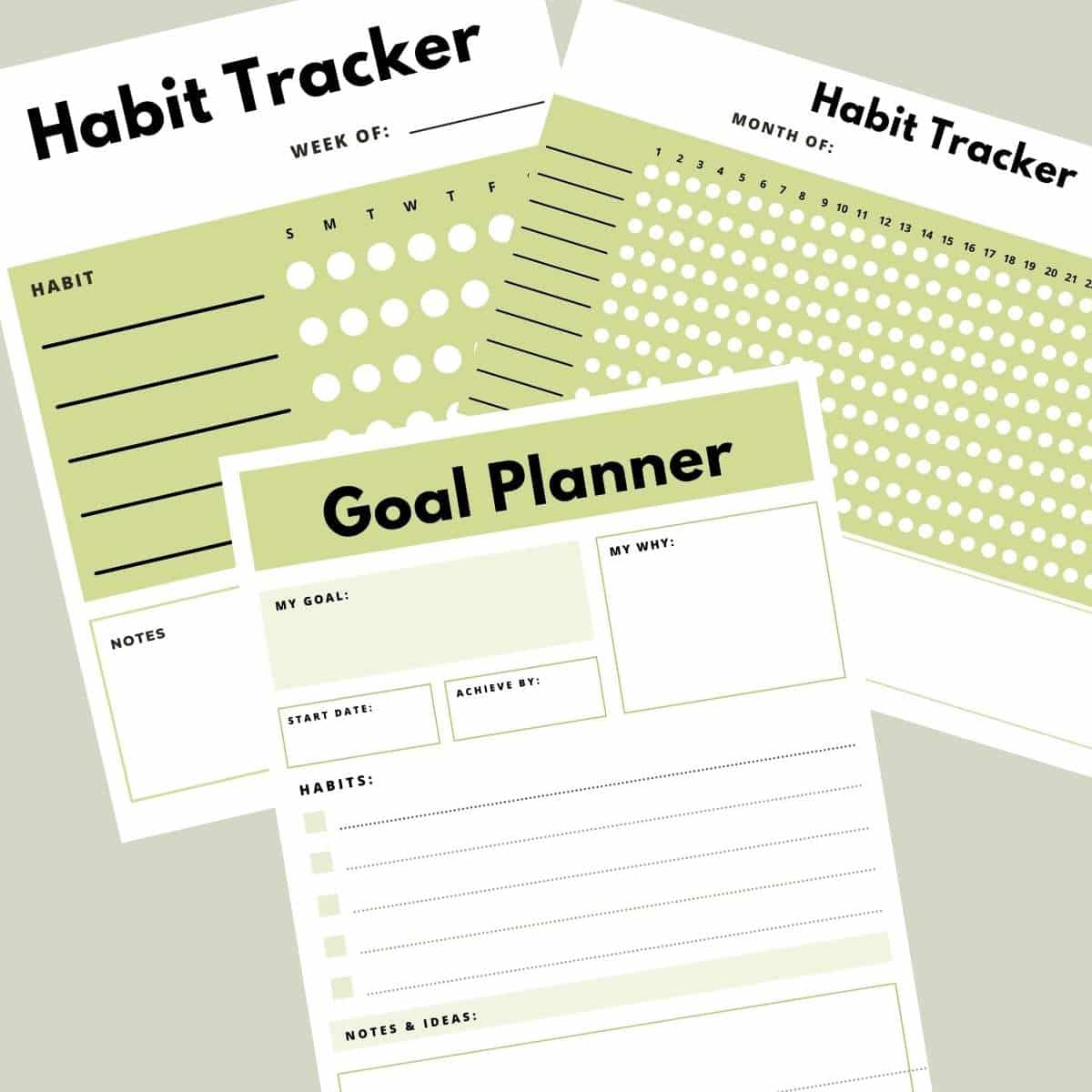 Today is the perfect time to get started on your journey to better health and your goals. It doesn't matter what day of the year it is! And, you don't have to purchase a detailed, expensive plan either. You just need to jump in and get started.
The thinking behind this framework and these trackers is that performing small daily actions that are in alignment with a goal will slowly inch you towards success. It's the snowball effect! Small, incremental changes add up.
Although these printables are generic and helpful for any habits you want to develop, the focus below is on health and wellness.
Jump to:
How to Use the Goal Planner
The Goal Planner is a place to document an overall health and wellness goal, why it's important and the habits or actions that align with achieving it.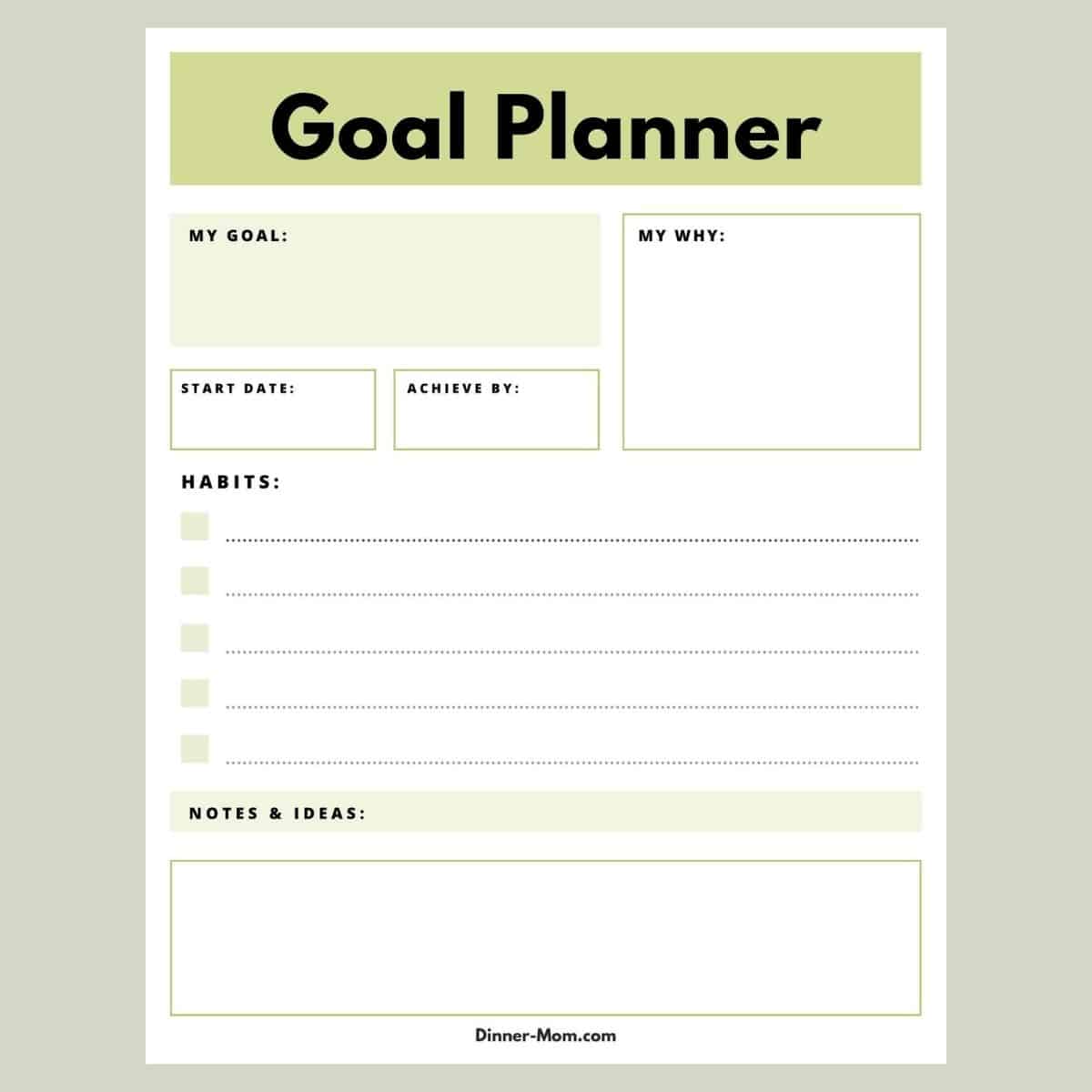 Print the Goal Planner.
Write down your goal. It can follow all the requirements for a SMART goal, such as being specific and measurable. But, it doesn't have to. It's your plan. The point is to get started and know what area you want to work on. For example, if losing weight is your goal, then you can set a target weight. But, if you're not ready to do that and just want to have the energy to go on a bike ride, then so be it. Don't let goal setting stop you from forming better habits!
Write down why the goal is important to you. This section is really important. Having specific reasons that evoke emotion make goal achievement more likely. You'll also be able to look back to this area when things aren't going the way you like and remember why you wanted to make changes in the first place.
Identify 3-5 key habits or actions you can take to support the goal. Start with just a few changes and build upon success. The habits you track will change over time. Some may become so automatic that you don't need to track them. You may also decide to add others as you move forward.
Revisit and revise your goals and habits. Review your goals, habits and successes periodically. There's a notes section to record your thoughts! Use a timeframe that works for you. It could be monthly, with the seasons, or just twice a year.
Save the Goal Planners in a binder or folder to look back on and see your progress over time.
How to Use the Habit Trackers
Use a Habit Tracker alone to track things that are important to you or in conjunction with the Goal Planner. There are 2 different versions to choose from: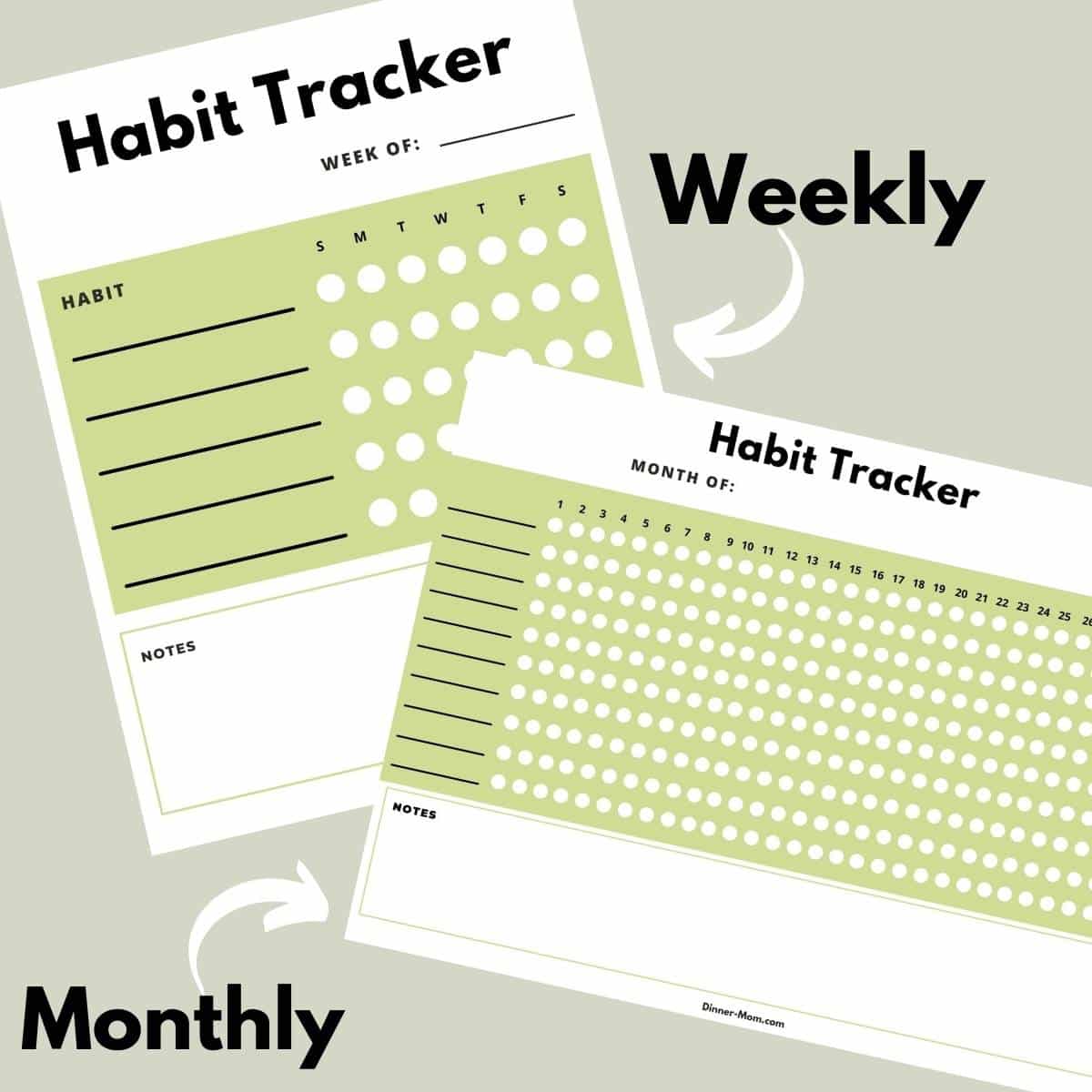 Print the weekly or monthly Habit Tracker.
Write down the habits you want to track.
Fill in or mark the circle when you complete the habit that day. Use the notes section when something goes wrong or especially right!
Keep the tracker in a place where you will remember to use it, such as with a planner or on the refrigerator.
Assess your progress at the end of the week or month, make notes and changes if necessary!
Save completed trackers so you can look back at how far you've come on your journey. Or, laminate them and use a dry erase marker to track your progress.
My Journey and Habits
I can't tell you what your goals or habits should be. But, I can tell you a little about mine and how instilling a few small habits has been a catalyst for bigger changes in my life.
Disclaimer: I'm not in the medical field. Consult with your doctor before making changes to your diet or exercise routine.
My goal: To avoid all complications from being overweight including diabetes and high blood pressure. To stop eating when I'm not hungry. I also want to have lots of energy!
My why: I want to be running around doing all the things I love as long as I can. I hate medical bills too! This particular hit home when I started helping with the care of my parents!
My plan: Identify behavior changes or steps that I could easily take that aligned with my goal. They had to be things I could incorporate into my lifestyle that I knew I could keep doing forever.
I'm not a nutritionist, a fitness trainer or in the medical field. But, I am familiar with many diet plans, both from helping people modify recipes at our stores, writing articles for this site and from personal experience. I'm no stranger to exercise either.
I drew on my experiences and what worked for me in the past to figure out a few habits to get me started. Note that I do have a medical professional that I can speak with if I need to. Bear this in mind if you decide to tackle some goals on your own.
Other diet notes: I don't follow a particular diet and try to eat mindfully. Nothing is off limits. But, I try to make healthy choices most of the time and I rarely eat after I finish dinner.
I aim for about 50 carbohydrates at any given meal and I am very aware of the carbohydrate, fiber, protein and salt content for various foods. To large extent I follow the new keto-friendly South Beach Diet guidelines, which I why I have a section for South Beach Diet Phase 1 recipes! I also strive to follow clean eating basics.
The result: It's working! I feel better than I have in years.
So without further delay, below you'll find a few habits that I used to get started and may provide inspiration as you craft your own plan.
1) Brush teeth after every meal or snack
This may seem like a bizarre habit to start with but I can't begin to tell you how much this habit has helped me stop emotional eating. I immediately brush my teeth after every meal or snack.
I'm constantly surrounded by food for my business and because family members eat and snack at different times during the day. This habit has gotten me through Halloween candy, seconds at Thanksgiving dinner, and all the bread, cake and cookies my daughters have been baking during this crazy year.
Basically, I decide what I'm going to eat, which may include a small slice of a delicious cake, enjoy the meal, and then head to the bathroom when I'm finished. I brush before I even start the dishes and even when I'm out.
This little trick has helped me to more easily recognize when I want to eat out of emotion instead of hunger.
I want to be clear. I'm not saying there's a scientific basis for this habit. Google it. I can't find one.
It's just a little action I find very helpful and just happened to result in very short and positive dentist visit too!
Traveling? I carry a travel toothbrush and toothpaste with me.
Another option: Gum!
2) Do a baseline amount of exercise daily
I set a baseline amount of aerobic movement that I do every single day. I can go over, but I can't go under! For me it's 20 minutes of cardio and a couple of exercises in the morning.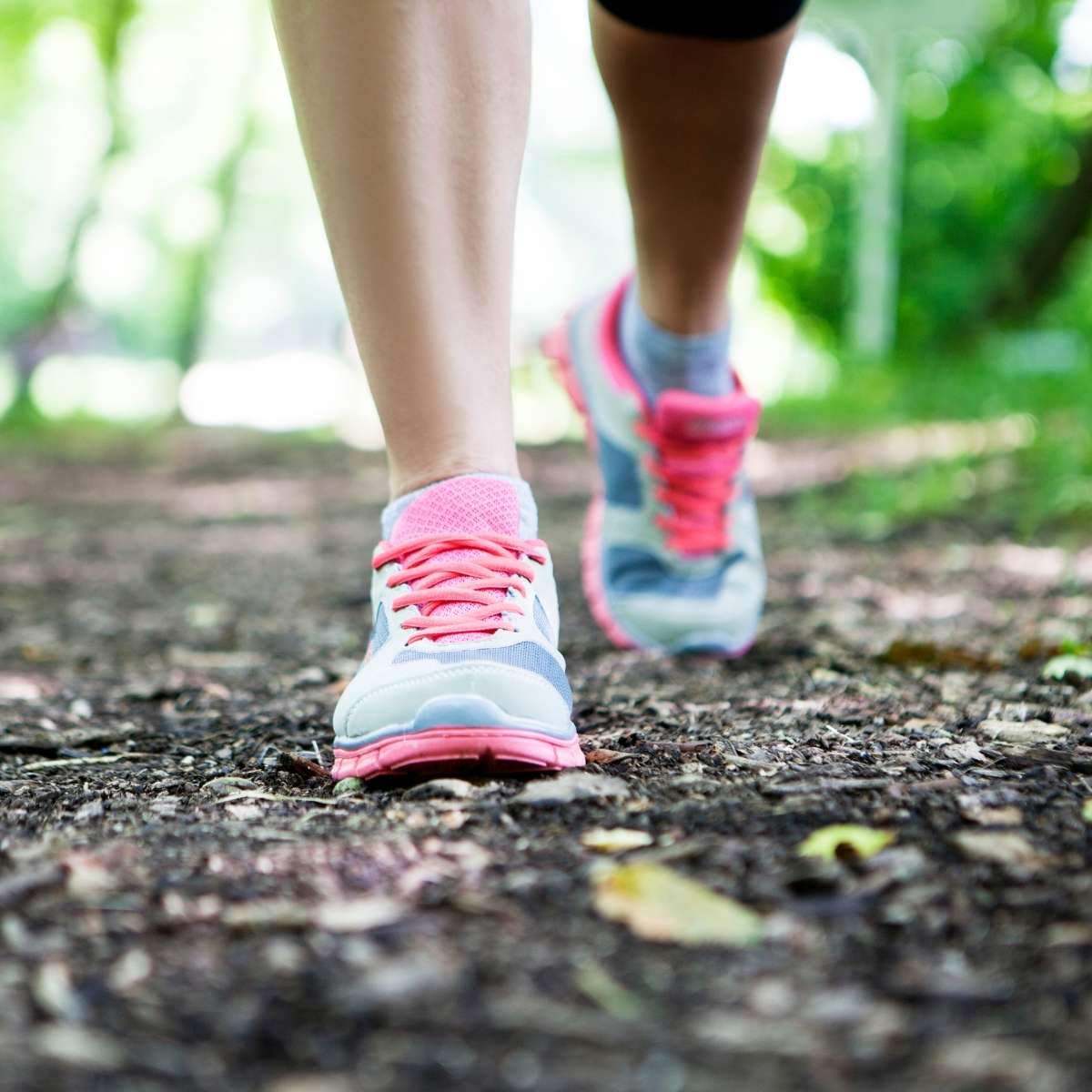 After that, I do my best to be extra active whenever I can...walking the pup, going for a bike ride in the evening or parking in the last spot at the grocery store.
20 minutes sounds lacking doesn't it? I really want to commit to more. And, I should do more. I know the mantra. You have to make exercise a priority. But, I've never been able to consistently find the time my entire life. Something always gets in the way at some point.
But, this time commitment is totally doable FOR ME. Someday I may join a gym again or take a dance class. Even if I do, I'll keep this baseline in place.
This is one of those habits that is evolving over time. I walk faster now and jog on most days. I may do 30 minutes on the weekend or go on a long bike ride instead. But, I will do at least 20 minutes of exercise every single day, even if it's just a walk around the block.
3) Add an extra vegetable to lunch and dinner
It's hard to deny that eating vegetables is good thing. So, in order to crowd my diet with healthy, high volume foods that really fill you up, I add an extra vegetable at lunch and dinner.
Practically speaking, that often means adding riced broccoli to a low-carb Power Bowl. Or, adding chopped kale to a salad.
The air fryer is my go to appliance for quickly roasting broccoli, zucchini or asparagus at dinner.
4) Build in a treat
I enjoy a healthy and delicious treat at lunch AND dinner and I never feel deprived! But, it's not what you may be thinking.
Dessert could be:
apple wedges drizzled with almond butter mixed with a drop of honey.
raspberries or strawberries dipped into a square of dark chocolate
Greek yogurt mixed with key lime juice
Chia pudding with blueberries
Avocado mousse
If I'm going splurge at the grocery store, it's on fresh fruit and dark chocolate.
5) Make a dinner plan
You have to plan to succeed so I write down what I'm having for dinner in the morning! By doing this, I can lift something out of the freezer if I need to or pick up an ingredient at the grocery store. Or, I can adjust the plan.
This is my area of expertise and it has always served me well. Unfortunately, I don't always follow my easy process to meal plan because I'm experimenting!
If it's 5 pm and I'm still working at my desk and have no idea what's for dinner, I panic. That's when unhealthy choices occur, we get takeout or I end up eating much later than I want.
Sometimes I plan things out for a week or at least 2-3 days. Other times I rely on a make ahead freezer meal or throw together dinner using cooked proteins from the Healthy Dinners on Autopilot Plan.
Why just dinner? I've pretty much enjoy the same things for breakfast and lunch every day. For these meals, I make sure that what I need is on my perpetual grocery list.
On the other hand, I switch things up for dinner all the time. It's just one of the perks of running a recipe site! 🙂
You may need to write out a plan for every meal. The point is to set up a habit that works for you!
Make your own plan
I hope you found my list helpful! Habits are truly personal so below you will find some additional micro habits that often support a health goal.
TIP: Associate the desired habit with something you already do regularly. It will trigger the new action and it's more likely to become automatic too!
setting aside a time to practice daily gratitude, such as jotting something down in your planner or calendar when you review it
stretching throughout the day (as well as with exercise.) Try to associate with other activities you regularly do, such as when you get up from sitting from your desk.
practicing deep breathing / meditation including short sessions during the work day
scheduling acts of self-care, large or small things such as having a quiet cup of tea free from distraction each day
drinking water, such as a glass first thing in the morning
waking/going to sleep at a certain time
creating a healthy ritual to promote better sleep, which might include turning off the TV and social media.
making your bed in the morning!
laying out workout clothes or getting dressed in them right away if you work out in the morning
Making a decision and then taking immediate action is the best way to gain momentum towards a goal.
So, what are you waiting for? Download the Goal Planner and a Habit Tracker today and get started! 🙂