Wondering how to declutter and organize a spice cabinet so you can quickly find what you need? Follow these steps and use the tips to make sure they're fresh and stored properly.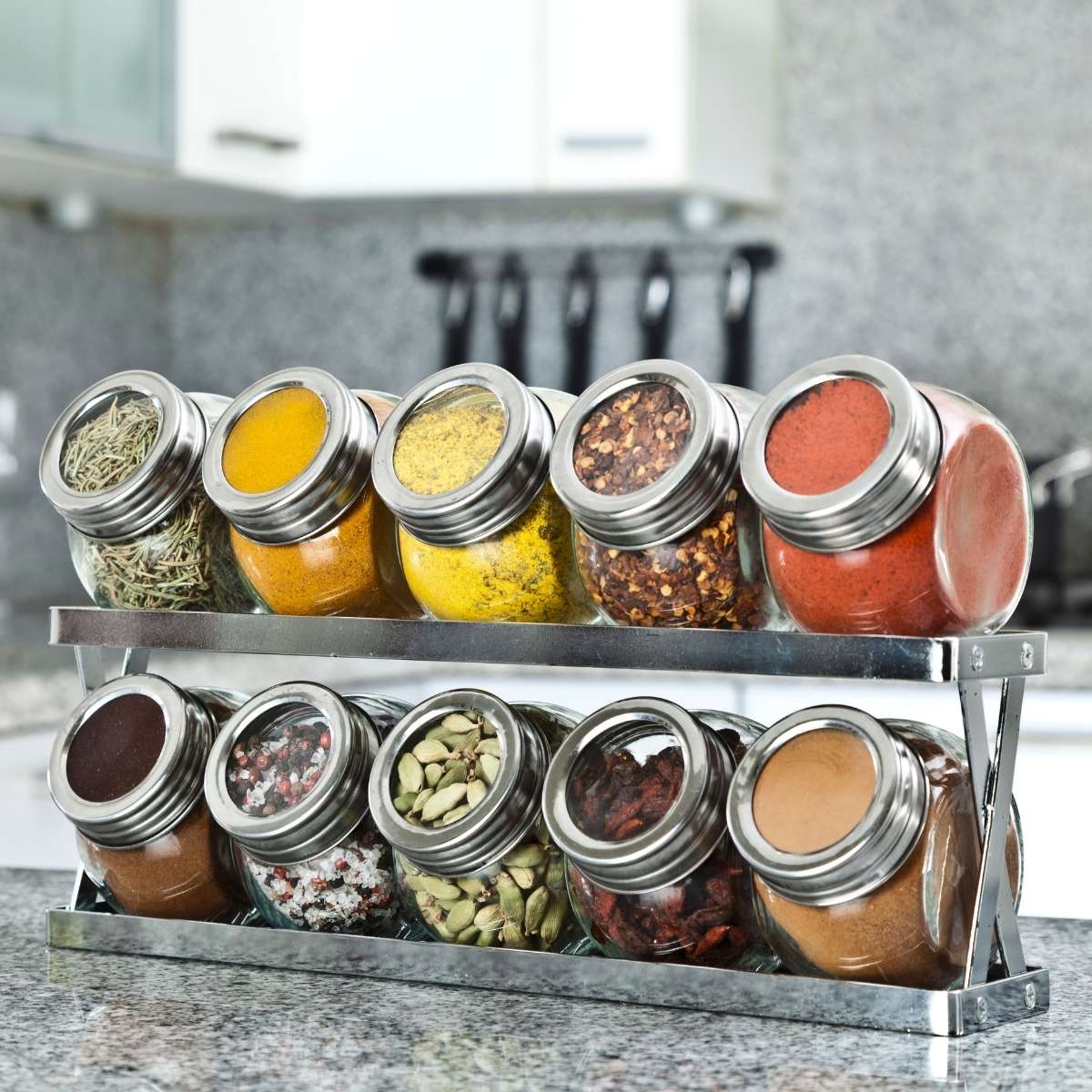 Does your spice cabinet need a makeover? It's easy to do and will save time and money in the kitchen. Who has time to search for one in a crowded cabinet, only to find that it's past its prime?
In our Healthy Kitchen Reset series, we tackle spices first for an easy win. Once you have the process down you'll be ready to conquer the pantry, refrigerator, and freezer with ease.
1. Pull Everything Out
Place ALL of your spices on the counter, grouping like items together (such as blends or spicy ones.) Be sure to include any tucked away in a different location because you didn't have space in the cabinet! Take this opportunity to wipe it clean.
2. Get Rid of Old Spices
Spices don't generally go bad, even when they are past the expiration date on the jar. But, they do lose their potency and may even have a different taste then you expect!
HOW LONG DO SPICES LAST?
According to McCormick the shelf life for spices is:
Whole Spices, such as poppy seeds or ones that you grind yourself (such as peppercorn) may last up to 5 years.
Ground Spices begin to release oil in processing and last up to 2 years.
Dried Leafy Herbs, such as basil, may last up to 3 years.
How do you tell if a spice is ok to use?
TIP: Determine if a spice is still good by smelling it. It should have a strong scent, especially when you rub a little between your fingers. You can give it a little taste too!
Heat activates the oil in spices. With that in mind, you can warm a dried spice up in a pan to revive it or rub it between the palms of your hand before using. It won't be as a good as a freshly opened spice. But, it may help in a pinch.
Another idea: The Spice House suggests sprinkling them over the charcoals when grilling to add a subtle flavor instead of throwing them out!
3. Choose the Best Storage Location
If your spices seem to go bad quickly, then you may be guilty of storing your spices in a bad spot! Heat, steam and sunlight are the enemies of spices and will make them lose their potency faster.
Instead, store them in a cool, dry space, away from sunlight that is convenient for cooking. That's a big ask for many people, including me.
Here are some basic storage options to consider:
Cabinet that's not right next to the stove.
Drawer away from warm appliances, such as the stove or dishwasher.
Pantry, possibly in a small bin that you can easily move to the counter when cooking.
Countertop in an attractive display.
You may have a nook or back of door that would be perfect that I can't even contemplate. Take advantage of it so long as it meets the cardinal rules of spice storage: cool, dry and not in direct sunlight.
4. Organize for Easy Use
Now, it's time to put all the spices back so they are easy to access.
Common ways to group spices include:
Alphabetically
By Category
Frequency of use
The goal is to have all of your spices in sight and ready to grab when you're cooking. Ideally, you should be able to see them all!
Here are some storage accessories to accomplish this:
Tiered Spice Rack
Lazy Susan Turn Table
Over the Door Rack
Liners and Inserts for Drawers that will keep them in place
Pull out Bins
Personally, I use a combination of category and frequency for grouping spices. Spice blends are lined up along one side of the cabinet. Salt and pepper stand alone and everything else is on a two-tiered spinner.
Tips to Keep Spices Organized
You're not done! Don't let all your hard work go to waste. That can easily happen if several people cook at your house! Follow these tips to keep your spices organized, in stock and fresh year round.
Mark the date you open a new spice with a Sharpie or sticker.
Designate and/or label your spice area and make sure everyone knows the plan.
Keep an ongoing shopping list that everyone uses to keep track of things that are running low, including spices.
Set a date to spring clean at least once a year. It won't take very long the next time.
Tip: For spices that you measure, remove the layer with holes so it's easy to spoon out!
Are you inspired to get spicy?
Spices are an easy, low-carb, low-cal way to add flavor to a dish! You can use less salt if you use them right. And, when you find a few blends you like, it's matter of shaking it out of the container. No measuring needed.
More Ways to Declutter and Organize
Join the conversation!
Leave a comment below with your tips and suggestions.