Ready, set, grill! The season will be in full swing come Memorial Day. If you would like to start off with a bang, I've got a recipe for you that was super popular at our make ahead meal store – Pork chops in a molasses marinade.
Molasses? Yes, that super thick, dark syrup you may have come to know when baking cookies at Grandma's house, is also the secret ingredient to this tasty sauce.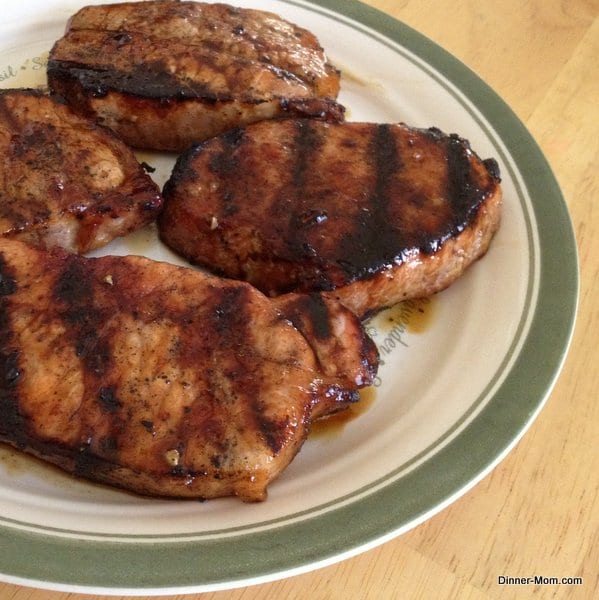 It's sweet from the molasses and brown sugar, with a bit of zing from the cider vinegar, red pepper flakes and other spices.  Pork chops turn our moist and juicy with a thin glaze. They are a crowd pleaser and kid-friendly!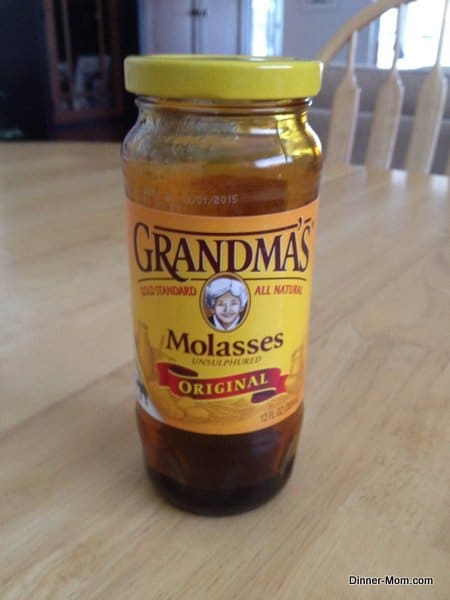 The star of the show. If you've got questions about molasses, check out this Frequently Asked Questions page on the Grandma's Molasses site.  I use the whole 12 ounce jar and double the recipe. Each batch makes more than enough to marinate 6 pork chops.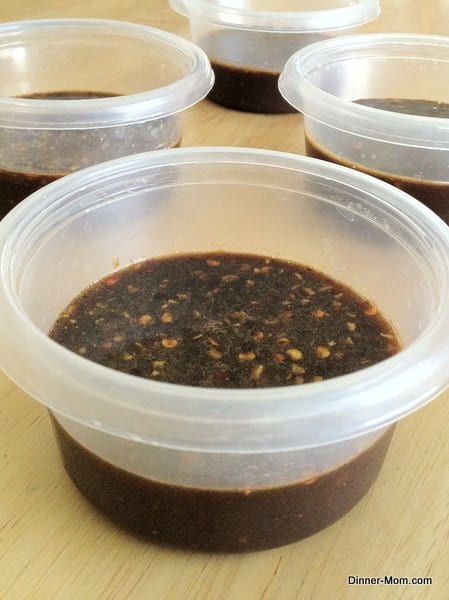 To make the marinade, combine the molasses with brown sugar, cider vinegar, allspice, red pepper flakes, dried onion, salt and pepper. That's it.
If you want to make ahead and freeze this recipe, place the desired number of pork chops in a bag that seals, pour in the marinade and turn to coat the meat. The chops will freeze nicely and the marinade infuses beautifully as it undergoes the freezing and defrosting process.  Sometimes I don't add the meat and just keep a jar (or jars) of sauce ready to go for lots of flexibility with the type of meat I use. This marinade is great on pork tenderloin and chicken too.
If you want to cook the pork right away, then marinade for 2 – 24 hours for a nice deep flavor.
Grill pork chops over medium heat for about 4-5 minutes, depending upon the thickness of the chop. Or, you can use the broiler for about the same length of time with the rack about 3-4 inches from the heating element.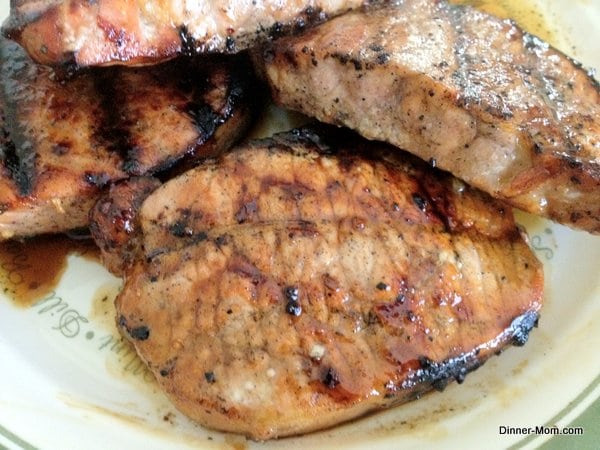 If you are looking for signature recipe for the grill, you might want to try this molasses marinade for grilled pork chops!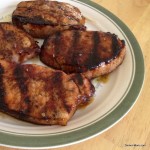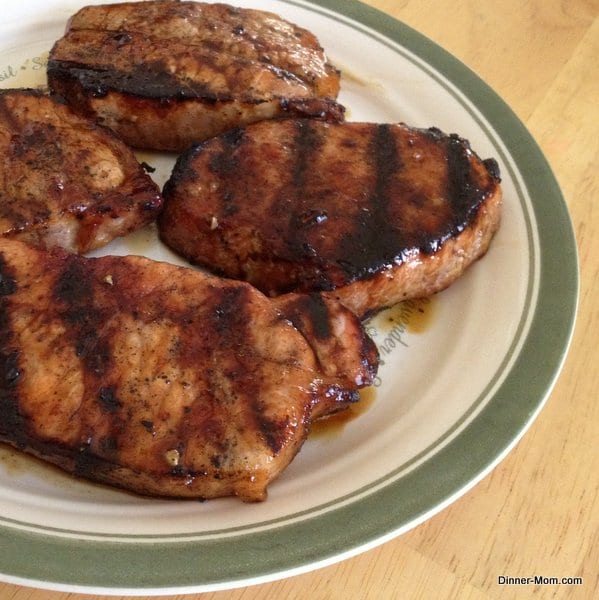 Molasses Marinade for Grilled Pork Chops
Molasses Marinade is great on grilled pork chops or pork tenderloin. It takes minutes to make this sweet and tangy sauce that is crowd pleaser.
Ingredients
2/3

cup

molasses

1/2

cup

brown sugar

packed

2

Tablespoons

Cider vinegar

1/2

teaspoon

allspice

1/2

teaspoon

red pepper flakes

2

teaspoons

dried onion

1/2

teaspoon

salt

Pepper 1/2 teaspoon

Pork chops - 6 boneless or bone-in

approximately 3/4 inch thick, 4-6 ounces each
Instructions
Combine all of the ingredients, except for the pork chops, in a bag that seals.

Add pork chops to bag and turn to coat all sides.

Alternatively, marinate pork chops in glass baking dish.

Marinate pork chops for at least 2 hours or overnight.

Remove pork chops from marinade and discard excess.

Grill for approximately 4-5 minutes on each side, depending upon the thickness of the meat. Or broil for about the same amount of time with rack about 3-4 inches from the heating element.
Recipe Notes
Make ahead and freeze by adding pork chops to marinade in a bag that seals. Turn to coat. Store up to 2 months for best quality. Make two batches to use up a 12 ounce bottle of molasses. Another option is to make up the marinade without adding the meat. Nice on pork tenderloin and chicken too.
Happy Grilling!