Herb Crusted Pork Tenderloin is slathered with a lemony mustard sauce and pressed with a Parmesan cheese and fresh herb breading. It's a delightful presentation that's delicious too!
This irresistible topping was used to make Herb Crusted Chicken! It will work with any time of pork and even fish.
Customers came in droves to our make ahead meal assembly kitchen to make it, often with a special occasion in mind!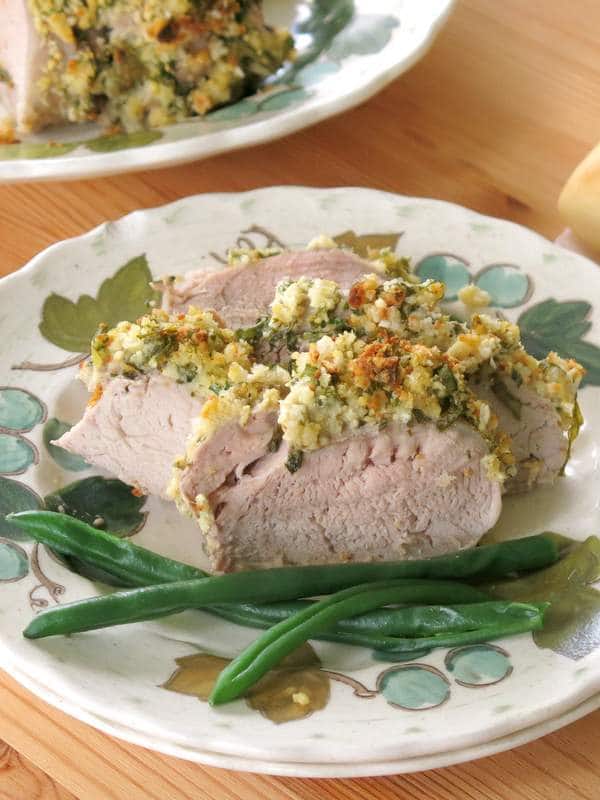 Holiday dinners were always on my mind. We filled the monthly menu at our meal assembly kitchen with dinner options that would be perfect for Christmas Eve, New Year's, Mother's Day and every type of meal in between. There's a certain level of comfort knowing you have a plan.
Make this recipe and you will definitely have a winner!
It's undeniably pretty…but, not difficult to prepare.
It's a lower-calorie, lower-carb dinner option…but, it doesn't taste like it.
It can be made ahead of time and frozen. Yep!
Herb Crusted Pork Tenderloin Notes
The crust is a mixture of breadcrumbs, Parmesan cheese, fresh basil and parsley. Olive oil and a touch of the lemon mustard sauce slightly moisten the topping that is pressed over the pork tenderloin. There's a video just before the recipe with more pictures!
There are several make ahead options for this recipe:
Make the breading in advance and finish the recipe just before baking.
Make the entire recipe and refrigerate until ready to cook.
Or, make the recipe and freeze until ready to cook.
I'm not sure that there is an herb that won't work in this recipe. If you have a favorite combination, try it and let us know!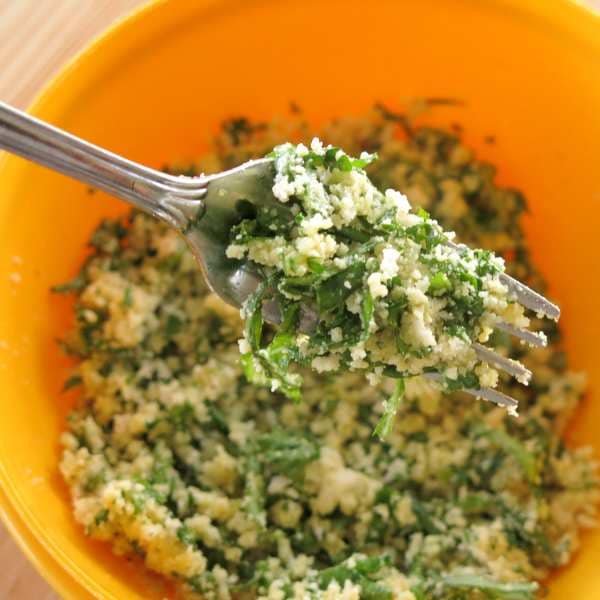 How to freeze Herb Crusted Pork Tenderloin
The breading will cover about 2 pounds of pork tenderloin and that feeds a lot of people! Since there are two pieces in a pork tenderloin package, it's a nice opportunity to make up one half and freeze it for another day. 🙂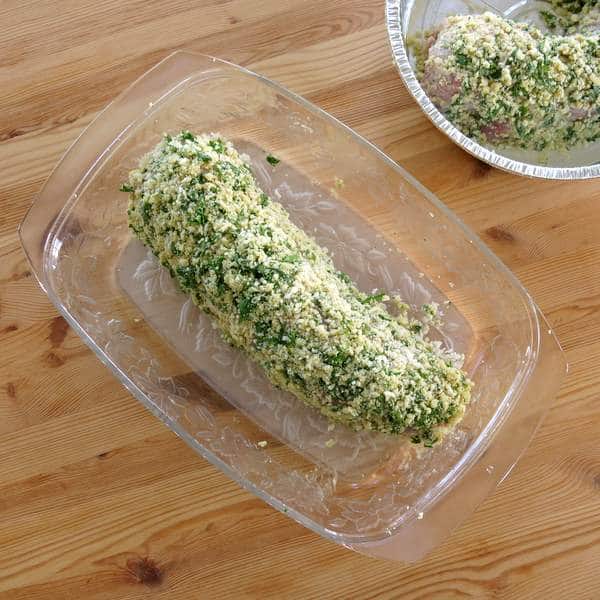 Make the recipe, but don't cook it. Place the prepared pork in a baking dish that is freezer safe and cover it with aluminum foil and plastic wrap. This dish should stay fresh for up to two months in the freezer. Be sure to label it!
When you are ready to enjoy this recipe, defrost it in the refrigerator overnight and then cook it according to the instructions.
What to serve with Roasted Pork Tenderloin with an Herb Crust
Since the main course is pretty spectacular you can go with simple sides. Steamed green beans or carrots sprinkled with sea salt are nice. Creamy mashed potatoes always round out a menu. Finish the evening with a decadent dessert, such as flourless chocolate cake with ganache.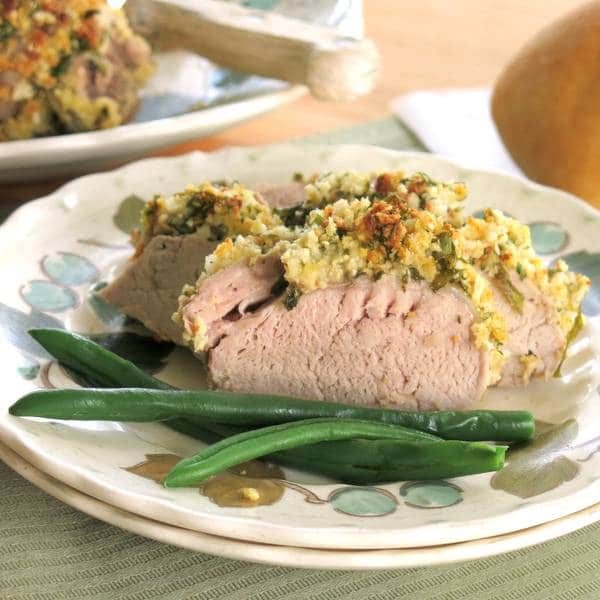 I'm just sayin' it's a dinner your guests will remember!
Video of How to Make Herb Crusted Pork Tenderloin
Please rate this recipe if you make it and tag @DinnerMom or #DinnerMom on social media. We love to see what you are cooking up!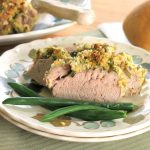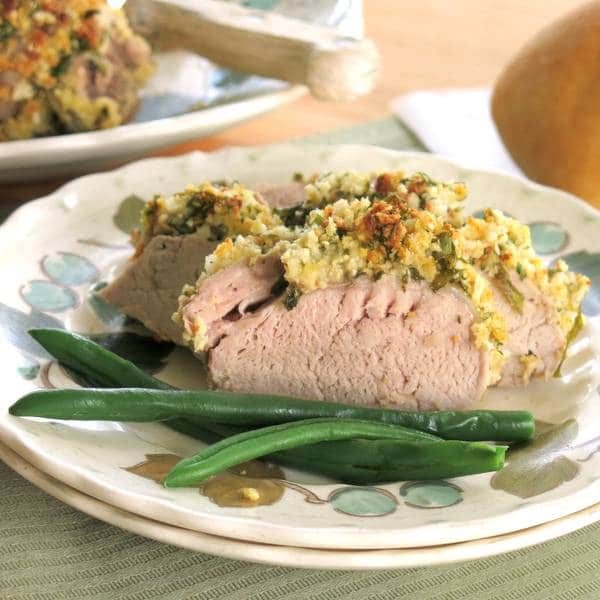 Herb Crusted Pork Tenderloin
Pork Tenderloin is slathered with a lemon mustard sauce and pressed with a Parmesan cheese and fresh herb breading. It's as tasty as it is pretty!
Ingredients
32

ounces

pork tenderloin

1/4

cup

lemon juice

1/4

cup

Dijon mustard

1/2

teaspoon

black pepper

1/2

cup

Panko breadcrumbs

whole wheat or gluten-free substitute

1/2

cup

Parmesan cheese

grated

1

Tablespoon

olive oil

1/4

cup

fresh parsley

chopped

1/4

cup

fresh basil leaves

stacked, rolled and cut into thin strips
Instructions
Preheat oven to 350 degrees F.

Separate the pork tenderloin into two pieces and place in a baking dish.

Mix lemon juice, Dijon mustard and pepper together in a small bowl and set aside.

Combine breadcrumbs, Parmesan cheese, olive oil, parsley, basil and 2 Tablespoons of the mustard mixture in a separate bowl. Using a fork, combine the ingredients to form a crumbly mixture (see picture in post) together in a separate bowl.

Spoon remaining mustard mixture over the pork tenderloin pieces and spread over the exposed area (the bottom is not coated with the mustard sauce or breading.)

Using fingertips, press the breading over each half of the pork tenderloin until completely covered. (The bottom is not breaded.)

Roast uncovered for about 35 minutes or until the internal temperature reaches 145 degrees F in the thickest part of the meat.

Allow pork to rest for about 3-5 minutes after cooking and then slice.
Recipe Notes
Use gluten-free breadcrumbs to make this recipe gluten-free
To make ahead and freeze, prepare through Step 6. Do not cook. Place in a hard-sided, freezer-friendly container, preferably one that can be placed in the oven when ready to cook. Store for up to two months in the freezer. When ready to enjoy, defrost in the refrigerator for 24-36 hours then cook according to directions.
Nutrition Facts
Herb Crusted Pork Tenderloin
Amount Per Serving (12 g)
Calories 201
Calories from Fat 72
% Daily Value*
Total Fat 8g 12%
Cholesterol 79mg 26%
Sodium 271mg 11%
Potassium 489mg 14%
Total Carbohydrates 4g 1%
Protein 26g 52%
* Percent Daily Values are based on a 2000 calorie diet.
NEVER MISS A RECIPE! SUBSCRIBE BY EMAIL & RECEIVE A FREE GIFT!
FOLLOW ME: