Have I mentioned that I'm attempting to grow a small fresh herb garden? The plants are mostly thriving, but it's going to get very hot and humid in Florida soon, so I am going to have to make some adjustments. In the mean time, I had a good harvest for this herb crusted chicken recipe that uses fresh basil, parsley and thyme.
By the way, if you end up buying bunches of herbs at the grocery store, check out this primer on how to keep herbs fresh over at A Spicy Perspective. Have you ever displayed cut herbs in a vase like fresh flowers? I just love that idea.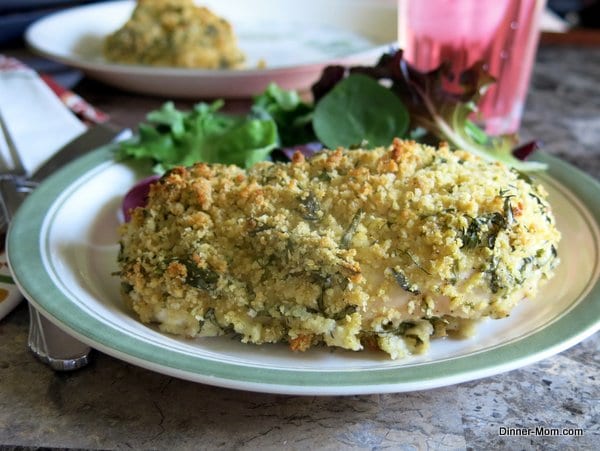 This chicken is coated with a lemony, Dijon mustard mixture and then topped with a slightly wet breading of Parmesan cheese, panko breadcrumbs and herbs for a divine taste and beautiful presentation.
Read on for my commentary and tips. Or, scroll down to the bottom for the recipe and tips for customization, including make ahead and freeze instructions.
Step by Step Instructions for Herb Crusted Chicken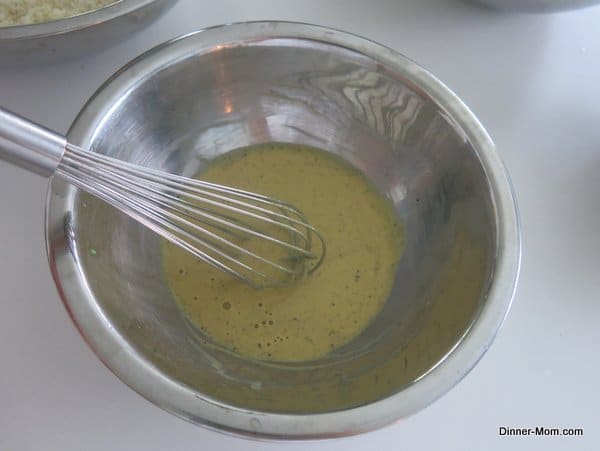 First, combine lemon juice, Dijon mustard and pepper in a small bowl and set it aside.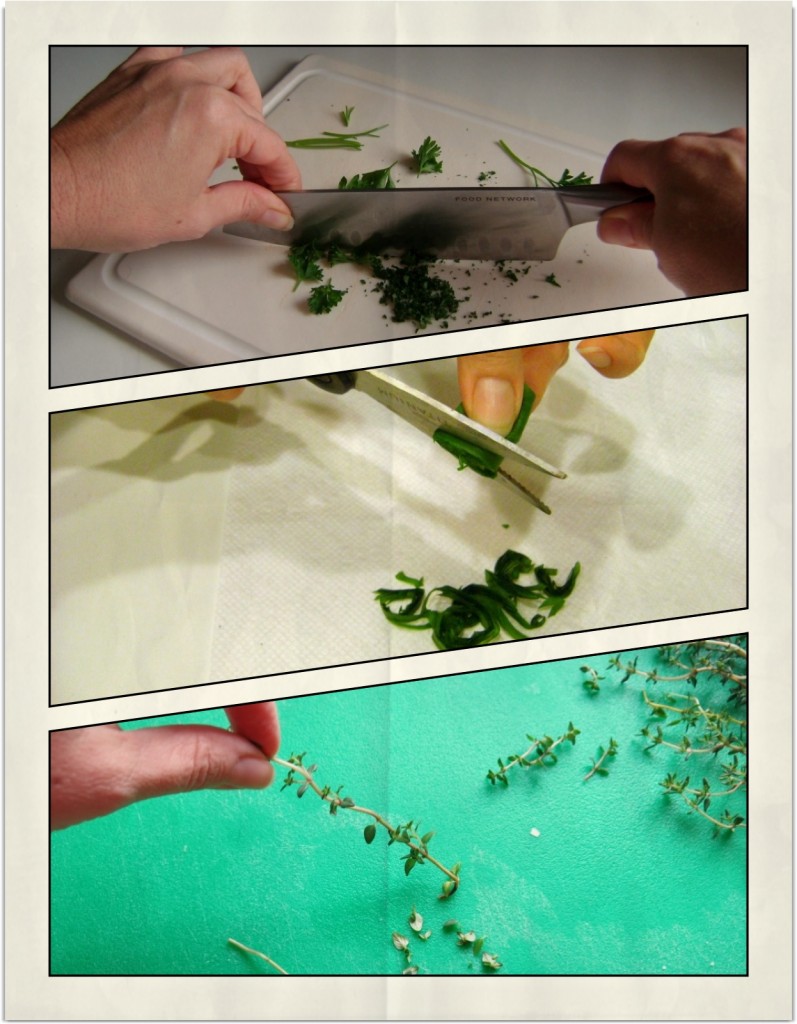 Chop the herbs. I used parsley, basil and thyme. But, experimentation is encouraged. Leave out the thyme if you don't have any or substitute fresh rosemary.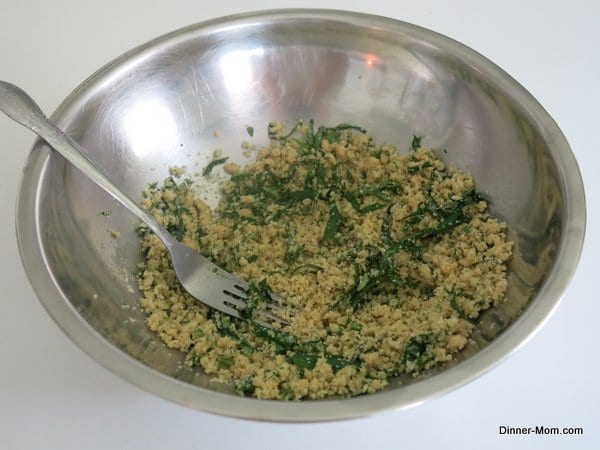 Next, add breadcrumbs, Parmesan cheese, olive oil and freshly chopped herbs to a bowl.
Now, and stick with me here to avoid a super wet breading, spoon 2 Tablespoons of the lemon/Dijon mixture from the bowl you set aside and add it to the breading bowl. You will have lots of lemon/Dijon mustard left over. Set that bowl aside…again.
Use a fork to mix everything together until it is a nice crumbly mixture. It will be slightly wet, but it should not have big clumps. You want it to look "pretty."
Now, spoon out about one tablespoon of the lemon/Dijon mustard mixture (from the bowl you set aside) over each chicken breast.  The entire surface of the chicken breast should be coated. Don't worry about the bottom.
Next, lift some breading out of the other bowl and lightly "press it" over the chicken, so it's not too thick, but not too thin either…but just right.
Bake the chicken uncovered at 350 degrees F for about 30 minutes.
Behold…Beautiful as it is tasty, herb crusted chicken. An irresistible crunchy topping smothers the chicken, which keeps the chicken very moist.
If you want to:
Make it even healthier: Use whole wheat panko breadcrumbs.
Make it dairy free: Leave out the Parmesan cheese and substitute it with a dairy-free substitute or use nutritional yeast. I made it for my daughter this way and got two thumbs up.
Make it ahead and freeze it: Prepare the recipe, but don't cook it. Freeze chicken in a pan or baking dish that can be covered and wrapped in plastic wrap. For best quality, eat within 2 months of freezing. When you are ready to serve, defrost overnight and cook according to instructions.
Make smaller portions: The ingredients will easily cover 6 chicken breasts that are about 5 ounces in size. You can cut the recipe ingredients in half.  Or make the full recipe and freeze the amounts you don't want to eat right away.
Use pork tenderloin instead: This recipe is also terrific on a pork tenderloin. The ingredients will cover a 2-3 pound pork tenderloin, which can also be made ahead and frozen.
Herb Crusted Chicken Recipe
Herb crusted chicken is coated with a lemony mustard mixture and then pressed with a Parmesan breading with fresh basil, parsley and thyme. Make ahead and freeze it for easy and elegant dinner.
Ingredients
1/4

cup

lemon juice

1/4

cup

Dijon mustard

1/2

teaspoon

pepper

1/2

cup

Panko breadcrumbs

preferably whole wheat

1/2

cup

Parmesan cheese

grated

2

Tablespoons

olive oil

1

Tablespoon

parsley

chopped

1/4

cup

basil leaves

cut in thn strips

1

teaspoon

fresh thyme

4-6

boneless

skinless chicken breasts
Instructions
Combine lemon juice, Dijon mustard and pepper in a small bowl and set aside.

Add all of the other ingredients, except for the chicken breasts, to a second bowl.

Add two Tablespoons of mustard mixture from step 1 to the bowl with everything else. Set aside the remaining mustard mixture.

Using a fork, combine the breading ingredients until the consistency is crumbly.

Place chicken in a baking dish.

Spoon approximately 1 Tablespoon of mustard mixture over each chicken breast.

Using fingers, press breading over each chicken breast. The bottom does not have any breading.

Bake uncovered in a 350 degree F oven or until chicken reaches a temperature of about 165 degrees F.
Recipe Notes
To make ahead and freeze, assemble, but don't cook the chicken. Freeze in a baking dish that is covered for up to two months. Defrost overnight and cook according to instructions. This is also a great recipe for pork tenderloin.
Nutrition Facts
Herb Crusted Chicken Recipe
Amount Per Serving (1 g)
Calories 0
* Percent Daily Values are based on a 2000 calorie diet.
Enjoy!

NEVER MISS A RECIPE! SUBSCRIBE BY EMAIL & RECEIVE A FREE GIFT!
FOLLOW ME:
FACEBOOK | TWITTER| GOOGLE +| PINTEREST | INSTAGRAM