Assemble this Layered Taco Salad in a Jar…or two or three and have a tasty, no-mess, healthy, low-cal salad throughout the week. Did I mention the peach salsa dressing?! Lots of tips to prep any salad in a mason jar!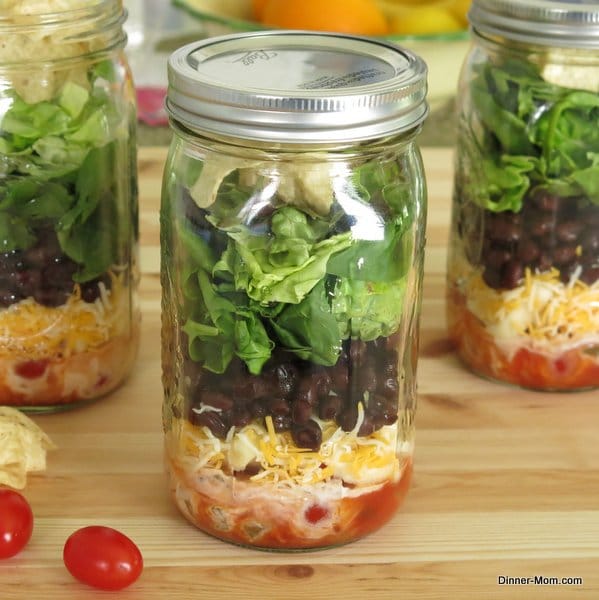 I'm late to the party. But, now that I'm here, I'm lovin' it! I'm talking about the mason jar craze. What a great make-ahead meal strategy. Just properly layer your favorite ingredients in jars, and you have fresh, no-prep salads throughout the week.
I've been chowing down on this taco salad in a jar for 3 days now. It's so easy to just grab it out of the fridge and dump it out on a plate. It has some of my favorite ingredients and it's low-cal too! And yes, it's still fresh 4 days later!
Taco Salad in a Jar Packing Tips
It's all in the packing. Yeah, just like a suitcase. If you do it right you are rewarded with a lovely, care-free travel (umm..I mean dining) experience.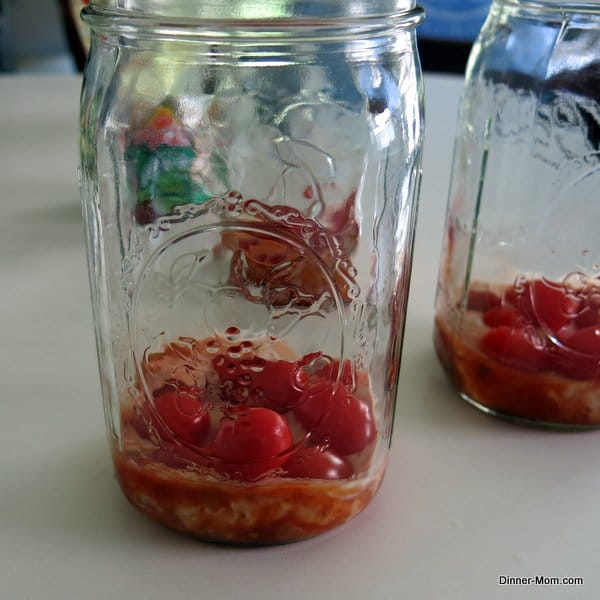 How To Layer a Salad in a Mason Jar
I've used the specific ingredients for a taco salad to discuss the layering process and tips for assembling just about any salad:
The dressing always goes in the mason jar first. Combine one to two Tablespoons of your favorite salsa (mine is Newman's Own Peach Salsa) with 1 Tablespoon of light sour cream or vegan substitute. You can use Greek Yogurt instead as we do in this Healthy Taco Salad Dressing with just 2 ingredients.
Next add firm vegetables. Firm, as in they won't go mushy by touching the dressing for a day or two. In fact, they might even taste better after marinating a bit. I added grape tomatoes and hearts of palm. A word of caution, diced tomatoes and soft fruits, like strawberries, do not work well. Add these at serving time. Some other vegetables that would be great are carrots, celery, peppers, cauliflower and even grapes.
The next layer could be a little heavier, like a protein. I was multi-tasking and violated the order in the picture. The black beans really should have been below the shredded cheese. Of course, diced Baked Lemon Pepper Chicken or 3 Ingredient Salsa Chicken would also be nice in this salad too.
Another option is to add a grain, like bulgur wheat or lentils. Add that type of ingredient next.
Lighter items go next, such as black olives. For other salads, this is where you would add nuts, seeds or dried fruit.
Add cheese or vegan shreds next.
Now stuff in your lettuce. I used a combination of baby spinach and butter lettuce.
Mix a little fresh cilantro in with the salad greens.
The taco salad in a jar is capped off with a few tortilla chips, which I lift out first and then crumble on top of the salad once it's on a plate. Wrap the chips in a paper towel to keep them crispy or add them when you are about to enjoy the salad.
That's it!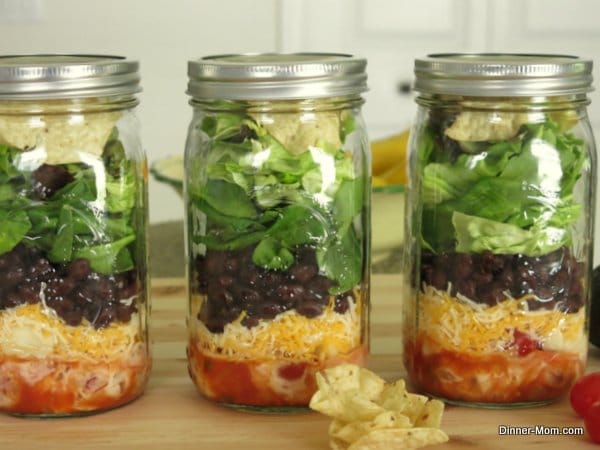 If you have everything out, it's really just as easy to make 3 or 4 salads as it is to make one.
More tips:
For best results, make sure your ingredients are "dry" before you put them in the jar.
I used a quart sized mason jars, a smaller size would work for a side salad.
Placing a paper towel at the top of the jar will absorb excess moisture.
You may want to avoid ingredients with strong odors, such as onions. Add these on serving day, if desired.
Use low-fat cheese, salsa without added sugar and leave off the chips to keep this recipe South Beach Diet Phase 1 compliant.
Leave off the chips to keep it gluten-free.
The salads will stay fresh for 4-5 days.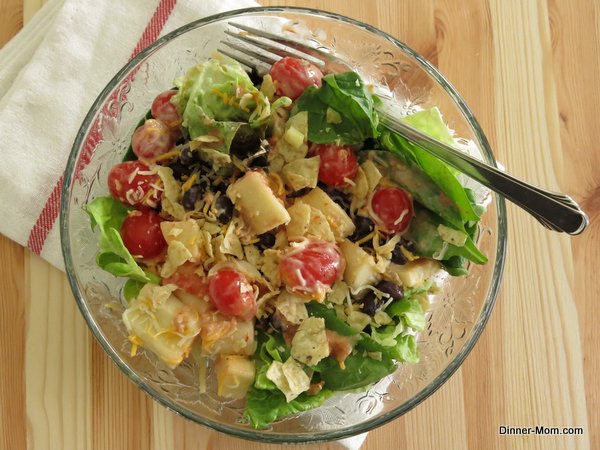 When you are ready, dump it out and arrange it on a plate. I think it's very cool that the lettuce greens come out first and the toppings, well they end up on top. Stir and enjoy!
If you need more inspiration, check out the beautiful salads over at the Lunch Box Bunch.
Please rate this recipe and tag @DinnerMom or #DinnerMom on social media. We love to see what you are cooking up!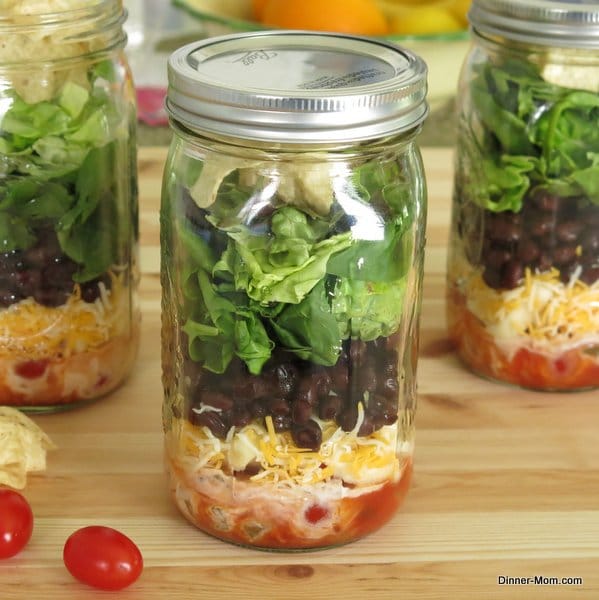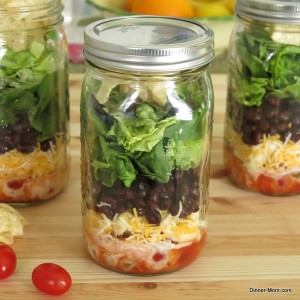 Taco Salad in a Jar
Assemble this Layered Taco Salad in a Jar...or two or three and have a tasty, no-mess, healthy, low-cal salad throughout the week.
Print
Pin
Rate
Ingredients
2

Tablespoons

salsa

1

Tablespoon

light sour cream

or vegan version

1/2

cup

cherry tomatoes

Other suggestions include peppers and carrots

1/2

cup

hearts of palm

chopped

1/2

cup

black beans

Other options include chicken, tofu and shrimp and/or grains

1/4

cup

Monterey Jack cheese

shredded, or vegan version

2

cups

lettuce

we used butter lettuce and spinach

2

Tablespoons

Tortilla Chips

Optional; best to keep separate and add before serving
Instructions
Mix Salsa and Sour Cream together and layer in the bottom of the mason jar.

Layer the remaining ingredients in the order presented.

Cap and store until ready to serve. Pour contents onto a plate and toss to coat with dressing. Top with crushed tortilla chips, if using.
Notes
There's lots of room for variation! Store jars in refrigerator for 4-5 days.
Nutrition
Calories:
387
kcal
|
Carbohydrates:
61
g
|
Protein:
20
g
|
Fat:
7
g
|
Saturated Fat:
4
g
|
Cholesterol:
21
mg
|
Sodium:
491
mg
|
Potassium:
2898
mg
|
Fiber:
12
g
|
Sugar:
26
g
|
Vitamin A:
1485
IU
|
Vitamin C:
30.5
mg
|
Calcium:
408
mg
|
Iron:
4.9
mg
Get the Secrets to Fast & Easy Meal Prep