This post may contain affiliate links. Please read my disclosure.
These Greek yogurt pumpkin muffins are proof that healthy can also be delicious! Walkthrough the ingredient swaps that really make a difference!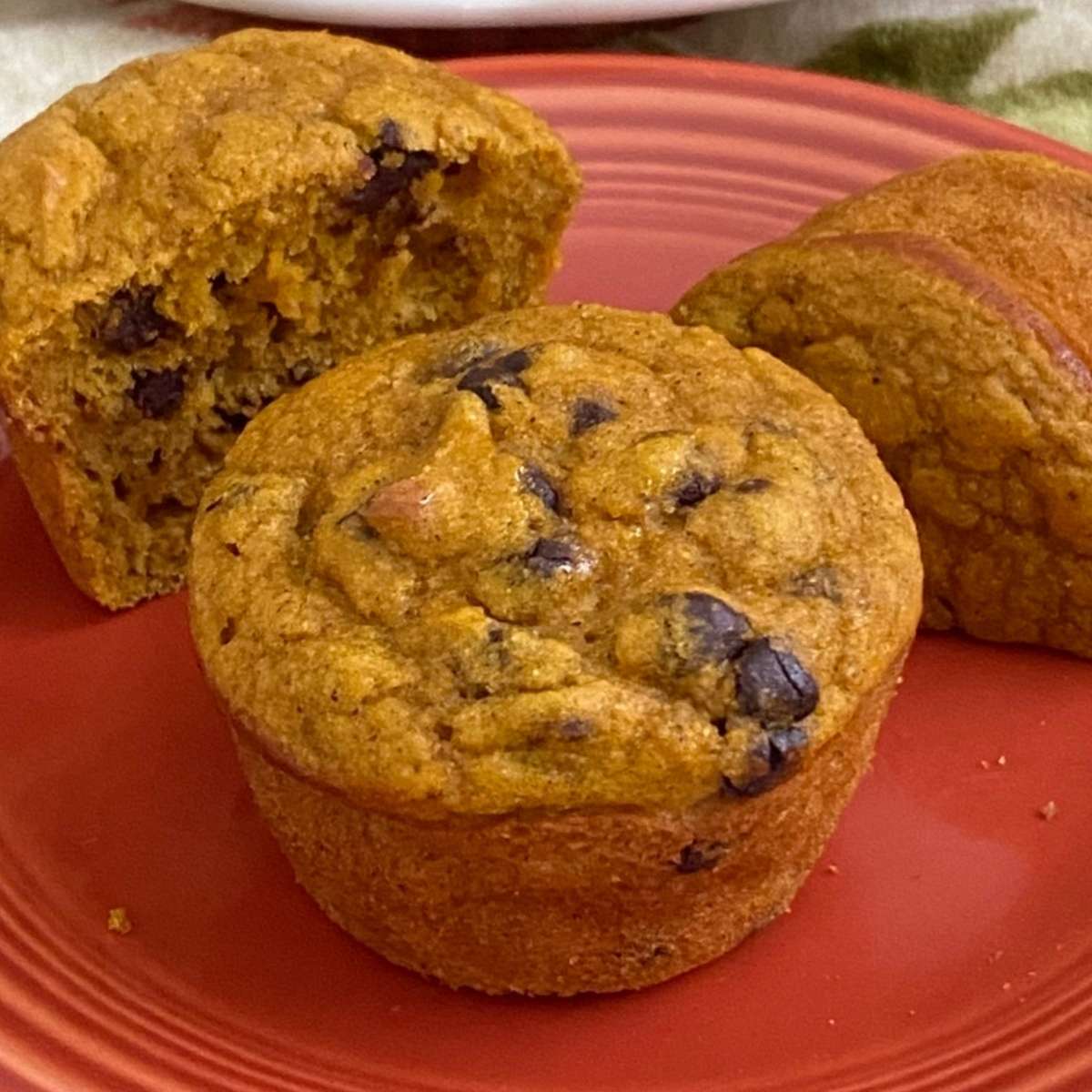 I can't think of a better way to celebrate fall than with these healthy pumpkin muffins. Unless you're craving chocolate, in which case you may want to hop over to Healthy Chocolate Pumpkin Muffins!
Either way, they always seem to be exactly what is needed. A quick breakfast? Afternoon snack? Lunch box treat? After dinner treat? Edible gift?
I've yet to find an occasion when a delicious muffin doesn't do the trick! That's why you'll find so many variations using pumpkin, banana, and zucchini in our bread and muffin recipes section.
As it turns out, you can enjoy pumpkin muffins, in limited quantities, even if you're counting carbs or calories! They're heavy on protein (from Greek yogurt, egg, and whole wheat flour) and fiber (from pumpkin and whole wheat flour) and can be low in sugar.
I laid out all the ingredient choices below so you can customize this recipe and make the muffin of your dreams!
Healthy Ingredient Swaps You Can Make
My goal with this recipe was to give the traditional pumpkin muffin a healthy makeover without sacrificing taste. It was so successful that it became the recipe template for all our other muffins that use Greek yogurt.
The graphic below shows the basic ingredients.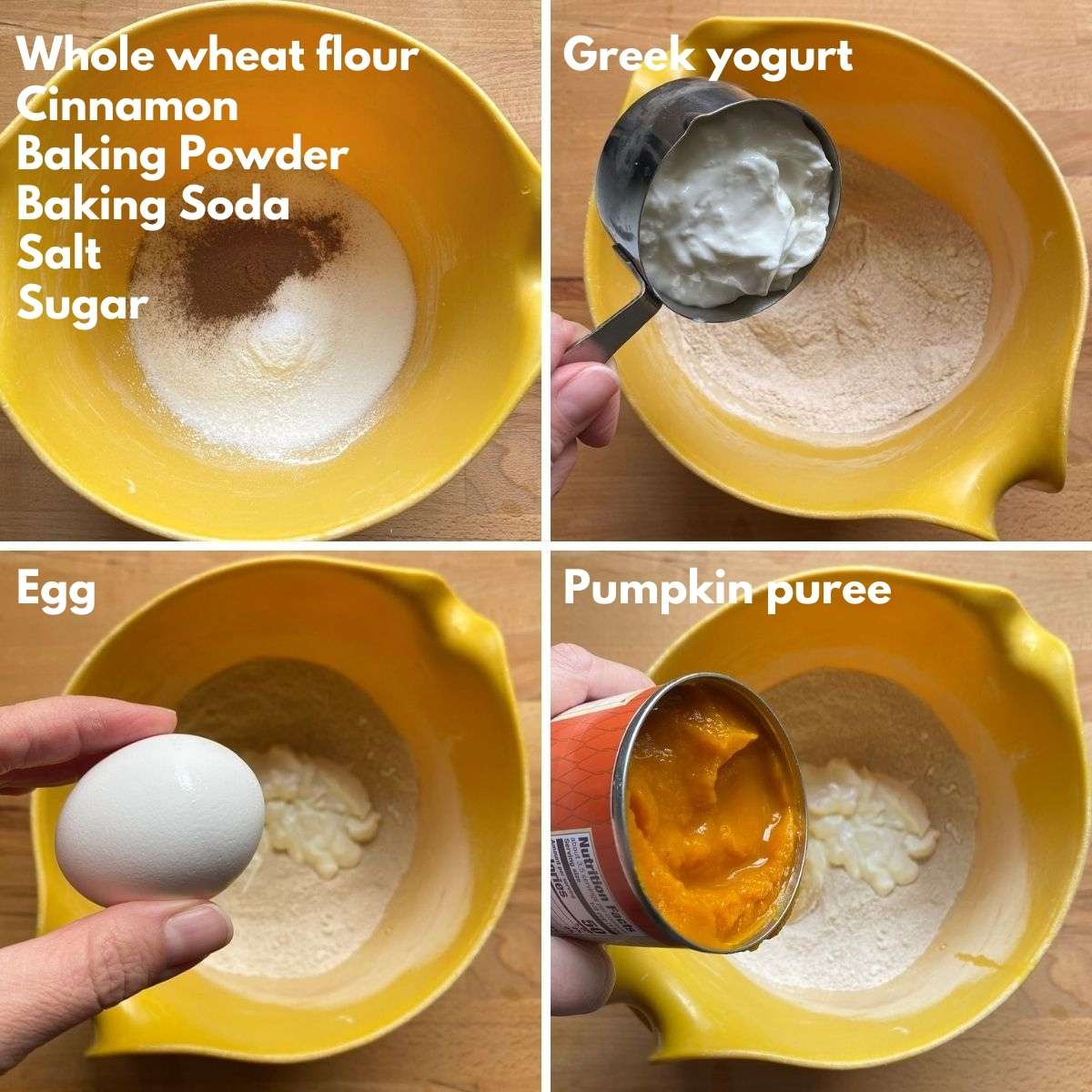 You can "healthify" this recipe as little or as much as you would like. Here are the ingredient swaps we made:
Whole Wheat Flour
I generally use white whole wheat flour if I have it on hand. Otherwise, I use whole wheat flour.
What's the difference? According to Bob's Red Mill, the difference between the two is the type of kernel that the flour is milled from. Whole wheat flour comes from a hard red berry and has a high protein content. On the other hand, white whole wheat comes from a hard white berry and has a moderate amount of protein.
Another option is whole wheat pastry flour which comes from yet another type of berry: a soft white one. It has the lowest protein count of the three types but is also the most tender.
All three retain the bran and germ which is what makes them a healthy option in my book.
Oatmeal will work too. See how I adapted this recipe to make Healthy Oatmeal Pumpkin Muffins.
Want to use almond flour? Check out low-carb baking with almond flour by All Day Long I Dream About Food if you want to go this route. You'll need to experiment to adapt this recipe.
Greek Yogurt
Replace canola or vegetable oil traditionally used in a pumpkin muffin recipe with Greek yogurt!
This recipe uses a single-serve, 5.3-ounce container that you find in the grocery store. It measures out to be just a teaspoon or so short of ½ cup. Either measurement will work in this recipe.
Sweetener
I could take several pages to discuss the pros and cons of this ingredient. But, I'll keep it short. We used half the amount of sugar normally found in a traditional pumpkin muffin.
Do they taste good with so little sugar? Yes, they absolutely do. I enjoy these all the time.
It's very tasty if you're not used to super sugary baked goods. Mixing in something else sweet, such as dark chocolate or raisins also adds to the sweetness. I'll have more on those options in a minute.
Can you use a powdered artificial sweetener like stevia, monk fruit, or erythritol? Yes! Use whatever sweetener you are used to baking with. But, don't drop below ½ cup of bulk or the muffins will be too soft. They will also have a slightly different texture and look.
Can you use honey or maple syrup? Not in this recipe without making other ingredient adjustments. I love those sweeteners. But, I've never tried it in its recipe. If you want to go that route, A Whole New Mom has lots of good information on Baking with Honey and Maple Syrup.
Can you use more sugar? Yes. This recipe will work with up to 1 cup of sugar.
Mix-in Variations
It's nice to have a little pop of sweetness with each bite of these pumpkin muffins since they're lower in sugar.
Dark Chocolate is my first choice. I am for 60-70% cacao. Semi-sweet chocolate chips are a type of dark chocolate and have a low sugar content too. Another option is stevia-sweetened morsels!
Raisins are a healthy choice but are higher in carbs than dark chocolate.
Nuts, such as walnuts, also work well in this recipe, especially if you combine them with chocolate!
You can have a heavy hand when measuring out the mix-ins. I've never reached a limit, but I've never added more than ¾ of a cup either!
Pumpkin Puree Tips
I hope you can tell that these pumpkin muffins are not only healthy but also VERY moist. It's all because of the pumpkin puree. It does double duty as oil and egg.
I'll let you in on a secret. You actually don't have to add Greek Yogurt or even egg to this recipe. Much like 2 Ingredient Pumpkin Muffins that uses a boxed cake mix, you'll end up with a muffin that is also vegan.
Warning: Don't use pumpkin pie filling. It has sweetener and spices added to it. Buy a 15-ounce can that is pure pumpkin puree!
Make-Ahead and Freezer Strategies
Once pumpkin muffin season rolls around, I prepare batches of the dry mix in sealed containers or bags so it's a matter of minutes to have these baking in the oven and I never have to resort to less-healthy options to satisfy my cravings. This method gives you a little flexibility in case you decide to turn this into one of our other Greek yogurt muffins (there's a list below.)
Another option is to cook and freeze them for up to 3 months. Store them in an air-tight bag or container. Or, individually wrap them in plastic wrap.
When you're ready to enjoy one, microwave it for about 30 to 45 seconds on high or defrost overnight in the refrigerator.
If I'm packing a snack for later, I just grab a frozen one and bring it along!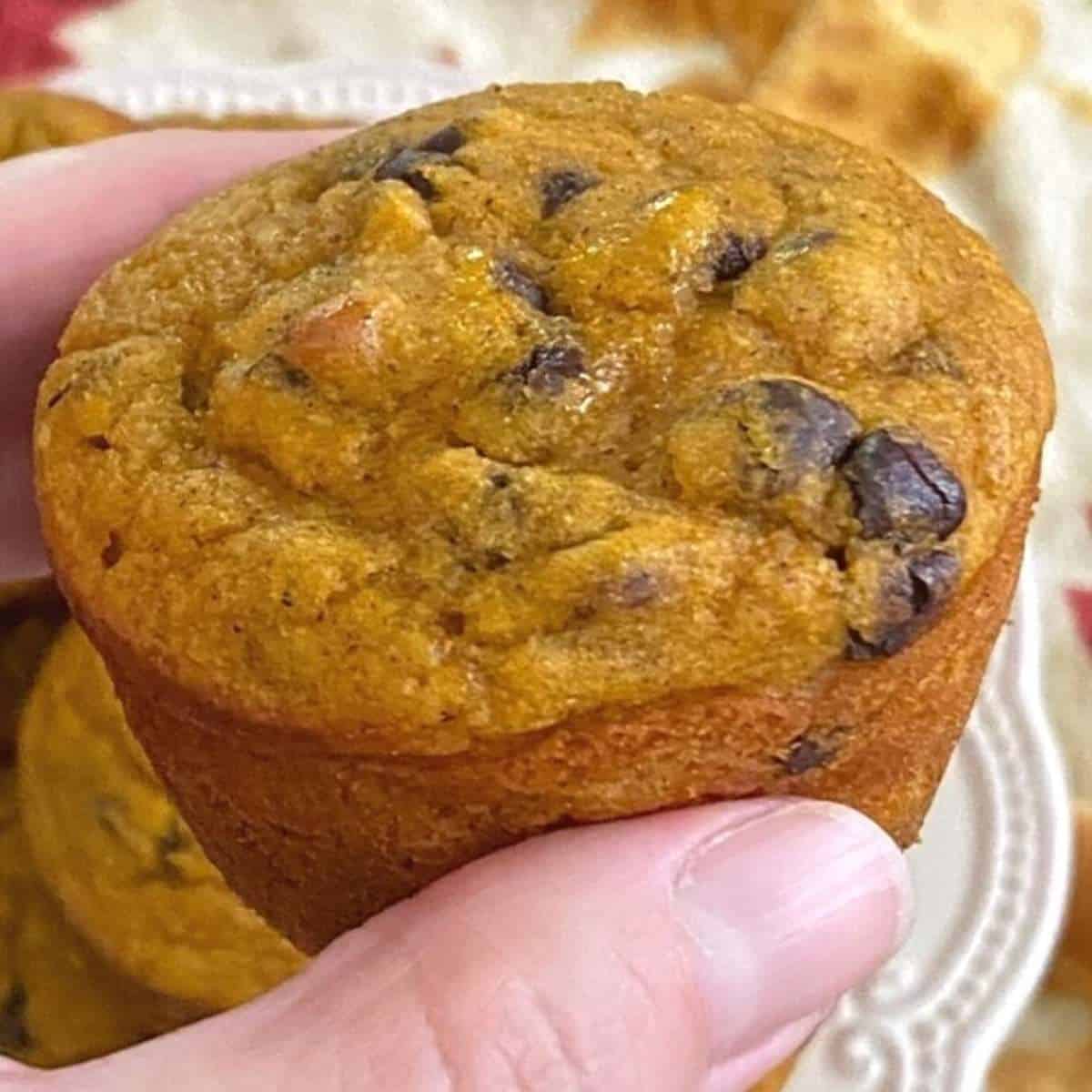 Expert Baking Tips
No matter which ingredient swaps you make, we've come up with a few key tips that will give you the best healthy pumpkin muffins every single time:
Spritz muffin tin wells OR paper inserts with cooking spray. There's no oil so this step is necessary. Although as the pumpkin muffins settle over the next few hours, it is not a problem.
Use mini-sized chips or roughly chop larger pieces of chocolate so that it more evenly distributes throughout the muffin.
Save a few chips to drop on top of each muffin just before baking. It's pretty!
Use an ice cream scoop to easily measure out a quarter cup of batter. The batter is thick and sticky.
Muffin topping idea: Healthy Cream Cheese Frosting made with Medjool dates instead of sugar!
FAQ
How many cups of pumpkin in a 15-ounce can?
These are just under 2 cups of puree in a 15-ounce can. It's short 2 ½ Tablespoons.
What can I substitute for pumpkin puree?
Butternut squash, acorn squash, and sweet potato puree can all be used instead of pumpkin puree. We made this substitution to make Butternut Squash Muffins.
How long do pumpkin muffins last?
Store pumpkin muffins for 3-4 days in a sealed container. They don't need to be refrigerated. Store in the freezer for up to 3 months.
Can you make these into mini muffins?
Yes! Cook mini-sized muffins for about 15 minutes.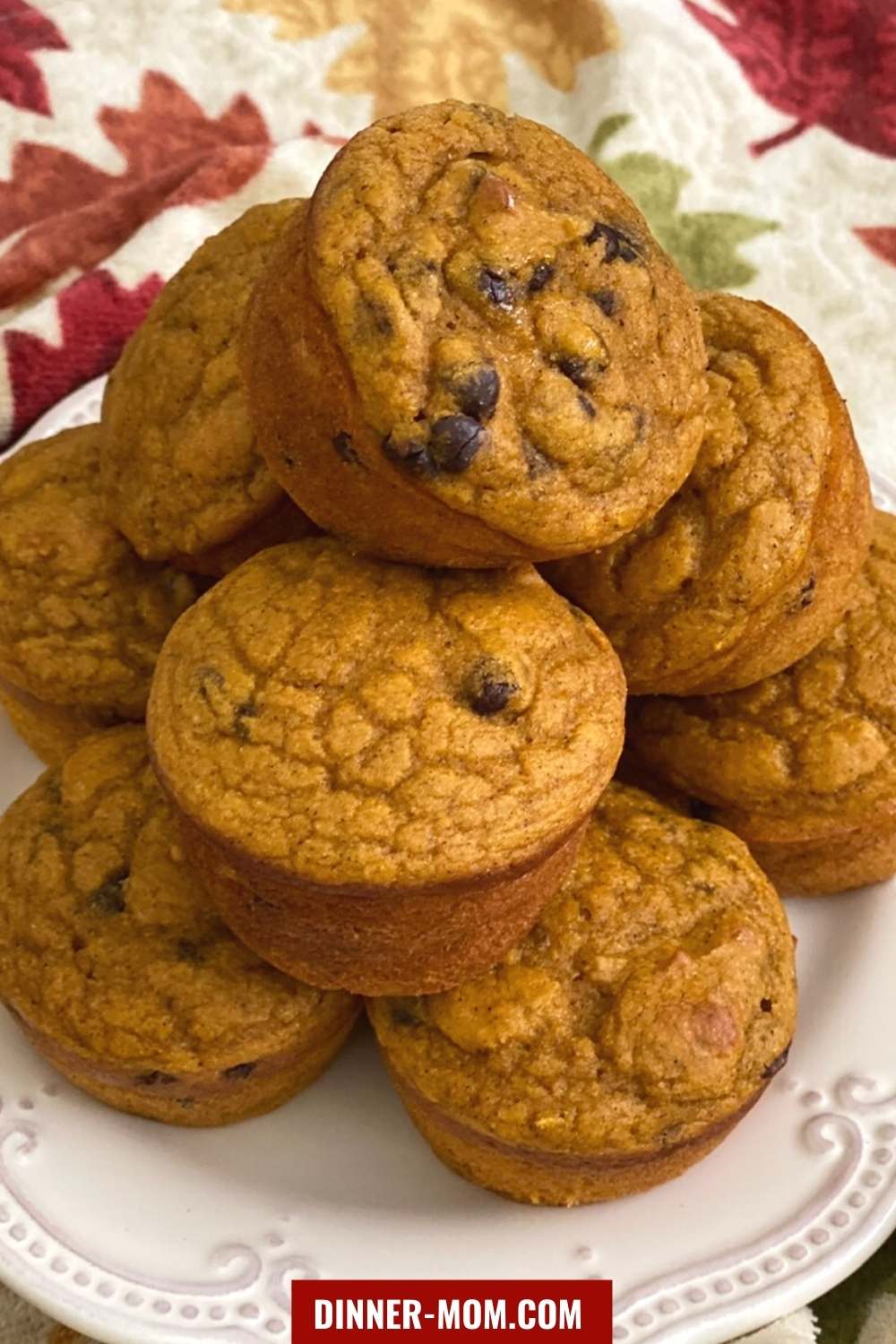 More Greek Yogurt Muffin Recipes
You'll find all our pumpkin muffin recipes in one place because the list is ever-growing! Other muffin recipes using yogurt you might want to check out:
Please rate this recipe and tag @DinnerMom or #DinnerMom on social media. We love to see and SHARE what you are cooking up!
📋 Recipe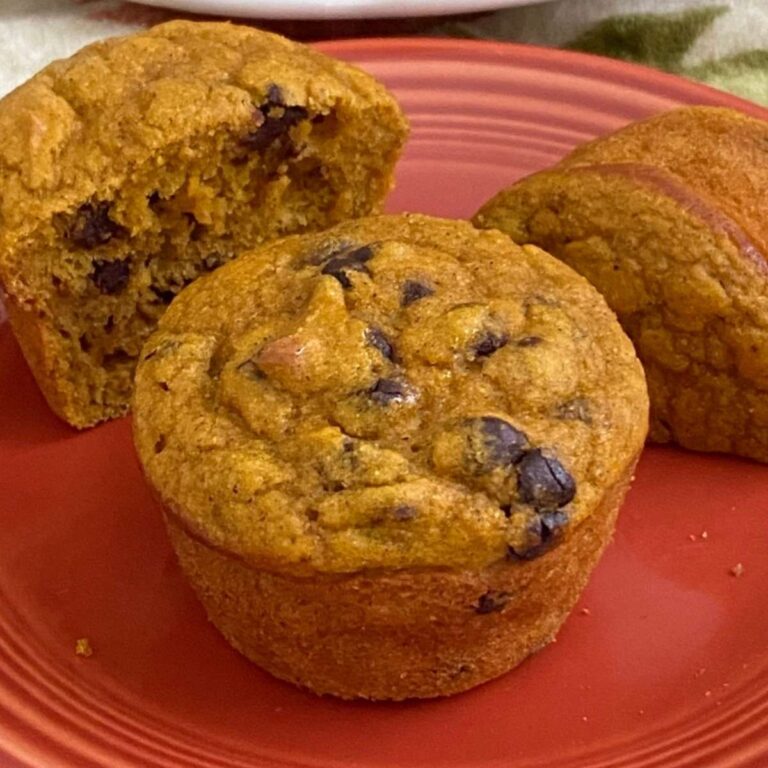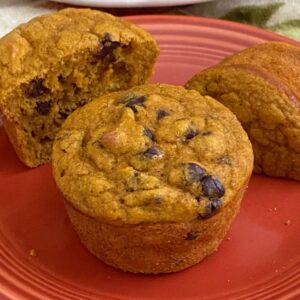 Ingredients
1 ½

cup

white whole wheat flour

any wheat flour will work

½

cup

sugar

½

teaspoon

baking powder

½

teaspoon

baking soda

½

teaspoon

salt

½

teaspoon

ground cinnamon

15

ounce

pumpkin puree

2 cups with 2 Tablespoons removed

1

egg

5.3

ounce

Greek yogurt

½ cup

½

cup

Mini chocolate chips, semi-sweet

or raisins
Instructions
Preheat oven to 350 degrees F.

Combine flour, sugar, baking powder, baking soda, salt and cinnamon in a bowl.

Stir pumpkin, egg and yogurt into the dry mix.

Fold in mini chocolate chips.

Fill muffins tin wells coated with cooking spray about ⅔ full (about ¼ cup of batter.) Tip: if using liners, give them a light spritz of cooking spray too.

Bake for 20-25 minute or until the muffins are firm and lightly browned on the top.

Allow muffins to cool for 5 minutes in the pan and then remove to a wire rack to cool further. Enjoy!
Notes
There are more expert tips and helpful information in this post!
Grab 5 Low-Carb Sauces
and get more easy, healthy recipes! JOIN HERE
Nutrition
Calories:
164
kcal
|
Carbohydrates:
27
g
|
Protein:
5
g
|
Fat:
5
g
|
Saturated Fat:
2
g
|
Cholesterol:
15
mg
|
Sodium:
155
mg
|
Potassium:
185
mg
|
Fiber:
3
g
|
Sugar:
14
g
|
Vitamin A:
5540
IU
|
Vitamin C:
1
mg
|
Calcium:
48
mg
|
Iron:
2
mg
Nutritional and Food Safety Disclaimer
This recipe was originally published 9/16/2014. It was updated to improve the reader experience.