Whole Wheat Pumpkin Muffins are always a hit, especially when dotted with mini chocolate chips. They taste indulgent even though they're packed with plenty of healthy ingredients.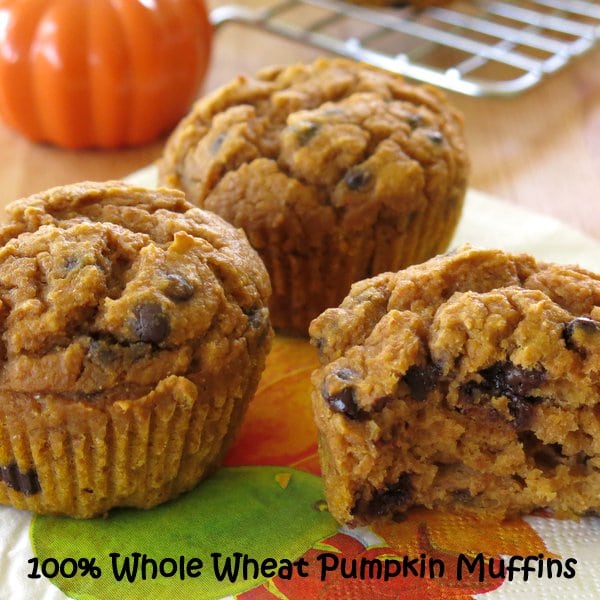 I'm bidding farewell to zucchini and welcoming the season of all things pumpkin to The Dinner-Mom site! Wohoo!
I can't think of a better way to kick things off than with these Whole Wheat Pumpkin Muffins. (Unless you are craving chocolate, in which case you will want to hop on over to Healthy Chocolate Pumpkin Muffins.) Either way, they always seem to be exactly what I need. A quick breakfast? Pumpkin muffins to the rescue. After school snack? Lunch box treat? They're always welcomed. A side for dinner? Edible gifts? I've yet to find an occasion when these don't deliciously do the trick.
So what's so special about these Whole Wheat Pumpkin Muffins?
Well…I've become a bit of a Muffin Maker this year. Zucchini muffins gave way to banana muffins and applesauce muffins. It was only a matter of time before pumpkin got its turn. In every case, I was able to make muffins that were "healthified" without sacrificing taste. This one is no exception. 🙂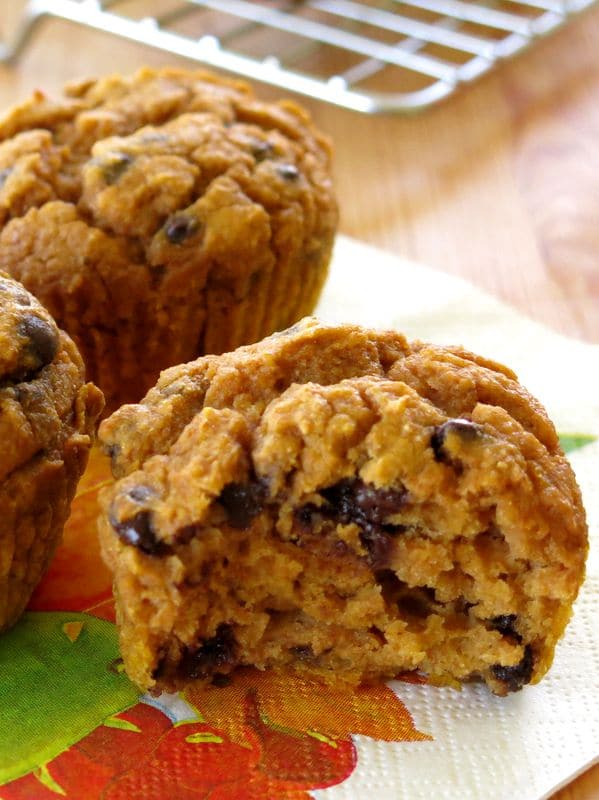 They call for 100% whole wheat flour, yogurt instead of oil and just a little less sugar. I hope you can tell just how super moist they are!
Not that they needed it, but I added some mini chocolate chips for my chocoholic family. Raisins are also delish. Really…nothing needs to be added at all though.
And, if you don't mix anything else in we're talking about approximately 100 calories per muffin and only a bit more if you add in chips or raisins.
So pumpkin muffin mayhem begins. I make up batches of the dry mix so it's a matter of minutes to have these baking in the oven. I can't think of a better way to welcome fall!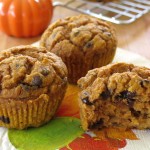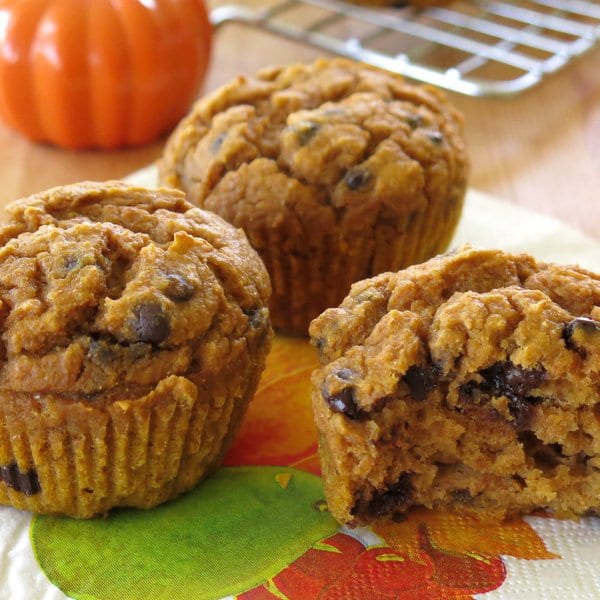 Whole Wheat Pumpkin Muffins with Chocolate Chips
Whole Wheat Pumpkin Muffins are dotted with chocolate chips. They taste indulgent but are full of healthy goodness.
Instructions
Preheat oven to 350 degrees F.

Combine flour, sugar, baking powder, baking soda, salt and cinnamon in a bowl.

Stir pumpkin, egg and yogurt into the dry mix.

Fold in mini chocolate chips.

Fill muffins tins lined with paper liners or coated with cooking spray about 2/3 full. (Tip: if using liners, give them a light spritz of cooking spray before filling with batter.)

Bake for 20-25 minute or until the muffins are firm and lightly browned on the top.

Allow muffins to cool for 5 minutes and then remove to a wire rack to cool further.
Nutrition Facts
Whole Wheat Pumpkin Muffins with Chocolate Chips
Amount Per Serving
Calories 145
Calories from Fat 18
% Daily Value*
Total Fat 2g 3%
Cholesterol 15mg 5%
Sodium 159mg 7%
Potassium 166mg 5%
Total Carbohydrates 27g 9%
Protein 4g 8%
* Percent Daily Values are based on a 2000 calorie diet.
More pumpkin muffin variations you might enjoy: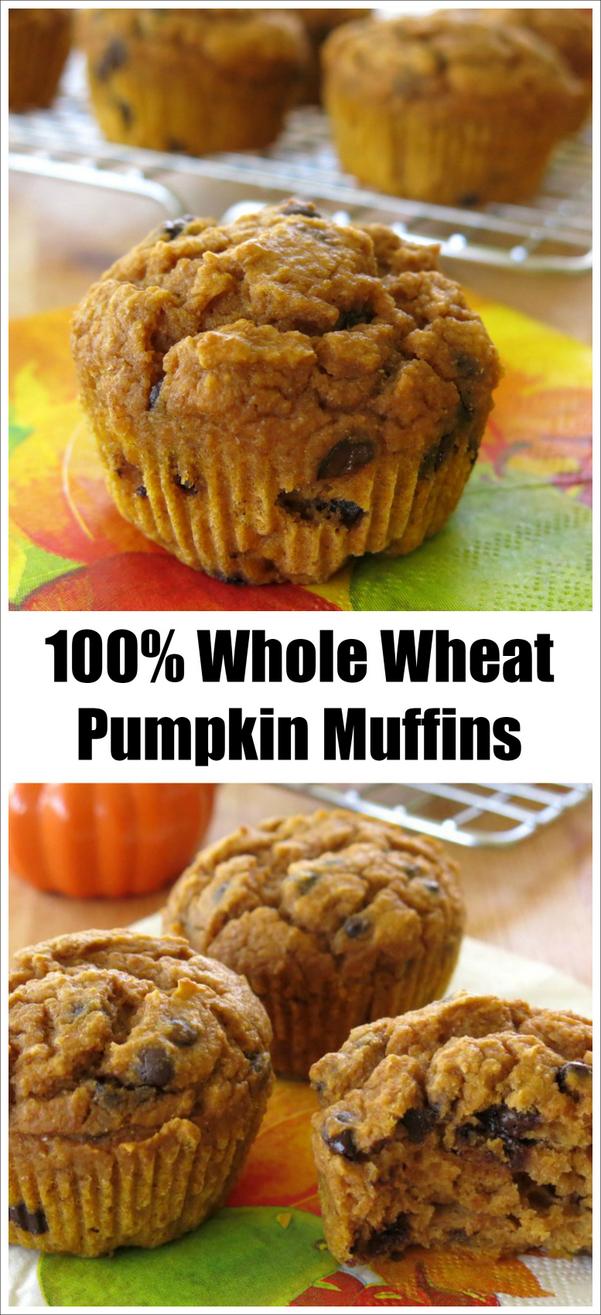 NEVER MISS A RECIPE! SUBSCRIBE BY EMAIL & RECEIVE A FREE GIFT!
FOLLOW ME: