These Meatloaf Cupcakes are filled with healthy ingredients like oatmeal, cheese, spinach, and pine nuts. Plus there's a fun factor. Mashed Potato Icing crowns the top!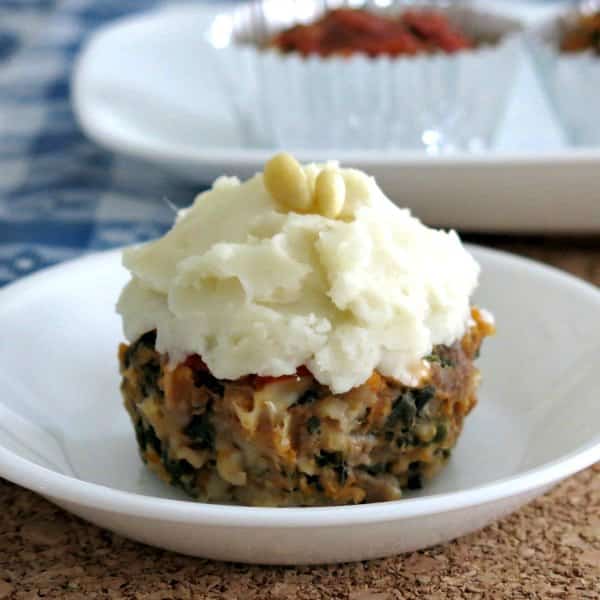 If you enjoyed the Gourmet Meatloaf Recipe that was so popular at our make-ahead meal store, then you've got to try these Meatloaf Cupcakes with Spinach and Pine Nuts.
They have the same cheesy flavor with the surprise addition of pine nuts and spinach. (And, NO...you can't taste the spinach!)
In my book, they're pretty healthy. But, for anyone who just might turn up their noses at spinach in a meatloaf I have a big tip! "Frost" those cute little cupcakes with mashed potato icing!
I've made many a meatloaf fan with just one bite of this updated comfort food!
Meatloaf Cupcake Ingredients
Prepare all the ingredients and mix them up in a large bowl before adding the meat. Here's what you'll need:
Old-fashioned Oatmeal easily blends into the meatloaf mixture, absorbs some of the juices, keeps the meatloaf cupcakes moist and makes this meatloaf recipe gluten-free. Breadcrumbs can be used instead.
Frozen, Chopped Spinach. Defrost the spinach. Next, place it in a colander that is set over a plate to catch the liquid. Press down on the spinach with a paper towel and blot to remove excess water.
Cheeses. Use a combination of shredded mozzarella cheese and grated Parmesan cheese.
Pine nuts add a tasty, nutty burst of flavor. You can leave them out if they are too pricey.
Onion. Finely dice a white, yellow or Vidalia onion.
Ketchup. Use low-sugar ketchup to keep the carbohydrate count low.
Egg. You really can add it or leave it out. The cheese does a good job of holding everything together.
Ground Beef. We use the leanest beef we can find at our house. All of the other ingredients keep the final meatloaf muffin very flavorful.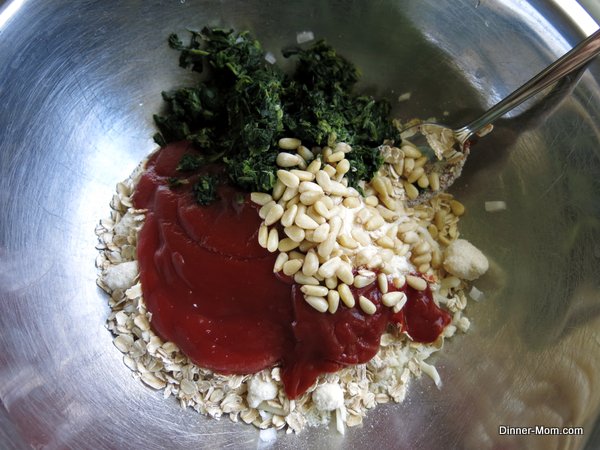 How to Make Meatloaf in a Muffin Pan
All of our meatloaf recipes, including this one, can be made as a traditional meatloaf, mini meatloaves or as a meatloaf muffin. The preparation process is the same.
The difference is the cooking time in a 350 degree Fahrenheit oven:
1 pound meatloaf pan = about 1 hour
3 mini meatloaves = about 40 minutes
12 meatloaf cupcakes = about 25 minutes <== which is why I LOVE meatloaf muffins so much!
Mix all of the ingredients together, except for the meat. Next, fold in the ground beef and mix until just combined. Don't mix too much or the meat will become tough during the cooking process.
To bake the meatloaf mixture in a muffin pan, portion about ¼ cup of the meat mixture into each compartment. Top with ketchup, if desired.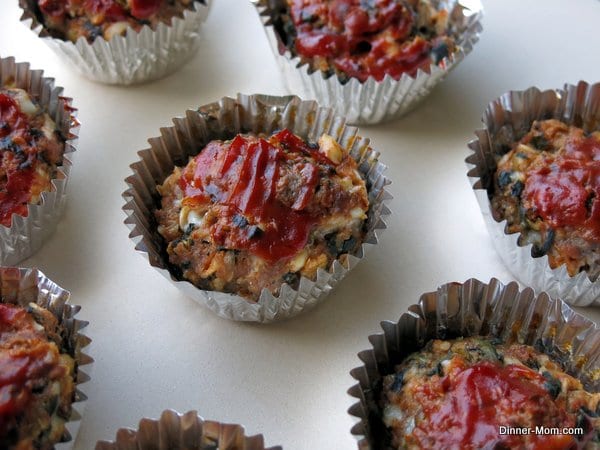 Mashed Potato "Icing" for Meatloaf Muffins
Make this meatloaf recipe in muffin pan then "frost" the meatloaf cupcakes with mashed potatoes.
Hey...presentation is everything!
Use prepared mashed potatoes from the grocery store, our Crock-Pot Mashed Potatoes with Cream Cheese or these microwave mashed potatoes by PureWow!
Here's a quick and easy topping using one potato, that can be easily doubled or tripled.
Use a vegetable peeler to remove the skin from a russet potato.
Microwave the potato on high for 7-10 minutes or until it's easily pierced with a fork. (Flip and check the potato at 5 minutes.)
Mash the potato in a bowl with a fork.
Stir in 1 Tablespoon of butter and 1 Tablespoon of milk, adding a few drops more until desired consistency.
Add salt and pepper to taste.
Of course, you can always just serve it atop a plate of mashed potatoes too!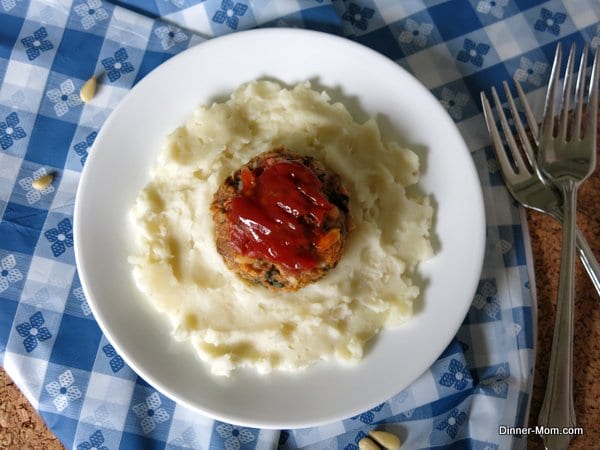 How to Make Ahead and Freeze Meatloaf Cupcakes
If you're using our Healthy Weekly Dinner Plan using Core Recipes, then this is yet another variation of a meatloaf muffin that you should make ahead and freeze. There are two ways to prepare these ahead of time.
Prepare them, but don't cook them. Wrap the entire pan in plastic wrap and aluminum foil and freeze it. When you're ready to enjoy them, place the pan in the refrigerator overnight to defrost and then cook according to the directions.
Cook the meatloaf cupcakes. Allow them to cool. Individually wrap in plastic wrap or freeze on a baking sheet and move to a freezer bag when hard. Microwave the meatloaf cupcakes when you are ready to eat them.
Either way, we frost with mashed potatoes just before serving.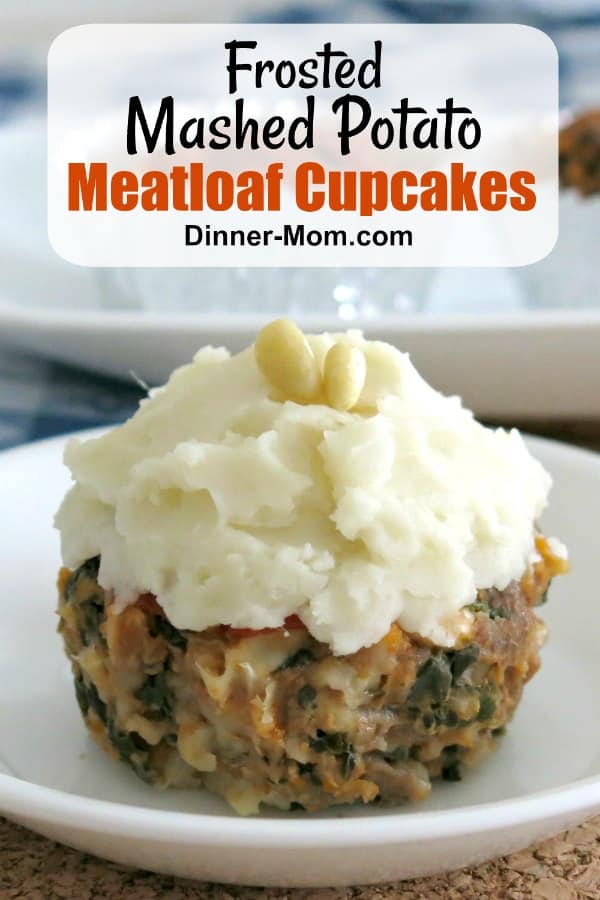 Please rate this recipe and tag @DinnerMom or #DinnerMom on social media. We love to see what you are cooking up!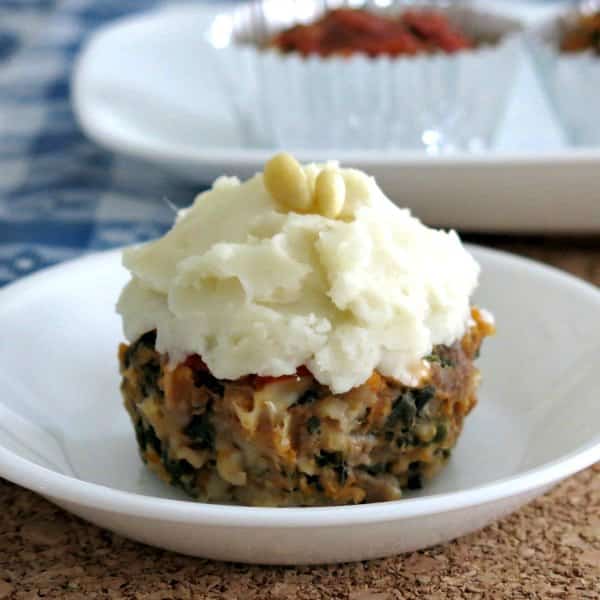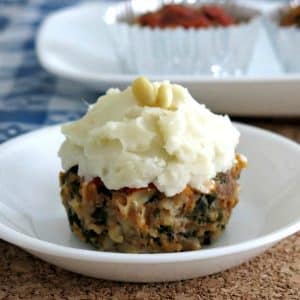 Meatloaf Cupcakes with Mashed Potato Icing
Meatloaf Cupcakes with Mashed Potato Icing are FUN, absolutely DELICIOUS and are packed with HEALTHY ingredients like oatmeal, cheese and spinach too!
Print
Pin
Rate
Ingredients
1

egg

lightly beaten

½

cup

oatmeal

or breadcrumbs

½

cup

onion

diced

½

cup

ketchup

plus extra for the top if desired

1

cup

mozzarella cheese

shredded

½

cup

Parmesan cheese

½

cup

spinach

chopped, drained, excess water pressed out with a paper towel

2

Tablespoons

pine nuts

1

pound

lean ground beef

4

cups

Prepared Mashed Potatoes
Instructions
Preheat oven to 350F.

Add all of the ingredients except for the ground beef and mashed potatoes to a large bowl and mix well.

Add ground beef and mix just until combined.

Portion about a ¼ cup of the meatloaf mixture into the compartments of a muffin pan.

Bake uncovered for about 25 minutes or until the internal temperature reaches 165 degrees Fahrenheit.

Remove from oven and allow to cool for about 5 minutes.

Use a knife to frost each meatloaf cupcake with the prepared mashed potatoes.
Notes
This traditional meatloaf recipe and can also be cooked in a 1 pound loaf tin or 3 mini loaf tins. Adjust the cooking time accordingly. A 1 pound meatloaf will take about 1 hour to cook. Meatloaf freezes exceptionally well, before and after it is cooked. Eat within 2 months of freezing for the best quality. 
Grab 5 Low-Carb Sauces
and get more easy, healthy recipes! JOIN HERE
Nutrition
Calories:
333
kcal
|
Carbohydrates:
24
g
|
Protein:
29
g
|
Fat:
14
g
|
Saturated Fat:
6
g
|
Cholesterol:
95
mg
|
Sodium:
507
mg
|
Potassium:
892
mg
|
Fiber:
4
g
|
Sugar:
5
g
|
Vitamin A:
568
IU
|
Vitamin C:
15
mg
|
Calcium:
248
mg
|
Iron:
6
mg
Nutritional and Food Safety Disclaimer