These healthy meatloaf muffins are filled with goodies including lots of cheese, spinach and pine nuts. Plus there's a fun factor. Mashed potato icing crowns the top. Your family will love these!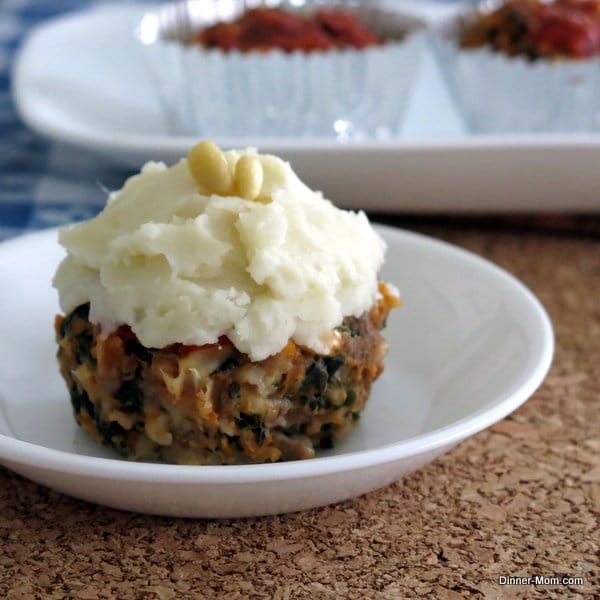 If you enjoyed the Sundried Tomato and Mozzarella Meatloaf recipe, (that's the super popular entree from our make ahead meal store that I wrote about,) then you've got to try these Meatloaf Muffins with Spinach and Pine Nuts. They have the same cheesy flavor with the surprise addition of pine nuts and spinach. You're sure to become a meatloaf fan with just one bite of this updated comfort food.
Meatloaf Muffins Step-by-Step
I used extra lean ground beef, low-fat cheeses, oatmeal, spinach and pine nuts to make this meatloaf tasty and healthy. But, for those who just might turn up their noses at spinach in a meatloaf (and I'm not naming any names from around my house.) I had to up the fun factor.
I cooked the meatloaf in cute little muffin tins. And, yes…I ended up "frosting" the meatloaf muffins with mashed potatoes. Hey…presentation is important. They were gobbled right up!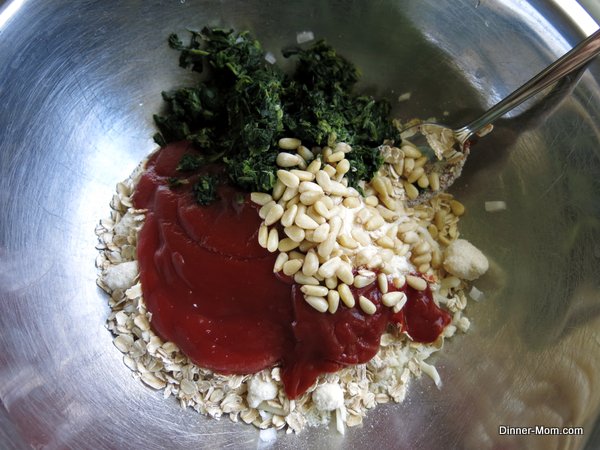 Prep all your ingredients and mix them up in a large bowl before you add the meat. Here's the low-down on the ingredients:
I used old-fashioned oatmeal. I always do and nobody's the wiser. But, any type of breadcrumbs will work.

Make sure to drain and really press all of the water out of the spinach. Place the defrosted spinach in a colander that is set over a plate. Press down on the spinach with a paper towel.
Use low-fat cheeses or vegan cheeses. We have a dairy allergy in the house, so this recipe has been tested both ways. Check out Allergy Friendly Food Products for items we often use.
The other ingredients are diced onion and ketchup. Enough said.
As for the pine nuts. Well, these just add a tasty, nutty burst of flavor. Yes, you can leave them out. But, why would you?
As long as we are talking ingredients, it's good time to reflect on the fact that you can hide many things in meatloaf. I've added flax seed, chia seeds, wheat germ and pureed carrots. As I said, you can be very sneaky with these meatloaf muffins. But, this recipe is pretty healthy to begin with.
As for the egg, you really can add it or leave it out. The cheese does a good job of holding everything together.
Once you have all these yummy ingredients mixed together, fold in the ground beef and mix until just combined. Don't mix too much or the meat will become tough during the cooking process.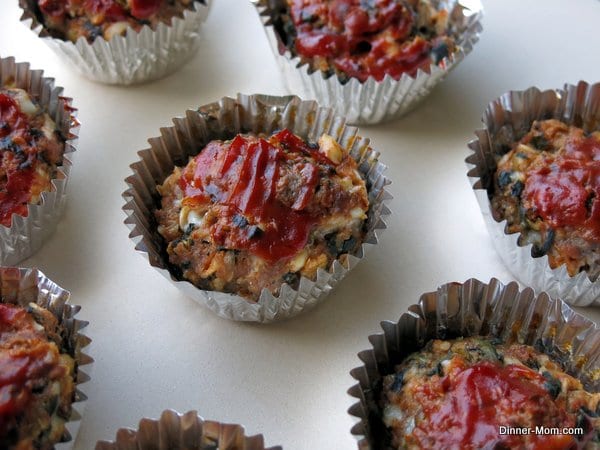 Portion about 1/4 cup of the meat mixture into each aluminum muffin tin. Top with ketchup, if desired. In case you are wondering, I have never tried paper inserts. I'm always a little skeptical that things could get messy. But, since I used lean ground beef, there was literally no grease in the bottom of the tins.
These only take about 30 minutes to cook in a 350 degree F oven.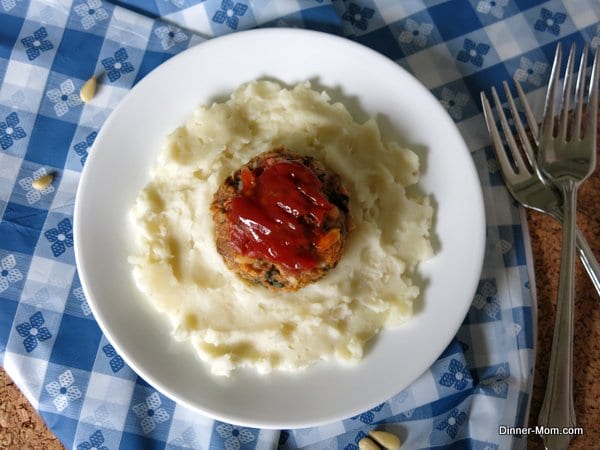 Serve these meatloaf muffins with crock pot creamy mashed potatoes on the top…or the bottom.
There's many things to like about this recipe. If you want to:
Make it ahead of time and freeze it – Prepare it, don't cook it, wrap it and freeze it. Defrost and cook according to the directions. Or, you can cook it and freeze it and then just microwave the meatloaf muffins when you are ready to eat them (take them out of the aluminum tin first.)
Keep it healthy – Use lean ground beef and low-fat cheeses. You can also sneak in about 1/4 cup of other healthy mix-ins such as flax seed, chia seeds, or vegetable puree.
Make it egg- and dairy-free – Use vegan cheeses and leave out the egg. It was taste tested both ways.
Make a traditional meatloaf – Use a 1 pound loaf tin and cook in a 350 degree F oven for about 1 hour.
Use the leftovers – Crumble the meat and use in place of cooked ground beef in a recipe. Or, make an easy empanada by crumbling meat and placing it in crescent roll dough. Cook according to the dough instructions.
Meatloaf Muffins with Spinach and Pine Nuts
These meatloaf muffins with spinach and pine nuts are super tasty and healthy too. Make ahead and freeze them for a healthy dinner or lunch any time.
Ingredients
1

egg

lightly beaten

1/2

cup

oatmeal

or breadcrumbs

1/2

cup

onion

diced

1/2

cup

ketchup

plus extra for the top if desired

1

cup

low-fat mozzarella cheese

shredded

1/2

cup

Parmesan cheese

1/2

cup

spinach

chopped, drained, excess water pressed out with a paper towel

2

Tablespoons

pine nuts

1

pound

lean ground beef

4

cups

Prepared Mashed Potatoes
Instructions
Preheat oven to 350F.

Add all of the ingredients except for the ground beef and mashed potatoes to a large bowl and mix well.

Add ground beef and mix just until combined. (Don't overmix or the final meatloaf may become tough.)

Portion about a 1/4 cup of mixture into each aluminum muffin tin.

Bake uncovered for about 30 minutes.

Remove from oven.

Serve with mashed potatoes "frosting" on the top, if desired.
Notes
This traditional meatloaf recipe and can also be cooked in a 1 pound loaf tin or 3 mini loaf tins. Adjust the cooking time accordingly. A 1 pound meatloaf will take about 1 hour to cook. Meatloaf freezes exceptionally well, before and after it is cooked. Eat within 2 months of freezing for the best quality. This recipe was tasted-tested dairy- and egg-free, by leaving out the egg and using vegan cheeses.
Nutrition
Calories:
324
kcal
|
Carbohydrates:
24
g
|
Protein:
28
g
|
Fat:
12
g
|
Saturated Fat:
5
g
|
Cholesterol:
91
mg
|
Sodium:
506
mg
|
Potassium:
893
mg
|
Fiber:
3
g
|
Sugar:
5
g
|
Vitamin A:
530
IU
|
Vitamin C:
15.4
mg
|
Calcium:
301
mg
|
Iron:
6.2
mg
Free Email Course: Healthy Dinners on Autopilot
Sign-up Here!