This post may contain affiliate links. Please read my disclosure.
Gourmet Meatloaf with Mozzarella and Sun-dried Tomatoes is also stuffed with Parmesan cheese, onion, fresh basil and uses oatmeal so it's healthier and gluten-free. Whether you make muffins, meatballs or a full-size loaf, it's a "gourmet" recipe your family will beg for again and again!
This is no ordinary meatloaf.
Hands down...it was a top-requested recipe from our make-ahead meal kitchen. We even had a customer order some on the way to the delivery room...so it would be tucked away in her freezer when she got home from the hospital. Truly! It's good. Really good.
Not only is it moist and delicious, but it freezes beautifully and can be packaged so many different ways depending upon your family size and needs. I love the ease and portability of the muffin size, but the same recipe is used for a full-sized pan.
I have become a bit of a meatloaf fanatic and love experimenting with the basic recipe. Easy Chicken Meatballs, Meatloaf Cupcakes with Mashed Potato Icing and Turkey Meatloaf Muffins are all delicious variations that are in my freezer right now.
Yep. I'm a big fan.
What is Gourmet Meatloaf?
So what makes this recipe gourmet? According to Dictionary.com, the adjective gourmet means: of or characteristic of a gourmet, especially in involving or purporting to involve high-quality or exotic ingredients and skilled preparation.
Sun-dried tomatoes and fresh basil are the specialty items in this meatloaf and take this recipe beyond ordinary.
Prepare it in a non-traditional way, such as muffin-size, and add to the presentation appeal.
Choose your ingredients wisely, including the very best lean beef, preferably grass-fed. We use oatmeal instead of breadcrumbs which absorb the juices from the beef.
Prepare this meatloaf using our advice based upon making it thousands of times in our Meal Assembly Kitchen. You are sure to deliver a gourmet dish.
We think Bacon Wrapped Meatloaf or "Mashed Potato" icing atop a Meatloaf Muffin also fit the definition. We also apply this term to our Gourmet Sloppy Joes.
What do you think?
Pan Sizes for Gourmet Meatloaf
Package this recipe in any portion size including cupcake tins (makes 12) or a traditional meatloaf pan (serves 6-8). You can even make it into meatballs like we did for Easy Chicken Meatballs Baked in a mini muffin tin.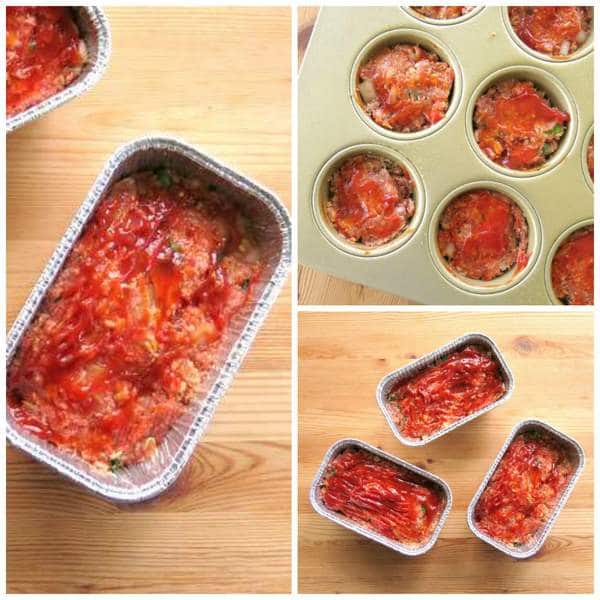 The smaller the tin, the faster meatloaf cooks. Allow about 30 minutes for muffin-sized meatloaf and 45 minutes for mini-sized bread tins. It's best to use a meat thermometer to ensure meatloaf reaches the proper temperature of 165 degrees F.
Tips for Making Gourmet Meatloaf Recipe
Prepare the ingredients you will need first. Then, mix everything together. Below are tips on the ingredients and preparation:
Lean meat works great in this recipe because there is so much moisture from the cheeses. Other types of protein, such as ground chicken or turkey, work well in this recipe.
Oatmeal can be replaced with breadcrumbs.
Egg is optional. The cheeses do a very good job of holding everything together.
Purchase sun-dried tomatoes in a package or a jar. They are sold whole or sliced. Slice whole sized tomatoes into slivers to get more bang for your buck!
If you don't have fresh basil on hand, dried basil will work...but, fresh basil is so worth it! Stack, roll and snip the leaves with kitchen scissors into thin slivers.
Mix all of the ingredients together, except for the beef. Then, incorporate the beef. This process distributes the ingredients more evenly.
Don't over-mix the meatloaf of the beef will become tough.
How to Freeze Gourmet Meatloaf
Double this recipe once you have all the ingredients out. Meatloaf freezes well.
Once the ingredients are combined, shape meatloaf in the desired pan. Cover with plastic wrap and then a lid or aluminum foil. Store in the freezer for up to 4 months for the best results.
When you're ready to cook the meatloaf, defrost it overnight in the refrigerator and then cook it as you normally would. Meatloaf may also be cooked from frozen, but it will take twice the time and it is very important to check the internal temperature. But, it's an option!
Enjoy gourmet meatloaf baked in a traditional loaf pan.
Or baked in a muffin tin.
Any way you cook it, this meatloaf is definitely gourmet!
I guarantee you will turn into a meatloaf lover when you try it!
Please rate this recipe and tag @DinnerMom or #DinnerMom on social media. We love to see what you are cooking up!
📋 Recipe
Gourmet Meatloaf with Mozzarella and Sundried Tomatoes
This gourmet meatloaf is bursting with flavor. Mozzarella and Parmesan cheeses, onions, fresh basil and sundried tomatoes take this comfort food to a whole new level of delicious!
Email Ingredients + Recipe
Print
Pin
Rate
Ingredients
1

egg

slightly beaten

½

cup

oatmeal

or breadcrumbs

1

cup

shredded mozzarella cheese

low-fat

½

cup

grated parmesan cheese

½

cup

diced onion

about ½ medium-sized onion

¼

cup

basil

cut into thin slivers (1 Tablespoon dried)

¼

cup

sundried tomatoes

cut in slivers

½

cup

ketchup plus more for topping

1

pound

lean ground beef
Instructions
Preheat oven to 350F.

Add all of the ingredients except for the ground beef to a large bowl and mix well.

Add ground beef and mix just until combined. (Don't overmix or the final meatloaf may become tough.)

Portion mixture into tin(s). (1 pound tin or 3 mini meatloaf tins or 12 cupcake tins)

Spread additional ketchup on top.

Bake uncovered to a temperature of 160 degrees Fahrenheit. A one pound meatloaf will take about an hour. A mini meatloaf tin will take about 45 minutes and a cupcake size tin will take about 30-35 minutes.

Allow cooked meatloaf to sit for 10 minutes before slicing.

Enjoy!
Notes
Meatloaf freezes well uncooked or cooked. Wrap container in aluminum foil and plastic wrap. Store in freezer for 2-4 months. When ready to cook, defrost in refrigerator for 24 hours and then cook as directed.
Grab 5 Low-Carb Sauces
and get more easy, healthy recipes! JOIN HERE
Nutrition
Serving:
1
g
|
Calories:
251
kcal
|
Carbohydrates:
12
g
|
Protein:
26
g
|
Fat:
10
g
|
Saturated Fat:
5
g
|
Cholesterol:
93
mg
|
Sodium:
498
mg
|
Potassium:
551
mg
|
Fiber:
1
g
|
Sugar:
7
g
|
Vitamin A:
400
IU
|
Vitamin C:
3.8
mg
|
Calcium:
265
mg
|
Iron:
2.8
mg
Nutritional and Food Safety Disclaimer