There are Sloppy Joes and there are Uptown Sloppy Janes. The emphasis is absolutely necessary because believe me there is a difference. I am determined to stay positive on this one because I know the childhood attachment some have to this classic. Let's review why this is no ordinary sandwich.
First, these Sloppy Joes use very lean ground beef (or soy crumbles or ground turkey.) Second, the homemade sauce is laced with sauteed fresh mushrooms and onions and a splash of red wine vinegar. The transformation is complete when the aromatic Sloppy Joe sauce is spooned over the tastiest of breads, such as French bread or soft whole wheat rolls.
This entree is kid-friendly and adult-approved. But, what I find particularly appealing is that this recipe comes together faster than a trip through the drive through, and faster still if you follow some of the make-ahead strategies below.
Sloppy Joes Step by Step
Crumbled ground beef is the main ingredient. I use the leanest beef I can find. Ground turkey is an option as well as vegan soy crumbles.
Cook the ground beef and then place it on a paper-towel lined plate to soak up any extra fat. I didn't have to do this because I always have a bag of crumbles in the freezer. 🙂
Tip #1 – Cook up several pounds of ground beef at one time. Allow it to cool, package it in plastic bags and store the bags in the freezer. I package it in 2 cup and 1 cup portions.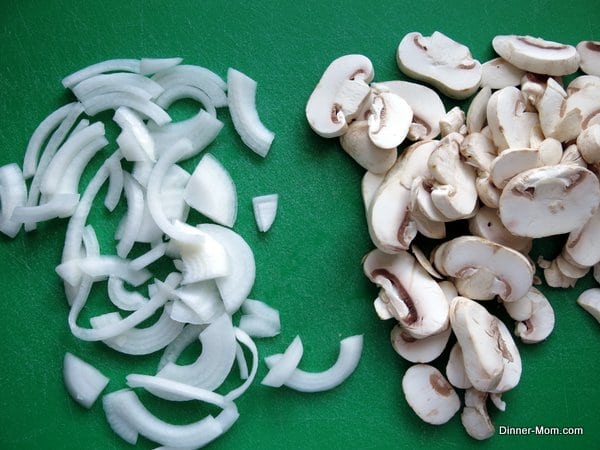 I absolutely love the fresh onions and mushrooms in this sauce. If you like green peppers, then you should use those too. I did not add them because it's not something I fancy very often. There. I've said it, in the nicest possible way. I don't really care for green peppers. But, I promise to always let you know when this vegetable, which I know so many adore, would be appropriate.
Another thought on the vegetables…I kept the vegetables big and chunky and for a good reason. If someone (and I'm not naming any names) does not care to have mushrooms and/or onions in their sauce, then it would be extremely easy to pick these out. Conversely, I am told (by nobody in particular) that if these veges were a bit smaller and less noticeable, than they would have been gobbled right up.  Well, you can't blame a girl for trying to please everyone!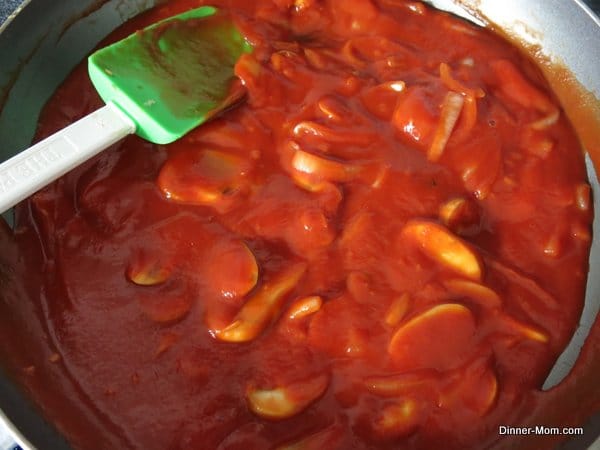 Saute the onions and mushrooms for about 5-7 minutes and then add the rest of the sauce ingredients. Cook over medium heat for about 5-10 minutes to wake-up the flavor and aroma of the tomato paste (lesson learned from Rachel Ray) and to allow all the flavors to combine. Stir in the crumbled ground beef and simmer for a few minutes more.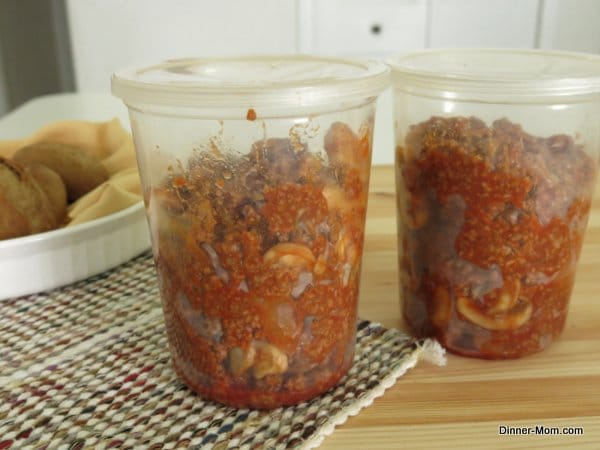 Tip #2 – Make a double or triple batch of the sauce and freeze it in plastic bags that seal or freezer containers. Freeze the sauce at whatever stage makes sense for your family: completely cooked with meat and vegetables, with just the vegetables or with just the sauce and no vegetables.
Need a quick dinner? Just pull the sauce out of the freezer, defrost and serve on the tastiest bread you can find.
I guarantee everyone will be happy with these Sloppy Joes…I mean Janes!
Uptown Sloppy Joes
Sloppy Joes are elevated to uptown "Jane" status with the addition of fresh mushrooms, onions and a hint of red wine vinegar. Serve on French bread!
Ingredients
2

pounds

lean ground beef

cooked and crumbled (about 4 cups)

1

Tablespoon

olive oil

1/2

white onion

sliced into slivers

8

ounces

white mushrooms

sliced

2

garlic cloves

minced

16

ounces

tomato sauce

2 cans

1/2

cup

tomato paste

1 can, with 2 Tablespoons removed

1

Tablespoon

brown sugar

2

teaspoons

red wine vinegar

6

French bread rolls
Instructions
Heat 1 Tablespoon olive oil over medium heat.

Add onions, mushrooms and garlic and saute for about 5-7 minutes or until vegetables or softened.

Add tomato sauce, tomato paste, brown sugar and red wine vinegar and stir to mix and combine.

Simmer for about 5-7 minutes to wake-up the tomato sauce and allow the sauce ingredients to combine.

Stir in crumbled ground beef and simmer for about 5 minutes more.

Serve in French bread rolls.
Notes
This sauce is freezer-friendly. Double or triple the recipe and freeze the sauce for a quick dinner. Keep it vegan by using soy crumbles! Substitute brown sugar with agave nectar and serve in lettuce wraps to keep recipe South Beach Diet Phase 1 compliant. Serving in lettuce wraps or gluten free bread will make this recipe gluten-free.
Nutrition
Calories:
404
kcal
|
Carbohydrates:
34
g
|
Protein:
39
g
|
Fat:
12
g
|
Saturated Fat:
4
g
|
Cholesterol:
93
mg
|
Sodium:
918
mg
|
Potassium:
1177
mg
|
Fiber:
3
g
|
Sugar:
9
g
|
Vitamin A:
13.2
%
|
Vitamin C:
14.4
%
|
Calcium:
7.4
%
|
Iron:
35.4
%
Enjoy!
NEVER MISS A RECIPE! SUBSCRIBE BY EMAIL & RECEIVE A FREE GIFT!
FOLLOW ME: