No bake cheesecake topped with berries in a pretzel crust that is shaped into a cup! It's a delicious, light and easy dessert that's diet friendly too thanks to a secret substitution.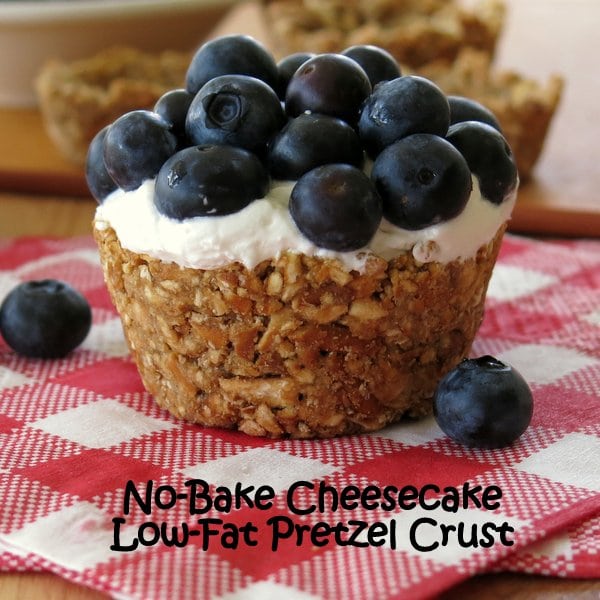 I'm not sure what I like best about this recipe. The easy, creamy no bake cheesecake filling. The luscious berries. Or, the tasty pretzel crust shaped into cute little cups which have been skinnied down by using applesauce instead of butter.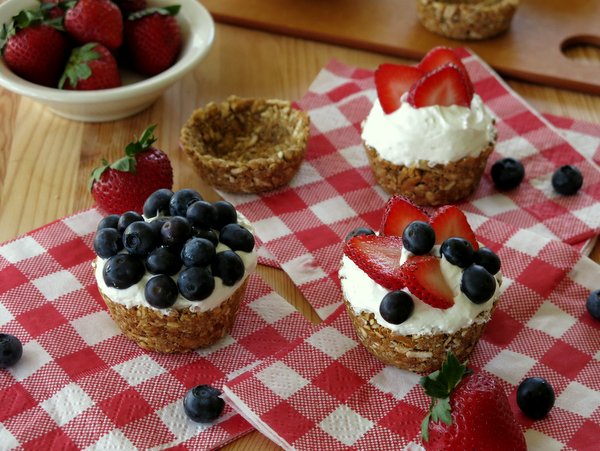 I pondered this question at the photo shoot. It was a tasty and fun affair with lots of input from my faithful partners in dessert creations. (For instance, "Wouldn't these be great for S'mores?"  and "What if we used chocolate instead of berries?")
All great ideas that have been tucked away for another kitchen adventure.
Meanwhile, all I know to be true is that these taste great and don't break the calorie bank.
And…they are easy to make. 🙂
Easy No Bake Cheesecake Directions
Add an 8 ounce package of cream cheese and 1/3 cup of sugar to a bowl. Using a hand mixer, stir and beat until the mixture is light and fluffy. Fold in an 8 ounce tub of whipped topping and stir well. (I gave it a little whirl with the mixer just to be sure everything was well combined.)
Use whatever cream cheese and whipped topping make sense for your family. I used low-fat products. There are also dairy free options out there.
Allow the filling to set in the refrigerator for about an hour. Or, make it a day ahead and assemble the next day for easy entertaining.
The Skinny on the Low-fat Pretzel Crust
I took a recipe for your standard, buttery (and yes…very delicious) pretzel crust, such as this one by Southern Living and replaced the melted butter with apple sauce. It worked. Very well.
It's less sweet and a just a tad more chewy than the traditional version. But, it's a very nice base for the creamy cheesecake. And, given the calorie savings, I'd take this crust over a buttery one any day.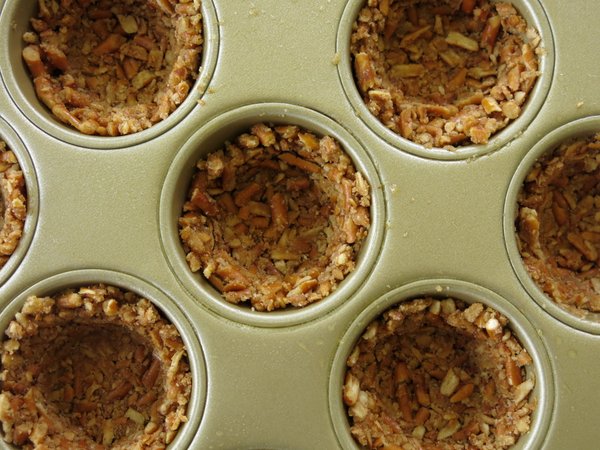 To make the crust into little cups, press about 2 Tablespoons of the mixture into a cupcake tin coated with cooking spray. Bake in the oven for about 10-12 minutes at 350 degrees to firm it up.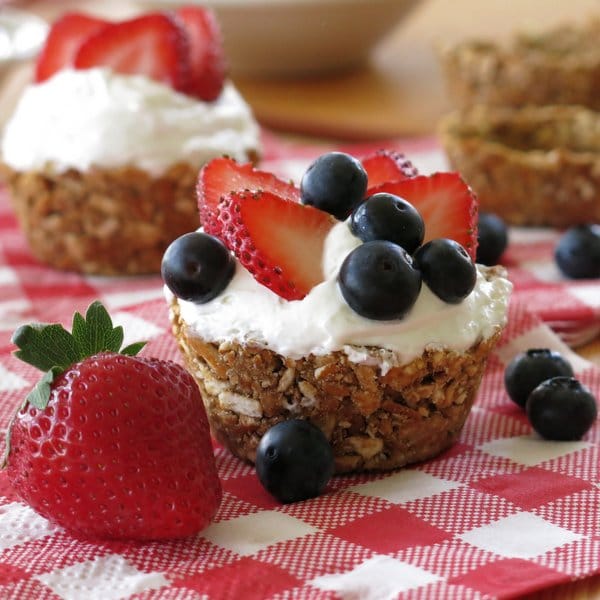 Top it with your favorite berries.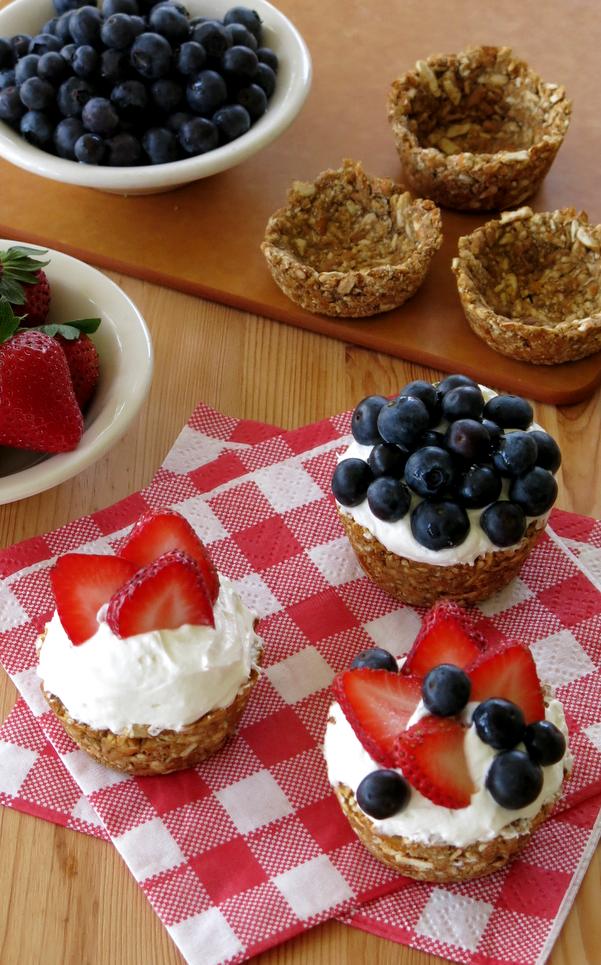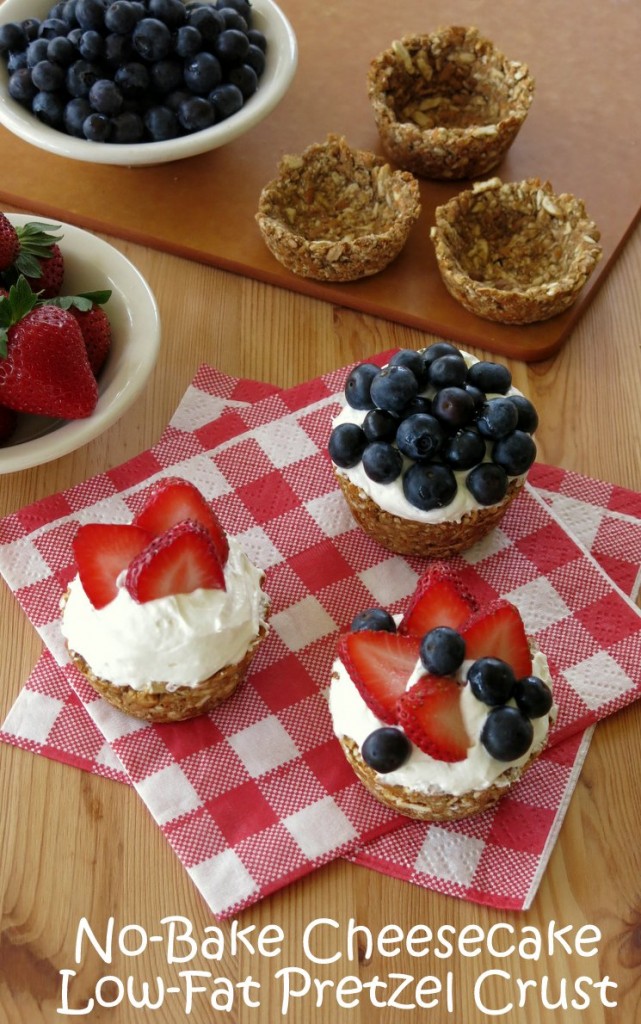 And, enjoy!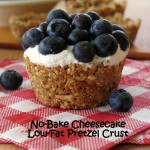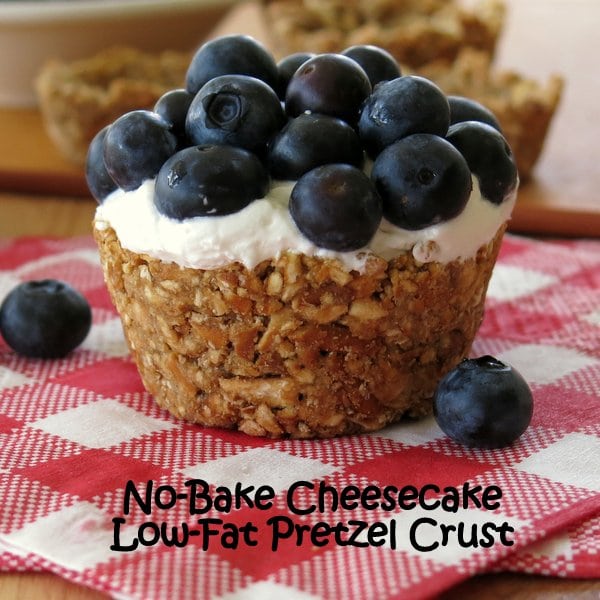 No Bake Cheesecake 'n Berries in a Low-Fat Pretzel Cup
Low-fat pretzel crust shaped into cups is filled with a creamy no-bake cheesecake and topped with fresh berries. The diet friendly swap? The crust uses applesauce instead of butter.
Ingredients
Crust
2

cups

of finely ground pretzels

I chopped mine in a food processor

1/4

cup

brown sugar

packed

2/3

cup

unsweetened applesauce
Filling
8

ounces

of cream cheese

1/3

cup

sugar

8

ounce

tub of whipped topping
Topping
Your favorite berries

such as strawberries, blueberries and raspberries, washed and sliced
Instructions
Preheat oven 350 degrees F.

Combine pretzels pieces and brown sugar in bowl.

Add applesauce to the dry mixture and stir to thoroughly incorporate.

Place about 2 Tablespoons of the mixture in the well of a muffin tin that has been coated with cooking spray.

Press mixture firmly to the bottom and sides.

Bake in oven for 10-12 minutes or until cups begin to firm up and are slightly browned.

Allow pretzels cups to rest in the muffin tin for several minutes and then remove to a wire rack to cool.

To make the filling, add cream cheese and sugar to a large bowl.

Using a hand mixer, beat and combine the cream cheese and sugar until it is light and fluffy, about 3 minutes.

Fold in whipped topping and stir to thoroughly incorporate.

To assemble, spoon creamy mixture into cups and top with berries.

Keep dessert cups refrigerated until ready to serve.
You might also like:
NEVER MISS A RECIPE! SUBSCRIBE BY EMAIL & RECEIVE A FREE GIFT!
FOLLOW ME:
FACEBOOK | TWITTER| GOOGLE +| PINTEREST | INSTAGRAM