Orzo Pasta with scallops, artichokes, tomatoes and asparagus is tossed in a lemon dill dressing and topped with feta cheese. Serve it warm for a no-fuss dinner or cold for a sensational salad.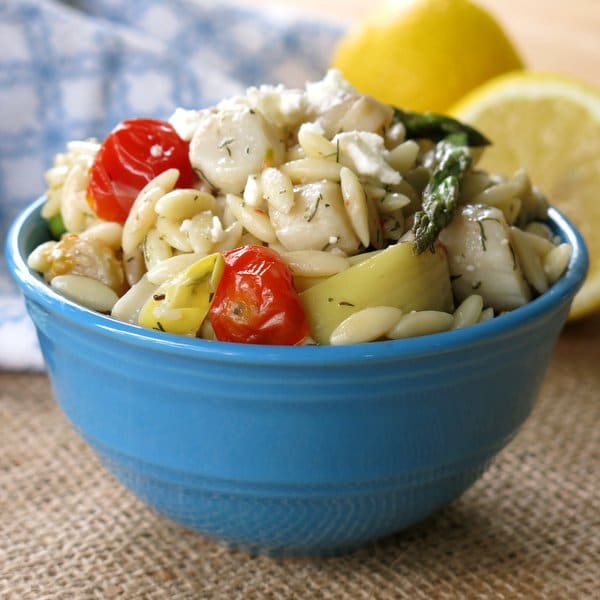 Once summer arrives, dinners are a little more relaxed at our house. There are fewer scheduled activities and more time to enjoy family dinners. Some nights cooking is a fun family affair. Other times, it falls entirely on The Dinner-Mom to get a nice meal on the table. (I can't begin to count how many times I'm reminded of this blog's name at the 5:00 hour!)
Soooo…this gem of a recipe is a good one to have pinned. The complete meal cooks all at once, while you're outside on the porch enjoying the sunset or sipping your favorite drink by the pool with a book in one hand…a girl can dream!
You're going to love this recipe because:
It's almost a one-pan meal. The orzo pasta cooks separately and is tossed with all of the other ingredients that roast in the oven.
It's easy prep and hands off bake time…so you can get started on that book.
It can be assembled, frozen in a plastic bag and cooked later…(it's so easy, the kiddos can make dinner that night!)
Best of all, this recipe tastes great warm from the oven or cold from the refrigerator the next day.
Orzo Pasta with Scallops Tips and Tricks
Cook once and eat twice is my mantra. With that in mind, here are a few tips and tricks.
Step 1: Cook the orzo pasta according to the directions on the box. A 16 ounce box yields about 6 cups of orzo pasta. Cook the entire box and use half for a second dinner that will be frozen for later.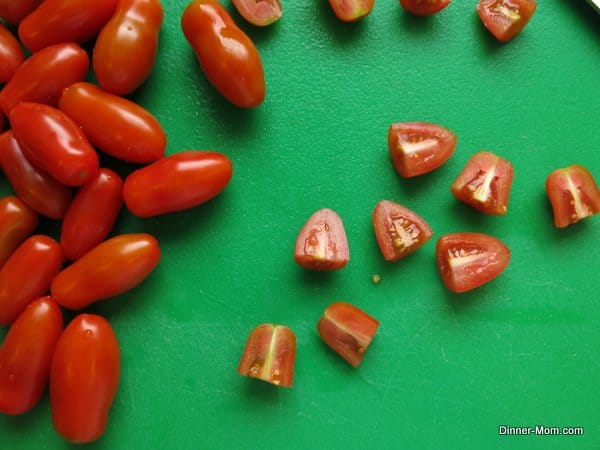 Step 2: Cut the tomatoes in half. Grape tomatoes are also an option. I used mini San Marzano tomatoes cut into quarters because that's what my sweetie picked up at the grocery store and they are delicious! Canned tomatoes will work as well. I suggest draining off the juices first.
Step 3: Drain and roughly chop the artichoke hearts or just separate the pieces in a can of quartered hearts.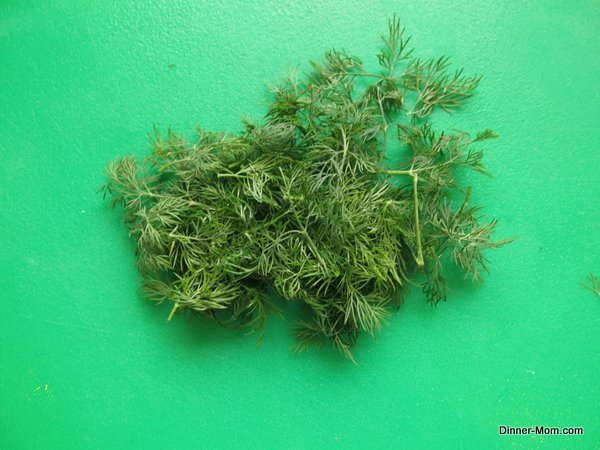 Step 4: Chop up the fresh dill. Remove the hard stems and finely chop it. Dried dill will work too.
Step 5: Place all of the prepared ingredients, along with minced garlic, olive oil, lemon juice, salt, pepper, and scallops on a half sheet pan lined with aluminum foil. Using a sheet pan shortens the cook time because everything is spread in a thin layer.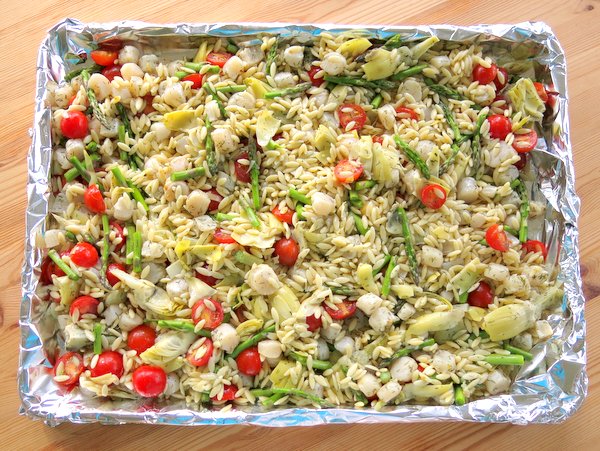 Step 6: Bake the orzo pasta with scallops, uncovered, in a 375 degree F oven for about 15 minutes, depending upon the size of the scallops. When you cut through a scallop, it should be white and firm to touch.
I know…Scallops are expensive. I stock up when they go on sale. These are Patagonian scallops, which are larger than bay scallops, but definitely not as big as sea scallops. Not a scallop fan? Try shrimp, cooked chicken or even black beans in this recipe.

Orzo Pasta with scallops, artichokes, tomatoes, asparagus and feta cheese. I've got two more batches in the freezer. Life is good. 🙂
If you want to:
Make it ahead of time and freeze it – Assemble the entree in a plastic bag that seals, but don't cook it. Stir in frozen scallops (or fresh scallops that have not been previously frozen) just before freezing.
Another option is to make up the recipe minus the scallops. Add the scallops (or shrimp, chicken, black beans, etc.) when you are ready to serve for maximum flexibility.
Customize – Stir in other vegetables, such as zucchini or peppers.
Keep it healthy and low-cal – Use low fat feta cheese.
Make it dairy-free – Leave off the feta cheese. It is delicious without the feta (and saves a few calories too.)
Make it vegetarian – Stir in back beans instead of scallops.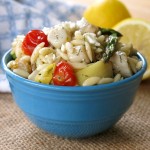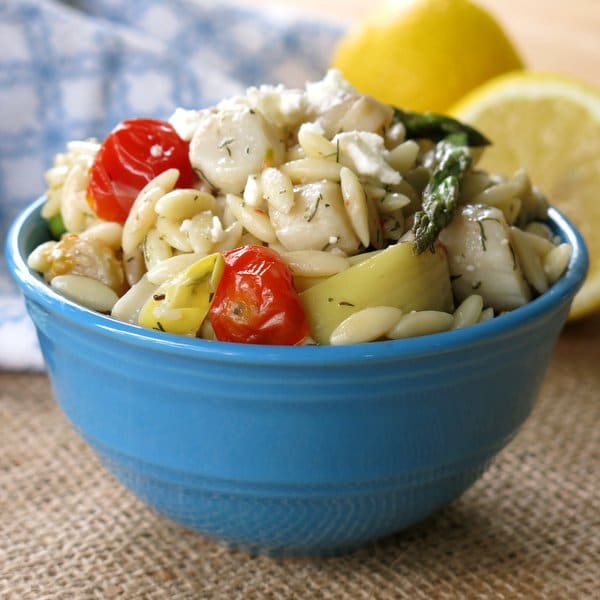 Orzo Pasta with Scallops, Artichokes, Tomatoes and Feta
Orzo Pasta with scallops, artichokes, tomatoes and asparagus is tossed in a lemon dill dressing and topped with feta cheese. Serve it warm for a no-fuss dinner or cold for a sensational salad.
Ingredients
2

Tablespoons

olive oil

3

Tablespoons

lemon juice

or juice of 1 lemon

2

garlic cloves

minced

1/4

teaspoon

salt

Pinch

pepper

3

Tablespoons

fresh dill

chopped (or 1 Tablespoon dried)

3

cups

cooked orzo pasta

1

pound

Patagonian or bay scallops

14

ounces

artichoke hearts

1 can, unmarinated, drained and roughly chopped

1

pint

cherry tomatoes

halved (or 14.5 ounce can diced tomatoes, drained)

15-20

thin asparagus stalks

chopped into 1 inch pieces

4

ounces

feta cheese

crumbled
Instructions
Preheat oven to 375 degrees F.

Combine olive oil, lemon juice, garlic, salt, pepper and dill in a small bowl.

Place remaining ingredients, except for the feta cheese, on a half sheet baking pan covered with aluminum foil.

Drizzle dressing over the orzo, scallops and vegetables. Gently toss to coat and then spread ingredients over the bottom of the pan.

Bake for about 15 minutes or until scallops are done. Scallops should be white when cut in half and firm to touch, but not cracked.

Sprinkle with crumbled feta cheese.
Recipe Notes
To make ahead and freeze, add all of the uncookeed ingredients, except for feta cheese, to a plastic bag that seals. Stir and then seal it up. Store in the freezer for up to two months for best quality. When you are ready to serve, defrost in the refrigerator overnight and then cook according to instructions.
Nutrition Facts
Orzo Pasta with Scallops, Artichokes, Tomatoes and Feta
Amount Per Serving
Calories 585
Calories from Fat 216
% Daily Value*
Total Fat 24g 37%
Cholesterol 52mg 17%
Sodium 1299mg 54%
Potassium 716mg 20%
Total Carbohydrates 61g 20%
Protein 29g 58%
* Percent Daily Values are based on a 2000 calorie diet.
Enjoy!
NEVER MISS A RECIPE! SUBSCRIBE BY EMAIL & RECEIVE A FREE GIFT!
FOLLOW ME:
FACEBOOK | TWITTER| GOOGLE +| PINTEREST | INSTAGRAM