Scallops and Orzo with feta cheese, artichokes, asparagus and tomatoes are tossed in a lemon dill dressing and cook on a sheet pan. Serve it warm for a no-fuss dinner or cold for a sensational orzo pasta salad.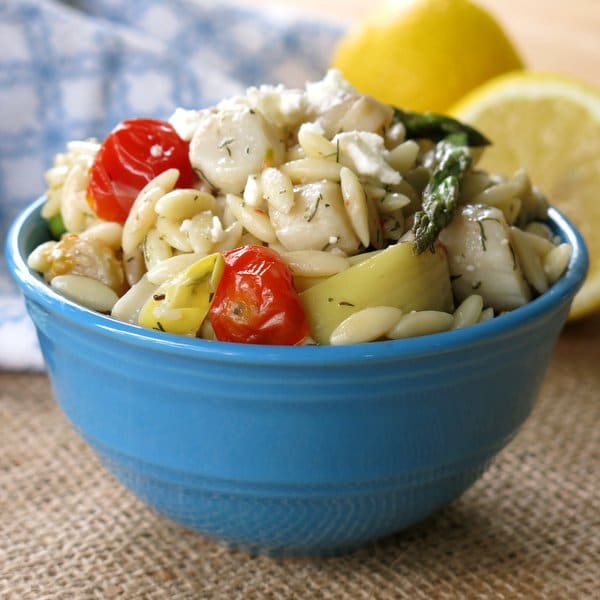 Scallops cook quickly, which is one reason Broiled Scallops with a Parmesan Crust is so popular! But, you need to add a few sides to round out the meal.
This gem of a recipe is a good one to have pinned because that problem is solved. The complete meal, including side vegetables, cooks all at once, while you're outside on the porch enjoying the sunset or sipping your favorite drink by the pool with a book in one hand…Hey! A girl can dream!
You're going to love this recipe because:
It's almost a one-pan meal. The orzo pasta cooks separately before it's tossed with all of the other ingredients that roast in the oven.
It's an easy prep / hands off cook time recipe…so you can get started on that book you've been wanting to read. It's a popular dinner strategy with our readers. Chicken fans should also try Mediterranean Chicken Bake which uses the same process.
It's a make ahead recipe. Buy double the ingredients and assemble a second meal in a plastic bag to store in the freezer before cooking…it's so easy, that ANYONE can make dinner!
Best of all, this recipe tastes great warm from the oven or cold from the refrigerator the next day for lunch.
How to Customize Scallops and Orzo
Ever wondered what to serve with those delicious scallops you picked up at the grocery store? This recipe answers that question and more. We paired scallops and orzo pasta with the following Mediterranean inspired ingredients:
Tomatoes – Cut tomatoes into smaller pieces. Split grape tomatoes in half. We used mini San Marzano tomatoes cut into quarters because that's what my sweetie picked up at the grocery store and they are delicious! Canned tomatoes work too. Drain off the juices first.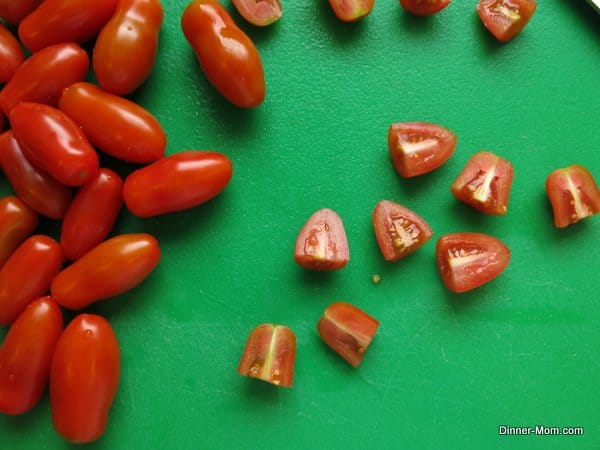 Artichokes – Drain and roughly chop artichoke hearts or just separate the pieces in a can of quartered hearts. We used artichokes packed in water, not oil.
Asparagus – Cut asparagus into 1-2 inch segments.
Feta Cheese – Crumble and sprinkle over the top. It's optional…except when I'm at the table.
Other ingredients that pair well with scallops and orzo:
Spinach
Peppers
Eggplant
Olives
Sundried tomatoes
Pine nuts
Cauliflower
Broccoli
Zucchini squash
Check out this Free Mediterranean Diet Shopping List for more ideas. Substitute or add in your favorite ingredients and customize this recipe! Our latest obsession: whole wheat orzo pasta!
Lemon Dill Dressing for Scallops and Pasta
The lemon dill dressing for this dish is a combination of olive oil, lemon juice, garlic, salt, pepper and dill! If using fresh dill, remove the hard stems and then finely chop what remains. Dried dill is also an option.
Other dill lemon dressings you might enjoy: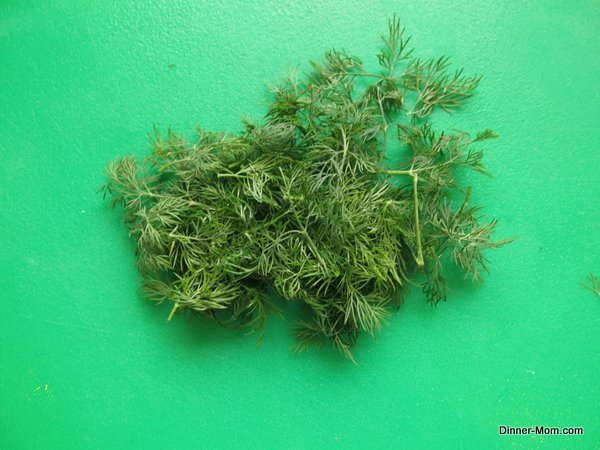 Type of Scallops to Use with Orzo Pasta
I know…scallops are expensive! Stock up when they go on sale.
We used Patagonian scallops (Zygochlamys patagonica) in this recipe because we often shop at Publix and that's what was on sale. Look for scallops that are "dry" so that they have not been processed with phosphates. You want a pure scallop!
They are also known as Argentinean or Antarctic scallops and are larger than bay scallops, but definitely not as big as sea scallops.
If using a larger or smaller scallop, then adjust the cook time up or down by a few minutes.
Not a scallop fan? Try shrimp, cooked chicken or even black beans in this recipe!
How to Cook Scallops and Orzo with Feta on a Sheet Pan
Place chopped vegetables and raw scallops on a half sheet pan lined with aluminum foil. Drizzle the lemon dill dressing over the top and toss to coat. Leave the feta cheese off for now.
Using a sheet pan shortens the cook time because everything is spread in a thin layer. Use two sheet pans and stagger in the oven if necessary so that the ingredients are not crowded.
Bake the orzo pasta with scallops, uncovered, in a 375 degree F oven for about 15 minutes, depending upon the size of the scallops. When you cut through a scallop, it should be white and firm to touch.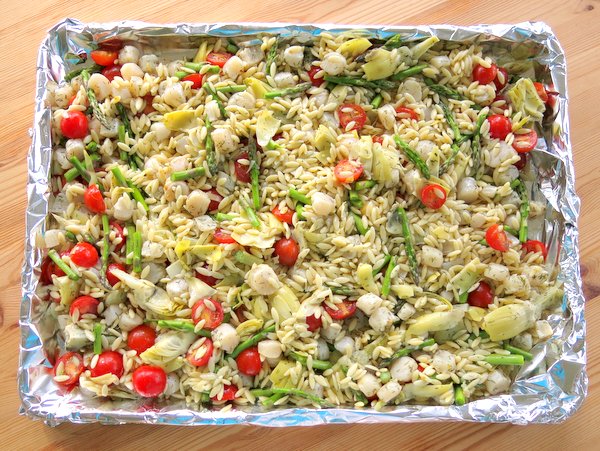 How to Freeze Scallops and Orzo
We offered Scallops and Orzo at our Meal Assembly Kitchen so you know this recipe freezes very nicely!
Assemble everything in a plastic bag that seals. Don't cook anything except for the orzo pasta. Stir in frozen scallops (or fresh scallops that have not been previously frozen) just before freezing.
Another option is to make up the recipe minus the scallops. Add the scallops (or shrimp, chicken, black beans, etc.) when you are ready to serve it for maximum flexibility!
Either way. Dinner's in the bag!
When you're ready to make this recipe, move the bag to the refrigerator and allow the scallops and orzo to defrost overnight.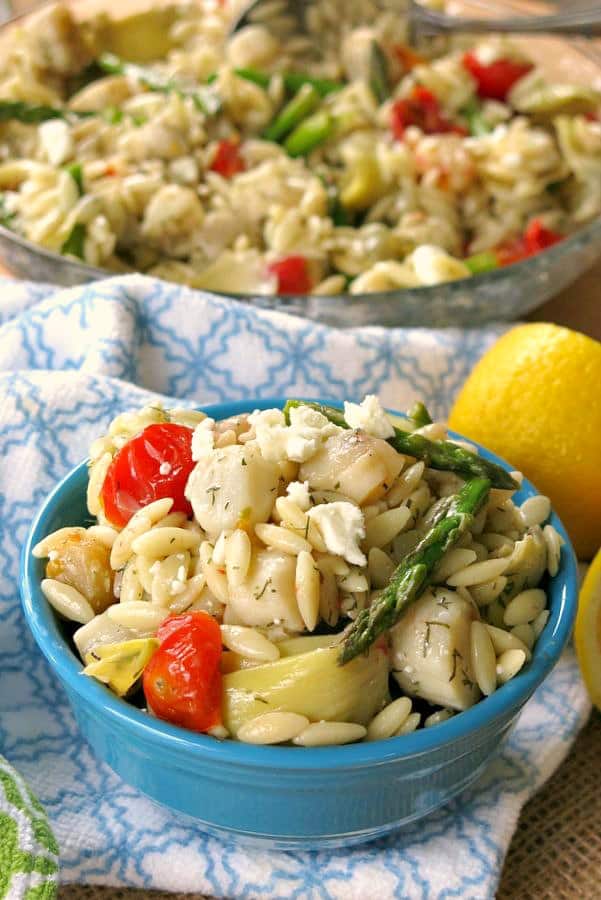 I've got two more batches in the freezer. Life is good. 🙂
Please rate this recipe and tag @DinnerMom on social media. We love to see what you are cooking up.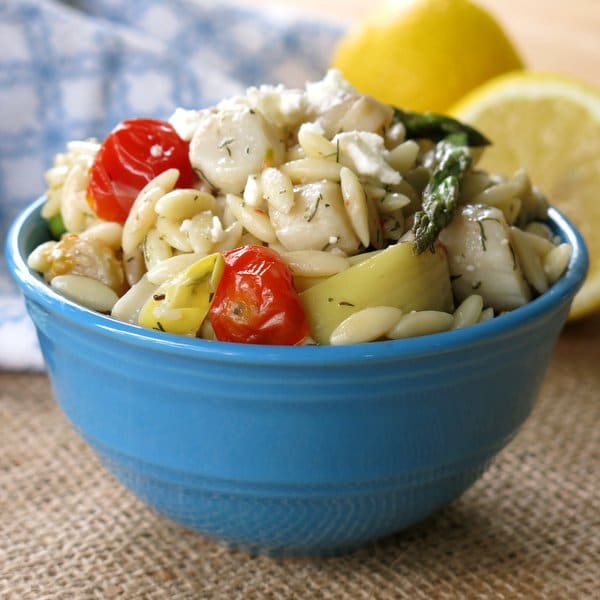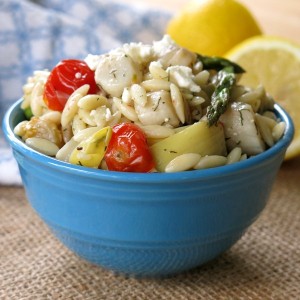 Scallops and Orzo with Feta, Artichokes and Asparagus
Scallops and orzo pasta with artichokes, tomatoes and asparagus are tossed in a lemon dill dressing and topped with feta cheese. Serve it warm for a no-fuss dinner or cold for a sensational salad.
Print
Pin
Rate
Ingredients
2

Tablespoons

olive oil

3

Tablespoons

lemon juice

or juice of 1 lemon

2

garlic cloves

minced

1/4

teaspoon

salt

Pinch

pepper

3

Tablespoons

fresh dill

chopped or 1 Tablespoon dried

3

cups

orzo pasta

cooked

1

pound

Patagonian or bay scallops

14

ounces

artichoke hearts

unmarinated, drained and roughly chopped

1

pint

cherry tomatoes

halved or 14.5 ounce can diced tomatoes, drained

15-20

thin asparagus stalks

chopped into 1 inch pieces

4

ounces

feta cheese

crumbled
Instructions
Preheat oven to 375 degrees F.

Combine olive oil, lemon juice, garlic, salt, pepper and dill in a small bowl.

Place remaining ingredients, except for the feta cheese, on a half sheet baking pan covered with aluminum foil.

Drizzle dressing over the orzo, scallops and vegetables. Gently toss to coat and then spread ingredients over the bottom of the pan.

Bake for about 15 minutes or until scallops are done. Scallops should be white when cut in half and firm to touch, but not cracked.

Sprinkle with crumbled feta cheese.
Notes
To make ahead and freeze, add all of the uncooked ingredients, except for feta cheese, to a plastic bag that seals. Stir and then seal it up. Store in the freezer for up to two months for best quality. When you are ready to serve, defrost in the refrigerator overnight and then cook according to instructions.
Nutrition
Calories:
585
kcal
|
Carbohydrates:
61
g
|
Protein:
29
g
|
Fat:
24
g
|
Saturated Fat:
6
g
|
Cholesterol:
52
mg
|
Sodium:
1299
mg
|
Potassium:
716
mg
|
Fiber:
6
g
|
Sugar:
7
g
|
Vitamin A:
2220
IU
|
Vitamin C:
56.7
mg
|
Calcium:
208
mg
|
Iron:
5.4
mg
Instantly Upgrade Dinner!
FREE Low-Carb Sauce Cheat Sheet HERE!
FOLLOW US!