Seafood Cioppino Stew is an easy, elegant, one-pot dream come true. It's chock full of seafood and flavor, low in calories and easier to make than you could possibly imagine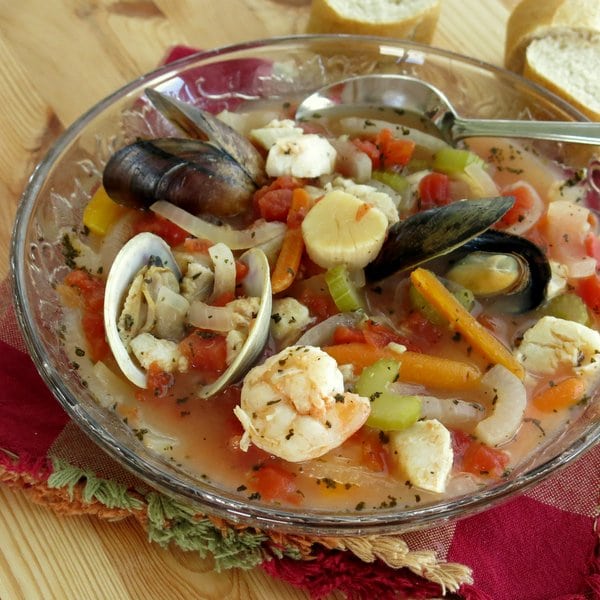 We had this delicious seafood cioppino stew on Christmas Eve. It was divine and I could hardly wait to share it. But, I did. I waited. I wanted to save it for the "perfect" occasion. Upon further reflection, I decided this recipe should not follow the path of fine china or holiday dishes…the ones you only pull out for special occasions and guests. I'm all about celebrating every day and savoring life's moments big and small. So, I promptly prepared another pot of seafood cioppino stew last weekend, for lunch no less, and took some pictures. It really wasn't much of an ordeal. It takes about an hour to make this one-pot soup and a good part of that time is hands-off simmering. We thoroughly enjoyed it for lunch on Saturday. 🙂 It was sort of my own personal declaration that any day is a good day to enjoy a meal you love with family.
Seafood Cioppino Stew waits no more!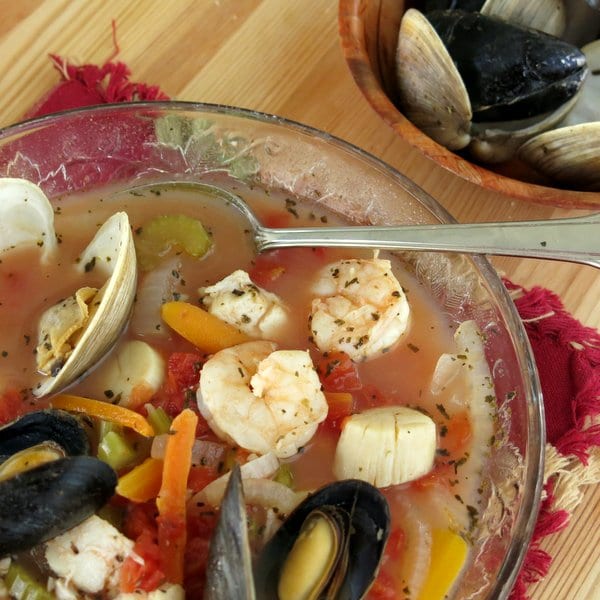 There are several keys to making this seafood cioppino stew spectacular (and conversely, not the creation it should be.)
Allow the vegetables and spices to simmer and meld together for a full 30 minutes. I've shortened this step when making Hearty Vegetable Soup…and I was disappointed. Since pricey seafood is involved, don't make that mistake.
Don't be scared to use live clams and mussels. They are a fun addition to this stew and very easy to work with. Buy them alive and store in the refrigerator in a bag that is open just a bit so that they get some air. When you are ready to cook them, if they are "closed" then they are good. If they are open a bit, then they might not be. Tap them on the counter and if they close up, then they are still good. The ones that don't open need to be tossed. These were cleaned and ready to cook when I purchased them. Check with the store where you buy them for special instructions. All that being said, you can easily substitute a can of clams.
Don't overcook the seafood and allow it to become tough and rubbery. It's added at the end to achieve perfection. The shrimp should just turn pink, the scallops no longer opaque and the clams and mussels should be open. Resist the temptation to go a bit longer "just to be sure."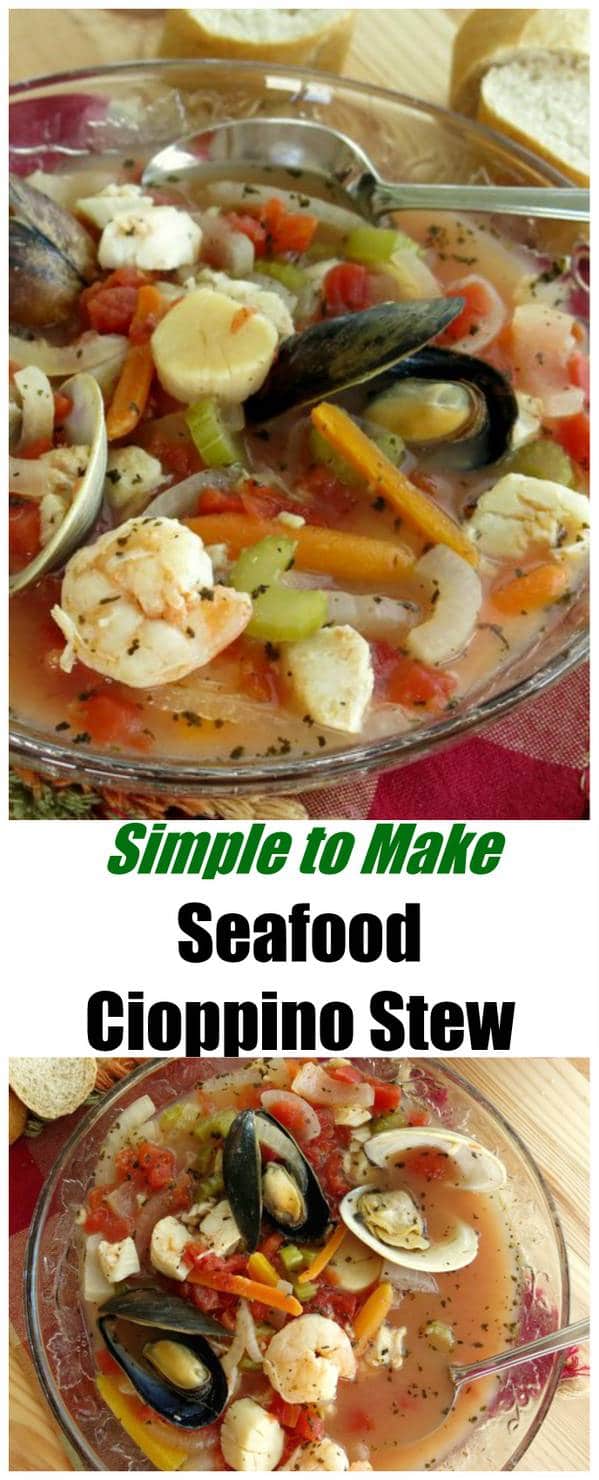 Pin it to your Easy Recipe Board!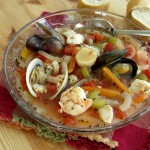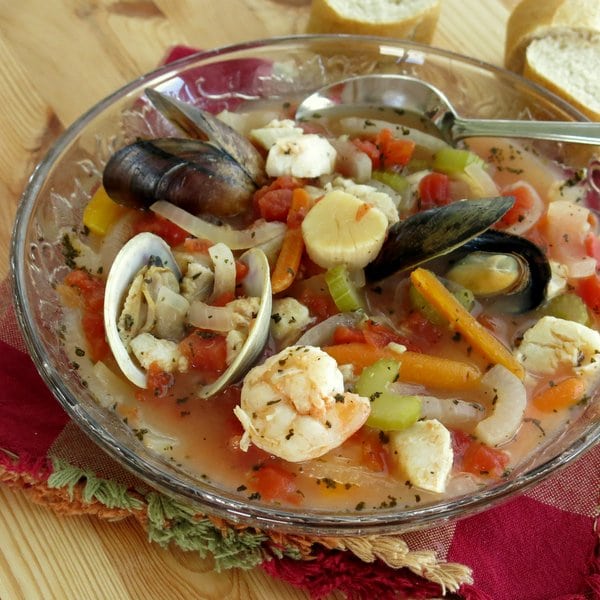 Seafood Cioppino Stew
Seafood cioppino stew is an elegant, one-pot dish. It's chock full of seafood and flavor, low in calories and easy to make.
Ingredients
3

Tablespoons

butter

1

onion

diced

3

garlic cloves

minced

2

carrots

sliced

1

celery stalk

sliced

29

ounces

diced tomatoes

2 14.5 ounce cans, petite diced

32

ounces

broth

low-salt chicken or vegetable

3/4

cup

white wine

1

Tablespoon

dried basil

1/2

teaspoon

dried thyme

1/2

teaspoon

dried oregano

1

pound

shrimp

peeled and deveined, tail off (I used medium-sized shrimp)

1

pound

sea scallops

1

pound

cod

cubed or other firm white fish, such as mahi mahi

10

clams

cleaned

10

mussels

cleaned and debearded
Instructions
Melt butter in a large pot over medium-high heat.

Add onions, garlic, carrots and celery to pot and saute for about 5 minutes or until tender.

Add tomatoes, broth, wine, basil, thyme and oregano to the pot and stir to combine.

Cover and simmer for 30 minutes.

Stir in the seafood and bring to a boil.

Reduce heat to low and simmer for about 5-7 minutes or until seafood is cooked through and clams and mussels have opened.
Nutrition Facts
Seafood Cioppino Stew
Amount Per Serving
Calories 255
Calories from Fat 63
% Daily Value*
Total Fat 7g 11%
Cholesterol 70mg 23%
Sodium 1088mg 45%
Potassium 922mg 26%
Total Carbohydrates 16g 5%
Protein 26g 52%
* Percent Daily Values are based on a 2000 calorie diet.
Even though I believe you should go out right now, buy the ingredients and enjoy this seafood cioppino stew immediately…If you're looking for a special dinner for Valentine's Day, look no further. It's sure to impress!