Are you on the lookout for ways to sneak more veges into your meals? Vegetable Rice Pilaf deliciously does the job. A large and colorful assortment of vegetables are sauteed, seasoned, blended with fluffy rice and topped with Parmesan cheese.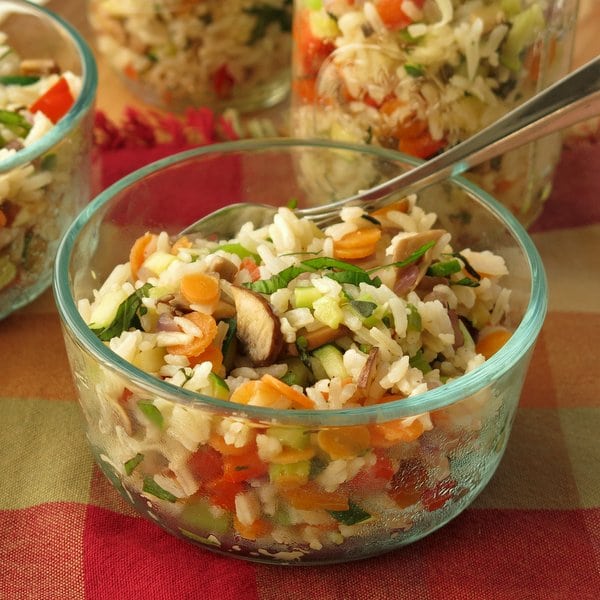 Peace of mind is having several jars of vegetable rice pilaf tucked away in the fridge (or freezer,) ready to step in as a hearty side dish at dinner. Or, they can take center stage as a rice bowl by adding beans or chicken or shrimp…or your protein of choice?!
Vegetable rice pilaf is a mild variation of Cajun Dirty Rice Bowls. Parmesan cheese and fresh basil replace Cajun spices. Both recipes are delicious. The one that gets served at our house depends entirely on my mood and the company I'm keeping. 🙂
Vegetable Rice Pilaf Assembly 101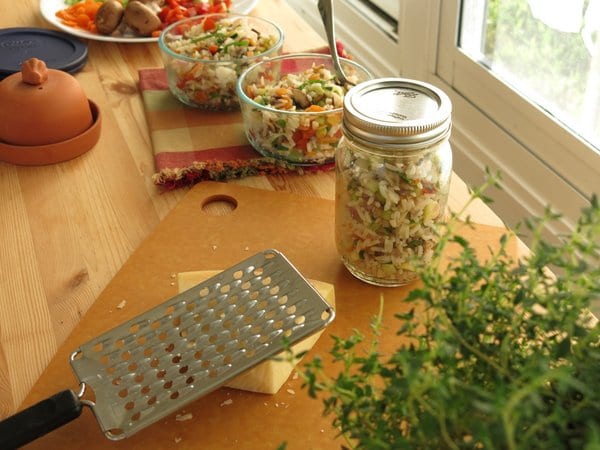 As you probably know by now, I cook once and eat twice…or three times. I always try to double or triple the recipe. This batch of vegetable rice pilaf went straight to storage. This is my assembly line of mason jars and glass bowls. Since I'm having a bit of luck with growing thyme these days, I brought this herb inside for the event.
The rice bowls or jars will keep nicely in the fridge for about 3 days. Any extras beyond that can be frozen in plastic bags or containers that freeze. When you are ready to enjoy the frozen rice pilaf, defrost it in the refrigerator overnight or in the microwave. If necessary, add a little broth or water to moisten and return it to the right consistency.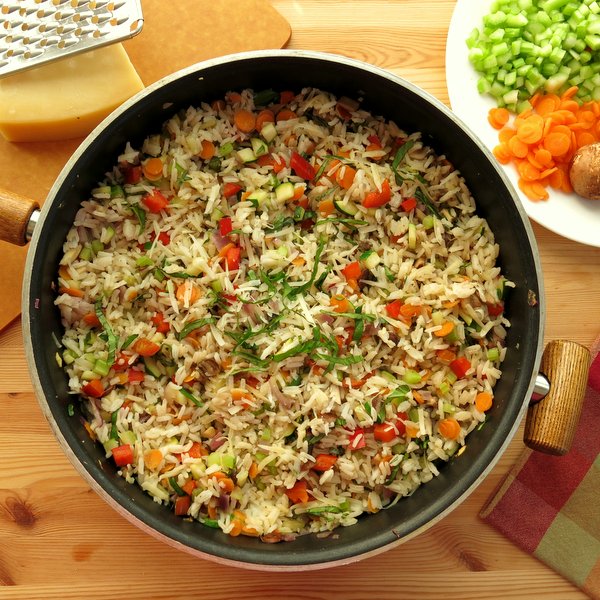 This vegetable rice pilaf contains carrots, onions, celery, red pepper and mushrooms. Add whatever is in season…or in the fridge. It sure is a colorful dish…don't you think?!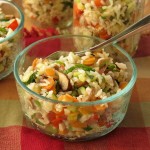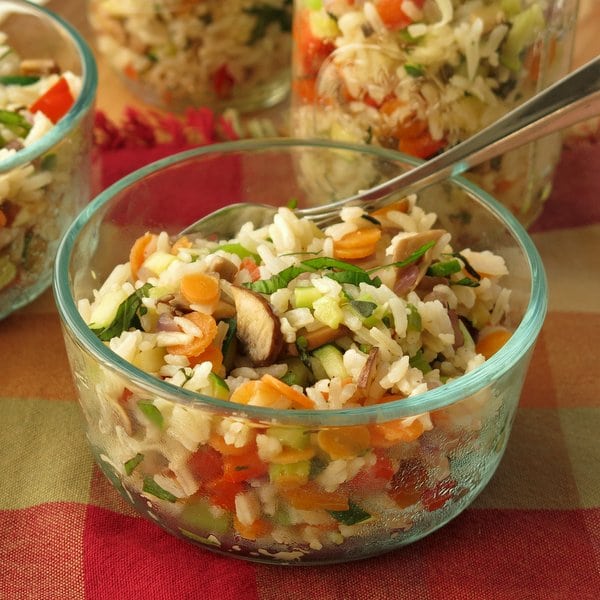 Vegetable Rice Bowls with Parmesan Cheese
Vegetable Rice Pilaf has a large and colorful assortment of veges that have been sauteed, seasoned, blended with fluffy rice and topped with Parmesan cheese.
Servings
:
6
side servings or 4 main dishes
Ingredients
1

cup

of long grain rice

such as jasmine or basmati

1 1/2

cups

broth

low sodium chicken or vegetable

1

Tablespoon

olive oil

1

Tablespoon

butter

margarine or substitute

1

onion

diced (about 1 cup)

2

celery stalks

diced (about 1 cup)

2

carrots

sliced (about 1 cup)

1/2

red pepper

diced (about 1/2 cup)

4

ounces

mushrooms

chopped

3

garlic cloves

minced

1

Tablespoon

fresh thyme leaves

Salt and pepper to taste

1/4

cup

fresh basil

cut into strips

1/4

cup

freshly grated Parmesan
Instructions
Cook rice according to instructions using broth instead of water. Rice should be light and fluffy and all the broth should be absorbed when finished.

Heat olive oil and butter in a large pan.

Add onion, celery, carrots, pepper, mushrooms and garlic to pan and saute until soft, about 5 minutes.

When rice is finished cooking add it to the pan with the vegetables and mix to combine.

Stir in thyme, salt and pepper.

Top with basil and Parmesan cheese.
Enjoy!